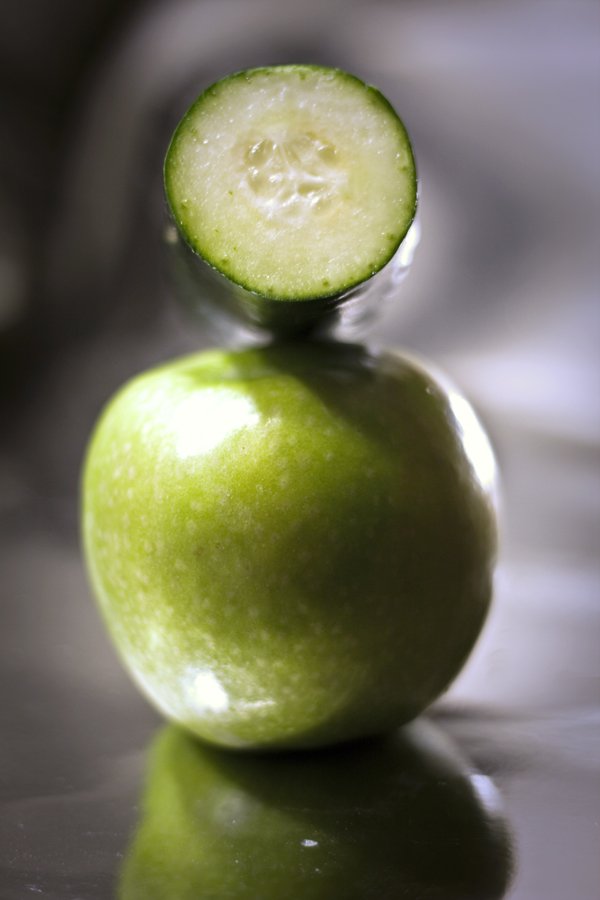 Crunchies! This is a blast. A refreshing summer project that very easily turned into two great recipes. It is going in my Trapper Keeper forever.
It's pretty intense, so I'll cut with the chit-chat here. (My, though. You DO look lovely today.)
Quick notes about the recipes:
Cucumbers are soothing and moisturizing, as we learned here.
Apples are moisturizing, astringent and the pectin is effective at reducing wrinkles.
Mint is refreshing and astringent, so it helps control oil.
Vodka tones, acts as a preservative, and is best stirred, not shaken.
The spritzer/toner should be left in the refrigerator at all times, unless you're using it. I HIGHLY RECOMMEND using it as a cooling spritz when you get all hot and sticky from the oppressive summer heat. It's like a cool, tingly mist of hydration, and it mitigates that oily sheen that magically appears when you're hot. But, you can also use it as a toner after washing your face. Just wet a cotton pad (or reusable facial wipe) and swipe across your face.
Refreshing Green Apple, Cucumber, and Mint Toner Spritz
1 cucumber, washed (not peeled or seeded)
1 apple, washed, cored (not peeled)
1 c. strong peppermint tea (use only dried peppermint leaves – most peppermint teas contain only that)
1/4 c. distilled water

3 Tbsp. vodka (the higher proof, and the "cleaner," the better)
2 Tbsp. witch hazel (optional)
Cheesecloth or very fine mesh strainer

Spritzer bottle
Boil 1 cup of water and brew your peppermint tea. While the tea is steeping, cut the apples and cucumbers into manageable pieces and toss them in the food processor or blender. Puree just as madly as you can.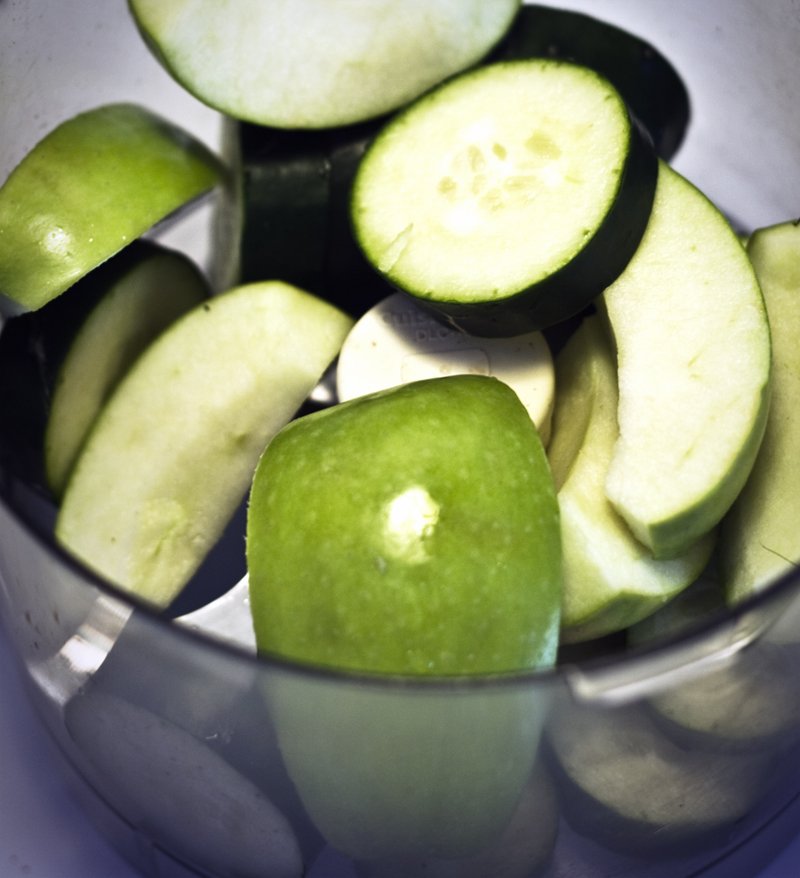 The resulting puree should be an absolutely gorgeous color of green, and it should be very watery. Once you've pureed the holy bejeezus out of it, drape a piece of cheesecloth (or use a fine mesh strainer) over a bowl and plop your puree in the middle. Like so: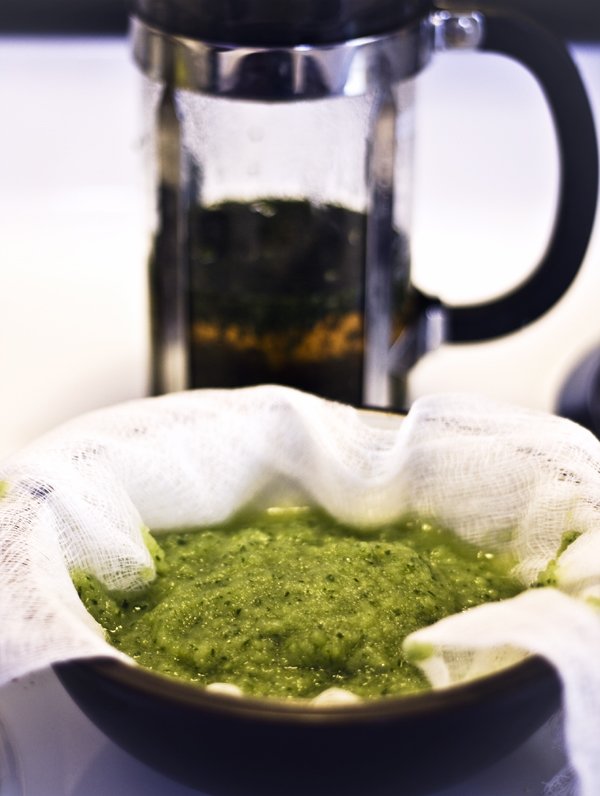 Now squish and twist your cheesecloth until you've squeezed about all the juice you can get (or press firmly on the mush in the sieve) into your bowl. The resulting liquid will be the most heavenly green color and you might want to drink it. You can, but that's not what we're here for. Put down the vodka.
DO NOT THROW THE PULPY, JUICED MUSH AWAY. We will use that later. Put it in a jar or a baggie and tuck it in the refrigerator for now.
Also -BONUS- if you used a cheesecloth, there will be pulp stuck to it after you've saved the bulk of it for later. This makes a most excellent quick little face scrub. Just run the cheesecloth across your face, scrubbing ever-so lightly. Leave it on for at least 15 minutes and then rinse.
Next, pour the apple/cuke juice in a jar or into your spritz bottle, add your strained peppermint tea, water, vodka, and the witch hazel (optional). Shake well.
Refrigerate for up to 2 weeks. The vodka (and the optional witch hazel) will act as a preservative, keeping this good for a while.
Spritz on your beautiful visage whenever you need a pick-me-up!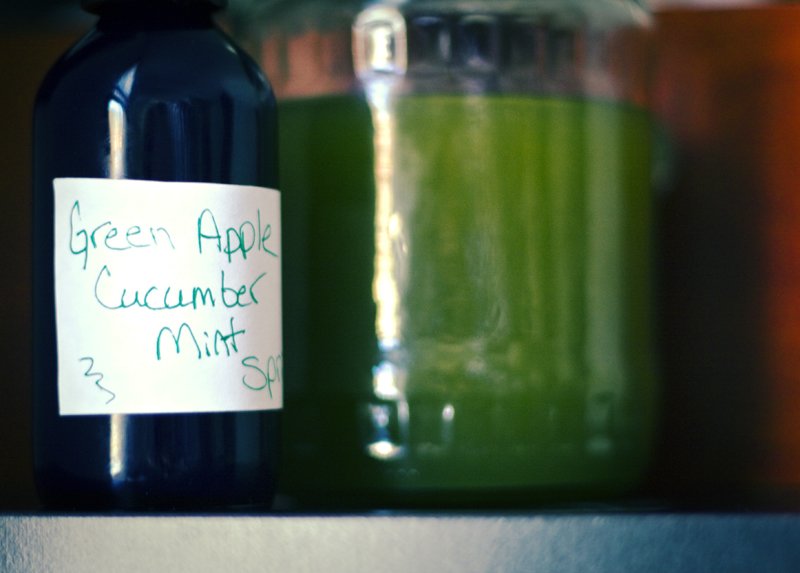 Summertime Cucumber-Apple Sugar Bath Scrub
Just before you shower, recover the cucumber and apple pulp from above and put it in a bowl. Add the sugar and oil and stir well. Use as you would any normal sugar scrub (I LOVE to scrub with it just before I shave my legs – makes for soft, smooth ones that Fiance likes to absentmindedly touch.)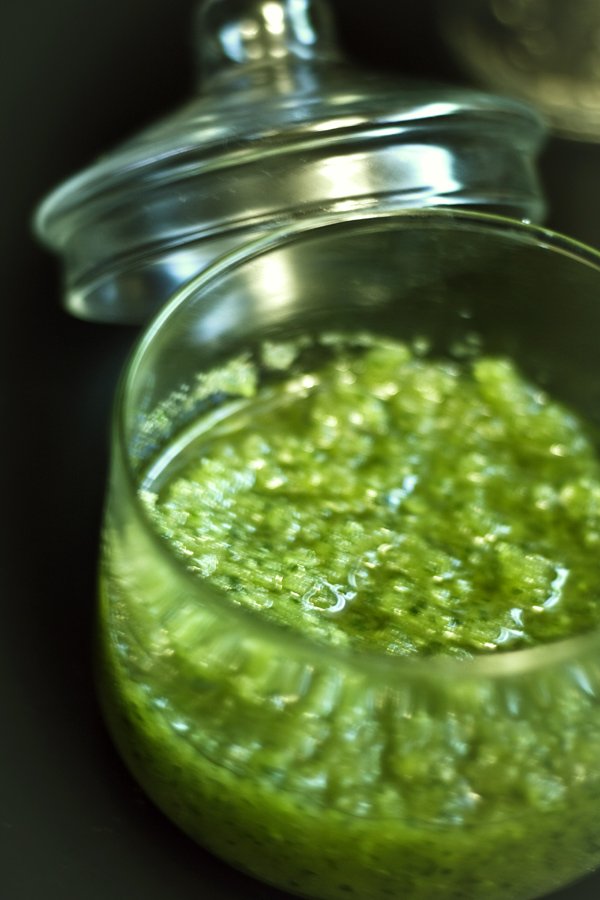 Note: Luckily, I made mine yesterday and tried it in the shower today. I learned that if you add sugar to the pulp and then leave it overnight, it ends up being a little gelatinous. This was easily remedied by adding more sugar – and it was still marvelous and fresh and invigorating – but I still recommend waiting to make the scrub until just before you shower.
What do you think? Sound good?
Now it's time for a cucumber mojito (gotta break out the rum after all that vodka). Anyone have any good mojito recipes?