Today we learn.
For our benefit, and for the benefit of all those crunchy goddesses (and men) who come after us. We learn so we can share. We also learn because if we stop learning we die. (Tom Clancy wrote something to that effect once. And who are we to question Tom Clancy? WHO ARE WE?)
Today's lesson comes courtesy of mounting frustration on my part, because I keep seeing recipes for DIY fabric softener that uses copious amounts of both vinegar and baking soda.
Why is this bothersome?
Let's learn!
Baking Soda + Vinegar = ???
Baking soda is a fabulous ingredient to clean with. Pots and pans scrubbed clean in an instant. Bathtubs shine.
Vinegar is also a stellar cleaning tool. Counter tops are clean and disinfected. In the dishwasher rinse well, glasses are rinsed sparkly clean.
Amazing stuff, this natural cleaning. You'd think, putting these two hard-hitting ingredients together would leave you with something no man-made cleaner/softener could touch, right?
Not so much.
Remember this?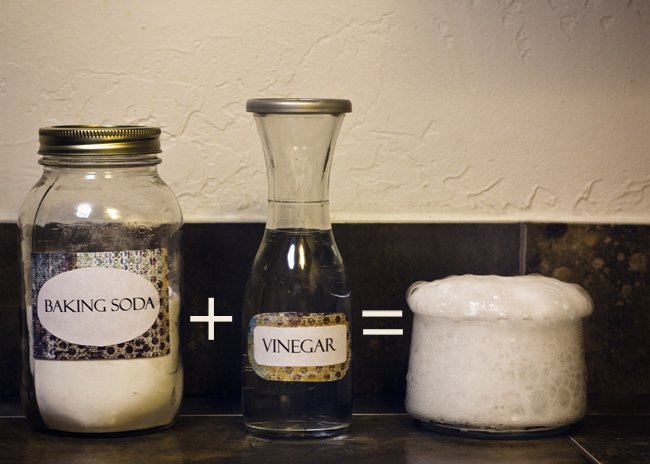 What childhood would be complete without the baking soda and vinegar volcano science project?
Remember how it exploded up into a creamy, bubbly, overflowing blob that eventually dripped onto Kyle's shoes and you were all, "EWWWWW, GROSSS" and you and your friends giggled and talked about how dumb boys were but secretly you wondered whether Kyle would ever write you a note that said "yes/no/maybe" on it? Remember that?
Well, when that happened (the volcano, not the note), a chemical reaction took place.
Two chemical reactions, really.
From ThinkQuest:
The acetic acid (that's what makes vinegar sour) reacts with sodium bicarbonate (a compound that's in baking soda) to form carbonic acid. It's really a double replacement reaction. Carbonic acid is unstable, and it immediately falls apart into carbon dioxide and water (it's a decomposition reaction). The bubbles you see from the reaction come from the carbon dioxide escaping the solution that is left.

What's left is a dilute solution of sodium acetate in water.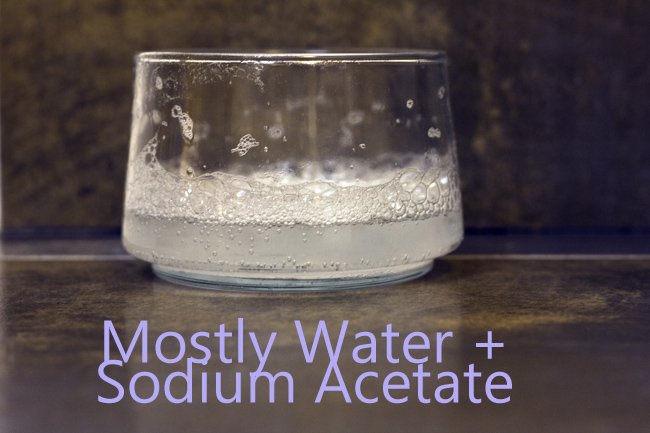 In fact, it's almost all water.
The sodium acetate (which is a salt) may offer a tiny bit of grease-removing ability, but it's not much. Probably not enough to really notice. At all.
So, really, all you're doing, when you combine baking soda and vinegar to make a cleaning agent, is cleaning with very neutralized water with just a teensy, tinsy amount of salt in it.
That's not going to get your counters very clean, and it's certainly not going to soften your fabrics much.
Oh My Gosh! I'm So Embarrassed
Have you succumbed to using one of these recipes you've found scattered throughout the internet? Have you maybe, ah, pinned one on Pinterest?
Not to fret. It's a mistake most people make when they're first learning DIY cleaning.
In fact! I even made the mistake myself way back when with the Best Homemade Bathroom Cleaner Ever . It uses very little vinegar, so only a small amount of the cleaner was neutralized, but still … I was silly.
I think the thing we can all learn in this is that these recipes have circulated, and they've been tried and loved, for years.
You know where the silver lining is in all of that?
Water is a more effective cleaner than we give it credit for. AND, the placebo effect in using fabric softener is alive and well.
Maybe we don't need to use anything?
I'll still be using this fabric softener, though, because the placebo effect is strong with this one.
Go Gently and Teach
I'm willing to bet a bunch of you crunchistas already knew ALL of this.
But it's upon the smart and savvy lot of you all now to go forth and spread the word. Gently. Kindly.
So that the crunchy people who tread behind us do so with effective products and happy hearts.
And also so we don't all just look completely clueless when the synthetic chemical product evangelists come a' calling.
What say you? Have you done this before? Do you have a recipe with baking soda and vinegar that you thought was doing a thorough job?
Or did you recall your volcano experiment and every chemical reaction your fourth grade teacher expected you to remember throughout your whole life?
PS. The recipe I linked to above? The one on Pinterest. It is from Tipnut, which is one of my favorite sites on the internet. She hosts a plethora of tips – some crunchy, some not. But there are gems hidden all over her site … everywhere. So don't be too hard on her. : )