After careful thought and the realization that if I don't try to make a little money off of this blog, Fiance's going to severely slash my natural ingredients budget, I've decided to sell my new favorite facial scrub here on Crunchy Betty.
My new mantra: Do what you can with what you have where you are.
That being said, the packaging isn't fancy (even remotely fancy, really), but the scrub is pure heaven. It's a full cup of delicious moisturizing, gentle ingredients perfect for all skin types during the winter (or any time really, but it's more fun to call it a "winter scrub").
Even though I'm offering to ship you some of this lovely stuff, I still want you to:
a) know exactly what's in it and
b) feel comfortable enough to make it yourself at home – if you have the ingredients
Unfortunately, life happened in the middle of the exciting new plan to sell it, and I couldn't keep up with whether or not they all made their way to their new homes and whether or not you guys loved/liked/felt neutral/threw it in the fire.
So tell me, those of you who are the proud owners of the facial scrub, do you like it?
Were there any problems with it?
Has it completely changed your life and brought you joy and happiness you've never felt before?
And when they're gone, I think I'm done with this round.
Every so often, I'm going to do this with other things, though. It was unexpectedly fun to get to touch you guys (rrowr) on a more personal level, y'know? Crafting things and writing your fancy-schmancy names on packages and visiting with the postmaster for hours at a time.
(He likes to talk about his mustache.)
(It's a fine mustache, to be sure.)
(Like a little white dog under his nose.)
So let's look at what's in this scrub, shall we?
Crunchy Betty's Winter Facial Scrub
Thanks to a VERY surprising conversation on the Homemade Bronzer post earlier this week, I was inspired by Katie to make a scrub with rice flour.
Why haven't I done this before? This stuff is gently exfoliating and super soft on the skin. So with organic rice flour as a base, I chose other ingredients that would be both cleansing and moisturizing for all skin types – but especially concentrating on things that will help dry and irritated skin. Here are the base ingredients: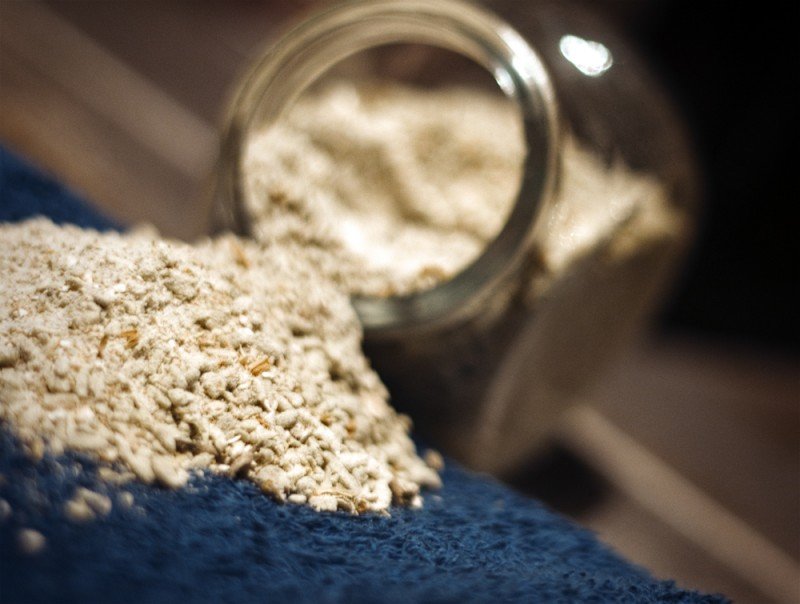 Oats: Great for oily, dry or normal skin, oats are cleansing and soothing. I don't think I'd ever use a daily facial scrub without ground oats.
Coconut: I grind the coconut up into even smaller shreds, and it leaves behind a very soft, very moisturized finish. This is the ingredient that makes it exceptional for the winter.
Kaolin Clay: The bonus ingredient that helps control oil without drying out your skin.
Neem Powder: Neem is a wonderfully effective skincare ingredient – it will stave off pimple attacks with its potent antibacterial power, and it's high in vitamin E, so it nourishes even the most irritated skin.
Chamomile: Softening, beautifying, antiaging, and soothing – finely ground chamomile adds even more boost to this scrub's ability to lessen the effects of harsh winter or furnace-heated air.
Calendula: Heals, softens, and clarifies the skin. In fact, you can even buy calendula cream in just about any store these days – it's that awesome.
White Rice Flour: The star of this scrub – it offers cleansing, gentle exfoliating, and an amazing texture.
Essential Oils: To all of this wonderful stuff, I've added Rose Hip Seed oil, which is a light moisturizer and fabulously antiaging, as well as chamomile essential oil and rose otto essential oil. Both of the essential oils are beautifying and lend this scrub a lightly luxurious scent.
Make Crunchy Betty's Winter Facial Scrub Yourself
Here's the recipe if you want to make it at home. This makes 1 cup of scrub, which should last just about 3 months if you use 1 tsp a day.
Crunchy Betty's Winter Facial Scrub
1/3 c. organic white rice flour
1/4 c. finely ground organic oats
1/8 c. finely ground shredded coconut
1 Tbsp kaolin clay
1 Tbsp neem powder
2 Tbsp finely ground chamomile
2 Tbsp finely ground calendula
15 drops rose hip seed oil
10 drops chamomile essential oil
10 drops rose essential oil
Grind all of your ingredients well in a spice grinder or food processor. Combine all dry ingredients in a bowl and stir very well. Add oils drop by drop, stirring after each addition.
Shelf life: 6-12 months
To use as a scrub: Rinse your face with lukewarm water. Add about 1 tsp of the scrub to the palm of your hand with a little water. Mix together with the fingers of your clean hand. Apply to face and scrub lightly for 2-3 minutes. Rinse well.
To use as a mask: Mix 1 tbsp of the scrub with 3 tsp milk, water, or organic juice. Stir very well and apply to a clean face as evenly as you can. Allow the mask to dry for 15 minutes. Rinse well with warm water and remove with a wet washcloth.
Order Crunchy Betty's Winter Facial Scrub Now!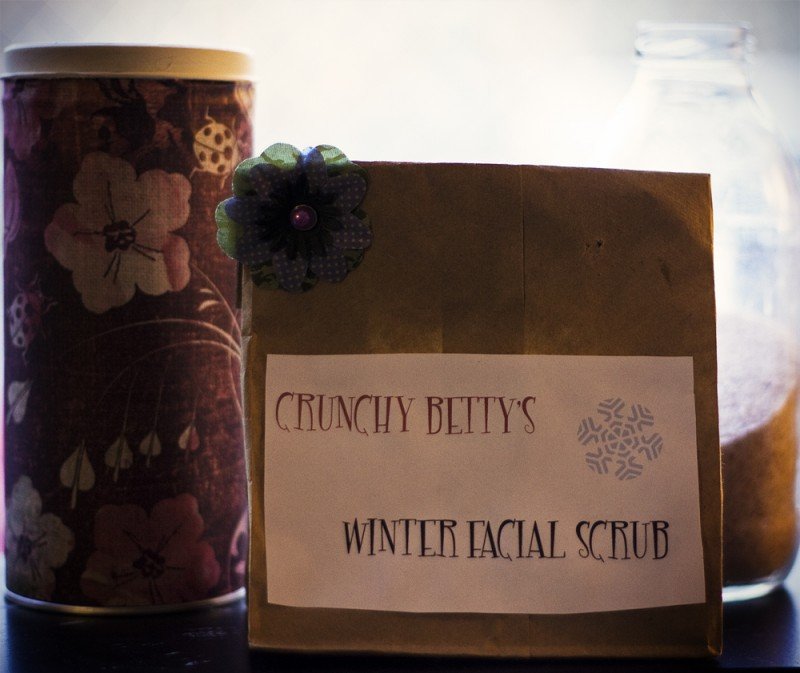 Remember how I said my new mantra is "Do what you can with what you have where you are?"
Well, what I have is 100 paper bags, a bunch of fabulous ingredients, and a printer. So your packaging is going to be said paper bag, decorated personally by me, and lovingly packed.
When you receive this bag o' goodies, you will want to transfer it to an empty jar with a lid, so you don't accidentally get the bag wet.
Of course, you'll want to do this after taking in the magnificence that the bag is. You'll probably want to frame the bag too, really.
It's just that artistically genius.
Your bag will not look exactly like the one above – it will be similar, but unique to you.
Here's the Rub
I don't know how long I'm going to do this. When I run out of bags, I may very well stop selling this scrub. I may very well never sell anything again. My first love is writing, my second is encouraging everyone to learn how to make their own beauty and home products.
So I'm going to say right now: ORDER THIS NOW if you want it. This offer could last a day, a month, or … who knows? Maybe I'll do it forever. This is just a trial run to see what happens.
The likelihood, though, that the price will go up if I continue to do this is VERY high. I'm pricing it on the extremely low side at the moment, given the ghetto-but-heartfelt packaging that's going on here.
NOW WHAT YOU'VE ALL BEEN WAITING FOR – THE BUY NOW BUTTON!
Below, order 1 full cup of Crunchy Betty's Winter Facial Scrub for $7.50 (plus shipping). This will last approximately 3 months.
Thanks, lovelies!
Do it! Do it before it goes away and never, ever comes back!
Now, I want feedback if you have any. Is this exciting to you? What might keep you from ordering it – and what might keep you from making it yourself?
Is there anything else you'd like to by from Crunchy Betty?
Love you guys!
Also, if you contacted me at all about anything else during the month of December and I didn't get back to you, feel free to contact again – my inbox was full of over 1000 emails (most of them notifications that I'd won the Swiss lottery – my troubles are over) when I got home and I'm sure I overlooked something somewhere.
Big love!