Somewhere between the simplicity of making facial masks and the distant and far-off world of precision artisanal soap-making live a few homemade pursuits that I've yet to try. They're in that gray, hazy land of "Am I Really Capable of Doing This Without Breaking My Kitchen?"
Crafting cosmetics. That's one thing. Lotion bars used to live there, too.
If you know what I'm talking about, you'll be happy to hear this: Homemade lotion bars are easier than tying your own shoes. I mean that literally. (I'm also pretty bad at shoe tying, though.)
No longer do you have to worry about breaking your kitchen.
It is a cinch to make lotion bars yourself.
Looksee!
How To Make Lotion Bars For Yourself or Someone Else (Maybe)
These lotion bars weren't ever supposed to be for me (until I made more later). I've had this grand plan for some time to make matching lotion bars and bath fizzies for my nephews.
On a whim, I picked up cute little molds on Amazon a year ago, and they've been waiting for me to use them ever since.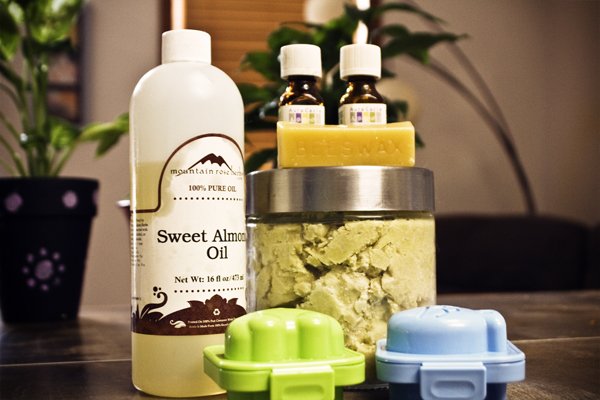 Simple Lotion Bar Recipe
Equal parts:
First, you need to know that I did this the very imprecise and unscientific way. I have no kitchen scale, so I estimated.
Theoretically, you're supposed to weigh out your three ingredients so they all measure the same (3 oz is a good place to start for a largeish-sized bar).
Instead, I grated my beeswax and smushed it down it in a measuring cup. It came to just about 1/2 c.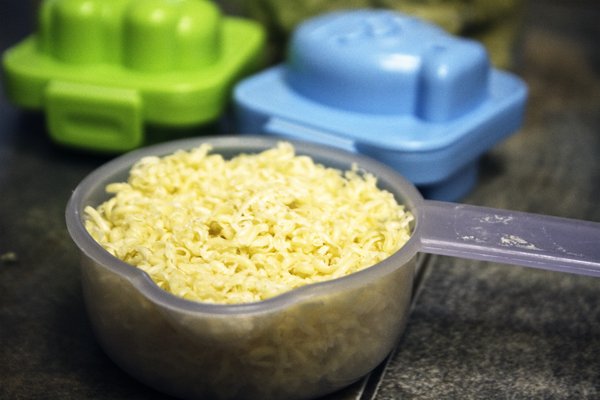 So I used 1/2 c. as the basis for my other ingredients, using 1/2 c. oil and just under 1/2 c. shea butter (because the shea butter is more dense and heavy).
Now that you know how I measured it – and that you shouldn't be afraid of doing it yourself like this, if you don't have a kitchen scale – here's how it goes down once you get into the making of it.
In a double boiler (or a fashioned double boiler out of a small pot resting just above a large pot that's filled with some water), heat the water to nearly boiling. Make sure, if you're fashioning a double boiler, you don't get water in your top pot, as that could really mess up your recipe.
Here's what my jerry-rigged double boiler looks like (because I was too lazy to fish through my pot cabinet to find the real thing):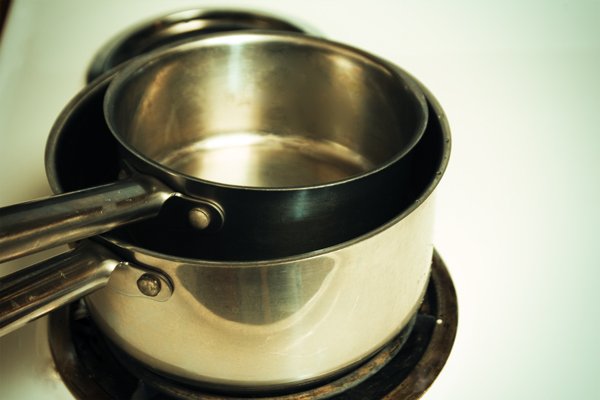 The water in the bottom pot should be steaming now, at which point you want to add your beeswax.
Stir the beeswax around a bit until it starts to melt, and pour in the oil.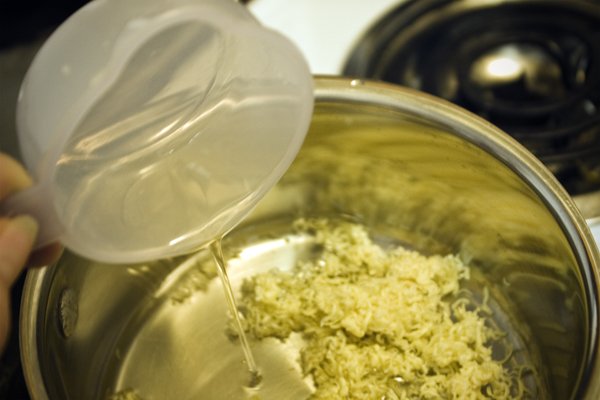 Continue stirring everything until the beeswax has melted thoroughly.
Only then do you dump in the shea butter.
Shea butter's a little finicky, and if you heat it too high or too long, it'll turn grainy on you. That's why you want to wait until the end to heat it up.
And it melts fast.
So pop that smooth stuff into your mixture: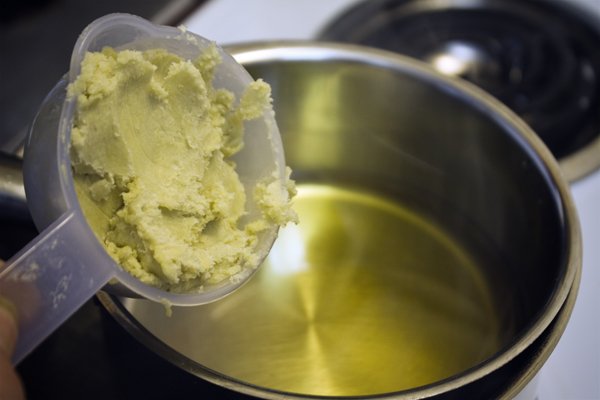 And stir and stir and stir.
Once the shea butter has completely melted, and your lotion-bar-to-be mixture is thoroughly incorporated, move the pot from the heat, over to where your chosen molds are.
(Not sure what to use for a mold when you make lotion bars? You can use anything. Silicone ice cube trays, bread pans, Altoid tins, muffin cups/tins. Whatever. If you use something larger, like a bread pan, all you need to do is then slice it into more manageable pieces.)
So quickly, before it starts to cool and set, you want to pour it into your mold.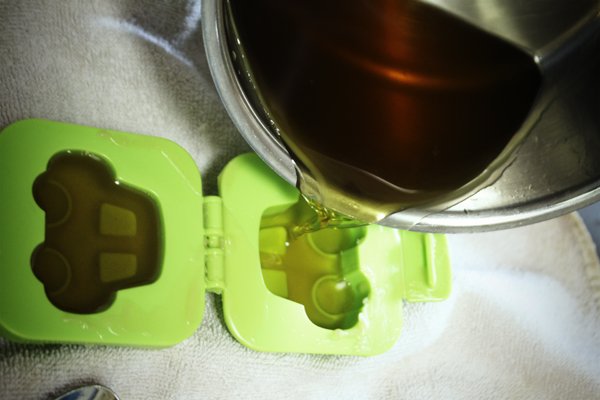 While it starts to cool, but WAY before it sets, drop in your essential oil(s) and stir with a toothpick. I was running a bit behind, due to trying to take photos of the process, so I almost waited too long. (They turned out absolutely perfect, though, so don't fret.)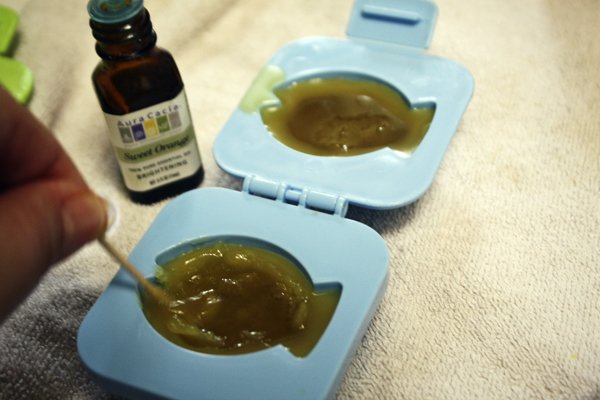 Then you can pop your mold into the freezer for faster setting time. (Or just leave them on the counter to set up for a few hours.)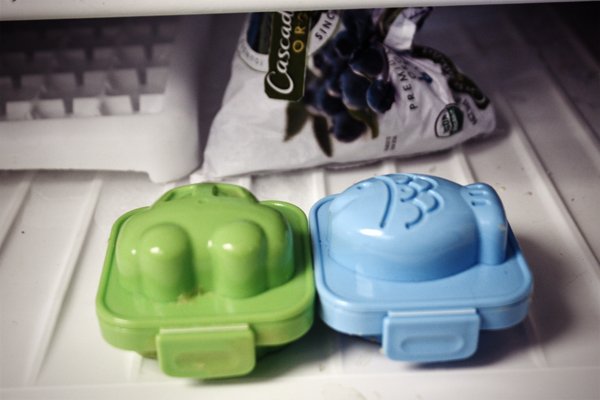 And then 15 minutes later, pop them out and you have …
THIS!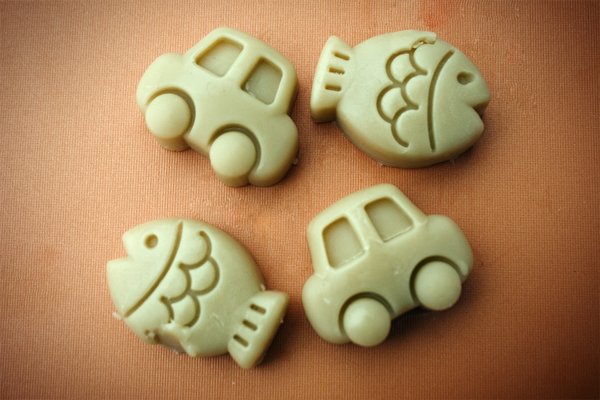 I got a little overzealous there on one of the fishies, and instead of banging on the bottom of the mold to get it to slide out, I stuck in a butter knife. Oops.
Also, originally I had thought that the two sides would fuse together to make one big lotion bar, but that didn't happen at all. In retrospect, it's better that way. My nephews fight about who gets what, if they don't get the exact same thing. This way, they each get a car and they each get a fishie.
I LOVE TO MAKE LOTION BARS. It's official.
I Love Lotion Bars So Much, I Had to Make My Own
Yes, there was a lot of jealousy on my part once I saw how freaking cool homemade lotion bars are, and that my nephews get some and I don't. So I made my very own grown-up version.
Maybe I'll share the exact recipe soon, but I'm calling it Nutty Butt Butter, because it's made with nut oils (hazelnut, tamanu, argan oil), cocoa butter, coffee, and rose geranium and cypress essential oils. All the ingredients equal a soft butt (and thighs) and less cellulite!
My piece-de-resistance: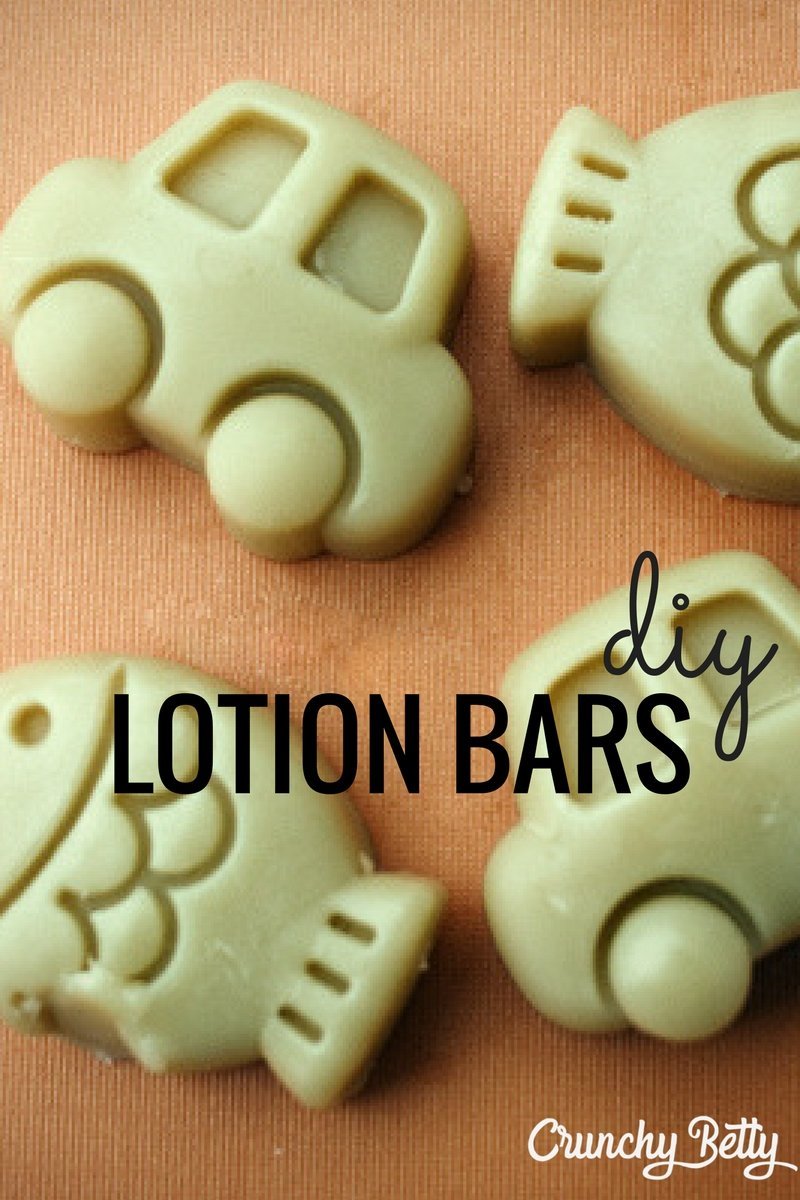 And any time there's a recipe like this, someone always asks, "Where should I buy all this stuff?"  The answer is: Mountain Rose Herbs or your local natural foods store.
If You Don't Want to DIY It …
… I will tell you exactly where to buy it: Made On.
Renee of Made On recently sent me some of her lotion bars and I've been in soft, supple skin heaven since. Absolutely some of the best lotion bars I've ever held in my hands. And the best part about it is, there's a date on everything you receive so you know exactly when it was made. Oh wait. That's not the best part.
The best part is: Made On only uses healthy, natural ingredients. Example: The Au Chocolat hard lotion (my favorite) has beeswax, cocoa butter, and coconut oil in it. That's it. No preservatives. Nothing icky at all.
It's the kind of company we want to support wholeheartedly. So if you don't DIY your lotion bars, but still want some, definitely check out Made On. (And peek at her other products, like natural diaper rash cream, hair butter, and soaps.)
Really, receiving those bars from Renee just kicked my butt into gear so I'd try making my own, so it's imperative to give her a shout out both for her inspiration and her excellent products.
(I also REALLY loved the peppermint lip balm and calendula goat's milk soap, just for the record.)
Lotion Bars: The Perfect Gift
So I'm thinking these are the perfect Christmas gift for friends. My Nutty Butt Butter, especially.
If you've ever made your own lotion bars, do you have any tips or recipes you want to share with us?
And if you haven't made them … are you ready yet? It's almost winter! The PERFECT time to get prepared for dry skin is now.
PS – Nutty Butt Butter
(I had to say it again, because it makes me laugh)