My father. Bless his heart, but for as much as he tries, he's so predictably underwhelmed when he receives gifts.
If you give him a tie, with a crooked smile, he'll say, "Oh. Wow. Okay. This is great. Thanks."
If you give him a spice rack, with a raised eyebrow, he'll go, "Oh. Wow. Okay. This is great. Thanks."
If you give him a new car, he'll go … well, okay, I don't know how he'll go. I've never given him a new car. But I'm pretty sure he'd go, "Oh. Wow. This is great. Was the store out of ties?"
The only time I've ever seen him excited about a gift is when my sister or I would give him a handmade gift as a kid. It's that innate father's pride, y'know? And as you get older, it becomes more difficult to make your dad a gift. No longer will popsicle sticks held together by glue and gummy worm residue cut it.
Well, if your father (or your husband or your brother or your mailman) is anything like my dad, here's the solution. MANhand salve (sure to bring back that daddy's-little-girl-pride):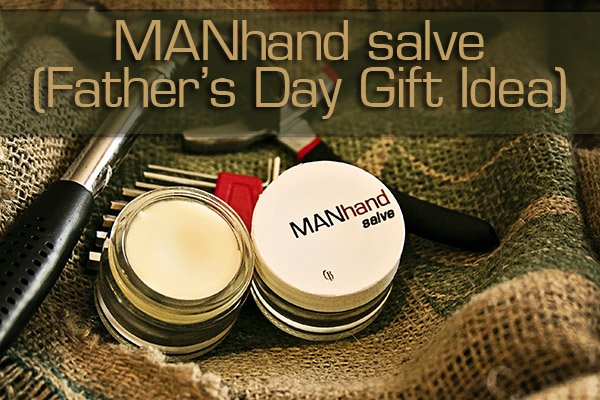 It's that perfect combination of DIY personal touch meets masculine practicality.
It's strong enough for a man, and it's made for a man. It also smells quite manly, but nourishes his work-worn hands in a way that will melt his heart in a very tender, unmanly kind of way.
But just for a second. Ahem.
How to Make MANhand Salve – Get On It, Father's Day's Almost Here
This is a two-step project, which you can start up to 4 weeks before it's time to give the manly gift of love. The gift of manly love. The gift to your man. (There.)
We'll go over how to do it the long way and the short way.
STEP ONE – CREATE AN HERBAL INFUSION
What you need: An oil or two (I used sweet almond oil and avocado oil, but you could also use olive oil, sunflower oil, apricot kernel oil, etc.) and healing herbs (this recipe includes calendula and comfrey, but instead you could use chamomile, peppermint, or any other healing herb).
Always add more oil to your infusion than what you'll need for the final recipe. You'll lose some of the oil as it adheres to the herbs in your infusion. In addition, you want to add enough oil to your infusion to completely cover the herbs.
Here I added 2-1/2 c. sweet almond oil and 1/2 c. avocado oil to about 1 c. dried calendula and 1/2 c. dried comfrey: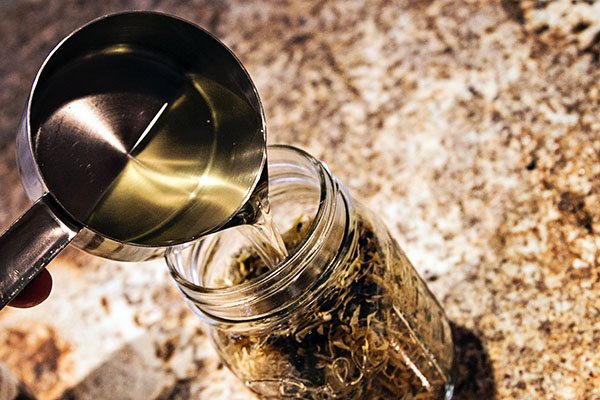 It's okay if you have more infused oil than you need. You can always make extra salve for yourself, or just pour more oil over the tops of the herbs and infuse even more for the next few weeks.
Or, if you'd like, just strain it out and pour it into a jar. Then, over the course of the next few months, use it as your super amazing healing oil whenever you have dry skin.
That said, the amount I made to begin with made enough for 24 (yes, 24) 1-ounce jars of salve. So here's a better recommended amount:
1/2 to 3/4 c. herbs
1 to 1-1/2 c. oil
That should still yield a good amount, with a little extra left over for mama. Mama likes that.
Tip: Make sure your oil covers your herbs completely. That's the most important part. Second most important – choose a jar that leaves little room for air once you have it filled up, if you're going to use the long, let-it-infuse-with-time method. This helps inhibit moisture accumulation, which is something you're trying to avoid.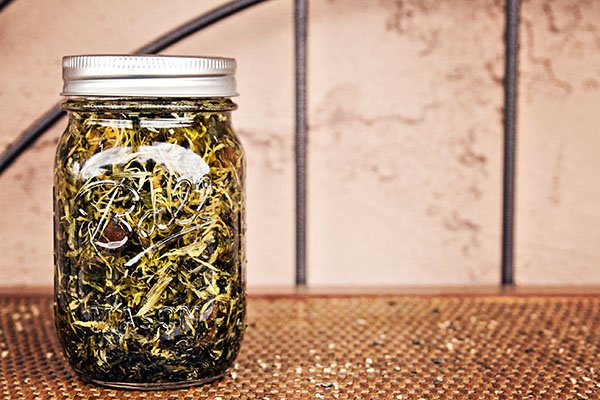 Infusing oils with the long method: All you have to do here is put your oils and herbs in a jar with an airtight lid and let it sit for 2-4 weeks. It's better to do this somewhere the temperature is relatively constant, often warm, and perhaps sometimes in the sun (the sun will speed and strengthen the infusion process).
Or, as the case may be right now, with Father's Day right around the corner, you may choose the short, water-bath method: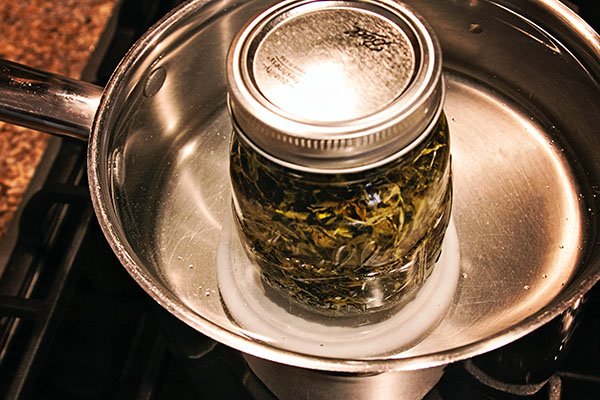 The quick water-bath method: There are several ways to do a water bath, but this is how I often do it:
Seal your oils and herbs into the jar well, making sure there's no way for water to enter.
Place a shallow, heat-proof dish (the one in the photo is ceramic) at the bottom of a pot full of water, so the glass isn't in direct contact with the metal, helping to sustain constant temperatures around the herbs.
Turn your burner on low to simmer, and let your jar full of oils and herbs "take a bath" for 1-2 hours. Do not let the water boil. It should be very warm, but not so hot that you can't touch it.
Occasionally shake the jar and place it back in the water.
When you remove it, wipe it down very, very well with a clean towel and then leave it alone to completely air dry for 10-15 minutes (remember, we need to avoid all contact of water to the oils).
And that's it! You know your oils are well infused with the herbs contained within feel a little bit crunchy if you stick a spoon in and press down.
Step 2: CREATING THE SALVE
It's time to strain the oil from the herbs!
For this, you'll need a sanitized glass, a coffee filter (or cheesecloth), and a rubber band.
Again, there are many ways to do this – this is just my personal favorite: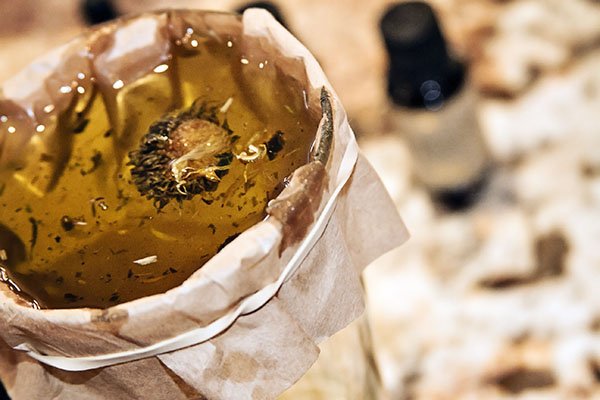 Attach the coffee filter or cheesecloth around the rim of your glass with the rubber band, making sure it's secure. (If it's not secure, you'll either end up with a counter covered in oil or an oil full o' herbs – in other words, right back where you started.)
Slowly pour the oil into the filter, allowing it to filter through before pouring more in. You may need to change filters or move your cheesecloth around a bit if it becomes clogged with herbs.
And that's it! Then you have clear, but mega-herby-infused oil: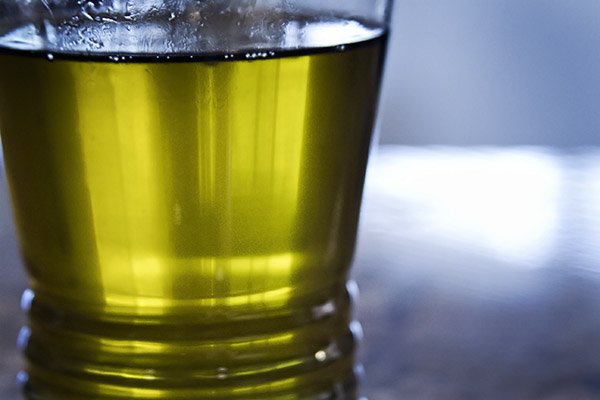 That right there is some strained oil, mama. Mama likes it that way.
Next, measure out your ingredients in your melting apparatus: For this recipe, we used 7 ounces each of herb-infused oil, coconut oil, and beeswax. Let it be known, as long as you use equal parts of each ingredient, you'll be just fine. Though the consistency might be just slightly different, don't be afraid to measure things out using cup measures (for example, 1/2 c. of each ingredient). Measuring by weight just helps with absolute accuracy.
To melt oils/beeswax: It's best to use a double boiler, or a makeshift double boiler. For this recipe, I used a thick glass bowl we have that fits perfectly on top of a pot. Fill the pot about a quarter of the way with water, place your melting container on top, and turn the heat on the burner to medium low. The steam from the water will gently and evenly heat the ingredients above it.
(REMEMBER, make sure you don't get water in your oil/beeswax mixture).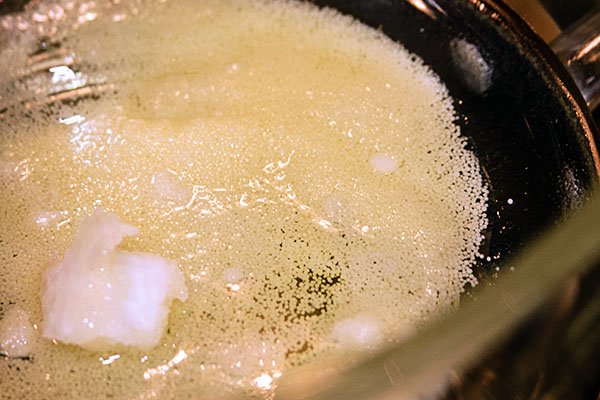 Stir your mixture a few times while it's melting.
And sigh.
And smile.
And snack on some strawberries or something. Have a mimosa. Get down to some Captain and Tennille.
Love. Love will keep us together. Think of me, babe, whenever … some sweet talkin' salve comes along … singin' a …
Um. We'll stop there.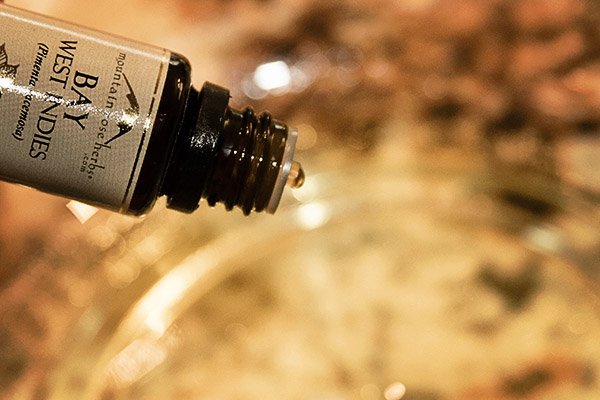 Once your mixture is melted, let it cool momentarily (but not too long) and drop in your essential oils if you're going to add them.
You don't have to, by the way. This salve would be perfectly wonderful without them.
But this recipe calls for 11 drops bay essential oil, 7 drops cedarwood essential oil, and 4 drops lemon balm (melissa) essential oil.
Stir it all together and pour it in your jar.
Let that cool. It's going to look really weird for a minute. Like this.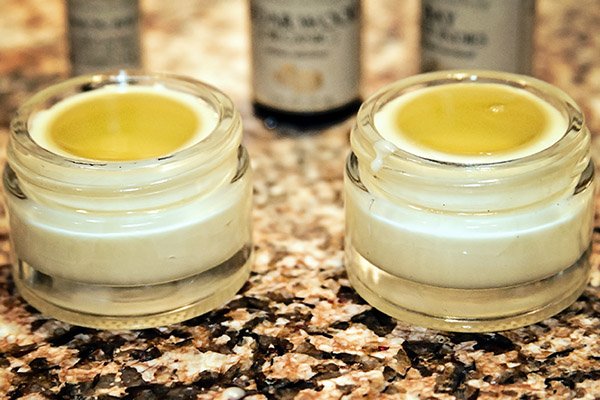 Once it's completely cool and solidified, pop the lid on it.
Give that lid an awesome label.
And pass that baby off to the man. (When you hand them their gift, it's imperative that you say, "Crunchy Betty says you the man.")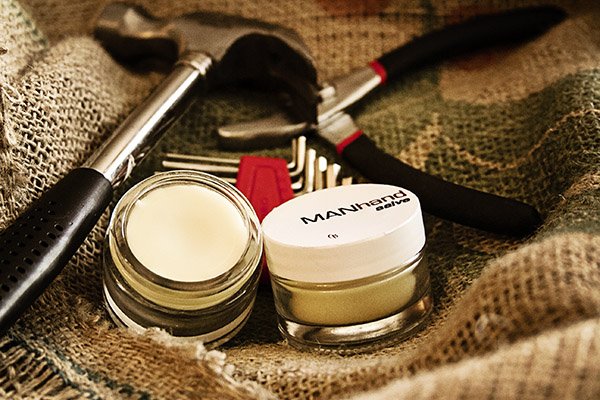 Here's the whole darned printable recipe, in easy-to-read form:
MANhand Salve Recipe
0.7 oz herbal infused oil
0.7 oz coconut oil
0.7 oz beeswax
11 drops bay essential oil (optional, or your choice of essential oils)
7 drops cedarwood essential oil (optional)
4 drops lemon balm essential oil (incredible healing properties in this, but it is optional)
To make the infusion: Combine oils and herbs in a small jar (adding more oil or more herbs if necessary to fill the jar completely). Either close the jar tightly and leave in a warm place for 2-4 weeks, or use a warm water bath for 1-2 hours to infuse the oils.
To make the salve: Strain the oil from the herbs using a coffee filter or cheesecloth. Combine infused oil with coconut oil and beeswax in a double boiler (or makeshift double boiler). Melt completely. Let the mixture cool for a few moments, but not until it begins to harden, and then drop in the essential oils. Stir well and transfer to your glass container. Should keep, lidded, for 6-12 months (or more).
Apply to work-worn, dried, or cracked hands. Feel like a man. A man's man.
Where to Buy …
For this recipe, all of our ingredients came from Mountain Rose Herbs, with the exception of the beeswax.
The beeswax pictured in this recipe is Frontier's white beeswax beads, which melts really quickly and does the job faster than most (that said, I do also enjoy Mountain Rose Herbs beeswax). I purchased the Frontier beeswax beads at iHerb (if you place an order via that link right there, you'll receive an automatic coupon of $10 off your first order of $40 or more, or $5 off your first order of anything less than that), but you can also find beeswax or beeswax beads at your local natural foods store.
If you just want to order the MANhand salve and don't have time to make it:
I have a few left at the Crunchy Betty's Natural Market (yay!). There aren't too many left, so if you see this and want to order it, do it quick like a hairy, burly, manly bunny. It should be to you (if you live in the U.S.) in time for Father's Day.
Click Here to Order the MANhand Salve from Crunchy Betty's Natural Market
Do You DIY For Father's Day?
Is it just me, or are men more difficult to DIY for than women? (That's one of the reasons I looooove this salve – it's so simple and practical for him, and fun to make, for you).
Do you, will you, or have you DIY'ed for Father's Day?
If so, what did you make? (And feel free to link to a blog post in the comments if you have one, so we can all get more ideas!)