For months, I've been slowly chewing on Jeanne Rose's Herbal Body Book.
It's so lovely and just overflowing with excellent bath and body recipes for every skin type and issue known to man. If I may, it's also kind of a homemade beauty bible – for those of us with the proclivity to go there.
The best part about this book, though, is that it's peppered throughout with quotes from two very old manuscripts – The Toilet of Flora (published in 1779) and Delightes for Ladies (published in 1609).
Talk about generational learning!
Curiously, I searched to see if these books were online – and they are (for the most part). And after perusing what's there, I picked out a few we might be able to translate to the year 2011.
These are just a handful of beauty/household tips that I found particularly curious (but the links to both texts are below – so browse through them and see if you can find more). Will they work in our lives today, without having to use pig's lard and boil bones?
(Fingers crossed.)
Olden Day Recipes – How Weird Are They?
First up, from the small excerpt from Delightes For Ladies that I could find online:
16. To help a face that is red or pimpled

Dissolve common Salt in the iuyce of Lemmons, and with a linnen cloth pat the patients face that is full of heat or pimples. It cureth in a few dressings.
Does this translate today?: Heck yeah! One of the most well-known home remedies for getting rid of pimples is lemon juice, and even though salt is reported as comedogenic, I've read hundreds of reports from acne sufferers that this exact remedy works for them today. And I bet they didn't even know how far back this wisdom went.
Crazy.
Now, from the Toilet of Flora:
115. A Simple Depilatory

Oil of Walnuts frequently rubbed on a child's forehead will prevent hair from growing in that part.
Does this translate today? I have no idea. Do any of you want your kids' hair to, um, not grow? That just doesn't seem like a translatable cosmetic issue in this day and age. However! For the next few weeks, after I shave my legs, I'm going to slather on walnut oil (which I conveniently have and have never used) to see what happens.
Back to Delightes for Ladies!
35. Sweet bags to lye among linnen.

Fill your bags only with Lignum Rhodium finely beaten, and it will give an excellent sent to your linnen.
Does this translate today? Exactly! What the author is talking about here is what we know as rosewood (lignum rhodium). So … it's very, very similar to closet and shoe cedarwood and redwood chips that you can buy in any dang store today. How cool is that?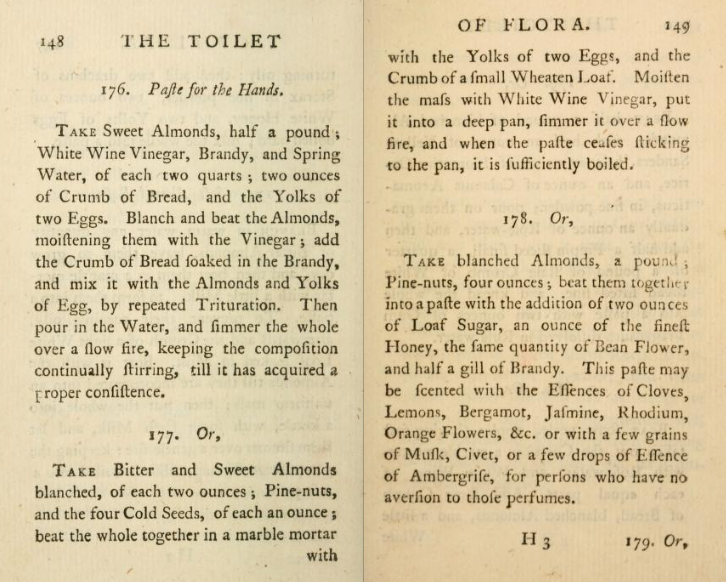 And from Toilet of Flora:
174. Paste of dried Almonds to cleanse the Skin.

Beat any quantity you please of Sweet and Bitter Almonds in a marble mortar, and while beating, pour on them a little Vinegar in a small stream to prevent their turning oily: then add two drachms of Storax in fine powder, two ounces of White Honey, and two Yolks of Eggs boiled hard; mix the whole into a paste.
Does this translate today? Well, it helps to know what Storax is (it's a resin from the Sweetgum tree, genus Styrax). It looks as though no one sells Storax any longer, so we can just toss that tiny ingredient out. Although, of note, it's featured in MANY recipes within this book.
So if we toss out Storax, what do we get? A recipe that looks like something we'd call our own. Finely ground almonds, vinegar, honey, egg yolks?
Add a thing or two to the No-Nonsense Daily Scrub, and that is exactly what you have!
One last recipe from Toilet of Flora (because the end of it made me laugh:
190. A Yellow Lip-Salve.

Take Yellow Bee's Wax, two ounces and a half Oil of Sweet Almonds, a quarter of a pint; melt the Wax in the OIl and let the mixture stand till it become cold, when it acquires a pretty stiff consistence. Scrape it into a marble mortar, and rub it with a wooden pestle, to render it perfectly smooth. Keep it for use in a gallypot, closely covered.

It is emollient and lenient; of course good for chaps in the lips, hands, or nipples; and preserves the skin soft and smooth.

A Crust of Bread applied hot, is an efficacious remedy for pimples that rife on the lips, in consequence of having drank out of a glass after an uncleanly person.
Does this translate to today? Well, it sounds like just about any easy homemade lip balm recipe you could find. So … yay us for keeping the wisdom alive through the ages!
The last part, though, about treating what sounds to be herpes simplex with a crust of hot bread … I dunno. I think I'll just continue not drinking out of a glass after an uncleanly person, thank you very much.
The links to both of these incredibly wise books:
The Toilet of Flora or, A collection of the most simple and approved methods of preparing baths, essences, pomatums, powders, perfumes, and sweet-scented waters : with receipts for cosmetics of every kind … for the use of ladies. – 1779
Delightes For Ladies: to adorn their persons, tables, closets, and distillatories with beauties, banquets, perfumes and waters. (This is not a full text.) – 1602
Bonus From Stephanie!
Our very own Stephanie from Make It, Bake It, Buy It, Fake It emailed me this ad from a 1919 Indiana newspaper.
It may be a little hard to read the text, but basically it's telling the people of the day NOT to use soap in their hair (because it's drying and bad) and to, instead, use emulsified coconut oil.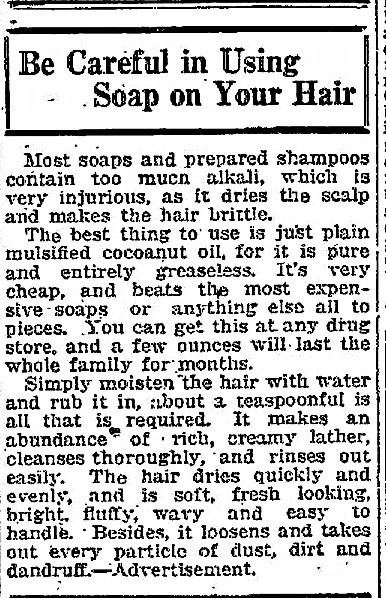 Again, wisdom from 1919, my friends.
We've come a long way (to get back to what we knew to be true in the first place).
Phew, it's a long trip full-circle, but it's worth it.
Don't you think?