There's this magical box that lives in my "crunchy corner." In it are wonders ne'er before seen, like unicorns and fairies and men who ask for directions.
Just kidding, men. (You'd never fit in this box.)
Actually, what's in this box are small baggies full of herbs and roots and flowers and resins. Every so often, when I go to our local natural food store, I'll pick up an herb that I've recently learned about, but never worked with. I bring it home, smell it, touch it, and occasionally just toss it in the box and forget about it. Not for lack of interest, but more for an abundance of distractions.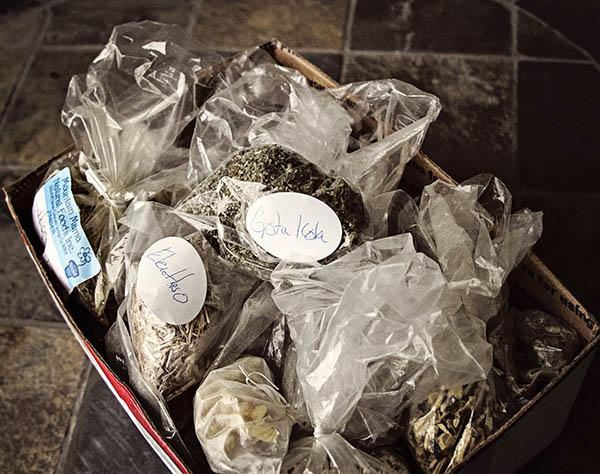 You know how it goes. There's always bread to be made, dishes to be washed, friends to be served tea, or cats to be dressed up like German barmaids. Priorities.
About a month ago, as I was planning a few of the plants I'm going to grow in my new rooftop garden, I ran into hyssop seeds. (Isn't that just about the prettiest word you've ever seen? Hyssop. Hyssop. Hyssop.) And while I was familiar with it, I remembered that it was an herb I'd tossed into the box a few months before.
(Along with, by sheer coincidence, nearly everything I need to make homemade root beer – so look for that in the next month or so. I can't believe I've waited this long. WHY DO I FORGET WHAT'S IN MY BOX?)
So, while deciding whether or not hyssop would be included in one of my myriad garden containers, I thought I'd put it on my face.
Right? Because that's how I make all my decisions.
"Can I put it on my face?" "Yes." "Okay, I'll allow it."
Not only did I love what it did for my face, but the scent alone was enough to send me into the heavens while still feeling firmly attached to the ground. There's something indescribable about the scent of dried hyssop – it has a distinct earthy, minty, pine-y, floaty, and floral smell to it.
And thus, it becomes a seedling in my guest room, waiting for its rooftop home.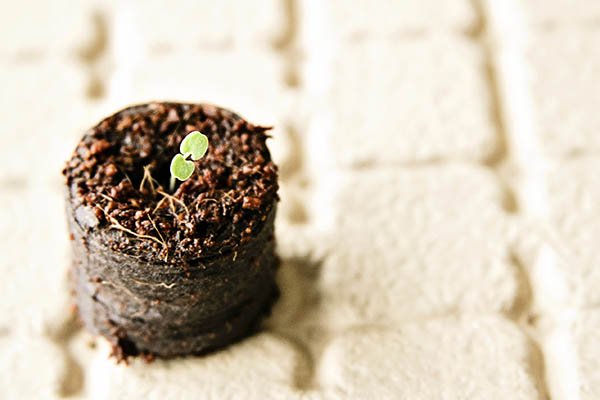 The Quick and Dirty on Hyssop
Hyssop. (I just wanted to type that gorgeous word again.)
We won't go in depth about hyssop at the moment, because I have other things planned for it as it grows over the summer, and we'll talk more then.
But here's a quick overview:
Hyssop, which has for centuries been considered a "holy herb," is a flowering evergreen shrub that's in the mint family.
You can make tea and tinctures out of it (although refrain from ingesting the essential oil, and avoid it if you're pregnant or have seizure disorders), the occasional use of which could help with inflammatory issues, coughs and colds, and circulation.
If you're plagued by evil spirits, hyssop has been known to banish those meanies forever. It's been used since the dawn of demons to consecrate and purify holy places, though science may show it had more to do with hyssop's natural antiseptic ability to prevent diseases and treat chest ailments. Tomato, tomahto.
When it comes to skin care, hyssop is astringent and antiseptic, making it a perfect natural treatment for problematically pimply skin – and it has superb healing properties (in part due to its ability to rev circulation), so it's great not only for wrinkles and pimples, but it makes an excellent addition to a poultice for itchy skin ailments and bug bites.
Oh, it's also historically known to be an aphrodisiac when mixed with ginger, thyme, and pepper. (Ahem. Men, I didn't chase you off with that "asking for directions" comment, did I?)
So among all the different possibilities of hyssop, here's what we're going to do with it today.
Simple and Gentle Purifying Hyssop Facial Mask
You will want to use this mask if:
You have issues with oily or acneic skin; or
You have aging skin; or
You have skin.
It's really very gentle, and incredibly simple (only 3 ingredients), and it's a wonderful way to introduce yourself to hyssop. When you crush or grind the leaves/flowers, stop for a moment and inhale. Take it all in. Breathe the hyssop deep, and consider all the moments, throughout history, men and women have smelled that same smell and have walked away feeling purified, centered, cleansed.
The first time I made this mask, I used water. But upon mixing it up, something seemed like it wasn't quite as harmonized as it needed to be. Immediately, I knew it needed milk instead, so this is what we're using.
Nonetheless, you are welcome to use water instead of milk, and you won't miss out on anything (except some extra enzyme exfoliating and fatty acid nourishing action that milk brings).
First, you find some hyssop. (Where to buy hyssop? Mountain Rose Herbs carries it, Vitacost typically has it, or you can always order the organic hyssop tea bags here, which would be a great way to try this recipe AND try out hyssop as a tea, as well. Otherwise, check your local natural food store in the tea or bulk herb sections.)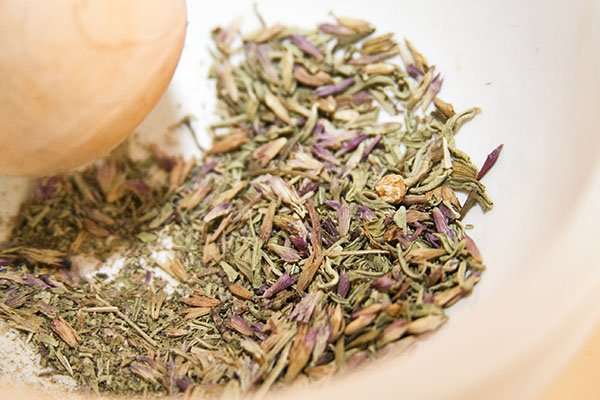 After you've found your hyssop (of the dried variety), you want to find a way to crush it into a (mostly) powder. I used a mortar and pestle because it was handy, but you could also use a spice grinder or a small food processor.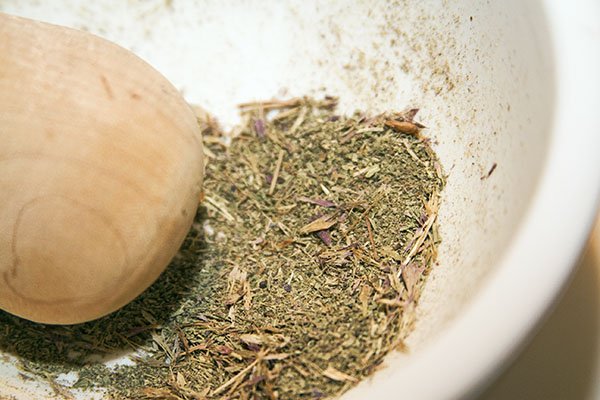 How much hyssop are you using? About 2 tsp.
After you have a fine powder, with some ungrindable petals still hanging around, you want to turn your attention to the whole milk (or water, or almond milk or coconut milk). Heat up your liquid until it's almost boiling.
Add 2 Tbsp hot liquid to your hyssop powder. We're now going to create a strong tea with it, to help spread the hyssop goodness throughout your mask.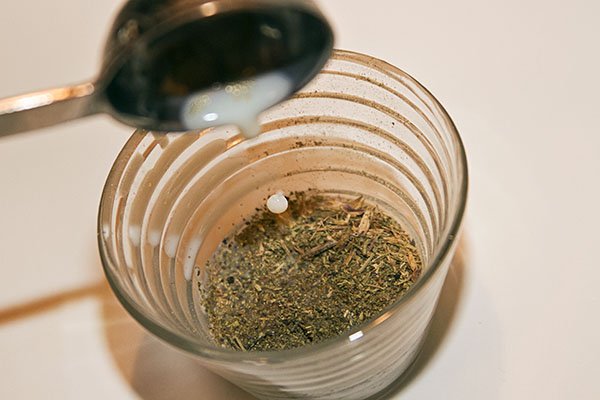 Stir this mixture very well and then leave it alone for at least 5 minutes – and definitely long enough for the whole thing to cool down completely. The longer you let it steep, the stronger the "tea" mixture will be.
Now, add in approximately 1 tsp french green clay (any cosmetic clay will do, really – bentonite, kaolin, rhassoul, fuller's earth – but french green is a great all around clay for any skin type). Stir briskly and quickly.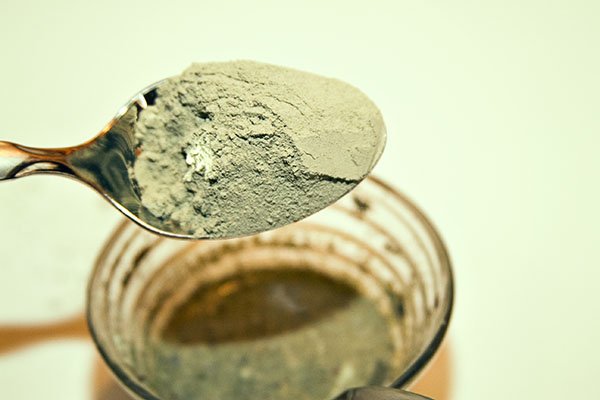 Add enough clay until the mixture is just thick enough to coat the spoon, but the excess will still pour off easily. Like this: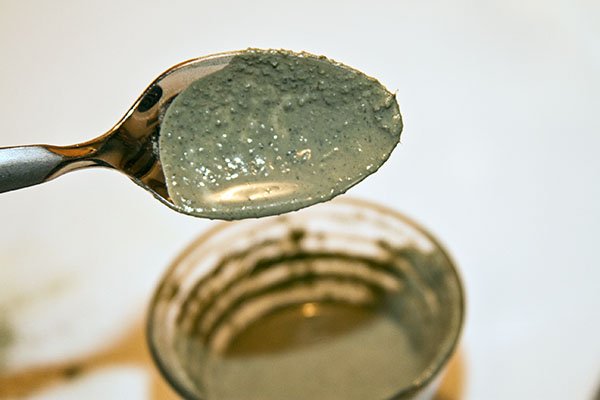 Now you're ready to put it on!
Apply it to your clean (no makeup) face in a thin layer. Relax and let it dry and work its magic for at least 10 minutes or until the entire mask has hardened. Rinse off with warm water. Gently pat dry and follow with your preferred way to moisturize.
Here's the recipe, in handy printable fashion:
Purifying Hyssop Facial Mask
Grind the hyssop into a powder using a mortar and pestle, spice grinder, or food processor. Heat the milk until just before it boils, and combine with the hyssop. Steep for at least 5 minutes or more (the longer you steep, the stronger it will be). Quickly stir in the clay until you have a consistency that just coats the spoon, but allows for pouring off otherwise. Apply to clean (no makeup) skin in a thin layer. Allow it to dry for 10 minutes (or until completely dry). Rinse well with warm water. Pat dry. Moisturize. Look alive.
Remember the Box at the Top?
As you can see, in addition to hyssop (and sarsaparilla, sassafras, wild cherry bark, dandelion root, juniper berries, hops, and wintergreen for root beer), I also have eleuthero, gotu kola, passionflower, frankincense tears, menthol crystals, olive leaf, and hops (there's more – I just don't want to overwhelm) in there.
Now that I'm reacquainted with my box o' goodies, I'm going to make my way through it, learning and experimenting. I've used much of it before for different things, but some I'm really quite unfamiliar with yet (gotu kola especially – I have no idea what that purchase was about).
Do any of you have any inspired ideas for any of it? Anything you'd like to see me try?