There is something about the intimate quality of handmade products, the realness and the everything I talked about yesterday. And, as we've discussed so many times here, there are a lot of good things about not making your own stuff all the freaking time.
A close second to taking the time to make your own products is buying them from people who are passionate about what they do, know their stuff, and are proud of the integrity their products. It's a method of sharing, connecting, and – gosh-darned it – exchanging your hard-earned money for authentic goods.
I've had a really hard time waiting to share this with you guys (excited! YAY!):
Three of my favorite small handmade "beauty" businesses that I've recently fallen in love with.
I want to tell you about them, and THEN I want to give away two things: One humongous basket* of goodies from each of these handmade sellers, and one $50 gift certificate to one of them, as well. Here's what the Basket of Love looks like!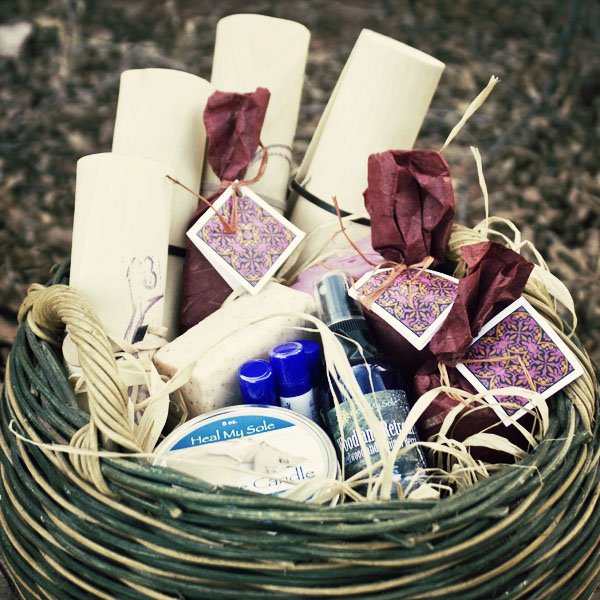 Each of the sellers donated their fab wares to this basket (but the $50 gift certificate is from me, because I love you!), so be sure to check out their shops and support them if you have the means and the desire.
Without further ado …
Heal My Sole
You might have noticed, the beautiful owner Mary of Heal My Sole isn't just an advertising supporter of Crunchy Betty over there on the right, but she's also offering a special discount coupon of 10% just for Crunchy Betty readers (code Crunchy10).
For the Basket of Love giveaway, she's contributed a wonderful soy massage candle, three lip balms, and a "Woodland Retreat" essential oil mist.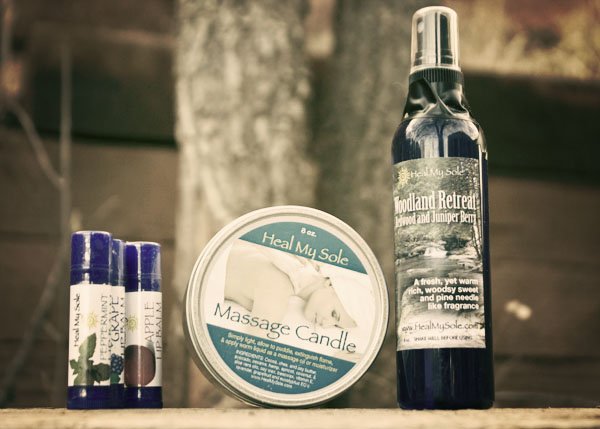 These are all wonderful things, but seriously: The product she built her business around, foot scrubs and other foot care products, are the most scrubbilicious things I've ever used on my feet.
She actually sent me a jar of her peppermint foot scrub to try, and it is heavenly.
Occasionally, I'll run across a salt/oil scrub that blows my mind, and this is one of them. The oil to salt ratio is ingenious and the scent is relaxing and invigorating at the same time. After I use this stuff, my feet are soft (and if you've ever seen my leathery, second-shoe heels, you'll understand that this is a miraculous feat).
No matter how hard I try, I can never achieve the perfection she's found in this recipe.
Clever woman. Genius products. You will love them. Sigh.
Arabesque Aromas
We've tried our hands at making homemade perfume. To be honest, though, there is a difference between simple, easy handmade perfume and the sensuousness of handcrafted artisanal fragrances. And Arabesque Aromas offers an abundance of sensuous brilliance.
Here is the best part: Arabesque Aromas never, ever use synthetic fragrances.
I actually found this shop through a Heartsy deal, and before I even opened my box, I was smitten with the deep, mysterious scents wafting forth. (I ordered her perfume samples, just to see if I could find one that said, "Betty.")
I did not find one that just said, "Betty." I found one that seductively wrapped its gentle, warm arms around my neck and whispered huskily, "Betty, I am yours." This temptress is called The Virgin and the Gipsy (which was inspired by the D.H. Lawrence novel of the same name).
Incredibly enough, Kristen offered to contribute a bottle of this masterpiece for the Basket of Love (retail value for this alone, by the way, is $75), along with two gorgeous beeswax votive candles in the Love Garden fragrance. It has taken all my willpower not to rip these votives open and burn them myself, they smell so much like springtime romance.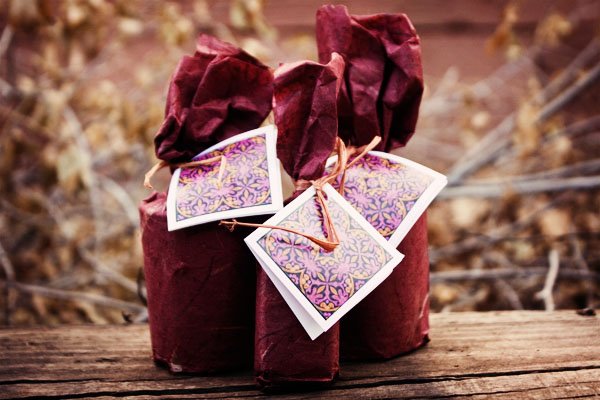 I didn't want to unwrap them for the photos, for fear I'd never give them away. But, also, because they're so beautifully packaged – and I want one of you to receive them just as they are.
Do, though, visit Arabesque Aromas for a good look at her romantic display of candles and perfumes.
I have to mention, too, my second favorite scent (and the perfect one for going into the spring with) – The Golden Bough. It's more green and light than the Virgin and the Gipsy, but it carries with it a subtle sensuality, as well.
I cannot say enough about her art. Because that is what her perfumes are. Art.
And that is why I bought a $50 gift certificate to her store to share with one of you.
Moon Lave
I have both good and bad news for you all on this particular shop, Moon Lave. I received an email last night from the owner, Adana, stating that she has potential plans to discontinue selling her wares in the near future.
That is the bad news.
The good news is, she's still selling her bomb bath cubes as of this moment, and I highly recommend them.
The contributions she's sharing with the Basket of Love are numerous and mystical and (whether you win them or buy them) will take your relaxing bathtime to an entirely new spiritual level.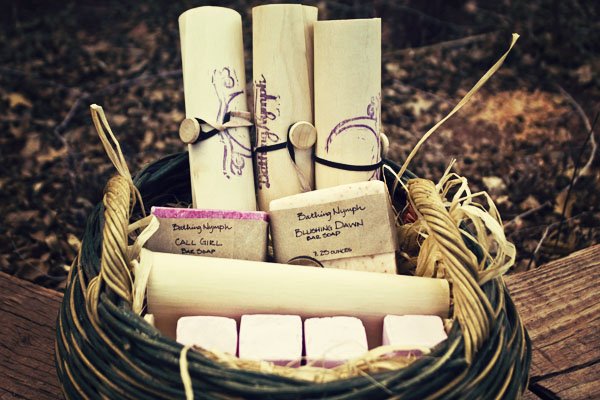 It will be a sad day when she stops selling these heartfelt, unique bath cubes. So many bath times will be starker because of it. (Hope you change your mind, lady!)
Would You Like to Win the Basket or the Gift Certificate?
Here's how we're going to do this giveaway.
To Win the Basket of Love:
Leave a comment and tell me you want the love. That is all you have to do. I'm not a fan of giveaways that make you jump through hoops, hit Facebook likes, and Tweet things. (But if you want to do those things for Crunchy Betty AND for these great sellers, it is definitely appreciated.)
The winner of the products in the basket will be chosen randomly, using the random.org number generator.
You MUST be in the United States in order to win the basket.
You must be 18 years or older to win the basket.
One entry per person.
The winner will be drawn randomly on Monday, February 27th, 2012, around noon MST. I will inform the winner via email, so be sure to leave your real email address in your comment.
Again, included in the basket are:
1 bottle of The Virgin and the Gipsy Perfume by Arabesque Aromas
2 votive beeswax Love Garden candles by Arabesque Aromas
16 bath cubes in different scents by Moon Lave
2 bars of handcrafted soap by Moon Lave
3 lip balms (cherry, apple, and grape) from Heal My Sole
1 soy massage candle from Heal My Sole
1 bottle of Woodland Retreat fragrance mist from Heal My Sole
To Win the Arabesque Aromas $50 Gift Certificate:
Just by leaving a comment at all, you're entered to win the gift basket. HOWEVER, if you'd like the Arabesque Aromas gift certificate, I'd like to hear your thoughts on something:
Leave a comment with your thoughts on whether or not you think it's more desirable to buy handmade over cheaper, mass-produced items. Is there anything that keeps you from buying handmade? Do you take certain measures to try to buy handmade items as much as possible? If so, what are your favorites?
All I'm looking for is a relevant (and hopefully inspiring) comment on the joys of buying handmade items from small sellers. Do you have a favorite shop? A product that has been with you for years? Talk to me.
I'm going to sit down with one of my worldly friends and we will choose our favorite comment as the winner of the $50 gift certificate to Arabesque Aromas.
The only rules for this are:
The winner can live anywhere in the world.
The winner must be 18 years or older.
Entries will close on Monday, February 27, at noon MST. Winner will be notified by Friday, March 2, 2012.
*I haven't decided whether or not the actual PHYSICAL basket will be included along with the products. I rather like that basket, and it's really, really heavy. My postman can only take so much. : ) But let's just say right now: Don't expect to receive the actual basket if you win, just the outstanding products. Cool? Cool.
Now go win some stuff!