Are you ready to take a heady, esoteric journey through all the emotional, spiritual, and soulful lessons I've learned over the past 5 months on Pinterest?
YES? YES?
Too bad. It's not going to happen. I had a post that was all those things and more three-quarters of the way written out (it actually might have been more about hangnails on your toes and clowns with sad eyes, but whatever) when my laptop screen decided to burst into flames and pelt my eyes with its cataclysmic deadness.
Or, you know, it just shut off, and then the laptop shut off, and then nothing works anymore.
Instead, I am typing this on a paleolithic desktop that is actually translating everything I write from ancient Egyptian into old Latin and then back into slang American. It might or might not be running by way of a little tiny dinosaur peddling a stone stationary bicycle.
Long story short, all of my wisdom is gone, and in its wake is something probably even more entertaining. On one hand, you're going to miss out on why I think Pinterest has been shunned by men, though you can read this entertaining blog post for a hint.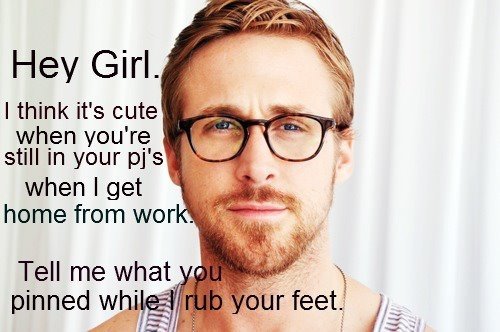 And you'll miss out on how I managed to completely skirt the love-hate relationship so many people have with Pinterest by adopting a "do what you can with what you have where you are" attitude. And blah, blah, blah.
Instead, let me just take the easy route and show you 7 fabulously helpful tips I've found via Pinterest over the last few months. And do forgive me if it's neither pithy, nor witty, nor anything but sharing. And forgive me if I'm absent for the next two or three days while I try to mitigate this temporary electronic annoyance (but there will still be a winner drawn tomorrow … no worries there).
The Top 10 Things Useful Things I've Learned from Pinterest Thus Far
1. You Can Clean Hard-to-Reach Bottles With Uncooked Rice
If you don't have a brush to do the job, or if your jar/bottle/container has hard to reach crevices, check out this ingenious tip.
Just pour a little uncooked rice in the container, top it with a tiny bit of dish soap, pour in the hot water and shake and shake and shake until it's all clean. (It REALLY works!)
2. Recycle Mesh Veggie Bags for Homemade Scrubby Pads
I LOVE this idea, but I have to be honest – I don't sew (yet), so I haven't actually sewed mine up into little pads.
However, I keep them in a container under the sink and pull them out for heavy-duty scrubbing, as well as cleaning fruits and veggies well, especially ones that might have wax on them.
3. You, Too, Can Have Neverending Green Onions
THIS is amazing, people. Instead of cutting all the way up to the green and then throwing your leftover green onions away, leave some of the white part uncut and then submerge them in water.
Leave 'em in a sunny place, and watch them grow back for further use.
On a side note, I've also discovered that the best way to keep fresh parsley is to cut off the bottoms at an angle – like you would with flowers) and just keep them in a jar with water that's just touching the bottoms of the stems. My parsley has been sitting there, good to go, for 3 weeks now.
4. If You Pop a Small Magnet in Your Medicine Cabinet, You Have an Instant Tweezer Holder
This may seem like a nonessential tip, but it's REALLY not. This baby has saved me hours of hunting around for the tweezers that always seem to slip, slide, and end up in Alaska when I'm not looking.
5. It is SO Simple to Decorate a Jar Top with Scrapbook Paper and Modge Podge
You might have noticed a few jars I've pictured throughout Crunchy Betty and how they have ultra cute tops.
It's because of this wildly easy trick.
It works, it's adorable, and they really do last a very long time, or until you spill something on them.
6. A Parmesan Cheese Lid Fits Perfectly on a Regular Mason Jar
Now, this was a new thing for me as of last night. And I don't buy a lot of plastic-bottled Parmesan cheese these days (because, you may remember, Costco).
BUT, this is a great idea for future reference, because now you can just buy one last bottle of it and then start to grate your blocks of parmesan instead. And then store it in glass. Because glass is good.
Then you could also use this idea for things like glitter or pepper or teeny-tiny love letters to sprinkle on ants.
And, of course, of note – a sprayer bottle top fits nearly perfectly on a Bragg's Apple Vinegar Cider Bottle, too. Remember?
7. You Can Peel an Entire Head of Garlic in Less than 10 Seconds
I'm going to try to explain this, but it might be confusing. If at some point you shake your head and roll your eyes, watch the video in the pin instead. Then you can shake your head again. In disbelief. Because this is amazing.
Okay, so you smash the head of garlic with the heel of your hand so it all falls apart. Then you put it in a bowl and cover it with a second bowl (so it makes a nice open bowl-nest for the garlic). Then shake. And shake. Hard.
Open up your bowls – and you have completely peeled garlic. Yay!
What Are Your Favorite Tips from Pinterest?
Do you have any genius ideas from Pinterest that you've incorporated into your life?
Share!
In the meantime, I'm going to go bang my head against the laptop. It's my last resort of fixing it.