I used extra virgin olive oil in my oil cleansing routine, and I broke out like a 13-year-old would if they washed their face with bacon pizza.
That is not an uncommon complaint, although it's not the rule. Occasionally, extra virgin olive oil receives raving results on the oil cleansing page. This problem is more than vexing, because we've all heard – for years – about how healthy extra virgin olive oil is, for your insides and your outsides.
But, finally, after a year of pondering this quandary, science has come through and delivered what I think may be at least part of the answer to the extreme ranges of success that extra virgin olive oil exhibits.
Lest you think the information I'm about to share here only applies to you if you use the oil cleansing method, it does not. What I'm about to present to you should absolutely, 100% change the way you shop for olive oil … even if you're just eating it.
Your Extra Virgin Olive Oil Probably Isn't Very Extra Virginal, After All
Researchers at the University of California – Davis recently did us all a huge, huge favor.
They tested a plethora of imported and non-imported extra virgin olive oils to see whether or not they were actually, truly extra virgin. It turns out, most of them were not. Not even close. In fact, most of the brands found to be fraudulently labeled as extra-virgin olive oil are brands you might even have in your own kitchen. Think Bertolli. Think Colavita. Whole Foods. Star. Fillipo Berio.
(Here's a easy, concise list of the brands tested and whether or not they were fraudulently labeled.)
If you'd have asked me three months ago if I'd ever renew my Costco membership, I'd have said "never, ever, ever, ever again, please momma no!" I just did though. Shelled out the $55 to join a club where I'm shoved and trampled just trying to pick out a parmesan cheese.
Why? Because Kirkland brand olive oil was one of the VERY few (and the only locally available EVOO) to pass the extra virgin purity test. Thank you, Costco. You're now a hero in my eyes.
This study has shown that up to 69% of imported extra virgin olive oils are actually very fraudulently labeled. Yikes.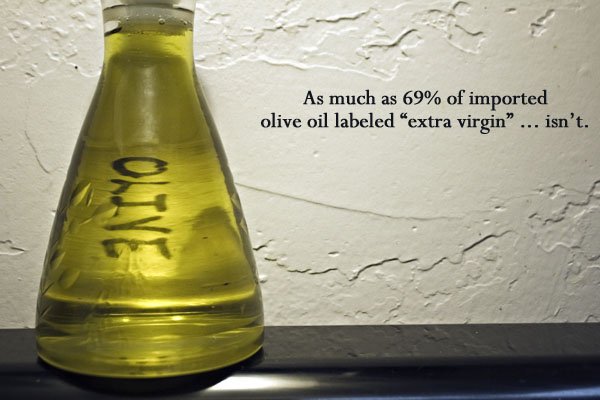 It wasn't just the UC-Davis study that was alarming; there's a new book out called Extra Virginity: The Sublime and Scandalous World of Olive Oil, in which the author, Tom Mueller, reveals that – because of lax regulations and standards in the olive oil industry – olive oil can easily be tainted, cut with other oils, deodorized, and then sold as extra virgin … without anyone being the wiser.
From this Bay Citizen article, he also mentions: "There's a river of rotten oil going into food service — restaurants hotels, schools, hospitals," he said. "The big companies are selling things that are not even olive oil."
Kinda makes you wonder what you've been eating all this time, doesn't it?
How Can You Tell if Your Olive Oil Is Extra Virgin or Not?
I cannot attest to the efficiency of this home test (although I'm trying it right now and will be able to attest to it soon enough), but apparently extra virgin olive oil and virgin olive oil will react differently in very cold temperatures.
So try this experiment:
In a small bowl, pour a bit of your "extra virgin" olive oil. Cover it.
Pop it in the refrigerator for 24-48 hours.
When you take it out, if it has crystallized, it is extra virgin. If it has hardened into a solid lump, it is NOT extra virgin.
How Can You Find Olive Oil You Trust?
Imagine standing in a store. Before you are two people holding cartons of strawberries for sale – one, a local farmer you've spoken to on occasion, the other a business man who just flew in from the strawberry farm in Argentina.
Which strawberries would you likely choose to buy?
The local ones, right? It's almost a no-brainer.
Unfortunately, olive oil just isn't that easy. A vast majority of olive oil available to the bulk of us regular consumers is imported. We have no way of knowing the people behind the business. Unless you live in California, where olive oil pours forth like manna from the heavens and coats all its residents with healthy, glistening goodness.
The first thing I'd do is stop buying any of the brands that made the fraudulently labeled list. No more Colavita. No more Bertolli. No more Whole Foods (of all people … for shame).
Secondly, if you have access to the brands that did pass (Kirkland, Corto, California Olive Ranch, McEvoy Ranch Organic), stick with them for now.
Next, see if you can't find a smaller seller and ask them questions. For instance Mountain Rose Herbs (who I fully trust in terms of their integrity) sells extra virgin olive oil. And we have a small store in town called the Olive Tap that sells it, as well. I plan on having a lengthy conversation with their owner soon. I bet he can't wait!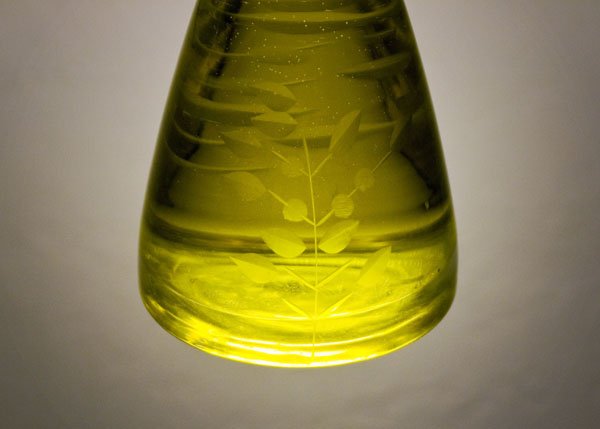 Finally, see that EVOO up there?
It's Carapelli, and I bought it on ridiculous sale several months ago – before knowing any of this information. There's a little stamp on the back that says it's made from different olive oils from four countries – Italy, Spain, Greece and Tunisia.
My guess is that if you're taking olive oils pressed in four different countries, with four totally different suppliers, the chances of contamination, subpar quality, or unscrupulous "cutting in" of other oils is really high. I don't know this to be fact, but given everything I've just learned, I'd say it's highly likely.
Especially when you consider that Carapelli was one of the brands on the "fraudulently labeled" list.
So look for olive oils that are produced in one country only. Like this one (which is my personal fave). And, again, if you can talk to the business that sells it, you can find out all the information you need to make a conscious choice.
Will This Change the Way You Buy EVOO?
You remember Rachel Ray, right? The queen of EVOO? The maker of the trend, the master of the brand? You know she sells her own brand of EVOO?
Guess what? It's on the fraudulently labeled list.
This is NOT Yumm-o.
How are you feeling about your olive oils right about now? Will you change the way you buy it?
And – for those of you who've had problems with the OCM using EVOO – care to give it a shot with the "real thing?" One more time? For CRUNCHY science? Just so we can see if it makes a difference, and if we can rule out – forever and for all – whether or not it's an appropriate oil to use on your face.