There's just something special about the oil cleansing method, yeah?
The thought of washing your face with oil either attracts or violently repels people. But, in the four years I've been immersed in natural living blogging (and the two years since I wrote the following introductory post), I'm not sure there's a single thing that's matched the OCM's wild successes (and occasional trials and failures).
I'm not going to reinvent the wheel, though, so I won't be writing extensively about HOW to do the oil cleansing method. For that, you want to visit this post right here. If you're unfamiliar with it, or if you just need a refresher, please (I implore you with my whole crunchy heart) VISIT THIS POST HERE ON THE NITTY GRITTY OF HOW TO DO THE OIL CLEANSING METHOD. And then come back here. We miss you already.
Now, for the rest of you – those who've braved the askance looks of doubting friends when you tell them how you're going to wash your face with oil, those of you who've discovered smooth, radiant skin beneath the product residue, and those of you who've given up, crestfallen at breakouts, after an attempt to make the oil cleansing method work for you – this post is for you.
Over the last two years, I've received numerous emails on and dozens of threads have been posted about the oil cleansing method in the Crunchy Community, and I've talked extensively with people about the cleansing oil blends we make and sell.
In all of this, I've learned a lot. And I'm going to share some of it with you right now, so perhaps you can give it another try (if you had issues the first time) or you can refine your OWN regimen if you're still bumping up against some issues.
Five New Troubleshooting Tips For the Oil Cleansing Method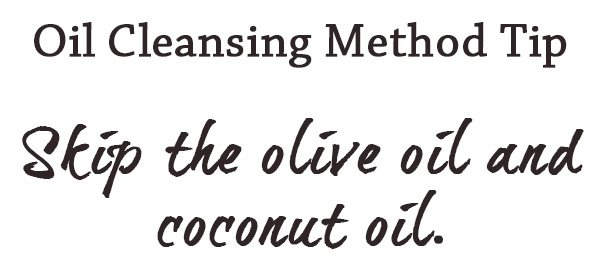 This. This is the biggest thing to remember. For the oil cleansing method, avoid the possibility of heartache (faceache?) and just do not use coconut oil or olive oil – even if it's extra virgin.
The majority of OCM complaints I've seen come from people who've started by using olive oil or coconut oil. ("The oil cleansing method SUCKS! I have more pimples than ever!" "What oil did you use?" "Olive oil." "Ahhh. Yes, you did.")
Coconut oil is comedogenic (it may clog your pores eventually) and olive oil is … I have no idea. I mean, I really have absolutely no idea why there are SO many complaints about olive oil when using the OCM, but it happens. A lot. Every day. It probably just happened, somewhere, just now.
(You could speculate it may have something to do with this, but I just don't know.)
And, yes, I'm aware that as soon as I write this, five or ten of you are going to pop out of the woodwork and say, "But wait! Coconut (or olive) oil works for me!" And that's incredible. But just know, you are a very special minority. Very special. You might want to see if you can fly or something – that's how special you are.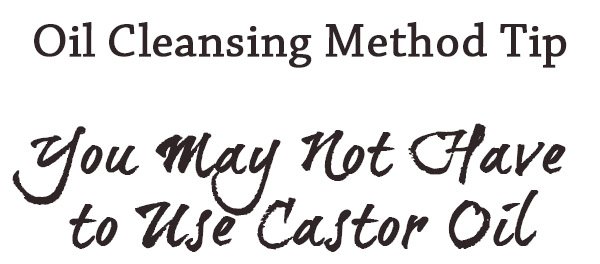 On the other end of the spectrum, occasionally people have issues with castor oil.
Because it's drying. Very drying, really.
If you find that no amount of "stepping down" the ratio of your castor oil helps with the dryness, just try getting rid of it all together. If you're going to ditch the castor oil, though, these are the oils I recommend using as your base oil:
Hazelnut or sunflower oil (for typically acneic skin)
Sunflower, grapeseed, or sweet almond oil (for oily to normal skin)
Jojoba, grapeseed, or apricot kernel oil (for normal to dry skin)
Avocado or apricot kernel oil (for dry skin)
A note on jojoba oil: A few of you may encounter issues with breaking out after using jojoba oil (not everyone seems to agree, but it is listed in a few places as comedogenic). If you have issues with it, just discontinue use.
And, of course, if you do drop the castor oil, please remember that you can still experiment with oil blends – adding other goodies to your OCM regimen, as well.
Just please remember to wipe your face off very, very, very well if you're not using castor oil. It's going to take just a touch more work to get all the previous grime and/or makeup off your face. But it is possible. Yay!
p.s. Of note, I don't recommend skipping castor oil unless you absolutely HAVE to. It's quite effective and efficient. Only remove it from your blend if you're at your wits end and need to try something new.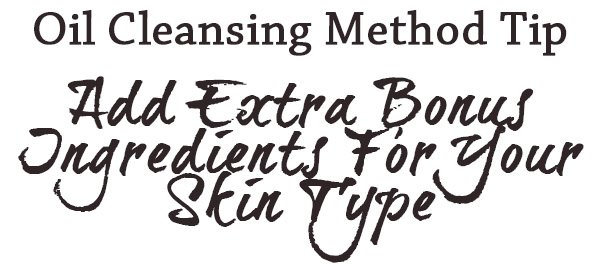 If you're using the oil cleansing method and find you still have a few breakout issues – or if you have acne scars, I have one word for you:
Add tamanu oil to your blend.
(Okay, that was more than one word. Addtamanuoiltoyourblend. There. Better.)
Not a lot (that stuff is thick), just a teaspoon will help immensely.
On the other hand, if you're still a little dry after adjusting your castor oil down a bit, consider adding a yummy ingredient like argan oil or pomegranate seed oil. (Again, in smaller amounts – these are not inexpensive oils.)
And even and especially, don't shy away from dropping in a few drops (we're talking about 5-10 drops to about 1-2 oz of oil blend) of beneficial essential oils in there, as well. Even though you'll be wiping the majority of it off eventually, your skin might still respond in new and amazing ways to the added ingredients.
Here are a few "goodies" you could consider:

If you've tried the oil cleansing method in the past and you've found your face red or irritated, or you're breaking out in ways you've never done before, you may have an allergy to an oil – most probably a nut oil.
And we're not talking about the extreme allergies that might cause you to puff up and close off your airways. Even a very minimal allergy could lead to untoward reactions.
The best way to find out? Eliminate the nut oil you've been using and substitute a non-nut oil in its place (grapeseed oil, apricot kernel oil, and sunflower seed oil would be a good place to start). The nut oils most likely to be the cause: Sweet almond oil, macadamia oil, or hazelnut oil.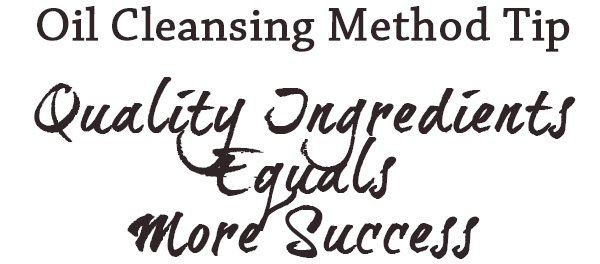 This is true for ANYTHING you make at home, but it's necessary that we emphasize it right now.
Garbage in/garbage out, even with the oil cleansing method.
How do you know if your ingredients are quality? That's not always easy, but a good rule of thumb is: Never buy anything that isn't organic and cold or expeller pressed.
If it's organic, you're so much closer to not putting synthetics on your face (e.g. synthetic fertilizer or pesticides) that are used to grow commercial crops. And if it's not cold pressed or expeller pressed, it's likely refined. Why do you want to avoid refined oils? Because they're heated to extreme levels, often destroying the beneficial properties of the oils and leaving behind free radicals (which you do NOT want to put on your face).
Personally, we only use Mountain Rose Herbs oils in our oil cleansing blends and they're magnificent. But Life-Flo Pure, Aura Cacia, Desert Essence, and Heritage also offer decent organic, cold or expeller pressed oils.
If you're having issues with the oil cleansing method, take a look at the ingredients you're using and see if you can find somewhere to improve the quality.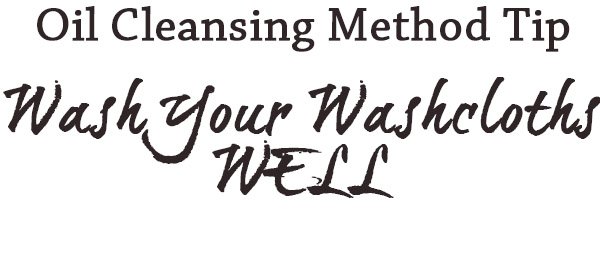 Do your laundry, and do it well. Your washcloths will begin to accumulate oil residue (especially if you use them more than once or twice before washing them) which can be difficult to remove.
When you do the load that contains your washcloths (and you may just want to do a separate load), I recommend using – in addition to your usual (homemade?) detergent – an extra 1/2 cup of washing soda or baking soda and a rinse with vinegar used in lieu of fabric softener.
In fact, do not use fabric softener on your oil cleansing washcloths (or on anything if you don't have to). You want those washcloths to be as free of residue and synthetics as possible, and fabric softener leaves behind both. If you've been using it and find that you've broken out, now you know what the culprit may be.
BONUS TIP: In the original Nitty Gritty On The Oil Cleansing Method post here, I offered up the recommendation to leave your water running after you put the oil on your face – so that it would heat up to a very, very, very warm temperature (the right temperature to soak your washcloth in), because most people don't have on-demand, immediate hot running water. A few people had issues with the problem that it's not very water conserving. Instead of leaving the water running, you could fill a bowl with water you've heated in an electric kettle or a teapot (or the microwave) and then allowed to cool to a safe temperature for application on your face. Just dip your washcloth in the bowl and test to absolutely make sure it's not going to burn you.
OCM Divas – What's Your Blend?!?
Now that we've heard MY tips, it's your turn!
If you've been doing the OCM to much success, please share the blend you're using and your skin type in the comments. Let's give all the newbies a great place to start!
And if you've had issues with the OCM, post what you've used and what your problems have been, and let's see if we can't get you in tip-top shape to try again!
(Crunchy Betties … activate!)