It was 4 o'clock in the afternoon when Amanda Worthington lay her life bare for all to see.
"It was the worst day ever," she whispered tensely. "I was about to start my period, my boyfriend and I broke up the night before, and my sister called and begged me to pick up 10 two-liter bottles of Dr Pepper at the store for her kids' soccer practices. I wanted to say no, but she threatened to tell our mother about the time I ate her lipstick."
"Mom's very protective of her lipstick," Amanda added. "And it only happened last year."
Despite Amanda's terrible day, she found no care or kindness coming from her fellow shoppers that afternoon. "In fact," Amanda says, "I felt like people were staring at me. Judging. Am I crazy?"
Amanda, a slightly pudgy hospice nurse, pushed a cart filled with a box of tampons, four chocolate bars, 10 two-liter bottles of soda, and 8 boxes of Hungry Man Salisbury Steak frozen dinners.
"Oh. The Salisbury Steak was for Mr. Vitols, an elderly man I shop for sometimes. If I don't bring his Hungry Man, he waves his cane and curses me in Latvian," Amanda added.
Through her tears, she placed her items on the conveyer belt as nearby shoppers gawked in disbelief.
"Oh. Wow. I hope that lady doesn't have kids. How sad," the woman behind her snarled. Everyone around nodded and looked down at the floor, dismayed at Amanda's indiscretion.
And at that moment – that very instant – Amanda began her decade-long struggle with a condition many of us know all too well …
A term I'm dubbing "Cart Anxiety."
What is cart anxiety?
The feeling that you're being judged poorly based on the items in your shopping cart.
Am I totally making this up?
I really thought I was when I first began to write about it last week, but it turns out … it's not only a thing, but it's actually based in reality. It turns out, people are judging you and some of you are being the judgy judgertons.
So now what?
Originally I Thought It Was All In Our Heads
Last week, my sister and I were discussing "cart anxiety" on the phone, talking about little paranoid thoughts we have that other people are paying attention to what's in our carts.
For me, it's produce. I always think people are paying attention to the amount of (or lack of) produce I have in my cart. If I have three onions, two heads of garlic, a tomato, and a bag of spinach, I always think someone's standing behind me going, "Unnh unnh, girl. You best be putting some broccoli in that cart or you're gonna die soon." For my sister, she feels that people might judge her food choices when she's shopping with her children.
Originally, I'd thought it was all in our heads. We are a crazy bunch, and we come from a crazy family. When I sat down to write this story the first time, it was simply going to be observational humor on our personal brand of craziness.
And then, after putting together an ideal "grocery cart" for the shot above (I didn't buy it all, btw, so stop judging me), I ended up talking to the checker.
"Is shopping cart anxiety a thing for most people?" I asked.
"Yes," she replied. "I'd say dozens and dozens of people come through here each day and make excuses for their choices or act embarrassed about what they're buying. And this is a natural foods grocery store. I can't imagine what it's like in a normal one."
"But," I posed, "is anyone even actually paying attention to what ANYONE ELSE is buying? Is that even a thing? Or is this just all-in-our-heads paranoia?"
And you know what happened? The woman behind me waiting to buy an apple and a kombucha piped up and said, "I judge people. I judge them for what's in their cart. All the time. I feel really sorry for people, because they're too ignorant to know that they're wasting money on food that isn't healthy." Then she banged her kombucha on the conveyer belt and looked pointedly at the coconut milk ice cream I was paying for.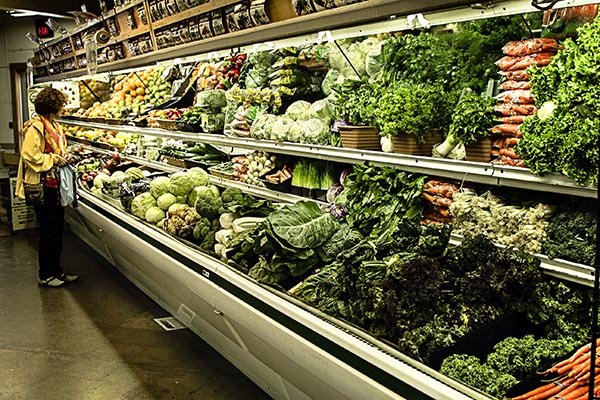 After that, the lighthearted observational humor blog post went in a new direction …
We Are a Judgy, Judgy People … Especially When It Comes to Processed Foods
The story about Amanda at the beginning, by the way, is totally made up. She's an amalgamation of things that people either felt judged about, or judged in other people, based on a query last week on the Crunchy Betty Facebook Page.
I asked people if they'd answer one or both questions:
Do you think people are judging you based on the items in your shopping cart?
Do you ever judge other people based on the items in their shopping carts?
I read every single one of the 293 responses, and I tallied every single answer loosely (but to the best of my ability) up until we reached 271 comments, and then I stopped because I had to eat coconut milk ice cream.
AMAZINGLY, it turns out that the majority of responders admitted to judging other people as opposed to being judged by other people. Many of the people who admit to judging others went on to answer that they didn't care whether or not they were being judged.
Most of the reasons for judging were things like:
The shopper had children with them and bought a lot of processed foods or sugary foods (this was, by far, the winner)
The shopper was overweight and buying something the "judger" thought they shouldn't be buying
The shopper was an extreme couponer
The shopper used EBT cards/food stamps to buy processed food
Most of the reasons people feel judged were things like:
The buyer has children with them or is pregnant and is afraid of making a "wrong-looking" food choice
The buyer is overweight and buying themselves a small treat like cupcakes (even in the midst of an otherwise healthy cart)
The buyer is using food stamps and is judged for buying "expensive" organic foods with it
The buyer has a cart full of organic foods and feels like they're being judged as thinking they're "better than" everyone else
Condoms; that is all.
Fortunately, a fair amount of people also answered that they neither judge or feel judged, and most of the men answered "Who freakin' cares?" (An answer I've grown to love.)
All in all (and remember, this was a loose tally, and people could answer both questions), the numbers were:
111 people admitted to judging (either harshly or mildly) other people based on the contents of their grocery carts
76 people said they feel judged based on the content of their trolleys (watch out Englishmen, we're coming for your word)
73 people said they neither judged nor felt judged (or gave a completely noncommittal answer by way of an anecdotal story)
Let's Continue These Thoughts Next Time, But First …
In the next post, I'd love to talk about this whole judgy thing and what it means, whether we should be doing it and how we can move on past it.
But first, I'd love to hear from you lovely readers.
It's not a secret that as you start to clean up your diet (and your bathroom counter) by way of real foods and natural products, it's easy to feel superior to other people. I mean, Clorox GreenWorks based an entire ad campaign capitalizing only slightly annoyingly on this phenomenon.
It's not a secret, and it is kinda silly, you have to admit.
So here are some questions for you guys (answer one or all of them – the floor is yours now):
Do you judge or feel judged in the grocery store based on the contents of your shopping cart?
What are some of the things you think about other people when you observe what they're buying?
Are there any ways you've gotten over your urge to judge – or over the concern that you're being judged?
What might be something you'd say to help someone who feels they're being judged (or actually is being judged) based on the criteria above (e.g., they're pregnant and buying cookies, or they're overweight and buying cookies, or cookies cookies cookies)?
I'm immensely curious. No judgment here.