It's of utmost importance that I be transparent with you all right now, and not just about the pair of parachute pants I still own from 1987.
No, the truth you should know is this:
If there was one thing I would want to change in this world, it would be the "food wars" we wage against each other. In fact, this might be my new mission in life: To join the human race in one connecting truth. The truth that we're all doing the best we can with what we believe in any given moment of our lives in order to nourish ourselves and our families.
The truth that there is no "one right way" for every single person in the world. The truth that diversity (in our beliefs AND in the way we eat and take care of our bodies) is what keeps us learning and growing, and is something to be celebrated – not ridiculed (yes, even in the case of processed foods, which we'll talk more about in a minute).
The truth that we are ALL in this together. All of us. You and me. Us.
And that's why I think "Cart Anxiety" is an important place to start, because it starts in the open. It starts in a place where we're the most vulnerable. In public, where everyone can see our vices, our unmentionables, our triumphs and our weakest moments.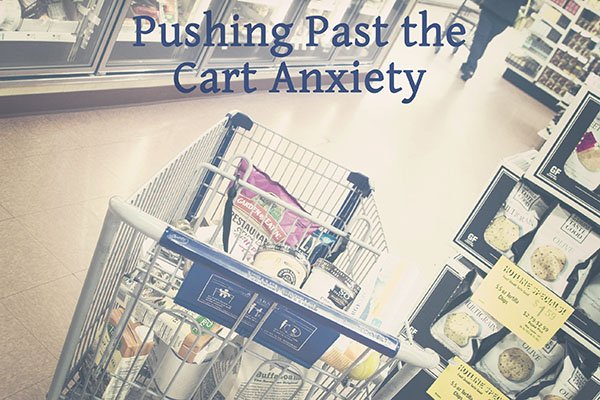 So while I know we won't solve this crisis of you're-bad-and-killing-yourself-with-your-personal-choices shaming in one fell swoop, one silly little blog post, all I ask is that you begin considering the concept of being gentle with yourself and with other people and their choices.
Let's talk specifically about Cart Anxiety right now, though.
No One Can Make You Stop Judging – Even You
If you spend any amount of time on message boards, Facebook, or blogs (and I'm assuming you do – hello!), you probably know by now that the judging other people for their personal health choices is an epidemic.
I mean, people are effing mean about it. Nasty. And it solves zero problems; it only leads to more irrational internet arguments and horrid feelings.
But herein lies the rub: You can no more make yourself stop judging other people than you can make yourself stop eating completely. And, goodness knows, there's nothing in the world I'm going to be able to say to you to convince you to just stop cold turkey. (But that won't stop me from trying to nudge your thoughts in a more loving direction.)
I'm going to propose three potential truths, however, that you can just keep in mind (or discard if you'd like, it's up to you):
Judging and criticizing people doesn't help them; it hurts you.
No one thing (diet, personal care, or otherwise) is perfect for everyone in the world.
If everyone lived like you, believed like you, and behaved like you, the world would be a terribly droll, dull, and lifeless place. Contrast is what brings our world to life – this is as true in nature as it is in our thoughts.
None of these truths are set in stone; they're just possibilities to consider when you have a negative thought about someone else and their choices.
So when you find yourself judging someone else based on the contents of their cart (or based on a moment on the internet), what can you do about it?
First, you can ask yourself about your thoughts and whether or not they're true. I mean this. Talk to yourself (it's amazing how your thoughts work themselves out when you bring questions to them).
So, for example, you see a woman with children and a cart full of sugary breakfast cereal. You think, "What a terrible mother; she's killing her kids." Ask yourself: "Can I absolutely know for a fact that this woman is a terrible mother, or that she's killing her kids? Absolutely, completely, for a fact without any doubt whatsoever, can I know this?"
The answer will always be, always, "No. I cannot know that for a fact." Perhaps this woman is single, works three jobs, and hasn't ever been privy to knowledge that sugary breakfast cereal is bad. With little doubt, she loves her children (if you didn't love something, would you care for it at all?). She feeds them; is that horrible? She's killing them; is that true? I grew up on sugary breakfast cereal and I'm not dead, so can I know for a fact that she's killing them? Can I even know for a fact that she's buying them for her children? No.
These are just some of the ways you can talk to those negative, stressful, judgmental thoughts that only hurt you.
You see, I'm not asking you to change your perspective because it's bad. I'm asking you to consider the possibility that talking to your negative thoughts might very well help YOU be more healthy emotionally.
I want you to consider one more thing, when you feel judgy towards someone with unhealthy food in their cart: What would happen if, tomorrow morning, everyone in the world woke up and said, "I'm only going to eat real food from now on. Only grassfed, pastured, and organic. Only that, and nothing else."
What would that do to supply? What would that do to the price you pay at the checkout? Would YOU even be able to access the foods you so dearly enjoy, if that happened?
Perhaps everything happens in slow increments in order for us to slowly acclimate to changing opinions. Perhaps, instead of judging, we can be grateful that while it IS happening – while public opinion about healthy eating and living is changing – it is changing slowly, so as to not cause immediate chaos.
Just something to think about.
And For You Who Feel Judged – I Have Two Thoughts For You
The first is this, "Your opinion of me is none of my business."
I know, I know. Embracing that is easier said than done.
But do everything you possibly can to get there. Please.
I speak to you from a place of deep, deep knowledge. If I was going to attribute my "blog break" to anything at all, it would be the fear of being judged by everyone else (because, let's say this again, people on the internet are so mean sometimes).
I took time away to examine where I didn't feel comfortable with myself; where I wasn't accepting myself and my choices for myself, because that's the root of the whole danged issue.
And nowhere is this more glaringly apparent than with "Cart Anxiety." If you feel comfortable with your choices, and you DOGGONITKNOWWITHOUTADOUBT that you're choosing what you need when you need it (and that freaking includes a cupcake every once in a while), then it won't matter what anyone else thinks.
The second thought is this: The thoughts you're having about other people judging you live only one place: In your own head. This is excellent news, because that's the one and only place where you get to decide what stays and what goes.
Here are some special things for you to consider:
Ask yourself, "Is it true that someone is going to judge me for this cupcake? Can I absolutely, without a doubt, know it's true?" If you can't, then why worry?
When you go to the store, have one thing on your mind – one thing only – being "in the moment." If you open your mind and your heart to everything that's available for you to look at, smell, and touch in the store, you have little time to concern yourself with what other people are thinking. Take it all in – the green and the orange, the creamy and the crunchy. You might discover a new world of food you hadn't even noticed before, because you were too busy thinking about thoughts that you thought other people may be thinking.
The grocery store isn't happening TO you, it's happening FOR you. How amazing is that?
Lastly, consider that the judgments you think other people are having aren't theirs at all – they're yours. These are your judgments of yourself. When you know this, you can apply the "is this absolutely, without a doubt true" exercise to ALL of them, and figure out exactly where it is you're hurting yourself and your ability to enjoy life (and the opportunity to nourish your body and soul).
Lastly, when you start to worry about being judged in the grocery store, THINK ABOUT THIS EVERY SINGLE TIME.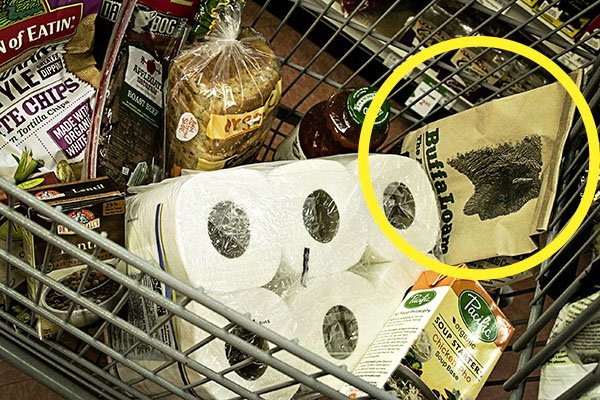 At one time, I was LITERALLY WALKING AROUND WITH POOP IN MY CART.
Literally, poop in my shopping cart, that I carried, and bought – and I didn't give a crap what anyone else thought.
Poop.
Literally.
(Tell yourself: At least I'm not Betty, and this is not poop.)
If that doesn't make you feel better about your cupcake, I don't know what will.
Finally – Contrary Beliefs are NOT Your Enemy
Ugh. I don't know how to make this more clear, because I know there are some of you that are very invested in the idea that your beliefs are the only right way to live.
The only thing I can offer is my own personal credo: What I do is right for me, and when I do what is right for me – and do it lovingly and gently – I set a precedent for other people to want to follow in joy and excitement.
So, in closing, I just want us to all consider whether or not the example we're setting is something other people feel excited to experiment with, or if they're going to be turned off by dogmatic, judgmental thinking.
Let's try – try – to be more kind to each other and ourselves, on the internet and in our own heads in the grocery store.
And maybe, instead of a scowl or a guilty downward glance, we can start smiling at each other and connecting at the checkout line. After all, we're all just doing the best we can with what we have where we are.
Always.