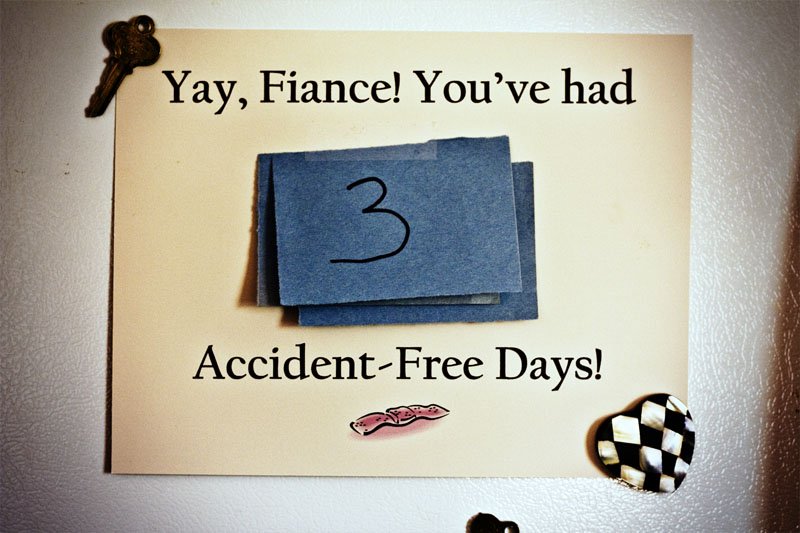 Fiance was working in the film industry in California a few years ago. Now he's taking some time to "find himself" (in front of the XBox, mostly). While he's doing that (apparently by playing Red Dead Redemption for hours on end), he's also working as a cook in a local brewery/hippie restaurant.
It just so happens, he's also rather accident prone. And you know what kinds of things lurk in kitchens. Fire, knives, and brussels sprouts. Dangerous things for the accident prone, to be sure.
I've put up a sign on the refrigerator to mark the days with no accidents. We are currently on day 3. But he's at work now, probably flipping fried seitan directly on to his forearm.
Without fail, he reaches for something natural to help with the cuts, scrapes and burns. So I've put together a few things we do when he's got an ouchie, as well as some things you might want to keep handy – just in case the brussels sprouts attack.
First of all, before I get to the things you probably already have in your homes, I have to give a shout out to my favorite product in the world The Thymekeeper's Bad Ass Road Rash. She used to have a physical store (and it's now online!) right here in Manitou Springs, and this salve is truly a miracle worker. I need to restock. We've gone through two large tins of this stuff, and the speed in which it helps your skin heal is phenomenal.
It's one thing I believe should be in everybody's home, funny name or not.
Now on to the things you probably DO have in your home – a natural medicine cabinet you didn't even know you had!
Natural Remedies for Cuts, Scrapes, and Burns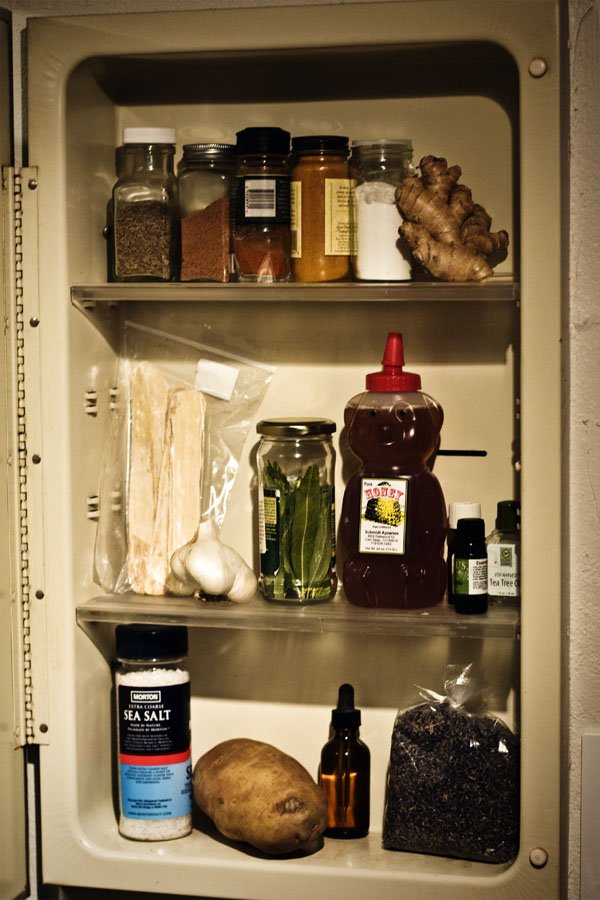 Cayenne Pepper for Wounds
This spicy treat is actually a wonder with cuts and bleeders. It may sound a little scary, but it works! Just sprinkle a layer of ground cayenne pepper on a bleeding, open wound and then wrap a bandage around it. The bleeding stops, and the pain is dulled. Leave this bandage on for an hour or two.
Why cayenne helps cuts: Cayenne is incredibly high in a property called capsaicin. You probably know that it's very effective in treating pain, but why? It dulls the nerve endings and sends messages to the brain to slow down pain impulses. Cayenne works to help stop bleeding by encouraging the clotting of blood. In fact, studies have shown that, if a person is in the middle of a heart attack and they take a strong cayenne pepper tea, the heart attack may stop completely – because of cayenne's blood clotting power.
Precautions: If you're going to cover an open wound with cayenne, you should first make sure it's organic. As you're delivering the product directly into the blood stream, please be sure to keep toxins out. Also, if it's a deep cut that requires stitches, don't try treating only with cayenne. Go to the ER or your local urgent care center.
Potatoes for Burns
When the fried seitan does flip onto Fiance's forearm, the first thing he reaches for is a raw potato. And he swears by it, every time. Immediately, upon burning yourself, cut a raw potato in half and scrape off (from the cut side) a bit of the raw meat. Place the scrapings on the burned area. The pain is instantly relieved, and the healing begins.
Why potatoes help burns: Potatoes are full of moisture, and this helps wick away the heat from your skin. They help moisturize the traumatized area, which provides immediate relief. Last, they contain several vitamins that encourage quick healing.
Other Home Remedies With Potatoes: Potatoes make great beauty products (you'll find recipes and ideas at the link). They're also effective in calming the itch of bug bites (just apply a small bit of grated raw potato on the itchy area). And maybe my favorite remedy: Potatoes help get rid of eye styes. Grate a potato finely and either apply the potato mush directly to the stye, or (if that sounds weird) place the grated potato in a piece of cheesecloth and apply that to the sty. Let it set for 15 minutes. Reapply every hour until you feel relief.
Lavender Essential Oil for Scrapes
I'm serious when I say that it would be in your best interest to get some lavender essential oil (which you can do at Mountain Rose Herbs, or Whole Foods, or pretty much any natural foods store). In aromatherapy, it's both relaxing and energizing. In beauty, it's soothing, revitalizing, and antibacterial. You can use it in household recipes. And you can apply it directly to scratched, scraped, and burned skin.
Why Lavender Essential Oil Works On Scrapes: It's incredibly antibacterial, antiseptic, and soothing. Just put two drops on a small cotton ball and apply directly to scraped skin. It should soothe the pain, but more importantly, it will disinfect the wound and leave it less prone to infection.
Honey For, Well, Just About Everything
Where would we be without the bees? (Not alive, according to science.) Honey is a great remedy for burns, as it helps bring out the heat, lessening pain. It's also moisturizing, so it will encourage the skin to heal faster. And for scrapes and minor lacerations, it's a highly effective antimicrobial, which reduces the chances that cuts and scrapes will get infected.
How to Use Honey on Scrapes and Burns: Just slather it on and bandage it up a bit. Be sure to rinse any scraped or cut area well with water – getting out any dirt or other debris. Change the bandage every 4-6 hours until healed.
Other Handy Natural Products for Cuts, Scrapes and Burns
Aloe Vera (the real deal from the plant or a natural, organic aloe vera gel)
Chamomile (steep the dried leaves, pack into a bit of cheesecloth or muslin, and apply to a minor scrape)
Arnica Gel (provides excellent pain relief and healing of burns, cuts, scrapes, and especially bruises)
Tea Tree Oil (antiseptic, antimicrobial, and healing)
Calendula (used as a poultice – steeped flowers packed in a cheesecloth or piece of muslin – this will encourage quick healing, provide pain relief, slow bleeding, and reduce inflammation)
The Obligatory Warning
If you have a severe cut or burn, seek medical treatment immediately. But I don't really have to tell you that, do I? You already know, you sly fox.
Do you have any favorite home remedies for burns, cuts, or scrapes? Have you ever tried any of these?
In natural healing crunch!