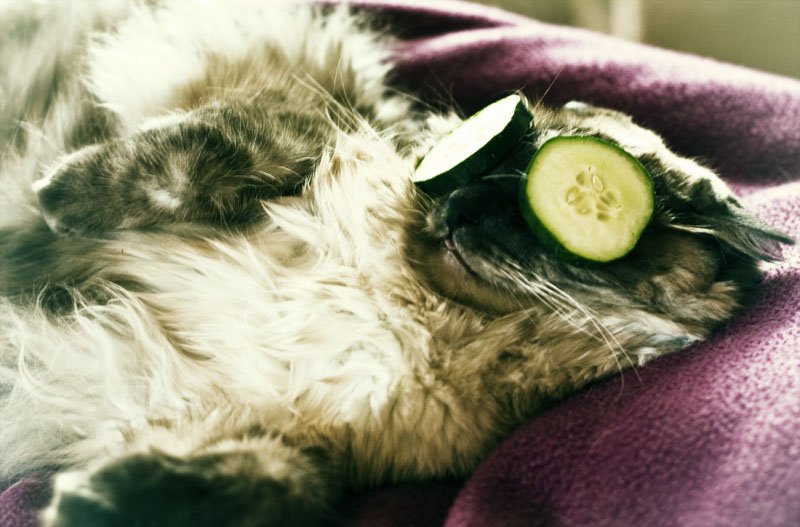 There's this recipe I love, and I hesitate to even mention what it is, because it is SO awful for you. It involves ramen noodles. And eggs. And lots and lots of butter frying. (Okay, the eggs and butter are okay, but the ramen packages … PACKED with sodium and probably MSG.)
.
The day after I eat this stuff, it's like someone shoved a spigot in my face and filled it with air.
Needless to say, between this and allergies, I've spent some quality time depuffing. Here are the 5 most effective ways I've found to stop looking like I just woke up – all day.
Top 5 Ways to Get Rid of a Puffy Face
Before we even get started, I want to mention the obvious. Water. Part of the reason your face gets puffy is because you're retaining too much of it (unless you have a medical condition that causes edema). And you could be dehydrated (which causes your body to retain more water). What's the best way to get rid of water weight? Drink more water.
So, while I'm not putting this in the top 5, it goes without saying: If you're puffy, drink more water.
If you've eaten a lot of salt for dinner, up your glasses of water to at least three in the evening. The same is true for nights when you've had one too many glasses of wine. Drink a few cups of water after you're finished, and it should help with the puffiness – and any accidental hangovers you may have.
So. Water. First. Now. Always.
1. Try a Coffee Mask to Reduce the Puffiness
One of the most popular recipes I've ever posted in this humble little blogbode is the Mocha-Frappuccino mask. The caffeine in the coffee de-puffs your face in an instant. I used it last week and then went for a walk, ran into a friend, and got the "Betty, you look so much skinnier! What have you been doing?"
The coffee mask. That was it. Because it sure as heck wasn't the spaghetti with meat sauce I'd eaten the night before.
If you don't have cocoa powder or plain yogurt the Mocha-Frappuccino mask calls for, don't fear. This is easily adapted by just adding honey to finely ground coffee. Enough to make a thick paste. Smear that all over your face and leave it on for 15 minutes.
Scrub very lightly as you're rinsing it off with warm water.
When you're done, come back here and tell me how amazing it is.
2. Cucumbers, Of Course
My dear cat, who's currently named Bacon, is showing us all how to use cucumbers to reduce the puffiness under your eyes. But that's not all you can do!
Get rid of the bloat plaguing your whole face by tossing half a cucumber (washed, but unpeeled) into a blender – or just mush up pieces with your fork. You can either apply the whole cucumber mush to your face, or get a small washcloth, soak it in the juice and dab it on your face. Leave the juice (or mush) on for at least 10 minutes, then rinse and move on with your day.
3. Brew Some Green Tea (and Then Freeze It)
Some weeks ago, I posted a recipe for a blueberry-green tea ice facial. I use an ice cube twice a week (and still have a few left, even) and LOVE it. It's seriously the quickest way to unpuff the eyes – and wake you up!
However, if you don't want to use blueberries, it's not a big deal. You can get the exact same depuffing action by brewing some strong green tea, filtering out the leaves or tossing the bags, and freezing them into tea cubes.
Just run an ice cube all over your puffed face in the morning (concentrating on the puffiest parts). The green tea not only helps with the swollen look, it's high in antioxidants that are terrific for skin. It can be used by any skin type – from dry to super oily – with great benefit.
4. Break Out an Egg White
Egg whites tighten your skin like you wouldn't believe, so they're an excellent remedy for a bloated-appearing face. To give this treatment an extra boost, I suggest using an egg white, 1 tsp lemon juice, and 1 tsp salt. Apply this mixture to a clean face and lie down while you wait for it to dry.
As the egg white hardens, it will pull your skin in whatever direction gravity is taking it (which is, by the way, down). If you're sitting up, it's going to drag your cheeks down. If you're lying back, it will pull your skin back – which helps disappear wrinkles temporarily, too.
I recommend the lemon juice and salt addition only for oily skin, as it's pretty drying. However, if you have normal or dry skin, you can just use egg white – plain and unadulterated – in the exact same way.
5. Massage, Massage, Massage
This method uses only your digits, so it's quick, easy, effective, and costs the same amount of money as nothing. And you can use it in conjunction with any of the other ones on the list (preferably before, as you'll stimulate circulation, which helps your skin be "ready" for other ingredients).
How to do it? Gently. In half-moon motions (always going up, to prevent dragging your skin down) lightly massage your face with your ring and middle fingers. If it's eye puffiness that's bothering you the most, use only your ring finger in the under-eye area, as it's the weakest finger and won't be so likely to affect the delicate skin.
The Horrible-For-You Ramen Recipe
I have this sneaking suspicion that someone's going to want this, even though I've already told you that it's terrible for you and the next morning your face looks like a balloon with nose-holes.
So for those of you who have a thing for bloating, I give you:
Ramen Tasty Goodness
2 packages dry ramen (I like the oriental flavored kind)
1/2 stick butter (preferably organic, mkay?) plus 2 Tbsp
2 eggs, beaten
1 chicken breast, diced and cooked in a splash of soy sauce and sesame oil
1/4 c cooked peas
1 thinly sliced green onion
First, cook the ramen noodles (without the flavor packages) in boiling water just until they're al dente. Strain. Next, in a big frying pan, melt the butter on medium high, adding the cooked noodles to the butter right when it finishes melting. Fry the noodles in the butter – chopping them lightly with the spatula – for approximately 5 minutes, or just until they seem to be losing their water content a little. Add the 2 Tbsp butter and eggs. Working quickly, add a package of the flavoring to the egg/ramen mix. Cook and stir until completely mixed in. Next, add the chicken, peas and second flavoring package. Stir and then add in the green onion. Continue to fry until the noodles are just a little crispy.
If it's not salty enough for you, add a little soy sauce.
Ugh. It should be salty enough for you.
—
Have you ever noticed one particular food item that makes you bloat? What is it? And why do you still eat it?
In Don't-Stay-Puft crunch!