When the kindergarten teacher asked each member of the class to stand up and say what they wanted to be when they grow up, it went something like this. I can't say for sure, because the only thing I really remember about kindergarten was being stung by red ants by the teeter totters. They even bit my hoo-haw. You remember things like that.
I digress.
Here's how the conversation must've gone: "Hi, I'm Johnny and I want to be an astronaut." "Hey, guys! I'm Melissa, and I want to be a doctor who fixes sick people like my dad."
"Yo yo yo! I'm Betty … and I want to find a homemade deodorant solution for everyone in the world. Say it with me, "No more stinky synthetic pits! No more stinky synthetic pits! No? No one. Poopheads …"
But seriously, folks. I'm on a mission. After this post, there should be no reason whatsoever that you buy commercial deodorant.
I still remember fondly my very first experiment with homemade deodorant, and what a stupid big deal I made out of it. Verily, let it be known in all the heavens and earth, since that first day, I have bought zero, nada, no commercial deodorant. Making my own deodorant is a welcome permanent way of life now. (And, no. I don't stink.)
However, some people had issues, as I have occasionally, with the first recipe that uses cornstarch. So I figured out a different recipe that uses clay. Well, some people had issues with the clay (which can contain trace amounts of natural aluminum) and that particular recipe didn't offer as much odor protection.
So, back to the drawing board, if drawing boards looked like armpits.
This particular recipe combines the best of all worlds, and I've been using it for the last week and never, ever have I had such smooth pits. At the end of this post, though, I'm going to link up to ALL of my deodorant alternative posts – and give you two more incredible-looking options. After that, you will have no excuse. You will have a cornucopia, if you will, of pit protection options.
Get out of the deodorant section at the store. Yes. I'm talking to you.
Soothing Classic Homemade Deodorant
Before I get to the actual post, let me share something with you that I've decided is rather important: Always use arrowroot powder instead of cornstarch in your homemade deodorant.
After making the switch late last year, I can attest that it's not irritating like cornstarch; and, even better, you don't have to worry about GMOs. At least, I don't think there's GMO arrowroot yet. Who knows. I can't keep up with it.
(Side note: If you're fine with the cornstarch, go for it. I'm not the boss of you. The rule, though, stands for anyone who has ever ditched homemade deo due to irritation.)
Soothing Homemade Deodorant – Step 1
Okay, so here's how it goes, in a nutshell: You're going to infuse coconut and another oil (I used sunflower, but you can use sweet almond or avocado or apricot kernel, if you'd like) with calendula and chamomile. So you want to plan ahead for this one – it's going to take about two weeks.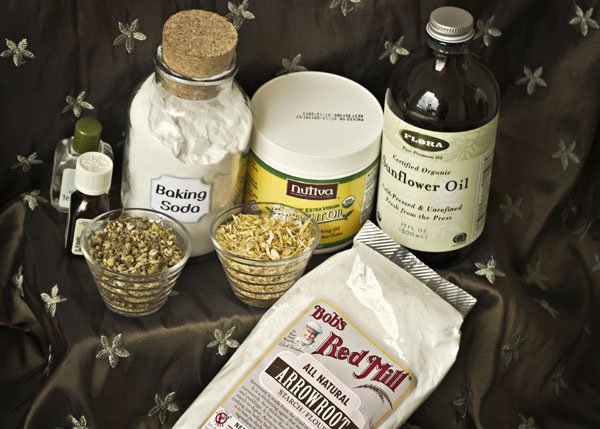 For the first step, you take 2 Tbsp dried calendula petals and 3 Tbsp dried chamomile and put it in a jar. Please make sure you've sterilized your jar with boiling water for 10 minutes first (and then dry it out COMPLETELY).
Then, you're going to cover that with about 5 Tbsp coconut oil and 3 Tbsp sunflower oil. If you need to, warm your coconut oil gently to get it to liquid form. This is easiest if you just pop it in a small cup and put the cup in another larger cup of very warm water.
But, actually, I just left my coconut oil out in the sun for about 10 minutes, and it was mostly liquified. Believe it or not, the sun is our friend.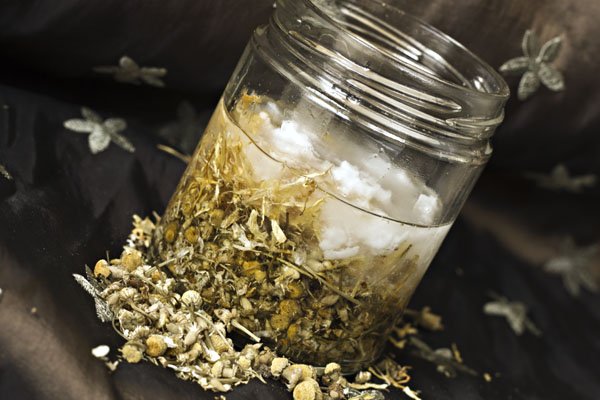 Now just pop your lid on, give it a good shake, and leave it in a darkish place for 2-3 weeks. Shake it whenever you remember.
For the record, I used sunflower oil because it has some really outstanding antibacterial properties, as well, but it's also very, very good for irritated (see: recently shaved) skin.
Soothing Homemade Deodorant – Step 2
Grab your jar of infused oils, and it should look a little like this. Here's the difference between immediately after you add the oils to the flowers and after 3 weeks: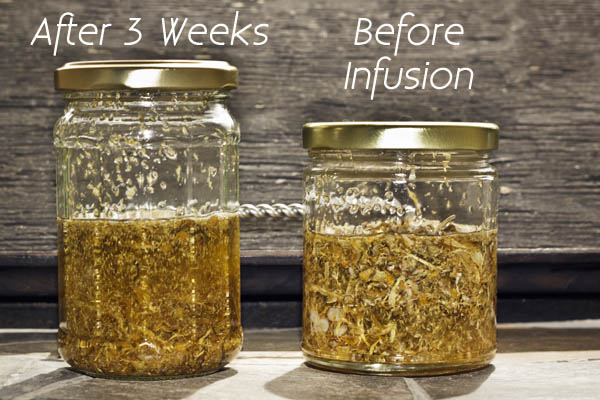 As you can see, the oil turns a beautiful shade of yellow, thanks to both the calendula and the chamomile. This is how you know it's full of good stuff.
Now, make sure your infused oil is nice and warm. Again, warm it up in the sun or place your jar in a cup of very warm water. The sunflower (or other) oil helps the coconut oil stay more liquified, but it still solidifies a small amount if it's cool.
Strain the flowers from the oil by using a coffee filter (my favorite) or piece of doubled up cheesecloth. Twist the top of the coffee filter or cheesecloth and squish out as much oil as you can get.
The resulting oil amount should be somewhere between 6 and 7 Tbsp (you lose a little in infusion).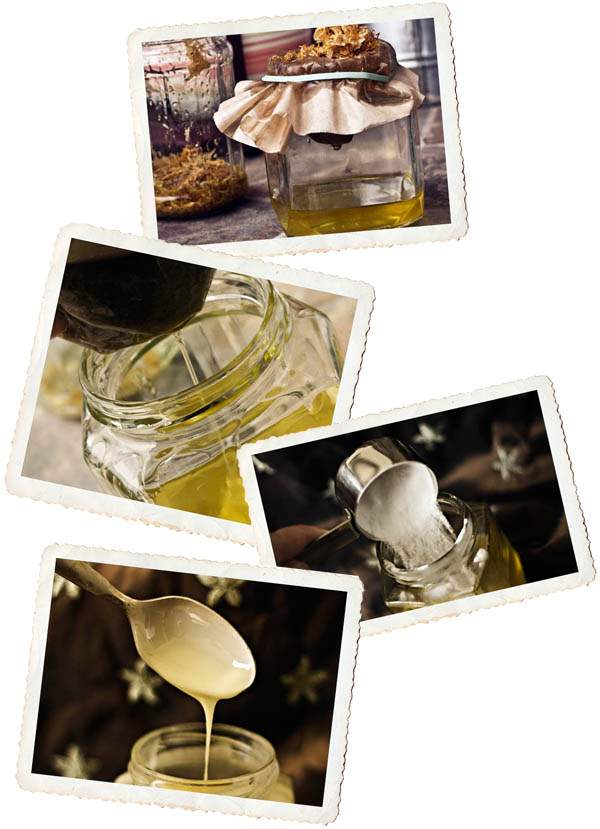 Add you dry ingredients to the oil – about 1/4 c. plus 2 Tbsp each of baking soda and arrowroot powder. Stir well.
Drip in your desired essential oils (I like lavender and tea tree oil, for extra antibacterial protection) – no more than 20 drops total.
Put the lid on and keep it in your bathroom. It'll be nice and gooey, which, to me, is the fun part of putting it on. (With your fingers, massaging your armpit seductively. It likes that. Makes it feel special, like the most important armpit in the world.)
A Few Important Notes:
Always use a fresh, sterilized jar when creating your final deodorant formulation. Don't just keep piling new deodorant onto old at the bottom of your jar. That would be a pretty invitation for a contamination party.
Again, choose arrowroot powder over cornstarch, if you can.
If you're allergic to the ragweed family, you might want to skip the chamomile (a member) and just use calendula – or even calendula and dried lavender would be lovely.
If you use a coffee filter to strain your flowers from your oil, be careful not to break it in the "squeezing" process. The filters can be delicate.
And here's the entire recipe, in printable form:
Soothing Classic Deodorant Recipe
3 Tbsp dried chamomile
2 Tbsp dried calendula
5 Tbsp coconut oil
3 Tbsp sunflower oil (or other oil, like avocado, sweet almond, or apricot kernel)
1/4 c. + 2 Tbsp baking soda
1/4 c. + 2 Tbsp arrowroot powder
Essential oils of your choosing (lavender and tea tree are my favorite antibacterials)
In a small, sterilized jar, add the flowers and the oils (making sure your coconut oil is liquified first). Shake well. Store in a dark place for 2-3 weeks, shaking occasionally.
After 2-3 weeks of infusion, strain the oil from the flowers (again, heating up the oil slightly if it's in a solid-ish state). In another sterilized jar, combine the infused oil with the dry ingredients and stir well. Add your essential oils drop-by-drop, stirring constantly. Store in your bathroom. This should keep for 3-4 months.
More Homemade Deodorant Options = No More Excuses! Yay!
If you've tried one and it didn't work, today is the day to start trying another one.
Something, I PROMISE, something will work for you.
And, as always, for those of you who are wondering where to get any of this stuff:
Mountain Rose Herbs carries dried calendula and chamomile, as well as arrowroot and baking soda and a plethora of high-quality essential oils
Vitacost (and that link there will take you to a $10 off coupon for signing up) carries calendula and chamomile teas (the same thing), as well as Bob's Red Mill baking soda and arrowroot powder, in addition to essential oils
Your local natural food store should carry most all of these things. Check the tea aisle if they don't carry bulk herbs/flowers/spices.
If you don't want to make your own, you can always purchase my own recipe here 🙂
Now, informal survey of those of you who are still around reading here at the end:
Do you already make your own deodorant? If so, WHAT formulation is working for YOU?