Ho-lee mo-lee. This is the LAST Tuesday in April, and, as such, the LAST Tuesdays Outside the Box.
I hope you've come prepared, my friends.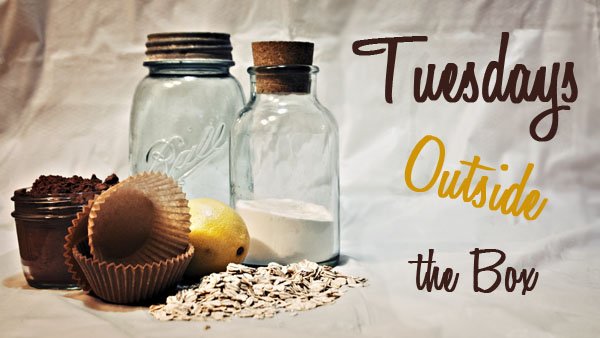 Today, we're talking about ways to use baking soda and unconventional ways to heal aches and pains. You know the drill, right?
If you have a blog post to share that falls under either of those themes, link it up below. Otherwise, leave a comment so everyone can share your knowledge on how YOU use baking soda in new or various ways – as well as the tips, tricks, and natural solutions you have to healing aches and pains.
I have a lot to share, so let's get started!
Tuesdays Outside the Box: Baking Soda (Closet Poppers!)
First, I'd like to announce that: I have a walk-in closet! This is a joyous occasion, cause to celebrate.
Or it would be, if it weren't for the fact that we didn't keep the hamper and ALL the shoes in it. That sweet little haven of storage goodness turned on the funk within a week of moving in here, so I had to come up with a solution.
Instead of buying a little bag of cedar chips ($5.95 for 6 blocks – yikes!), I started thinking of ways to incorporate baking soda and essential oils to help mitigate the creeping mustiness.
These little "poppers" were born – and YAY(!) do they work!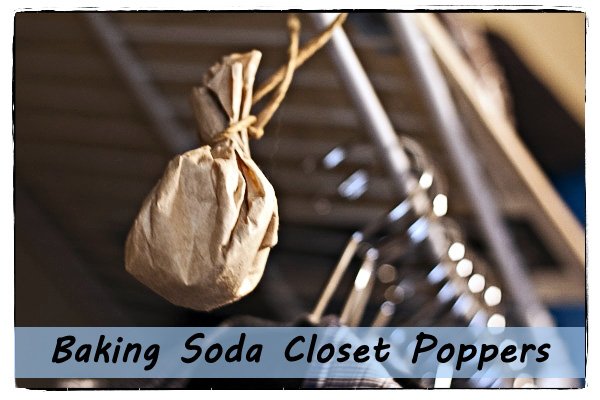 I actually tried a version of this idea last year, only I used cheesecloth and ended up with baking soda all over the floor. So I put the idea to rest, thinking it was ne'er to be successful, until the walk-in closet came into our lives and suddenly I remembered … coffee filters.
All you need for baking soda closet poppers are:
Coffee filters
Twine or string or such
Essential oils of your choosing
It goes like this:
First, mix together baking soda and your favorite odor-busting essential oils. The quantities of each are up to you, but I used 1/2 c. baking soda and 7-10 drops rosewood EO, 7 drops bay EO, and 15-17 drops eucalyptus EO. Stir this all well, breaking up any clumps with your fingers. (PS. Just eucalyptus alone would work really, really well … and it's one of the least expensive essential oils you can find. It's also good for hiding #2.)
Put 3-4 tsp of baking soda in a coffee filter and gather the filter tops together.
Tie the top with twine (or string or yarn), leaving a long enough end to tie around the pole in your closet. And then, tie them there.
When the scent starts to fade a bit, you can just "pop" the package with your fingers a bit – flicking it ever-so gently – to loosen everything up, and it refreshes!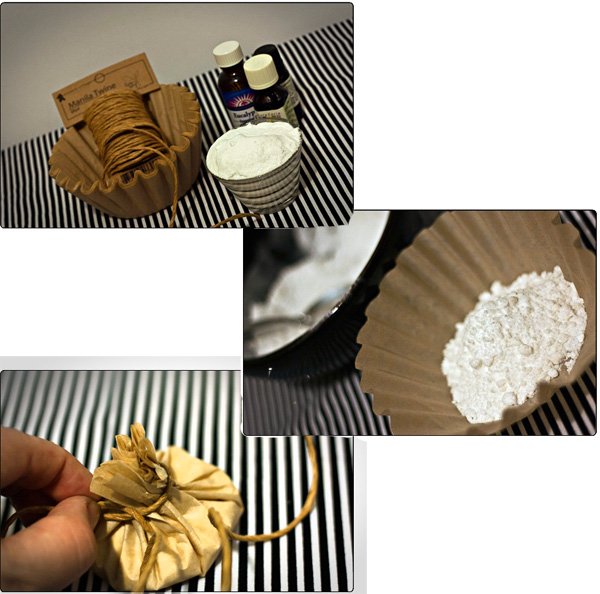 Want to know what I love most about these? They do double duty – infusing the air with odor-eradicating essential oils while the baking soda soaks up and purifies bad odor at the same time.
And! For the batch I made for this post? I decided, instead, to use it in the second bathroom where the cat box lives. (If you recall, my cat isn't the most graceful of poopers, so this really helps during the intervals where he forgets to, um, cover his tracks.)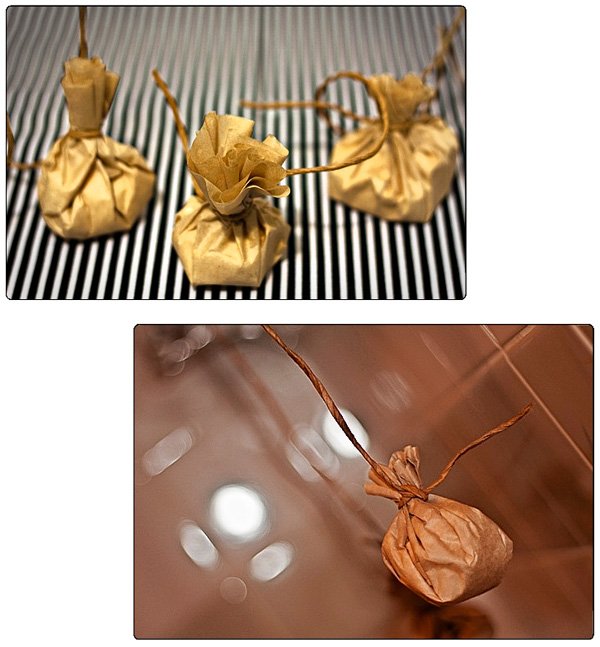 I love how unobtrusive these little babies are. They're so natural looking, they just blend in with the surroundings. They work invisibly, but oh-so-effectively.
Baking soda closet poppers. THAT is my baking soda contribution to Tuesdays Outside the Box.
Tuesdays Outside the Box: Soothing Aches and Pains
Remember when I was all, "Ahh, cod liver oil – it alleviated my back pain SO quickly?" True story: I've had at least 5 people say they've been taking it and it's working for them, as well. Woohoo!
Well, there's a new kid in my life that has been taking care of other aches, pains, and inflammation issues (especially during that time of the month). You've probably heard of it before, but did you know … this thing has actually been shown, in scientific studies, to be three times more effective at easing pain and soothing inflammation than aspirin or ibuprofen?
This thing is …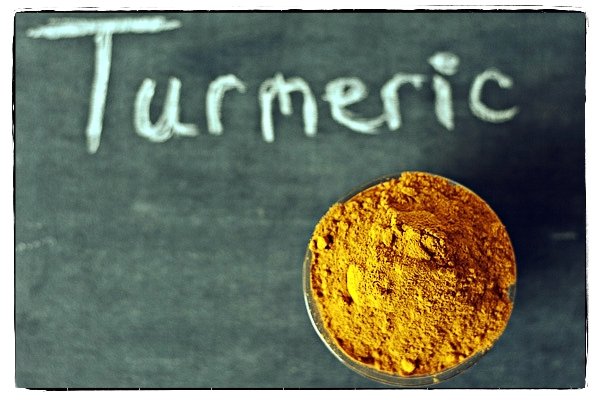 Yep. Turmeric! Which, by the way, I learned today can either be pronounced tur-mur-ic (the way I pronounce it) or toom-ur-ic (the way it seems like everyone else pronounces it).
Now. Here's where the tough part comes in with using turmeric to soothe aches and pains. And this tends to be the issue with so many "natural remedies."
What's the dosage?
The short answer is: There really doesn't seem to be one. But, if you're like me, it may seem like a sprinkle of it on your dinner just isn't going to cut it.
To use it in a way that feels like you're actually getting some good out of it, you could fill empty capsule containers (available at most natural food stores or Mountain Rose Herbs) and then take a capsule or two at a time. Or, you could make a turmeric tea with the amount that feels appropriate for you, and drink it down quickly.
I'm not sure how that would taste.
These two options would be the most natural and most cost-effective ways to utilize turmeric to help with aches, pains, and inflammation.
Or, you could buy turmeric capsules, which are sold just about everywhere. I got mine at Vitacost (thanks to the Refer-A-Friend program), so I could really do an actual test on taking turmeric in "premeasured" forms just to make sure it actually worked for me.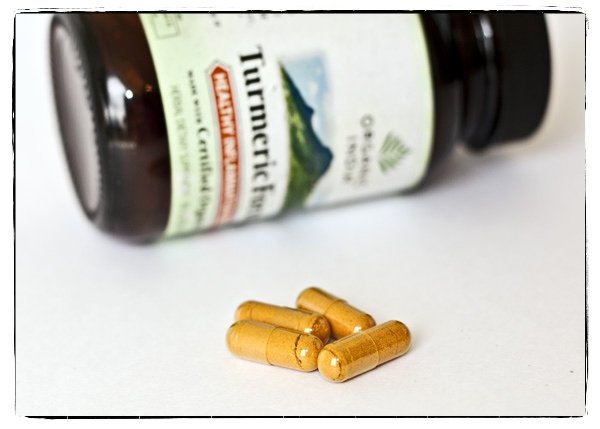 And it really, really does. It's so subjective to say that it works better than, say, ibuprofen – because who sits around and measures how fast and effectively their antiinflammatories work? But it has consistently alleviated my pains (like I said, whether they were ladycramps or too-much-computer neck pain) pretty darned well.
After I'm finished with the bottle of capsules, though, I'm going to try filling my own. Like I mentioned, it's not particularly cheap to buy turmeric capsules – even though the spice itself is really, really affordable.
(I bought my bulk ground turmeric at a local natural foods store for $1.85. It has to be at least 3/4-cup worth.)
There is a LOT to be said, though, about taking turmeric on a regular basis, rather than just for aches and pains: Turmeric has shown incredible anticancer properties – especially for those who suffer from or are prone to colon cancer.
AND, turmeric also makes one heckuva gorgeous facial mask – iff'n you feel like putting food on your face!
Now It's Your Turn! Share Your Outside the Box Ideas Here!
Don't forget to leave your comment with ideas on how you use baking soda in different ways – or the natural methods you use to soothe aches and pains.
And if you have a blog post regarding either of those things, right here is where you link it up and share your awesomeness:
This is your last chance! Let us all see what you've got up your sleeve!