(First of all, you laughed at the title. I know you did. Because you totally got that it was a play on "Gee, you're looking swell." Because chia seeds swell. Get it? GET IT?)
I'm claiming hipster status with chia seeds. Why? Because I tried them first about 5 years ago, before they were cool. Suck on that, 30-second mention of chia seeds on The Chew last week.
But, the truth is, I only tried them once, and they freaked me out. No one told me what to expect; the clerk at the local natural foods store just stuffed a small bag in my hand and said, "here," after I asked if there was something I could add to my granola to make it healthier.
So I took them home, put a spoonful in my granola with almond milk, and about 3 minutes later started gagging, because I couldn't stop thinking about eating tiny fairy eyes. That is what they felt and looked like. Tiny sad, disembodied fairy eyes.
Tiny fairy eyes, because chia seeds swell to something like 12 times their normal size, and they feel pretty gelatinous with a bit of a crispy center. And, the first time I tried them, I hated it.
So, my chia seeds went to my next-door neighbor or a stranger on the street or something. And I vowed never to touch another one ever again in my whole entire life.
"Never say never."
-James Bond
A few months ago, I decided to give chia another try. But not in my mouth – not at first. ON MY FACE. I'll tell you why (and tell you how I use them in the mornings) in a minute. First, let me give you a quick and dirty refresher course on chia seeds, if you don't know what they are or why you'd want to have them in your home.
Chia Seeds In A Nutshell
Long ago, while the Mayans were planning our 2012 demise through a large stone calendar, they were beefing up by eating chia seeds. Likely so they could roll that calendar around. By the way, the word "chia" actually means "strength" in the Mayan language.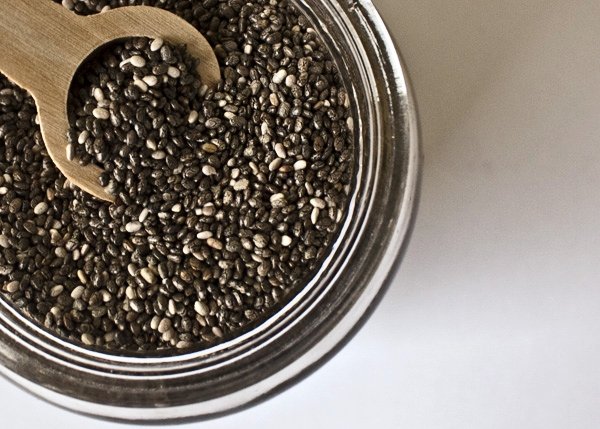 Chia is a superfood – in fact, it's kind of a super superfood. It's a complete protein (meaning it contains all amino acids necessary for the human diet). This is really good news for you vegans out there, because not many plant sources provide this, as I'm sure you know.
It's also really rich in omega-3/6/9 acids (yay!) AND it contains SIX TIMES more calcium than milk, by weight. Add to that a rich mineral profile, and you've got a tiny little (fairy eye?) seed that packs a lot of nutritional punch.
Oh! And fiber! So. Much. Fiber. In both soluble and insoluble forms, which means that it helps "clean you out," but also offers other health benefits (like lowering cholesterol and helping you maintain proper blood sugar levels after eating, if you eat it with meals).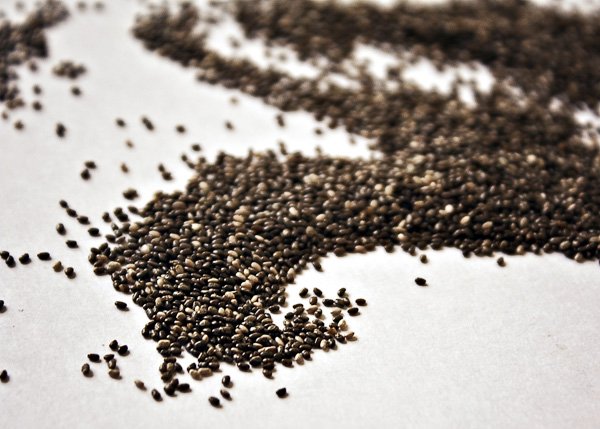 You can do a million things with chia seeds.
Here's another cool thing about chia seeds: They don't really taste like anything at all, but they will take on the taste of whatever you put them in. So they're kind of like invisible health fairies. I am not letting the fairy thing go.
I've settled into a very easy routine to slip chia seeds into my diet – and on my face. Here's how:
Chia: Rise and Shine, Drink-and-Wash
Ah. I just realized I left out the most important note I have to share about chia seeds.
They are CRAZY high in alpha-lipoic acids. Better known as ALA. Better known as that-ingredient-that-makes-skin-cream-cost-a-bajillion-dollars.
Alpha-lipoic acid is said to help with cell function, promote radiance in the skin, help diminish fine lines, and aid in antioxidant effectiveness.
So it makes sense that these little seeds would be a perfect morning facial scrub. And, yes. Yes, they are. I can't say I've seen my fine lines diminish yet, but my skin feels very soft and clear all day long.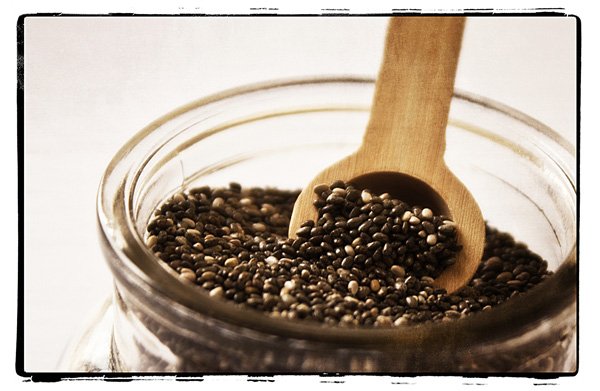 Here's how I (and how you, too, can) incorporate chia seeds into a morning ritual – by drinking them and putting them on your face!
Before I start brewing my coffee, I mix together 1-2 tsp honey with about 8 oz of warm water.
Then, I add in 1 Tbsp of chia seeds and stir well.
While I let that sit for about 5 minutes (so the chia starts to swell), I drink another glass of water with lemon in it (this is optional, but so very, very good for you)
Then, I stir it up again and pour just a small amount (maybe 1 Tbsp) of the mixture into my hands and start scrubbing/rubbing my face with it.
Without rinsing (yet), I drink the "chia seed honey water" and let the mixture on my face chill out for a while. Five to ten minutes, tops.
Then, I rinse. And enjoy a soft face. Lovely.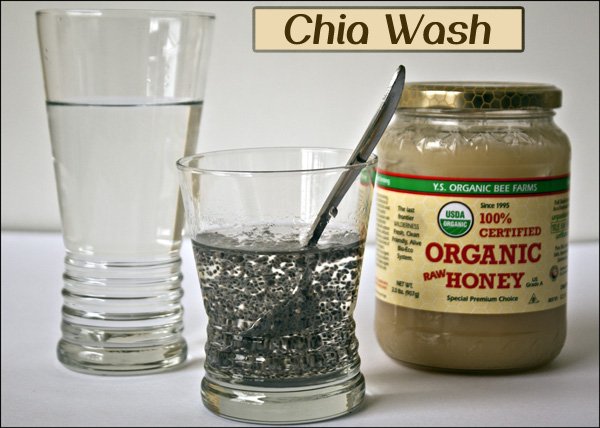 Here's the cool part. You don't have to use water. I just like it for its simplicity. You could also use full-fat milk or coconut milk (great for dry or aging skin), almond milk, or even a fresh-pressed apple juice if you'd like (EXTRA exfoliating, with the acids in the apple).
And that … that is one awesome way to start the day – for your body AND for your face.
(FYI, you can get chia seeds almost anywhere these days. Vitacost sells them, Mountain Rose Herbs has excellent prices on organic chia, and you'll find them in any natural foods store.)
Oh, by the way. I totally got over the fairy-eyes thing, and now I thoroughly enjoy the texture of chia seeds. Once I learned how incredibly healthy they are, it was a no-brainer. Now if I could only do that with broccoli.