If you've seen Food, Inc., you know Joel Salatin.
He's unforgettable. Really gives the whole documentary it's juicy, natural flavor. He's the farmer. You know the one I'm talking about. With the large glasses and the no-nonsense, down-home, slightly skewed sense of humor, shootin' the breeze while the chickens go gracefully into their dark night behind him.
His mouth is the kind of mouth for which a sprig of wheat would stand in line just to get chewed on.
Not only is he outspoken for the return to more holistic, sustainable farming, but he lives it. Every day. On his own farm. He puts his money where his mouth is. I respect that.
If farming had rockstars, Joel Salatin would be the first inducted into the Hall of Fame.
In fact, my sister told me recently that Joel Salatin was her "Sting," which I found funny, given the fact that when I saw him speak on Friday night, it appeared he was a rockstar. In a completely packed church full of foodies and farmers and real people. He smiled humbly at every standing ovation, shined even more brightly with every whoop and holler.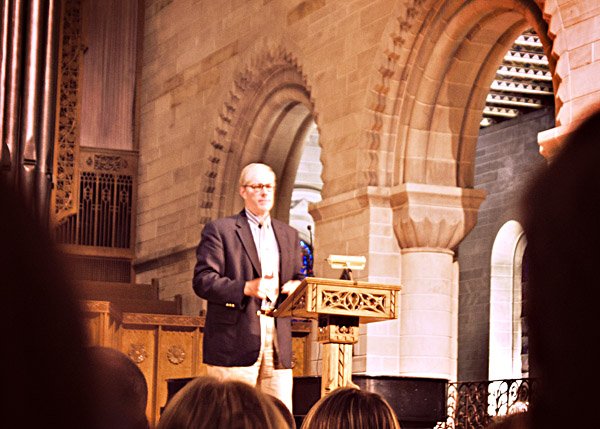 I actually found out he was speaking quite by serendipity, checking the Colorado Springs calendar of events the ONE time a year that I actually get around to it. Within seven hours of learning of his impending presence, I was IN his presence.
He's an animated speaker, and in between schooling us on the joys of cow poop and the bleakness of eating food that's been transported for thousands of miles, he jumped up and down, vibrated like a truck, "pushed" an imaginary scythe while explaining why wheat used to be scarce and valuable but now is oversold and overeaten.
In a nutshell: He was magnanimous.
After it was over, I had the opportunity to chat with him for a few minutes. I was so in the moment, I forgot to ask him for a picture together. But he did sign my book!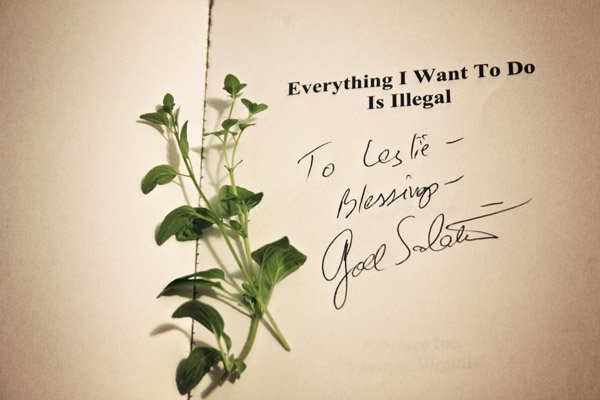 So, condensed below are practical ideas that I learned from Mr. Salatin's lecture on Friday, as well as his answer to the question I was lucky enough to ask him personally.
Learn, dear friends, and enjoy!
Five Important Things I Learned About Food from Joel Salatin
1. If You Can Afford a Cell Phone, You Can Afford to Eat Better
I'm starting with the best story first, because it's the one that involves me.
My question to Joel, rather generic because I had no idea how much time I'd have with him, was this, "One of the biggest issues my readers come to me with is that they cannot afford to eat better. Local, fresh, and/or organic foods are very pricey compared to the other options. What is the one piece of advice you have to offer there?"
This is where he grabbed my arm and shook me. SHOOK ME.
He said, "Whenever someone asks me this question, I take them by the arm and look them in the eyes and say, 'Listen. Do you have a cell phone? Do you have cable? Drink beer on the weekends? I bet you do. If you can afford those things, you can afford to eat good food, real food. And if you tell me you still can't afford it, I will tell you the issue isn't with money. It's with priorities."
Priorities. That's likely the only thing standing between you and healthier food. (And I think we've even talked about this here before, haven't we?)
2. Much of Today's "Food" Is Inedible to Even Worms
My favorite story from Joel's lecture was about how he'd visited recently with some teachers in California who had done an experiment with their kids on the difference between real food and processed food.
In this composting experiment, they filled two bins with earthworms, dirt, and two different kinds of food: One of the bins contained things like apple cores and veggie scraps and food in its natural state. The other bin contained processed foods (think Twinkies and Twizzlers and fast food).
After two weeks, the teachers had the children go through the bins in search of the food. Nary a speck of food was found in the bin with the real food – the only thing left were worms and their casings. But in the processed food bin, every bit of food remained, whole. The worms hadn't touched it.

As Joel asked the audience, "Do you really want to eat food that even WORMS won't eat?"
3. "Official" Reports Are Often Wrong, If For No Other Reason Than a Narrow World View
This was touched on lightly at the lecture, but it's important to remember. Joel discusses this extensively in his book, Everything I Want to Do Is Illegal.
Here's a small excerpt as food for thought:
"If I could get every American who reads a government report to think first, 'Now I wonder what these guys manipulated on this report, or what they neglected to put in it?' before agreeing with or to anything that comes down from on high, this will be a victorious day for righteousness, indeed. One more time: I am not a conspiracy advocate. But I do believe that most experts come from the same school of thought, the same worldview, and therefore approach every problem from the same perspective. That gives consistent answers, and answers that for the most part are wrong." – Joel Salatin, Everything I Want to Do Is Illegal, pg. 145
If you're pro more governmental regulations in regard to food production, I HIGHLY recommend you read this book, just for an insiders look on what really happens at all levels, through the eyes of a farmer. Seriously. Stellar. (And funny.)
4. If It's Worth Doing, It's Worth Doing Wrong
What's stopping you from learning how to can, or from growing your first tomato plant, or from experimenting with cooking fresh foods in new ways? Or, even, what's stopping you from meeting and getting to know your local farmers?
Is it … by chance … a fear of the unknown? A fear of failure? A hesitancy to get dirty and mess something up?
The ONLY way you'll ever learn, ever get anywhere in taking control of the most important aspect of your life (your health), is by being brave enough to make some mistakes in the beginning.
Ditch the excuses, get dirty, and learn something new!
5. Expect a Fight For Your Food – And Expect It Soon
This was one of the last points Joel Salatin made in his talk, and it's worth noting for future reference – for when you begin noticing more and more headlines about the "dangers" of buying food from small, local farms.
As these farms start taking more market share from the big guys, the goliaths WILL put up a fight. They may do it with new "studies" in the news, or by lobbying for stricter and more choking regulatory standards, or even through their close ties to governmental regulatory agencies (like the raid on the California raw food store, remember that?)
Be prepared to stand up for your rights to access the food you choose to consume, and consider this point whenever a new headline regarding food production or consumption crosses your path.
In short: Stay vigilant, and stay healthy.
Further Reading
I thought you guys might like to know more after all this, so here are a few places you'll probably want to visit: