Today I'm going to tell you a story. Like, a real story with no moral. Because, frankly, at this very moment on this very night I'm really exhausted from thinking about tips and inspiration and information and doing things. Admit it; we could all use a little break.
And all I want to do is tell you a story. Is that so wrong? No. My cat tells me it's not. He is my moral compass. He also runs around with poop stuck to his back leg, so let's take that for what it's worth.
This story is 100% true, to the best of my memory. It's about the time I broke Lyle Lovett's heart.
My first month living in New York, fresh from the farms of Kansas, I was wandering lost in Greenwich Village in search of the iconic jazz club, the Blue Note. Amongst the tightly sealed Jags and BMWs lining the street was a black car with a man standing in front, holding a map. He looked friendly enough, and – let me remind you – I was from Kansas, so every stranger was just a potential friend, y'all.
"Excuse me, sir?" I asked tentatively, "Is there any way you can point me in the direction of the Blue Note?"
He immediately smiled, popped onto the sidewalk with me, and started pointing to streets on his map and saying words like, "left right and then down and around past the bistro with the green chairs." I nodded and smiled, even though I was really confused in my head. And then … suddenly.
Suddenly, a sweet, sweet voice spoke up behind me, all quiet with swagger and shyness. "D'ya need some help, ma'am? Maybe I can be of better service than my driver here."
Turning slowly, I drank in the shock of hair and the craggy nose of none other than Lyle Lovett. Lyle Freakin' Lovett. Giving me directions. And calling me ma'am.
I open my mouth to speak words. And that's when it happened.
Not to throw you from the story. But at this point, you need to know that I have an ongoing love affair with Sting. In high school, I kicked my friends out of my car for saying "Sting sucks" when Roxanne was on the radio. They had to walk an entire mile back to school. I regret nothing.
My notebooks were full of "Mrs. Gordon Matthew Thomas Sumner," complete with hearts and the number 4 and the letter E mushed together. Written with a pink puffy pen, the seal of a serious relationship.
When I was 19, my grandfather died and we were all flown out for his wake. He lived on the tiny island of Montserrat (this was before the volcano, which laid waste to the island a year after I was there). It had housed a recording studio, where all kinds of legendary rockers laid down tracks. Elton John. The Rolling Stones. Jimmy Buffett.
Sting.
If you've ever been to Montserrat, and I'm assuming you have, you'll know that the "cab" was actually a minivan and the driver's name was John. I asked John that first day, "You've driven a lot of famous people around, yeah?"
To which he replied, "Yah. Who you want to know about?"
"Sting, please."
"Ah, Sting. Very nice man. Sat right there where you are in the back of the van. Real nice."
John did not see my head for the rest of the drive to my grandfather's house, because my lips were pressed to the seat, locked in an impassioned embrace with the remaining skin cells from Sting's butt. I have no shame.
Little did I know, many years later, I'd end up with a landlord who was former PR for Sting and The Police. No joke. My former landlord had actually touched Sting and his ripply, tantric muscles repeatedly while shaping his career. Completely professionally, of course.
She took this picture of him. Her finger pushed a button that made THIS WORK OF BEAUTY: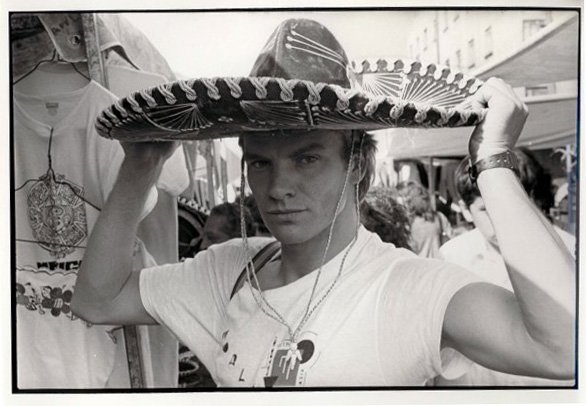 I love this man. He is the father of many of my unborn children, my husband in a thousand dreams. I fully expect a restraining order after this.
Now, about three months before I ran into Mr. Lovett on the street, on that fateful June day, I'd seen the two of them in concert in Kansas City. Together. Sting and Lyle Lovett and His Large Band.
Lyle and His Large Band rocked the house that night; in fact, after the concert, One-Eyed Fiona was on repeat in my car for weeks. But, as you've deduced, Sting was my main attraction. This concert gave my fantasy Sting-babies names and future careers (Esther would be a human rights lawyer and Jacob a geologist by now).
So when Lyle Lovett snuck up behind me and crooned sweet, sweet words in my ear on the streets of New York City that day, offering his services and help, this is what I said to him.
"Oh! Mr. Lovett! How absolutely lovely to meet you! I'm just, you know, trying to find the Blue Note."
"Well, darlin', you just walk down this here street and take a left. You'll see it down the alley a ways. But you could always …"
Now. At this point, I like to think he was about to offer me a ride. Before I opened my mouth and ruined his life. He was going to usher me into his back seat and hum Road to Ensenada while whittling me a little flute to keep as a reminder of our time together. That's what would have happened.
Instead, the words spasmodically vomiting from my mouth, I blurted out:
"I just HAVE to tell you! I saw you and Sting in concert a few months ago." His eyes brightened ever-so slightly and he tipped his head, waiting for the compliments. The compliments that went like this.
"Yeah. Sting. Wow! He was so incredible. Seriously, blew my mind. I've never seen anyone in concert quite like him. Oh my gosh, Lyle Lovett. It was so good. Sting. Was. So. Good."
His mouth turned down, and the bottomless pit of my faux pas hit me. I took a deep breath, and he tipped his head toward his driver, who immediately got into the car.
And with a frown and no further words, Mr. Lovett turned around and slid into the vehicle, his chiseled visage disappearing behind the black of the windows.
It's my unwavering belief that I broke his heart that day. Pulverized his spirit. Drowned his joie de vivre. I take full responsibility for this, and in light of my soul-crushing thoughtlessness, I offer this.
Mr. Lovett, I am terribly, terribly sorry for what I said to you that day. I'm sure we can work out a solution that brings closure.
In fact, I'm proposing that you call Sting and set up a meeting, just the three of us, and we can work it all out. I'll make right the pain I caused.
You may wonder why Sting has to be there. You may think that's totally unnecessary. Well, Mr. Lovett, it is not. He played a role in this catastrophe, too. He should bear some of the responsibility.
In that meeting. With the three of us. You, me, and Sting.
If you're busy that day, I totally understand. Sting and I will work this issue out. Together. Alone.
It might take us weeks, Mr. Lovett, hammering out the details of our apology to you. We might have to be holed up nose-to-nose in a tiny hotel room, just the two of us, without another soul in sight, but understand that it's only out of respect for you.
But it's the least I can do. Really.
You're welcome, friend.