It's just you and this orange: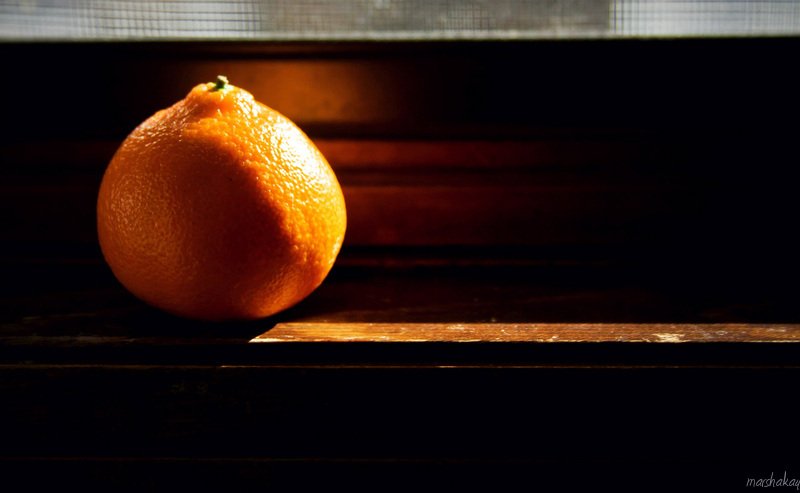 On a steamy summer day, you're sitting at a table in front of this orange. You're going to eat it. It's one of the most simple things on the planet, receiving sustenance from food. The air is still and nothing exists but this simple act of feeding yourself.
One fingernail slides beneath the peel and the fresh, pungent scent immediately zings up your nose. You're reminded of summer camp at Lake Wanabego – of the blistering sun pouring down as you and your friends ate oranges and giggled about the boys splashing in the lake.
You push your finger in a bit more deeply, and the tart juice trickles down your hand and splashes to the table with glistening grace. With your other hand, you swipe it up and to your mouth, feeling a bit like a baby goat as you suck on your finger to savor every drop.
The liquid sunshine in the fruit electrifies your tongue, and you quickly rip into the rest of the skin – it goes "shhhrop shhhrop" when you pull the flesh off and expose the gentle white of the pith. You're undressing the orange, like a ravenous seductress. You harlot.
The orange teases you when you bite in, aiming its juice at your cheek in a quick burst of citrus, and a laugh and a snort tumbles out of your mouth. But you don't care, because it's just you and the orange. A simple moment. Just … a moment.
This is What Simple Living Is To Me
That moment with the orange signifies everything simple living means to me. It's stripping away everything that's unnecessary to arrive at a moment where you can truly, completely, and utterly live. Suddenly, you're set free to enjoy the myriad facets of whatever moment you're in. Moments you'd miss, were you preoccupied by a million other things.

It's consternating to think that we actually have to TRY to live simply. It should be easy, right? A given?
We weren't brought up in a simple world, though, and this world is far from simple at this moment. It's not a surprise that so very, very many of us are feeling a call to open up and embrace the beauty and joy that simple living brings. But we have to practice it – every day.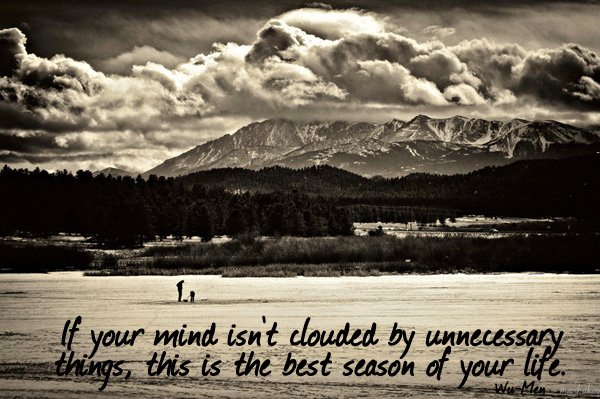 Everything happens, though, for a reason, and the complexity that we (hopefully) used to live in served a purpose. It chaosed (new word, write it down) everything to the point where we could only come through the other side wanting a new kind of order in our lives.
The desire for more simple, in-the-moment living is, I believe, at the crux of all things crunchy. I've often used the words "conscious living," but I think the two concepts are completely interchangeable.
I still have a long way to go, to clear out different areas of clutter in my life – be they emotional, physical, or even spiritual. And all of this – my question to you today and my three days of contemplation on simplicity – was sparked, of course, by the Simplify Your Family Life sale going on right now.
I cannot, for the life of me, stop reading these books. It's making my bedtime schedule a little complicated. Not the intention, I'm sure.
The biggest thing I've learned from all of them is this: The art of simplicity means letting go of what is unnecessary and appreciating all that IS in every moment you have. (Even while cleaning!)
It doesn't mean giving everything up for good, or living without. But whether it's food, your relationships, or your personal life, when you climb up through the complexity to find the simple way, you open up a whole new reality that you weren't aware of before.
Like eating an orange on a hot summer day.
What Steps Have You Taken to Simplify Your Life?
Finding the way of simple living looks different to everyone, though it has the underlying theme of embracing what's real.
To the beautiful Crunchy Betty Facebook users who answered this question yesterday, it looked something like this:
Getting rid of anything in my home that isn't necessary. The clutter was taking over, and causing me stress. With less stuff, there is less to clean, less to worry about, less to make room for. For me, less is more! – Stephanie
The older I get, the more I realize the old saying "quality over quantity" is true. I've learned to research my purchases more and find something I will like instead of buying a bunch of different cheap stuff. Also I definitely agree with cutting down on clutter! – Amy
We find that the TV is a great source of "noise" and lack of communication in our home. When we keep the TV off the majority of the time, it just makes things easier and more peaceful. The kids listen better, everyone is a little happier (most of the time), and more things get done. – Megan
Being present in the moment helps me a lot. Helps me remember that I'm just here, living, doing these little things here and there, and simplifies my perspective. Simplifying from the inside makes all the outside things manageable and usually enjoyable! – Georgia (I can't agree with this more! You have to simplify inside in order to enjoy the simple things on the outside.)
So …
What steps have YOU taken to simplify your life? How has that affected the way you relate to the world/your family/yourself?
—
Also, don't forget that this is THE. LAST. DAY. to get in on the Simplify Your Family Life Sale (where you get 38 ebooks from top bloggers on simplifying your life, bought separately for $375, but on sale in a bundle right now for only $29). The sale ends at 8 a.m. EST tomorrow, and when it's over, it's over forever.
If you bought the bundle (as several of you have), please share any tips, ideas, or concepts that have already spoken to you and encouraged you to live more simply!