Moving makes it to the short list of the top 5 most stressful things you can do in your lifetime.
Since leaving the warm, safe womb of high school I have moved 16 times. That is not an exaggeration. 16 times. I used to say it was because I adored change, but it really has more to do with my fear of commitment.
I doubt that I'll ever buy a house in my lifetime, and I'm okay with this. Houses mean responsibility and time that I'd rather spend on things like building a blog, making toothpaste, or becoming intimately familiar with antique stores and their owners. (I don't mean that in a sexy way, although I did see a Pee-Wee Herman doll with a come-hither look about him at an antique store once.)
Again, let me stress that this in no way means that I think renting is a better choice. It just serves my inability to make a permanent decision nicely. I have a track record of making pretty poor decisions when it comes to the huge and lasting things. If I ever bought a house, you can bet your money on the fact that the roof would leak within 2 weeks, the foundation would cave in within a month, and later I'd find out that it wasn't really a house at all, but a boat that someone had stapled to the ground.
This particular move was exciting, because we snagged a pretty grand little apartment home in a community that's making concentrated efforts to be eco friendly and conscious. We buy into wind energy now, and I finally have an easy way to recycle (that doesn't involve driving 5 miles to the closest glass recycling center). Better yet, we have phenomenal weather-proofing and energy saving appliances, something my old-but-adorably-quirky apartment lacked. Completely.
The best part.
Words cannot prepare you for this.
This is the best part. From all my windows. And directly out the deck door.
This is what mother nature gives me.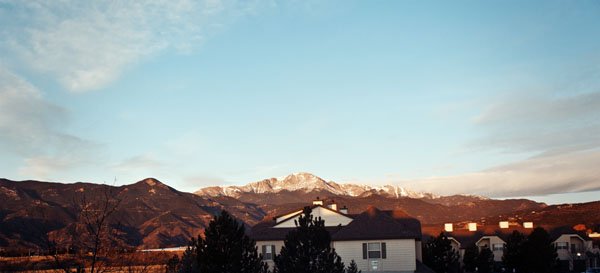 Except today, it gave me this: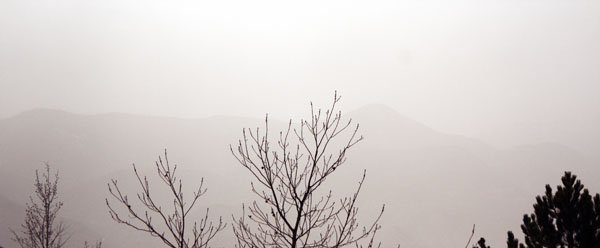 So, in preparation to get back into loading Crunchy Betty up with good stuff in the coming weeks and months, you should know about something that happened over the last few weeks. I was slightly aware of the change that was going on, but it wasn't until we moved that it became apparent.
I am madly, obsessively in love with cod liver oil.
And we've talked about it here before, but the most incredible, unexpected thing happened while we were moving. Sit yerself down and let me tell you about it.
Cod Liver Oil and My Unbelievably Not Achy Back
I've had a good bit of sciatica for the last 15 years. If you're keeping track, it started when I was 22 and giving birth to my son while he was stabbing knives into my spine. I never have figured out how he smuggled those in there.
I've lived with it through things like waiting tables, lifting small children, and other randomly annoying things, but it's gotten worse over the last two years.
About three weeks ago, for some strange reason, I started taking cod liver oil every day. It used to be that I'd take it sporadically, whenever I'd remember, which was typically every Tuesday or Thursday and on any day when I looked in my refrigerator door and moved the mustard. But recently I got serious about it.
Over the weeks, my back didn't hurt, but that wasn't weird, because it comes and goes – and mostly just comes when I'm doing a lot of bending over and picking up. Like moving boxes.
I was prepared, though, for this move to send me to the bed for a few days after we were done. Because, look at this, these are only a fraction of the boxes I picked up and put down, three times. And they had stuff in them at the time, I swear.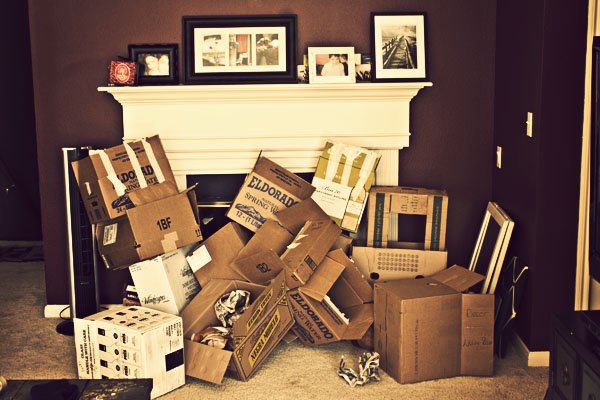 At one point, my back twinged, and I prepared to welcome the literal nerve-wracking hell that would send me to my knees and have me crying for a chiropractor. The twinge came and went as fast as a "friend" saying they'd help you move. And it was gone.
My back has been completely perfect since.
The only thing I can attribute this miraculous change to is cod liver oil. It's the only thing I've done differently in the last few months.
Cod Liver Oil Health Benefits – Yowza
I had no earthly idea that cod liver oil was going to help my back. I'm taking it for my brain, because … smart is sexy to me. And I like it when I'm sexy to me.
However, about a year ago I went through two or three weeks of remembering to take it regularly, and I also saw an almost immediate improvement in the texture and softness of my skin (in addition to a very marked decrease in blemishes).
But this back thing was unexpected, and I wanted to share it with all of you – just in case you, too, suffer from occasional back pain, sciatica, or other achy joints. I'm not claiming it will cure you, but it just might help a little.
Let's look at the health benefits of cod liver oil really quickly, though.
It helps your immune system, due to its high vitamin A content. This means you're less susceptible to viral and bacterial infections.
EPA found in cod liver oil is fab for your cardiovascular system, and it even acts as a natural antidepressant.
The DHA in cod liver oil helps protect your vision – and it's one of the components that's remarkable for your skin health, which means more supple skin and less breakouts.
Vitamin D, found in spades in cod liver oil, is also the stuff you get from the sun – which helps your mood AND keeps your bones strong and healthy.
And, of course, the abundance of omega-3 fatty acids do everything from improve your brain's ability to function, to relieving muscle pains and arthritis, to helping with allergies and asthma.
Really, the list goes on from here. But there's so much more to learn about cod liver oil, if it strikes your fancy.
What Kind of Cod Liver Oil to Buy?
It's no surprise that stores stock cod liver oil in spades these days, given its profoundly good health effects and deliciously positive press. But not all cod liver oil is created equal.
The best kind of cod liver oil is fermented, according to who I would deem as the experts on the matter – the Weston A. Price Foundation. The cod liver oil they mention as the best cod liver oils are really pricey – out of my price range, anyway.
However, they do recommend a few brands that they call good, which means they haven't been stripped of all their natural vitamins, like so many store-bought cod liver oil supplements are. These include Green Pastures, Carlson soft gel Cod Liver Oil Super 1000 mg capsules (my new brand), NOW double-strength CLO capsules, and Twin Labs non-emulsified liquid Cod Liver Oil (if you're curious, here's the whole list).
These are all much more affordable, if you don't have the funds to spend on the fermented cod liver oil.
Yay for Cod Liver Oil!
I prefer the capsules to the gel because you don't have to taste the cod liver oil as much.
Anyway, it just seemed like a good time to share my love of CLO with you guys, in the hopes of building your immune system, boosting your brain, or (of course) soothing your achy joints or back.
You'll also be able to find most of the good brands at your local natural foods store, though all of the best brands you'll probably have to order online.
Have You Seen Benefit From Cod Liver Oil?
I know many of you are happy, enthusiastic Weston A Price (and cod liver oil) supporters, so I'd love to hear any tales of seeing an actual benefit to your cod liver oil usage.
Like I mentioned, this all-better-back situation took me squarely by surprise. Never in a million years did I expect to write this blog post. I'm sure there are other examples.
Have any?