Ladies and gents, you can chalk up a win for the crunchy movement.
A recent study, widely publicized, shows that THYME is more effective than prescription creams (containing benzoyl peroxide) at treating blemishes caused by an acne bacterium.
Yes. Thyme. Scientifically proven. Better. Than. Prescriptions.
How cool is that? There are hundreds of reports out there on this study, but I thought this one from the Washingtonian was the funniest. After delivering all of the good news, they end the article with this (by the way, no where else have I seen that "researchers caution" …):
Still, researchers caution that you shouldn't start rubbing thyme all over your face next time you have a zit. More tests using the thyme mixture on actual skin are needed to see how effective thyme really is.
Uh, yeah. Okay. We won't take our skin health into our own hands, experimenting harmlessly with nature, because it's safer and less toxic. Sure. Yeah. No probs.
HAHAHAHAHA.
So how are we going to do this? Well, let's look at how the researchers conducted the study first.
They created a tincture of thyme with alcohol (in addition to studying marigold and myrrh), steeping it in the alcohol mixture for "several days to weeks." They found that the most effective tincture was simply the thyme, even when studied against benzoyl peroxide creams. In fact, the thyme tincture killed the bacteria within 5 minutes of application – that's how effective it was.
However, and this is my humble opinion, I think using a pure alcohol tincture straight on your skin is asking for other troubles (mainly irritation and dryness), so after a lot of consideration, I went about things slightly differently.
And, remember, this is all our own experiments. At the end, I'm going to give a few other ideas of how to sneak thyme into your skincare routine in ways that may (or may not! who knows?) control your acne and blemishes.
Create Your Own Blemish-Controlling, Gentler Thyme Tincture
After much thought, I really think this is the quickest and easiest way to test how well thyme will improve the clarity of your skin and help eradicate the bacteria that's causing your acne and blemishes.
You only need two things:
It's important to note, many witch hazel preparations actually include a small amount of alcohol in them – not all, but many – and that's not necessarily bad, but it may cause a bit of dryness or irritation.
Creating a Thyme/Witch Hazel Infusion
This is so simple. And, actually, I think you can start using it right away. Here's what you're going to do.
Sterilize a small jar or bottle by boiling it in water for 10 minutes. Dry it well.
Add 1 Tbsp dried thyme to the jar/bottle.
Pour 3-4 Tbsp witch hazel over the top. Shake well.
Within 20 minutes, the witch hazel should start to look like a light brown tea. This is good. It means your thyme is steeping well. You can actually use it right away, but continue to let the thyme steep in the witch hazel for a few days before straining the thyme out.
Store it in a cool, dark place for up to a month, using when needed.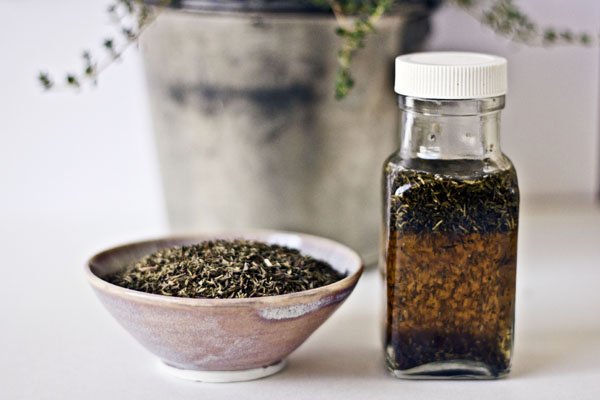 How to use it: Use this as a toner once a day (or once in the morning and at night if you're really concerned about your blemishes). Just pour a small amount on a cotton round or reusable facial pad and swipe over a clean face.
Frankly, I have no idea how soon you can expect to see results. This is your experiment! You tell ME how long it takes.
Other Ways to Sneak Thyme Into Your Skincare Routine
These are just a few little ways – and I bet money (lots and lots of it) that YOU can think of even more. Don't be afraid to experiment, my lovelies!
Make the toner, create small masks
This is just an idea for small breakouts or giant pimples that really have you down. The toner above may help stave off breakouts, but this is a way to utilize it for more hard-hitting situations.
Grab yourself some cosmetic clay. Bentonite or kaolin or french green would be excellent choices. You can find them at Mountain Rose Herbs – or you can pick up some Aztec Healing Clay (which is bentonite) on Amazon here (I really love that stuff, by the way.)
Actually! Check the end of the post if you're interested in buying everything you need in one shot. I just broke it down, and figured out that, with the $10 off coupon (if you haven't used it yet), you can get EVERYTHING you need for $4.97+shipping.
Here's how utilize small thyme pimple masks for emergencies or "big ones:" In a small bowl, combine about 1 tsp clay with 1 tsp of your witch hazel toner and stir well. Apply to the pimples in question and leave on for at least 20 minutes (even overnight, if you want). Wash off.
The clay should help suck out the moisture from the blemish and the thyme … well … we know what the thyme does. It eradicates the bacteria that keep the blemish alive.
Instead of Infusing Witch Hazel, Infuse an Oil
Especially good for oily and acneic skin are:
Jojoba
Argan
Tamanu (though it's best to combine tamanu with a thinner oil)
Sesame
In a small, sterilized jar, place 1 Tbsp of dried thyme and cover it with oil. Let this steep for 2 weeks in a cool, dark place, shaking daily. Strain the thyme from the oil and apply to your skin nightly as a blemish-busting moisturizer.
Add It To a Daily Facial Scrub
Here's the important post that you want to reference: No-Nonsense Daily Facial Scrub for Any Skin Type.
Just grind up dried thyme with your other ingredients, add it to your scrub in a proportionate amount, and use daily!
Make a Fresh Thyme Facial Mask
The only way it makes sense to harness the power of fresh thyme is with a facial mask. You can do this once a week and see how it helps.
Fresh Thyme Facial Mask for Acne and Blemishes

1 Tbsp fresh thyme, leaves only
1 Tbsp sour cream
1/2 tsp lemon juice
1 tsp unfiltered honey (optional)
In a blender or small food processor, combine all ingredients and blend until the thyme is in very small pieces. Apply to a clean face and leave on for 15 minutes. Rinse well. (Be careful going outside for a while afterwards, as lemon juice makes your skin photosensitive to the sun.)
Make It Easy With Thyme Essential Oil
You can actually substitute dried thyme for thyme essential oil, if you prefer to take that route. But a quick and easy way to get the most out of your thyme essential oil is to opt for adding a few drops to an oil moisturizer (like the ones listed above).
Remember, essential oils are VERY potent, so you shouldn't add more than 2-3 drops per Tablespoon of carrier oil.
Shopping Details on the Pimple Mask
Okay. As promised, here's the shopping details on how you can get everything you need for the thyme toner and mask for $4.97 plus shipping (at least, that's the cost as of this writing).
And if you already have dried thyme at home (and you probably do!) you can cut your costs even more.
If you do decide to buy everything you need here, remember that BOTH bentonite clay and witch hazel can be used for a variety of different things – so you'll be adding to your little crunchy stockpile of goodies either way.
Tell Us If You're Going to Experiment …
… and then keep us updated on how it goes!
We DO NOT have to sit around and wait for a double-blind, peer-reviewed scientific study to tell us whether thyme works on our blemishes and acne. We CAN try this out on our own right now.
So, first, let us know here in the comments if you plan on trying it. Next, TRY IT! And then, finally, come back and update us on how the thyme situation is working for you.
If I have enough updates here in the comments, I'll do another post highlighting the outcomes of everyone and what seemed to work best!
Yay for crunchy learning!