Two weeks ago, we talked about a study done on thyme that showed it to be superior to benzoyl peroxide in treating the bacteria that causes acne. SO many of you were elated at the thought, and many of you vowed to do the experimenting yourself – to see if it worked on you.
To date, two of you have checked in to tell us how it's going. If you've been experimenting and haven't checked in … YOOHOO? WHERE ARE YOU? Probably too busy admiring your gorgeous visage. Ah, such are the perils of crunchy beauty.
After this pretty picture, we'll read the two "check-in" comments, but then you'll find out just what else thyme can do for you (and it's pretty cool).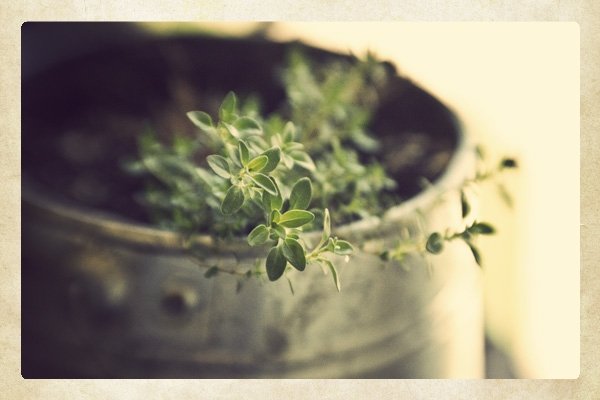 "WOW. I made the toner (and added a little rose hydrosol) and it is working. I had an epic month-long breakout on my chest that would NOT clear up. Been using the toner night and morning for a week and it's almost gone. THANK YOU." – LFB
There's one check-in comment! Thank you, LFB. Of note, it turns out that rose is actually a bit anti-inflammatory itself, so the addition of rose hydrosol is a GREAT way to sneak in a little more healing power. And I bet rose and thyme smell simply heavenly when combined. Mmmm.
"Trying a dried thyme / pure witch hazel mixture. It's not preventing my awful acne BUT it's drying them up and soothing the inflammation. The witch hazel is continuing to make my skin over-produce oil, but not to a really bad extent. Thumbs up from me!" – NMG
NMG checked in with this comment 6 whole days ago, so I'm REALLY curious to see how it's going by now. NMG, if you're out there, let us know. Also? What's the deal with the two of you using three letters as your usernames. Funny.
Anyway, NMG's comment is extra interesting, in the face of what we'll learn about thyme today: It's not just incredibly antimicrobial and antibacterial, it's also a superior anti-inflammatory (double kudos to it for helping SOOTHE the discomfort of inflamed acne, then, too)!
Thyme Is Your Anti-Inflammatory Friend
After the Thyme for Acne post, I've found myself – for some inexplicable reason – completely obsessed with thyme. I keep pinching off leaves and chowing down on them, smiling with little green flecks stuck in my teeth for my neighbors to enjoy.
But, more importantly, I've been reading everything I can about this super-powered herb. And this particular bit of knowledge, I think, will help YOU out immensely!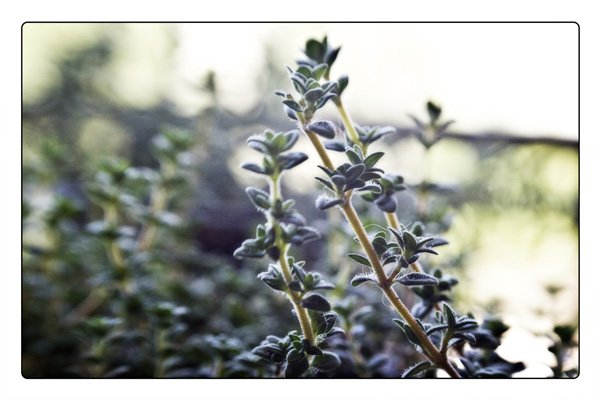 You've heard of COX-2 inhibitors, right? They're a form of NSAIDs (non-steroidal anti-inflammatory) that suppress the COX-2 enzyme in our bodies, which is a huge culprit of inflammation and pain. Celebrex is a COX-2 inhibitor, and Vioxx was, as well, before it was pulled from the market for having really terrible cardiovascular side effects.
Well, it turns out that the natural, graceful, ever-fragrant herb, THYME, also exhibits COX-2 inhibiting effects. Like, superbly. In one study, researchers found this.
Check it:
So, [the researchers] screened a wide range of commercially available oils and identified six (thyme, clove, rose, eucalyptus, fennel and bergamot) that reduced COX-2 expression in cells by at least 25%. Of these, thyme oil proved the most active, reducing COX-2 levels by almost 75%."
Now, unfortunately, we won't be given "studied" ways to easily incorporate this knowledge into our daily lives – so it's up to us to experiment and see what works for each of us INDIVIDUALLY, if so desired.
But here are some ideas of ways you could try out thyme to see if it helps with your inflammation and pain. Speaking of which, in times past, thyme was considered to be analgesic (and this study suggests there's a lot of truth to that) – not just anti-inflammatory. Isn't it just … divine?
Getting the Most Out Of Your Thyme
Sooo, if it's not clear already, thyme really seems to be a superb choice if you want to experiment with your own acne remedies. It's antimicrobial, antibacterial, antiinflammatory, and potentially analgesic, which solves just about all your acne problems.
Not to say that it'll cure you completely, because … well … do cure-alls really exist? Of course note. But it may very well help.
However, if acne isn't your problem, but you want to get the most out of your thyme, here are a couple of other ideas to utilize it in your personal health explorations: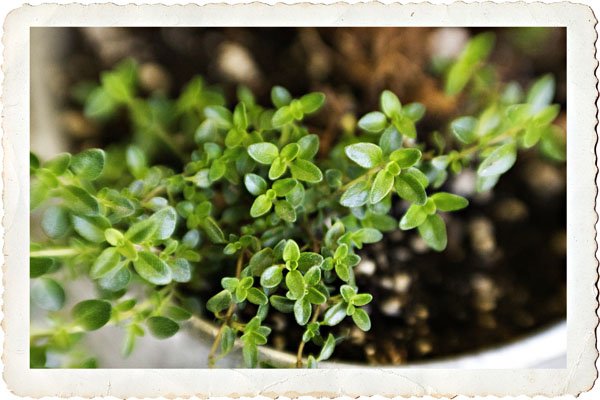 If chronic inflammation is an issue …
… like arthritis or other minor inflammatory problems … maybe you could try adding thyme into your diet each day? If nothing else, sneak some into a green smoothie whenever you can!
For a sore throat …
Perhaps you could take some time now (or closer to autumn) to infuse some raw honey with thyme – and sage! Then, take a teaspoon whenever you're afflicted, or add it to a yummy healing tea.
For minor wounds, like scrapes and scratches …
Maybe you could try infusing a few tablespoons of organic dried thyme in twice as much rubbing alcohol (i.e. 2 Tbsp dried time in 4 Tbsp rubbing alcohol) for two weeks. Use this concoction to swab minor wounds, for extra anti-inflammatory and analgesic effects.
For sore muscles or bruises
For gum health ..
If you have issues with gum inflammation, thyme could prove very helpful. After you're done brushing, add 1 drop of thyme essential oil into 1/4 c. water. Swish and spit. See if it helps! (P.S. I don't recommend swallowing, but thyme oil in very small amounts is "Generally Recognized As Safe" to ingest.) FYI? Listerine actually includes thymol, one of the most active constituents in thyme. Now you can get the benefits without the harmful daily gum exposure to alcohol and other untoward ingredients.
Just a Few Ideas … Can You Think Of More?
So today in the comments, I ask of you two things:
Have you tried the thyme tincture (or other ideas) for acne and blemishes yet? If so, how is it going?
Can you think of any other natural ways to incorporate thyme into your routine to utilize its anti-inflammatory and antibacterial properties? Ideas on how to create recipes around thyme?