A long time ago, in an apartment far, far away … it is a period of ingredient wars. Rebel olive oil, striking from an overactive food processor, has won its first victory over the evil egg yolks.
In non-nerd terms: Two years ago, I tried to make homemade mayonnaise. Several times. Not once did it work. The olive oil and the egg yolks, in my wild food processor, would not emulsify. All was lost.
So I gave up.
Until a couple of months ago, when I found the strength to try again. And failed. Two more times. At which point, I begged for the help of the lovelies on the Crunchy Betty Facebook page, and someone sent me this instructional video.
Victory was mine! And life will, forevermore, include the delicious freshness of homemade mayonnaise and tuna salad sandwiches.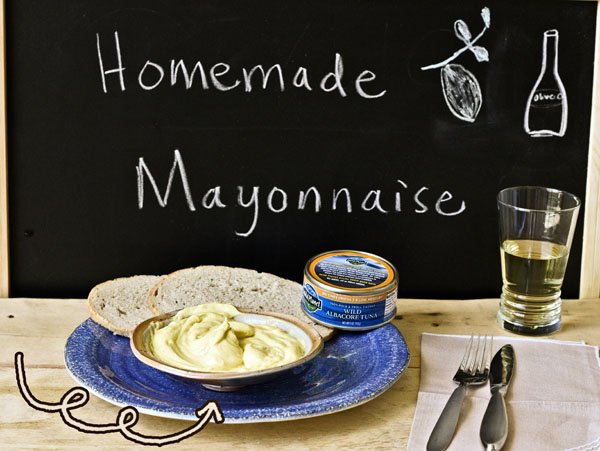 Here is what I promise you:
You will never want to buy store-bought mayo again, after trying this.
Preparing homemade mayonnaise will take you no more than 5 minutes and you'll probably always have everything you need to prepare it in your kitchen.
This method is foolproof. And, if for some reason, it is not, I will give you the secret to make it foolproof by fixing shoddy emulsification.
You'll have fun eating this silky treasure of a condiment, but you can also get some beauty treatments out of it, too!
I have a LOT to share, so let's get started making foolproof homemade mayo!
Foolproof Homemade Mayo Recipe
Yes, yes. I know some of you have had great success using a food processor to make your mayonnaise. Sigh. You, I am envious of.
And some of you have had great success making homemade mayo by hand, using only a bowl and a whisk. You, I am in awe of. You must have an arm of pure steel.
But, for everyone else (myself included), the super secret weapon to creating luscious mayonnaise is one thing:
A STICK BLENDER (also called an immersion blender)
Immersion blenders, by the way, are fab little tools to have around, especially if you like blended soups. Don't have one? Get one! (This is the one I have, and it's pretty rad for as inexpensive as it is.)
Here's how you make-a your mayo.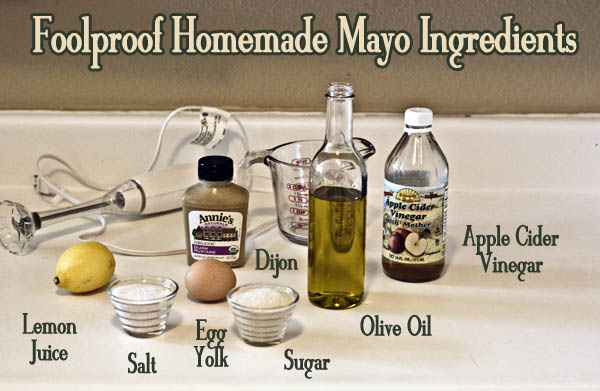 Super secret: Prepare your mayonnaise in a container with a skinnier bottom, preferably something in which the immersion blender just perfectly fits. My Pyrex measuring cup is perfect. Don't use a wide-bottomed bowl; otherwise, it's more difficult to thoroughly emulsify.
Foolproof Homemade Mayo Ingredients
3/4 c. extra virgin olive oil (or 1/2 c. EVOO + 1/4 c. organic canola oil or grapeseed oil or other light oil)
1 egg yolk
Pinch of sugar (a little less than 1/8 of a tsp)
1/2 tsp salt
1/2 Tbsp apple cider vinegar (or any type of vinegar you prefer)
1/2 Tbsp lemon juice
1/2 tsp dijon mustard (you can also use just regular mustard, if you prefer)
Combining the ingredients is difficult. Many intricate steps. Ready to hear them?
Put everything into your mixing container. All together. The end.
Just a side note: This recipe is mostly a halved recipe from the video I referenced above. It makes just under 1 c. of mayonnaise. If you need/want more, double the recipe or visit this page for the whole thing. I don't like to make more than this at once, or else it ends up going to waste.
Now, for assembly and some super secrets.
OLIVE OIL!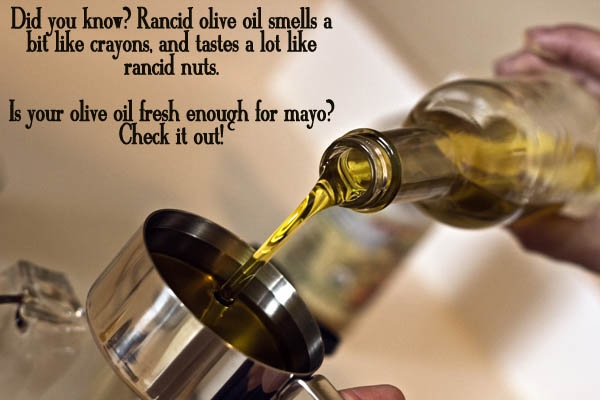 You will be able to taste, quite clearly, the extra virgin olive oil in your homemade mayonnaise. So if it's rancid (and it does become so quite easily over time), it will definitely affect the taste of your silken creation.
Smell it first and see if it smells like crayons (crazy, right?) or give it a taste and make sure it doesn't remind you of gross old nuts.
And don't forget! Make sure your extra virgin olive oil is really and truly extra virgin olive oil.
Double Duty Eyelash Beauty With EVOO
When you add your EVOO to your bowl, pour a small amount on your fingertips and then coat your eyelashes with it. Instant eyelash thickening, and superb eyelash conditioning. Rumor has it, if you coat your eyelashes in EVOO every day, they'll be thicker and darker in time.
LEMON JUICE!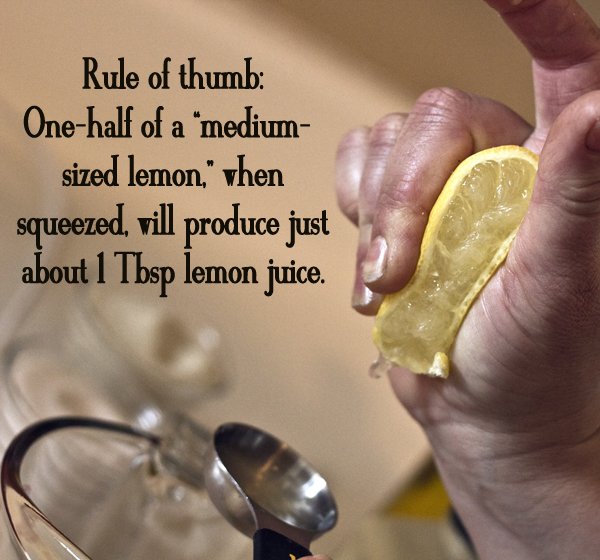 One great thing about homemade mayonnaise is that you don't have to be absolutely 100% accurate on measurements. As long as you're in the ballpark, it's all good.
So this super secret is really helpful:  One-half of a medium, or "regular-sized," lemon yields just about 1 Tbsp of lemon juice. Therefore, for this recipe, if you cut a lemon in half, and then squeeze just about half the juice out of that half, you'll end up with the perfect amount of lemon juice.
(Also, don't forget, before you juice a lemon or any citrus fruit, roll it under the palm of your hand on a counter, pressing and rolling a few times, in order to begin the release of the juices. Then cut and squeeze.)
Double Duty Fingernail Beauty With Lemon Juice
After you've squeezed the lemon juice into your mixing container, rub the remaining lemon over and under your fingernails (but watch out for hangnails – ouch!) and leave it on for 10 minutes, then rinse.
Instant brightening, whitening, and cleaning of your fingernails! (My friend Ashley, who helped me out with the pictures in this post, stained her hands with hair coloring a few days prior. The lemon juice really helped get rid of that!)
EGGS!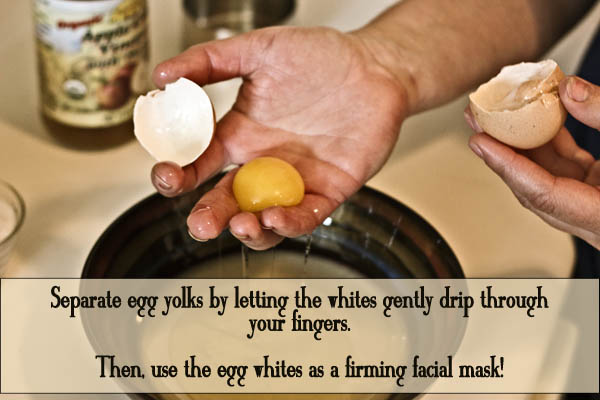 Whenever you need to separate egg yolks from whites, try it this way:
First, crack the egg on a flat surface. Not on the corner of your counter or the lip of a bowl. This helps keep the egg shell fragments out of your mix.
Next, separate the egg shell and pour the egg through your free hand, keeping your fingers loosely together.
Do EVERYTHING GENTLY.
Let the egg white drip past the egg yolk and through your fingers into a separate bowl.
And never, ever just throw away the part of the egg you're not using. Why?
Double Duty Facial Beauty With Egg Whites
After you've separated your yolk from your white, set aside the bowl with the white in it. Make your mayo, and then return to your bowl of egg white(s).
Now, get ready for a simple firming face mask!
Spread the egg whites (and you can even add a little lemon juice to them if you want) on your clean face in a thin layer. Leave this on for 15 minutes, or until the whites have dried completely. You might want to lay down for this, as it will dry and tighten your face in the direction gravity pulls it.
Rinse well, scrubbing lightly with a washcloth. Enjoy your firmed face and tighter pores!
Creating Your Homemade Mayo – In 30 Seconds or Less
So, now you've put all of your ingredients into your (thin-bottomed) mixing container, right? And before you've done that, you've checked to make sure your stick blender will fit at the bottom, right? RIGHT?
Now, you create your mayo.
It's magical. I'm not even kidding you. From the second you turn on that immersion blender, mayo happens. First at the very bottom. Once you have a thick layer of it at the bottom, you slowly lift your immersion blender up, so it begins to emulsify everything toward the top. The whole process takes 30 seconds – or less.
Check out the awe-inspiring progression of mayonnaise cloud:

Do NOT over-emulsify, or else it could break down. Once you create a giant cloud of mayonnaise, just stir in the tiny remainder of oil that might be floating on top and call it good. It will look something like this: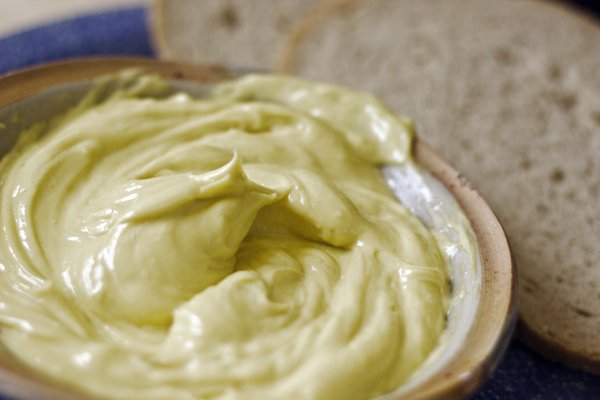 REMEMBER: Homemade mayonnaise doesn't last long in the fridge. Keep it for no more than 5 days, and always store it in your refrigerator or on ice (like, say, if you take it on a picnic).
QUICK FIX! If Your Mayonnaise Doesn't Emulsify
You CAN save mayo that doesn't emulsify on the first try (you'll be able to tell, because everything is goopy and separated) by simply doing this:
To your un-emulsified mayo concoction, add one more egg yolk and about 1/8 tsp mustard. Start the immersion blender process over again from the bottom, and watch the magic happen – this time.
(Aside: I have no idea why my blog has started automatically linking up the post "happen" every time I type the word happen in a separate paragraph. It's weird and I don't know how to make it stop. Sorry.)
The Last of the Homemade Mayo Super Secrets
If you ever, for any reason, can't use all your mayo before it's about to go bad:
Use homemade mayonnaise as a luscious hair conditioner/mask.
Just spread it through slightly damp hair, cover your head, and leave on for 5-10 minutes. Then wash out well with shampoo – in tepid water. Not too hot! And, actually, cooler water rinses out oil far better than hot water does.
(P.S. This is NOT recommended for those of you who are no 'poo. It's darned nearly impossible to get olive oil out of your hair without shampoo. Sigh.)
Whew!
That was a lot to take in, I know.
Ready to go make your homemade mayo with your super secret double duty beauty tips? Any questions?