When you come from hearty German stock, like me, red face is an issue. But it only happens upon extreme exertion. Like, say, moving a king-sized mattress all by myself.
You should've seen my face, yo. It was like a tomato and a firetruck had a baby all over my cheeks.
While growing up, this caused me great consternation, and was, in no small part, a source of extreme embarrassment at the roller skating rink. It never crossed my mind that the embarrassment, instead, should've come from creating a choreographed skate-dance routine to Somewhere Out There from Fivel Goes West.
(At one point, I crouched down and pretended to be a mouse. Please don't envy my dance move genius.)
After the mattress-moving effort, and with great red face a-glowing, it occurred to me that I could create a cooling spray to help mitigate this uncomfortable hot mess. And then, then I remembered watching the Great Dr. Oz Show and how he recommended – when you're blazing hot – rubbing aloe vera on the soles of your feet.
Thus, the Keep Your Cool Spray was born. Best of all, it's good for both your face and your feet. So if you have issues with exertion-provoked red face, or if you just get extra toasty in the summer heat, this may be your ticket to a little relief!
This is ridiculously simple to whip up, and you can use it right away. Plus, there are a few variations you can try, depending on your needs. It only uses three (or two, even) ingredients – aloe vera gel, witch hazel, and peppermint essential oil. The most difficult part, actually, is finding the right aloe vera gel. So let's talk about that first.
Shopping for Aloe Vera Gel – Not Always Easy
In the spirit of frankness, the aloe vera gel I own isn't the most natural. I bought it last year without really looking at the ingredients, and it's full of some preservatives (like carrageenan) that I don't particularly enjoy.
However, I have it, so I will use it until I'm done and then move on to something a little more wholesome.
And this, my friends, is the issue. All aloe vera gels will contain some amount of preservative, but some are much more natural (and far less iffy) than others, so be attentive when reading the labels before you buy.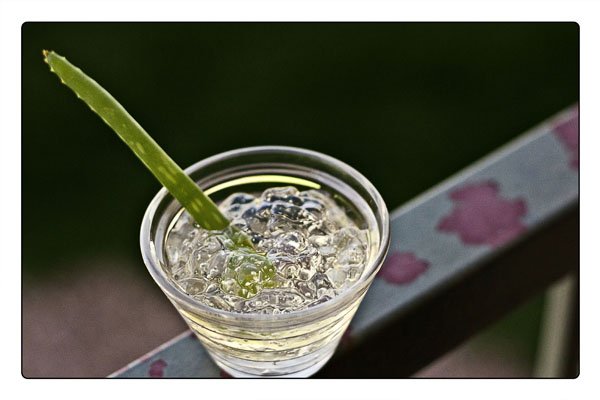 In short, these are ingredients you may want to avoid when you're buying aloe vera gel:
Carrageenan – technically natural and it often comes from seaweed or irish moss, but it has been shown to be a carcinogen, and controversy swirls around its "organic" classification. I haven't run across any studies that show its danger on skin cells, but it has been shown to kill epithelial cells in studies. If you want to learn more about carrageenan (which is in MANY products, beauty and food), start at page 11 on this enlightening white paper by the Cornucopia Institute.
Parabens
Retinyl Palmitate – this is basically vitamin A, but studies have confirmed that vitamin A, when combined with sun exposure, greatly increases the risk of skin cancer. Just an FYI – make sure, if you do use a sunscreen, that it doesn't include this ingredient.
Fragrance oils
Polysorbate 20 – this ingredient isn't scary terrible, but it's technically a "natural" ingredient that's derived in synthetic ways; in addition, it can easily be contaminated with ethylene oxide and 1,4 dioxane.
Those are just a few ingredients I found in some of the more widely sold aloe vera gel brands.
However, there are alternatives. Yay! I spent several hours trying to find the best brands that keep it natural. Here's what I came up with (maybe you know of more?).
Happy Aloe Vera Gel Brands
Aubrey Organics Aloe Vera Gel – it contains only aloe vera gel, grapefruit seed extract, guar gum, and vitamin E. Aubrey also sells it on Amazon, and you can find Aubrey Organics in just about any natural foods store.
Mountain Rose Herbs – (no surprise here, right?) Their brand contains only aloe vera gel, potassium sorbate, citric acid, and xanthan gum. As of this writing, you can get 16 oz of aloe vera gel (so much!) for only $5.75.
Aloe Farms – I just found them today while searching for truly natural aloe vera gel, and I LOVE what they're about. All the aloe is organically grown in Texas and it's cold pressed. It seems to truly be a shining example of a small business with a friendly, conscious demeanor. You can order 32 oz for $9.75 and it contains 99.75% aloe vera, citric and ascorbic acid, and potassium sorbate.
Enough about aloe vera gel. On to the recipe!
Keep Your Cool Spray Recipe
Here's the original recipe, and then I'll give you a couple of alternatives. This can be used on your face and on the soles of your feet, whenever you're feeling uncomfortably toasty.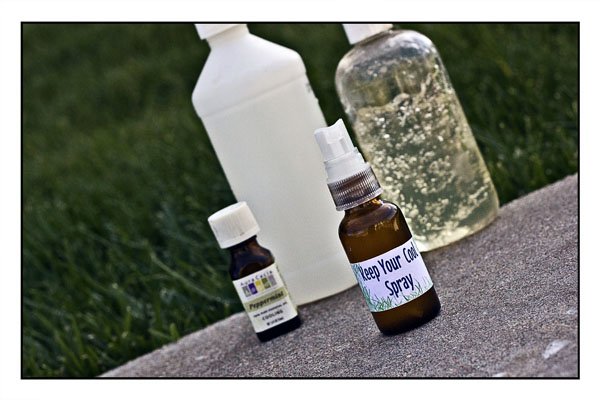 Keep Your Cool Original Recipe
3 Tbsp aloe vera gel
3 Tbsp witch hazel
4-5 drops peppermint essential oil
Combine all the ingredients in a mist sprayer bottle and shake well. Spray on your face or on the soles of your feet whenever you're feeling hot and bothered (not in that way). Allow the breeze to blow over your skin for maximum effect. Store in a cool, dark location for 2-3 months.
Note this, though: Both aloe vera gel and witch hazel can have a drying effect on your skin, so if you have issues with dry skin already, you may want to go a little easy on this for your face. However! If you have issues with oily skin, especially after exertion, this could be a fantastic oil tamer option for you. Nonetheless, I wouldn't spray it on my face more than three times a day.
Note this, too: Peppermint essential oil is pretty potent stuff, so do NOT add more than the ratio suggested above. Otherwise, you'll end up with an uncomfortable burn-cold sensation all over your face. In fact, you might want to add 1 drop at at time, shake it up, and test it on your cheek with each drop addition, just to make sure you're not going overboard.
Keep Your Cool Spray Variations on a Theme
So, depending on how you want to cool yourself with this handy little recipe, you can change it up to be more effective for you. Here are some variation ideas:
If you just want to use it on your feet … skip the witch hazel and add 5-6 drops of peppermint essential oil to about 3 Tbsp aloe vera gel (you can up your peppermint essential oil ratio here, because the soles of your feet are much less sensitive than your face). Added bonus, by the way: Peppermint EO can give you a boost of relaxed energy, and the soles of your feet are a great place to apply it for this reason.
If you have dry skin … and you don't want to use witch hazel, try picking up some aloe vera juice instead and adding 3 drops of peppermint essential oil to about 1/4 c. aloe vera juice. Put that in a spray bottle and use it instead! However, you'll need to store this in your refrigerator and keep it no more than 2 weeks.
If you need to get rid of red face fast … spritz the original recipe on your face and then immediately place a cold to very cool washcloth on your face and lay down for 5-10 minutes (or until the washcloth heats up).
Totally Off Topic, But I Hear You
I just want you guys to know that I read every single comment that you guys leave here. I don't often have time to respond, but I read every one and each time I give a silent "thank you." I especially enjoy the times where you guys share personal stories and hilarious anecdotes, and every comment on the Manifesting Your Feathers post left me thrilled.
I just wanted you to know how much you're appreciated.
And that I'm sorry I can't answer every question or respond to every post that touches me.
Just know you're heard, appreciated, and loved.
That is all.
Now go be cool!