Look up. The aliens are here.
Just kidding.
I wanted to throw something completely wacky out there, so you didn't find the rest of this completely crazy. Please, as you continue to read, remember that I ain't preaching no dogma, nor is this any kind of exposition on the true nature of consciousness.
This is just for fun. Silly. Because I'm insanely curious to see how many of you can do this with favorable outcomes over the weekend.
First, let me be frank and say that the experiment is borne from the whole law of attraction idea. (If you're unfamiliar with the idea of the law of attraction, it is sort-of, roughly, this: That like attracts like, and that your thoughts are powerful attractants. If you can harness the power of your thoughts, if you can steward them relentlessly, if you will, you can attract into your life whatever conditions you desire.)
I adore ideas like this, but I'm no staunch believer. I approach this like I approach everything in my life: Skeptically, but with a giant dash of hope.
This experiment, while kind-of based on this "law," isn't for new-age woo-woos. It doesn't matter what you believe, because this is just a lighthearted test of sorts. Just to see what happens.
Let me tell you a quick story, and then I'll tell you how to do the experiment.
I Can Manifest Anything I Don't Care That Much About
You've probably done this, too. Only many of you probably call it coincidence. It may very well be that. I'm not the boss of reality, so I have absolutely no clue.
But my friend, Ashley, and I like to run around "creating things" all the time, just for fun. For example, one day we were eating in a very small cafe and I turned to her and said, "Wouldn't it be fun to see someone wearing a red hat?" Not three minutes later, a middle aged woman walked in wearing a red ball cap.
Another fun recent one? I was telling her I'd really like to pick up a pallet and make a "pillow-sitting" coffee table out of it. We left the house to go eat, and a mile down the road made a U-turn right in front of a pile of pallets on the side of the road – out for anyone to take.
Score!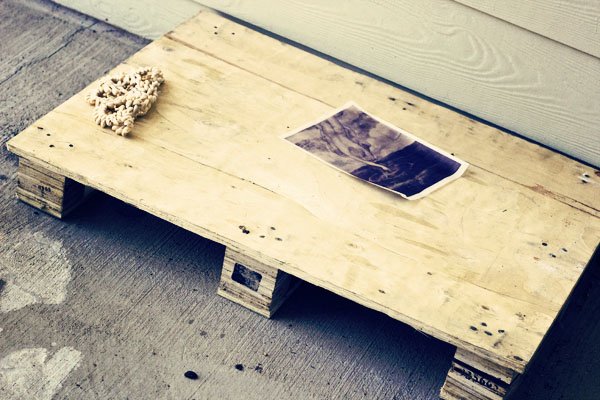 I have scads of different examples I can give you, but this is the one that made me want you guys to goof around with me and see if you can make it happen too.
If you haven't read any Wayne Dyer, in one of his books I just read (which is why I started messing around with the concept again), he suggests "trying out your ability to manifest" by imagining something fun and easy to "let go of." Like a feather. So I imagined finding a feather, and two hours later, I bumped into my cat on the stairs.
He had pulled a huge blue feather off of one of his toys and was flopping around with it. Much like this: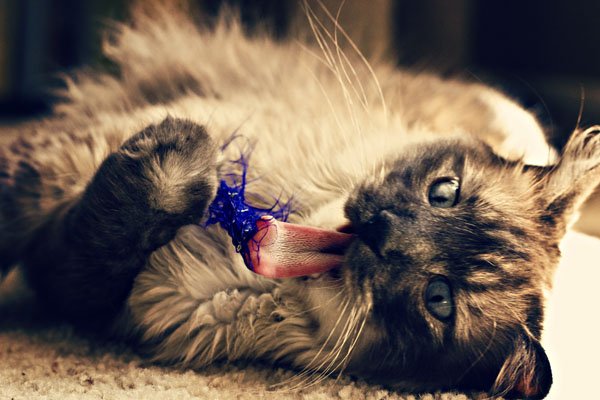 "That's not at all manifesting. That's just stupid coincidence." This is what you're saying to yourself. I said that too, along with, "Nice try, but this doesn't count. The feather was already in the house."
So I left the dumb cat to his weird ways and went on about my business for the next two days. Yesterday, I went to take some stuff out to the recycling bin (which is about 50 yards from my door) and just as I was reaching my destination, I noticed something blue in the grass ahead.
And … it was.
The dumb blue feather. Which had somehow escaped our house and flown through the air (in some of the mighty wind we've had recently) to a place far from our front door, but in the direct path of my eyes.
I picked it up, decided to tell the universe or whoever, "I get it. Okay. Fine. It counts now."
And the cat is happy again.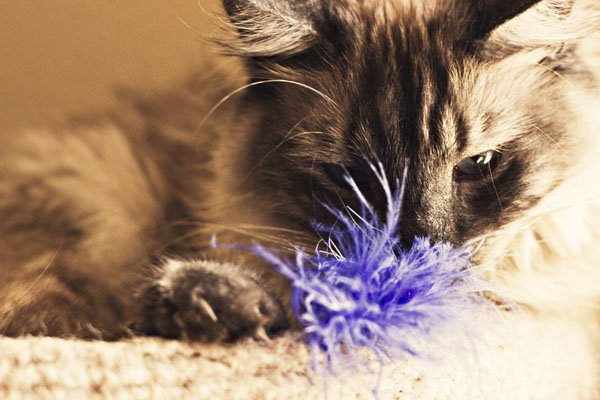 I could give you a hundred other examples, but I know it's hard to read what someone else has experienced (especially like this) without complete and utter disbelief peppered with a helping of eye rolling.
And that – THAT – is why we're going to make this an experiment for the weekend (mine is already successful, because I already "found" the thing I was going to "manifest" within an hour of "creating" it – a happy face).
Manifesting Your Feathers Experiment!
Okay, because this isn't some long-winded explanation of the law of attraction, the first thing you have to do is this:
Let go of any preconceived notions about yourself. Just for a minute. Again, this isn't testing "God" or your personal power or anything. THIS IS JUST A SILLY EXPERIMENT.
Don't be serious. I'm not.
Now, here are the rules:
If you don't feel peaceful or gentle at the moment, get yourself into a space of happiness. Let go of whatever's making you icky right now and just smile. Okay? SMILE. Okay.
Now, imagine finding something or seeing something. Like a feather. Or a doll. Or a red hat. The only rule is that you cannot pick something that you're insanely attached to (like a thousand dollars if you're really hurting for money or a new car or something that really has you down). Just pick something easy. For this silly experiment. Just something easy.
Close your eyes and feel how you'd feel having or seeing whatever you just picked. Smile at the thought of it. Know you're going to see/find it.
Now. Let it go. Seriously. Just forget that you ever wanted it and don't dwell on whether or not you're finding it or seeing it. THAT is the cardinal rule. You HAVE to let it go. (But you still have to be observant in order to experience it).
Remember, we're not making the rules of how it shows up. It has NEVER worked for me to say, "When I'm at lunch tomorrow, I'm going to experience my waiter handing me a purple stuffed animal." Maybe you can make that work for you, but I kinda doubt it. You have to be open to it showing up whenever and however it shows up. If it's a dumb blue feather that your cat tore off his toy, then that's what it is, goshdarnit.
When it shows up, come back here and TELL ME ABOUT IT. Gosh, there's nothing I want more right now than to share the fun of the success of this experiment.
Oh, and those of you who are prone to make it happen, it does NOT count if you decide you're going to see a pink agate stone and then you run down to a gem shop. That's cheating. You're better than that.
Let me reiterate, I don't care what you believe: If you believe it's just coincidence, then that's so super cool. Sometimes I believe that, too. Just promise me – pinky effin' swear – that you'll come back and report your mere coincidence.
GO. MANIFEST YOUR FEATHERS.
And have a delightful weekend, mkay?