If you've ever felt frustrated with finding natural solutions to your beauty problems …
If you've ever thought about throwing in the towel …
If you've ever contemplated how much you wish you weren't the way you are ..
I want you to read this.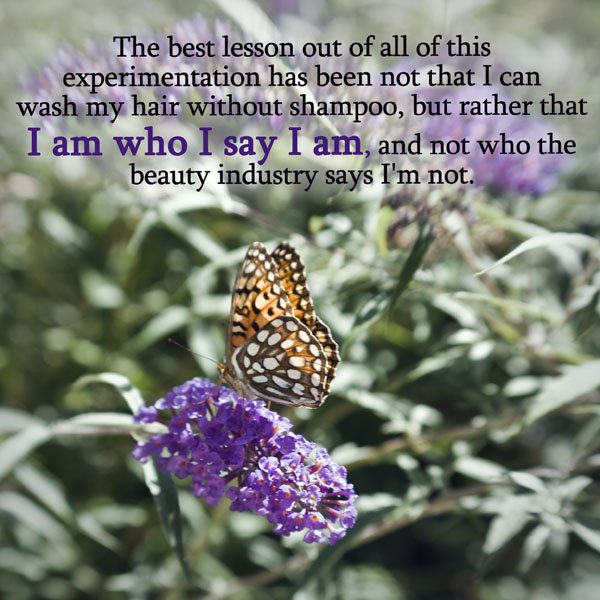 Kylieonwheels has been a member of Crunchy Betty for as long as I can recall, and she consistently has insightful, supportive thoughts to share. But she outdid herself in the comments last Monday.
Her words are so inspiring that they deserve a feature. They deserve an entire post. I will not dilute her wisdom with more of my nattering, so directly from the worldly comment she left regarding natural haircare and whether or not our hair is supernatural …
I'm Not Lucky, I'm Committed. By Kylie.
I've had to think about this a while before I posted it. I have learnt a few lessons since I started down this path, and I'd love for everyone to be able to learn them by me sharing them, but I know that we all learn better when we figure it out for ourselves. I think I'll share anyway.
The first thing you've gotta do is adjust your expectations.
You need to understand that what you see in the magazine and on the TV is not real. Stop aiming for it, because it is simply not real. Let your hair go another day between washes and tie it back and forget about it. Soon enough you'll realize that it's not dirty, you just thought it was.
How often do you think about other people's hair in your day? Not that often, I bet. That's how often anyone is thinking about yours. So lighten up and stop putting so much effort into something that nobody is paying attention to anyway.
It is almost 12 months since I stopped using shampoo. I started the BS/ACV routine immediately, and was planning for the prescribed 4-6 week transition period. After nearly a year, I think I'm close to a settled routine. Close, but not quite.
Expect that.
Expect that for the rest of your life, your body is going to change, and you are going to change how you treat it. What works for me today may not work for me in winter (it's summer here). It may not work during that time of the month. It may not work if I've swum in the ocean or a pool. Whatever. In that year, I've tried a hundred different treatments and cleansing techniques on my hair. Some worked, some failed, I lived to tell the tale.
The second epiphany, after adjusting your understanding of reality, is to realise that every single human being on this planet is slightly different. There is no bottled solution to your hair. There are just things that work for some people, and maybe you. Have a go.
The only person who can discover the perfect recipe and regimen for your body is you!
I truly believe that hair and skin are perfect indications of your health; physical, emotional, spiritual, the lot. The best thing for my skin (aside from stopping chemicals) is to drink plenty of water, eat well and be well.
Now that I'm chemical free, I am so so so aware of how what I eat and how I feel affect how I look. My sensitivity and awareness have become heightened since I stopped dulling them with commercial crap. I've always kept my hair short but now I'm growing it long and it's so exciting. I feel like I'm just letting my body fall into it's natural equilibrium. There are nearly 30 years of messing about with chemicals to shake off, but I'm getting there.
If you're dying for a shampoo-free solution to healthy hair, but filling your belly with crappy food, forget the hair for the moment and take a step back.
Maybe you're thinking I'm just one of those girls who had it easy, and isn't really a good comparison?
Nope.
All my life it's been oily, oily, oily hair. My hair is also superfine and until I jumped head first into no 'poo, I was washing it daily. I also ride a bike. Every day. Helmet hair, every single day. Between the fine hair, the oily scalp, and the sweaty helmet hair, I reckon if I can do this, anyone can.
I'm not lucky, I'm committed. Well, maybe I'm just stubborn and frugal! But it's working for me.
And the best lesson out of all of this experimentation has been not that I can wash my hair without shampoo, but rather that I am who I say I am, and not who the beauty industry says I'm not. I am a reflection of how well I treat my body and soul.
And yes, my hair lets me talk to aliens. In fact they have a message for us. "Dear Earthlings. Love yourselves!"
What Have You Learned?
Is there insight you feel your journey into natural, conscious living has given you?
Any words of wisdom or encouragement you can pass on to those (and there are MANY right now) who are just starting on this journey?
(And thank you, Kylie, for allowing me to use your wonderful comment as an unplanned, but very poignant, guest post.)