As loyal Crunchy Betty readers, you're more aware than most people about what products you put on your body and what they contain. So you know from experience that you can create handmade products that are just as good, or better, than their store bought alternatives.
And as G.I. Joe said – knowing is half the battle!
I truly believe that we can live cleaner, greener, more creative and less expensive lives by making things ourselves. How? By rediscovering the tips, skills and recipes from our past! Why struggle to figure out something myself when people have been creating and using lovely beauty and health products for generations?
Here's a recipe I love because it uses something that is so abundant in nature – daisies!
Why Daisies?
Daisies are easy to identify, grow everywhere, are quick to pick, and actually have a medicinal use … applied externally they're great for bumps & bruises!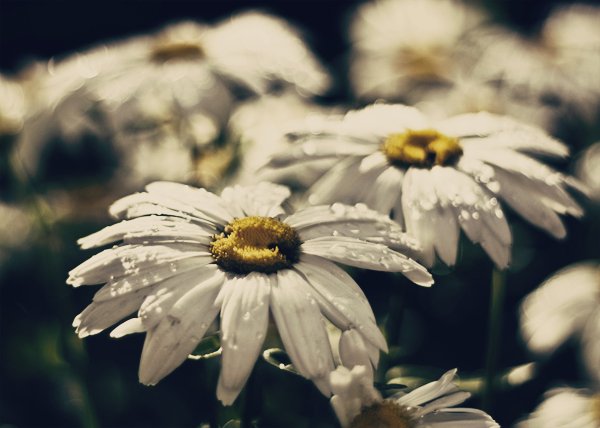 You've probably seen expensive tubes of Arnica cream for treating bruises. Arnica works brilliantly, but it doesn't grow in England. And rather than buying expensive specialty ingredients, why not use something that's in our backyards?
According to my old herb books, daisies are good for sprains, bruises, aches & pains. Daisies are antiinflammatory, a wound-healer, and reduce pain. In modern life, I think this salve would be brilliant for bruises, sports injuries, sore muscles, arthritis and of course dry skin! Just please don't apply on broken skin. This salve is for closed wounds and bruises, etc.
I love this project because it combines a vintage remedy with some outdoor foraging and some not-too-taxing time in the kitchen. There are two steps – make a daisy infused oil, then turn it into a salve. You could just use the daisy oil as a bruise healer, but it's a bit messy to carry in your handbag.
Note:As always,use common sense with this project. If you or your family is allergic to the daisy family, this isn't the project for you! Always test any of your homemade projects on a small patch of your inner arm and wait 24 hours to see if you have any reaction before proceeding, just in case!
Make Daisy Infused Oil
It's really easy to infuse any herb into an oil. Gather a lot of the plant, preferably on a sunny day. I used 2 big handfuls of daisy flowers.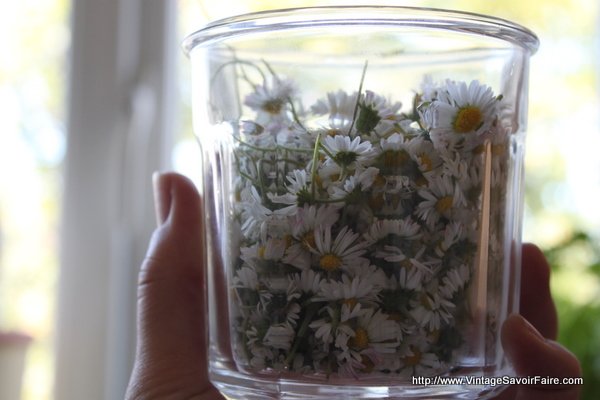 Find a jar that fits the amount of daisies you have collected. We want the jar to be completely full of daisies and oil. Put the daisies in the jar, cover completely with olive oil, cover the jar with a lid. Let the jar sit in a sunny place for 2 weeks.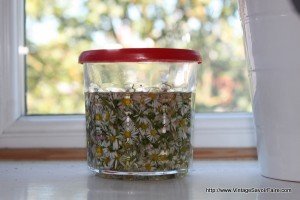 After 2 weeks, strain out the daisy flowers and save the oil. Really squeeze the daisies to get every bit of oil out. You can use the oil as-is, or you can proceed to…
Make Daisy Salve
Daisy Salve for Bumps & Bruises
How to:
Measure your daisy-infused oil.
Math time! (Don't run away. It's easy, I promise.) Work out the proportions of oil and wax needed. For every 4 parts oil, you need 1 part beeswax. So, for example, if you have 1 c. of daisy oil you need 1/4c. of beeswax. I used 200ml of oil and 50 ml of beeswax.
In a bain marie (or double boiler), combine the daisy oil and beeswax. Heat gently and stir until completely melted.
Consistency test –We need to check how hard the finished salve will be. There's no right or wrong answer, it's a personal preference. It could be soft and slightly oily, or set like a lip balm, or very hard and waxy. Think about how you'll use it. I carry mine in my handbag, so I like it to set quite firm … but so that it will still melt when I rub my finger over the salve.
Do the consistency check by taking a small spoonful of the liquid and placing it in the freezer for 2-3 minutes. Remove from freezer and check the consistency with your fingers. If it's too hard, add more oil. If it's too soft, add more beeswax.
Remove from heat. Add 10 drops lavender essential oil (amount for 1c. of daisy oil).
Pour into clean pots,and let them cool. If you want a smooth surface on your salve,don't touch the pots while they're cooling! Once cool, cover tightly. Daisy salve should last at least one year or more.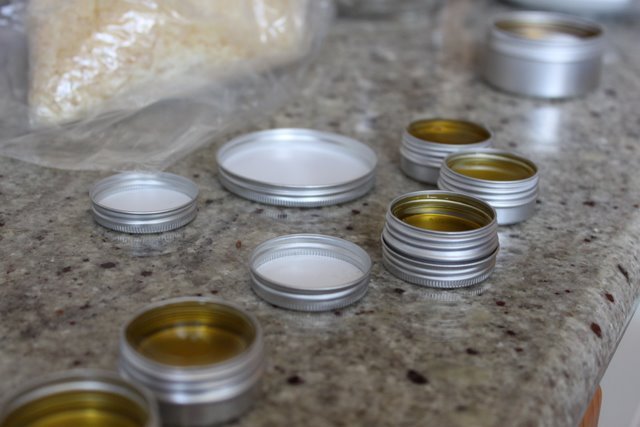 How to Use Daisy Salve
I love my daisy salve! I split mine between a bigger jar for home,and several smaller containers to keep in my handbag. I use it for everything. Just rub some onto your fingers and then onto the affected area. I use my daisy salve for bruises, sprains, sore muscles, cuticle moisturizer and sometimes a lip balm.