To begin where I really left off (everything on the blog has been peanuts since then), over a year and a half ago now, I have to tell you what happened. So you understand where I'm going next – where you can go with me, if you choose.
I woke up.
For a while, anyway. For a while there was still me there, awake and in hilarious shock at the truth of my life.
It started in the midst of the biggest existential crisis I'd been in – or it ended there, I guess, if I'm to be honest about it.
The blog was too much, my thoughts about it were squeezing me every way imaginable. The quest for truth was killing me, the desire to make sure everyone was safe all the time was … well, totally irrational and quite crazy. Trying to figure out every single mistake I could make, before it happened, was squeezing all the breath out of me. It wasn't fun anymore; it was terrifying. Everyone wanted proof. Everyone always wants proof, a subduing scientific fact, a reasoning behind everything. I couldn't find any of it, because none of it really exists. Not forever, anyway. Today's facts are tomorrow's fallacies. You can quote me on that.
My personal relationships were crumbling. I was revisiting feelings for lost loves, reliving all the pain of my life, and hating who I was the whole time. I was breaking myself on purpose, and I'm so glad I did.
At the time, every thought hurt. Every desire was like a thousand hot needles in my head. Nothing was right, nothing was good, nothing would ever be safe and secure.
God, I'm so grateful it was that awful, because in the middle of all of the pain, a crack opened up inside.
I asked myself one question about all of the assumptions I had about life, and I fell into the crack. It was like jumping out of an airplane without a parachute, and as I fell, the entire world that I'd been carrying fell off of my shoulders.
I noticed that the world would go on without me. It would change despite my input; it's always changing, it doesn't need me as much as I thought it did. I realized that all of my worries – every single one of them – was unfounded. I watched a worry come up, I tracked its progress, until it disappeared forever a day later. There was never any reason to believe my worries, not a single reason at all.
Now – RIGHT NOW – became the only thing to live for. All the secrets whispered in the present moment, all of the salves to heal the wounds were there.
I had no idea how to talk about this yet, though. Especially here on this blog. How do you explain that the world isn't what it seems like it is, without it sounding like a psychotic break? How do you tell people to stop worrying, when you've only just learned how yourself? And how do you maintain a blog that was built on the foundation that there's something seriously wrong with this world, when you no longer think anything's seriously wrong at all (except the thoughts we believe about it)?
So, for a while, I was still here – the Betty that frets about how to talk about not fretting. The Betty that's afraid of disappointing someone else because she's changed.
I retreated a bit, focused on the Natural Market as my point of grounding, and fell away from the world in as many other aspects as I possibly could. The quiet life kept me warm. The quiet life showed me how to live.
And the quiet life ultimately ended the Betty that frets and the Betty that's afraid. I can go into this in more detail in the future, if you'd like, but it's ultimately unimportant.
And so I've been waiting, you know?
Waiting to be shown what happens next. Waiting for marching orders. Waiting for the pointing that happens inside to direct me where to go next.
Today, it pointed that I should share this. Because it's time to move on to the next thing.
If I am to come clean completely, I have to tell you that Crunchy Betty and all the things I assume you love about it (the scientific rationalizations, the focusing on the minutia, the constant telling of how to do and why to do it) doesn't hold interest for me anymore.
My freedom wasn't found in it, and I can tell you for absolute certainty that your freedom won't be found in it, either. It's fun stuff, don't get me wrong. It's new and it's VERY helpful. But it's not me, anymore.
My joy, outside of every single moment that I experience now, is found in helping others see what I see. Attempting to put words to things that have no words yet, because not enough of us have noticed it. It's here, all around us, and we don't even know it. All the freedom, all the unity, all the love.
People have been talking about it for eons, since the existence of the spoken and written word (before that, I'm guessing they just lived it). But most of us write it off as lofty realizations or simple quotes to slap on a picture and post to Facebook.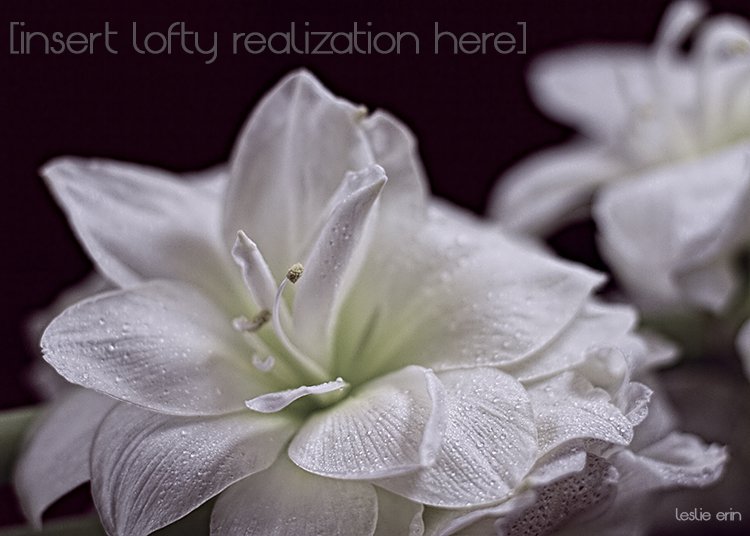 I'd like to extend this seeing to everyone who reads this blog, but I'm still a little unsure as to whether or not anyone wants to hear it, wants to know it, wants to look for it themselves (I can't give it to you, but I can tell you where and how to look, in a thousand different ways). I'm still new at pointing – I will fail miserably sometimes. But it has to start somewhere.
And to keep coming clean, I have to be honest and say that there are still fleeting moments where I'm back "in it," in the world of worry and hurt and confusion and pain, attaching to this thing and clinging to that. But it's settling now, ever so softly, into a lived reality of complete peace and acceptance, and with that I want to continue sharing the different ways to look for it, to realize it, and to live it.
If you want me to do that here, I will gladly do so. If my lovely, dedicated readers who are still paying attention at this point don't want that, then I will find somewhere else to go and help – and I will offer you as many wonderful blogs that are doing the work that Crunchy Betty was doing for all of those years. The Natural Market remains open – we still enjoy it thoroughly, helping others, providing new, natural ways to move about the world.
In the end, I want what you want. But if you want me to continue giving you the same Crunchy Betty, unfortunately that's not something I can give anymore, because focusing on this to the exclusion of truth is only prolonging the confusion and concern about life. And I'm still a little unclear as to whether it's even remotely appropriate to share any of this on this blog – Crunchy Betty – or if it's just inviting more confusion and disappointment. Perhaps I'll move to a new place. If I do, if that feels more appropriate, I will let you know. Right now, though, the prospect of setting up a new blog doesn't really interest me. At least at this moment. It might some day.
So, please let me know your thoughts.
I can show you new things. But you have to open your mind completely. The truth is in the paradoxes and the contradictions. Now is eternal, but there's no time to waste.
And no matter what happens next, I love you guys. Always have, always will. <3