It all started yesterday when I was haphazardly tearing things from my wall.
Eventually, I reached the picture tiles – which had held up nicely for seven months using only sticky squares – and tried to pull one down. There was no budging. No wiggling. Nothing. Over the many days, the sticky glue squares had become one with my funky textured wall.
The thought of buying a sledgehammer entered the picture, but then I remembered a little thing called a "refundable deposit." So I got more creative.
Solving the problem was a cinch, and my brain kept saying, "Gosh, I wish there was someone I could tell how EASY this is." And then my other, smarter brain said, "Betty, you have a blog, remember? Maybe you should, you know, USE IT."
But then I figured that not everyone put picture tiles on their walls with sticky squares (or have sticky things on their walls at all), so I started thinking about how to remove stuff from other stuff, so we can all be happy with our various removal issues.
So here you go. Three ways to remove stuff from other stuff. Plus bonus stuff removing at the end.
How to Remove Picture Tiles, Stickers, and Stuff from Your Walls
A hair dryer.
That is the only genius invention you need.
A hair dryer, and a fingernail.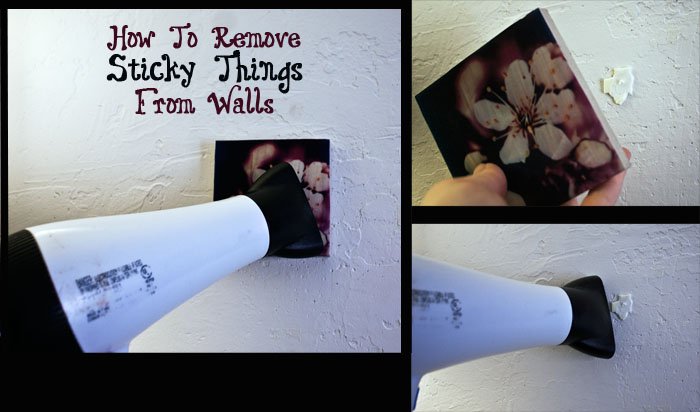 In the case of the picture tiles, you heat up the ceramic tiles (which have an innate talent of being excellent heat conductors) for about two minutes, aiming your hair dryer (set to hot) at the areas where the "sticky stuff" is.
Then you just wiggle a little, and pull. No wall comes off with it, though some sticker may be left on the wall.
If that is the case (and if you're dealing with only stickers, this is where you want to tune in), just aim the hair dryer back onto the sticker or sticky stuff and alternate between blowing it with hot air and peeling off with your fingernail.
After a few tries, you'll have a completely fresh and unscathed wall. I LOVE this, because now I know how easy it is, it means I'll avoid nails whenever possible. Not so easy to get rid of a nail hole, nosiree.
And lest you think I'm kidding, here's the exact same patch of wall (and if you visit the picture tiles post and scroll down toward the end, you can see the four tiles in a square, where this section of the wall is) only directly after I took all the tiles down and removed the sticky stuff.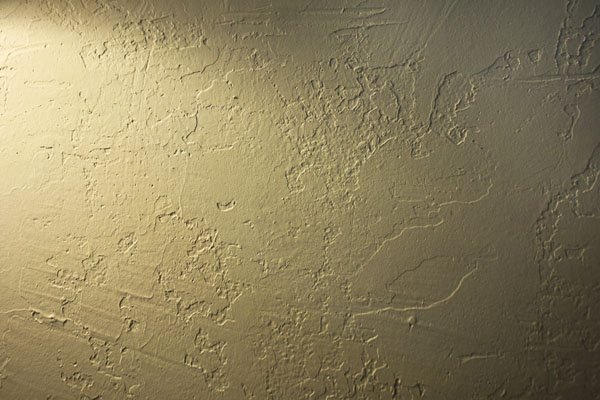 How to Remove Labels from Jars – Completely!
You think I'm just going to say "hair dryer" again, don't you? Silly goose. No.
Actually, I've tried the hair dryer on jar labels trick before, and it's never worked for me. The glass gets too hot to handle and I'm always left with big chunks of label that are hard to get off.
But believe me, Nelly, I have my master's degree in jar label removing, and this is the fastest, easiest, and absolutely most thorough way I've found to removing even the most annoying labels (you know, the ones with the nearly cement glue that only holds one edge of the label down?). This method gets rid of that, too. Amazing. I know.
All you need is: Coconut oil (which I think works best, and I've tried them all, but you can also try olive or another oil for a longer-lasting cleaning experience), a scrubby of some sort (be it like one shown in the picture or a scrub brush), and hot water.
All you do is run the label under hot water for a few seconds, peel off as much as you can, then put some oil on your scrubber and go to town on the rest of the label with the oily scrubber, running it under hot water every so often.
It only takes a minute, tops, to remove all the sticky icky label from your jar.
Then you just wash well – and voila!
How to Remove the Musty Smell From Your Freezer
When anything smells funky in my house, my first reaction is always, "Put baking soda on it, in it, or around it."
But I really like this method for removing the musty, freezer-burny smell from your icebox because there's something about reusing old coffee grounds that makes me feel like a rockstar. Because I'm pretty sure Steven Tyler reuses his coffee grounds, too.
It's also a way to use that extra sock, after your washing machine eats its mate.
Coffee grounds make an excellent stink remover, and before you ask – no, they don't make your food taste like coffee. However, they do make your food taste more like food and less like that freezer smell.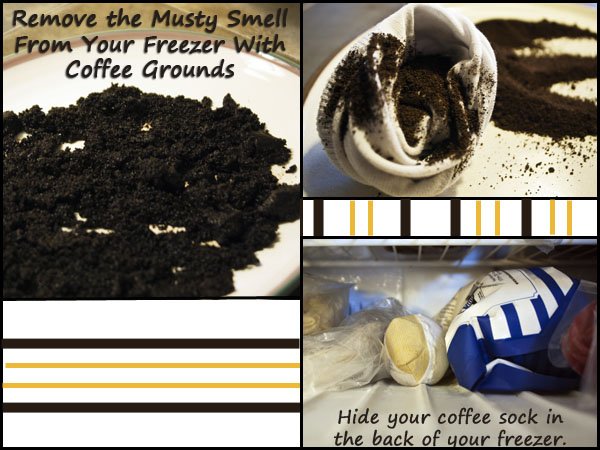 You can use fresh coffee grounds for this, if you'd like, but I promise you there's little that's as satisfying as reusing coffee grounds. I don't know why this is, but it's true (this facial mask is also a favorite way to reuse coffee grounds).
Here's how you do it:
Pull out your wet coffee grounds and spread them on a baking sheet. Leave this out to dry for the day, or if you're in a hurry, you can put them in the oven (set to VERY LOW) for about 20 minutes.
Put the coffee grounds in a very clean, thin sock that doesn't have holes. Holes would defeat the purpose.
Tie the sock.
Shove that sock in the back of your freezer and enjoy the fresh, clean smell that emanates forth after a bit.
Change the coffee from the sock every 1-2 months.
By the way, I dry the grounds because I don't really want a coffeesockicecube after a few hours.
Also, it might behoove you to save your coffee grounds for a few days and horde the grounds, as to better fill your sock and freshen your freezer.
How to Remove Even MORE Things!
So here are a few fun Crunchy Betty posts about how to remove other unwanted things so they don't sully your delicious life:
And a few more fun things from around the interwebs:
How to remove oil stains (I especially love the fuller's earth and water paste on an oil stain on fabric … I suffer from this often)
How to remove dirt and grime from microfiber furniture
How to remove dust from your furniture – with a homemade dusting spray!
How to remove fingernail polish naturally – yes, there is a recipe! (P.S. Clove essential oil also works.)
I could keep going, but all this removing makes me want to … move.
So I'm going to go do that now, k?
See you guys in a few days!
Big love, crunchy mamas.