Claire, if you're reading this, please continue to pay attention. You, especially, will enjoy this story.
"According to Vedanta, there are only two symptoms of enlightenment, just two indications that a transformation is taking place within you toward a higher consciousness. The first symptom is that you stop worrying. Things don't bother you anymore. You become light-hearted and full of joy. The second symptom is that you encounter more and more meaningful coincidences in your life, more and more synchronicities. And this accelerates to the point where you actually experience the miraculous." – Deepak Chopra
Now, I'm not even remotely claiming to be anywhere near enlightenment. That whole "chop wood, carry water" thing just sounds like a whole lot of muscle aches and blisters. Although, one time when I was 24, I meditated and saw the oneness of everything. Some people call it nirvana. I thought it meant the rest of my life would be spent in a blissful, self-actualized state.
And then I discovered Jagermeister. For the next three years.
My point is, I'm not enlightened, but I like to move toward the idea of it. Kind of like I move toward the idea of self-compassion. Some days, I'm closer … and other days I'm pretty sure would be better spent flagellating myself while wearing a bag over my head and a flashing neon sign that says "FAILURE."
But there's a definite signpost I use that shows me if I'm going in a direction with which I've tried to align my highest desires. And that signpost is always, always synchronicity.
The Synchronicity of Wanting to Share Synchronicity
I've wanted to talk about synchronicity on the blog for a long time, but most of my recent synchronistic experiences were pretty lame. Pretty easy to pass off as mere coincidence by skeptics.
The last two weeks have been spent contemplating the possibility that something largely synchronistic should occur before I talk about it. Otherwise, who's going to give a flying fig? Amiright?
We all experience the magic of synchronicity. It may be easy to pass off as ESP, so this may be bad news if you've already ordered your crystal ball. But you know what I'm talking about.
You think about an old friend, and a few hours later the phone rings and it's them. Or you find a book you'd like to read, and the next day your sister shows up on your doorstep – unannounced – to lend it to you without knowing. Or you meet five people in a day named Hans Vakanopolis. That one is really weird.
The skeptic in you tells you it's just mere coincidence. But the mystic in me is telling you, it's a secret handshake between your consciousness and the universe, meant to signal to you that you're moving in a new and brilliant direction.
One of these things happened to me today.
And it was astonishing. (And a little creepy, I won't lie.)
It happened, so we could all talk about synchronicity. And that, my friends, is how I know I'm supposed to write about this today.
This Man Knows Me – and I Didn't Know Him
Recently, my dashing next-door neighbor took off for the Philippines for a few months. In his absence, a friend of his came to stay in his place for a breather. So, I have an interim next-door neighbor.
This is Adam. This is Adam and his beard, which I will now name Marcus.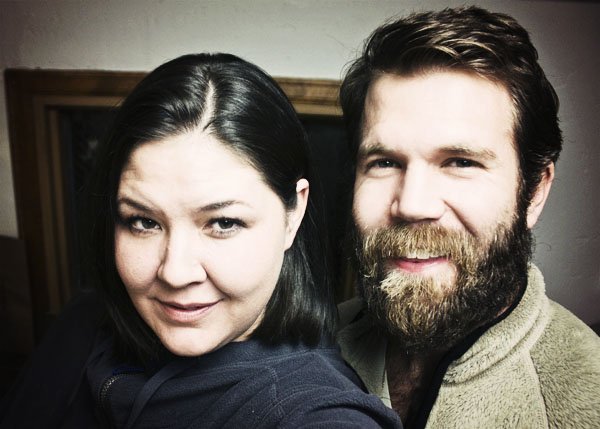 Today, Adam and I sat down for a little "get-to-know-you" chat where we talked about politics, the nature of reality, and no-bake cookies. In the midst of our insightful and heartfelt conversation, which I thought was going swimmingly, he stopped.
And looked at me.
And his eyes kind of bulged out.
I thought to myself, "What did I say? He has issues with organic peanut butter, doesn't he? Or maybe he's suddenly repulsed by my unbrushed hair. Oh, lord. I have to leave now."
He looked down at the counter, and said quietly, "So … there's this blog I'm really into."
And THEN I thought, "YAY! We can talk about blogs! We can talk about me! MEMEMEME!" And I waited patiently for him to tell me about some radical leftist blog he reads and finds issues with, so I could then talk about the perils of blogging opinions on the internet and how little I have to worry about that, because my opinions are perfect.
Instead, he says, "Yeah. So. Um. This blog that I'm really into? It's called Crunchy Betty."
IT'S CALLED CRUNCHY BETTY.
After that, I said a lot of things that sounded like, "Shut UP! You know that's me, right? Oh, you're just messing with me. YOU KNOW THAT'S ME, RIGHT?"
He calmly, in the face of my astonishment, tells me about
(and Claire, this is where you really need to pay attention)
how a lovely young woman had turned him onto Crunchy Betty several months ago, and that he'd bought the book and tried no 'poo because of us, and how he suspected I was the person behind Crunchy Betty, but he was trying to approach it delicately, just in case I wasn't.
You may be saying to yourself, "But Crunchy Betty isn't an unpopular blog. Plenty of people read it." And while that is true, I will say that in a nation of over 300 million residents, Crunchy Betty only has 5500 feed subscribers. That is a mere molecule in the drop in the bucket of people who might want to be more crunchy in their approach to life.
And, if you take into consideration that the amount of male readers (at least those who've been brave enough to comment) we can count on one hand, this is pretty astonishing. That a man – a MAN – who reads Crunchy Betty moved right in next door to me. And knows who I am.
And … well … now it just sounds kind of creepy.
Synchronicity IS Kind of Creepy Sometimes
You have that moment where time feels a little suspended as synchronicity hits. It's like an elevator drop, just before it rests in its proper place. Your stomach is lost to gravity.
And then, gently, the amazement hits you that everything aligned in just the right way at just the right time. Suddenly, you can see how things click into place in the direction you're going – even if you've only nudged your life a millimeter in a new way.
I can tell this particular synchronicity is meaningful, because this evening, as Adam and I were chatting for another minute, he said the most profound thing.
He said, "I'm trying to live my life as if all relationships I have are a gift. There is no ownership or expectations. All moments given to me by other people are gifts."
And that is exactly how I want to feel. About my relationships. About life. And about synchronicities.
Gifts.
What Profound Synchronistic Experiences Have You Had?
Can you remember a time when you were hit with an inexplicable synchronicity? A coincidence in a magnitude that left you speechless for a moment?
Please, please share them.
I truly believe that the more we recognize the happy coincidences and the astonishing synchronicities, the more they happen. Little gifts that the universe offers to keep you delighted and entranced with life.
So share. Let's keep the ball rolling. This week, notice any happy coincidences that come your way. Come back and post them to the comments. This will be exciting.
And one last thing? If you're a man and you read this blog, can you leave a comment here? I'm wondering if I haven't made a gross underestimation of the testosterone around here.
Happy synchronicity hunting!