I've said it before, and I'll say it a million times more. Crunchy Betty is blessed with the best readers ever to grace the earth. Not a day goes by that I don't receive a sweet, thankful email that melts my heart.
And you guys support and help each other in ways that make me proud to be a part of the human race. Let's be honest: Not many places like that exist on the internet. We're pretty drama-free. This is good news. (TAKE THAT AND SHOVE IT.) (Just kidding.)
But recently Stephanie sent me a link to this blog post titled Why Your Readers Hate it When You Make Money. And number 9. Oh, number 9 really hit home. It was: "Because most stuff in our society is mass-produced, people tend to undervalue other people's time." (Not that I think any of you don't want me to make money, but just the exhausting stuff that goes into writing a DIY blog tutorial.)
And you want to know, don't you? You really want to know what all goes into writing DIY blog posts, and this might explain why sometimes I feel like I'm a little bit too crazy tired to respond to emails and questions on a weekly daily basis. Let me take you into the world of DIY tutorials for a moment. I promise to return you to sanity when we're done.
Step 1: Inspiration and Research
On any given night, this is what my bedroom looks like, although it's usually covered in two stinky cats, too. They were camera shy tonight. Feeling a bit "bloated" after a can of turkey giblets and gravy.
Almost every evening, from the hours of about 7-9 p.m., you'll find me here covered in books, reading blogs, and perusing Pinterest – looking for ideas, knowledge, and inspiration.
Now, not all inspiration comes from these places. Sometimes it comes from stuff I'm about to put down my garbage disposal. But even when I have an idea that doesn't come from a book or the internet, I'll be sitting here researching more.
Because it's important to me to flesh out all ideas and figure out if there are easier and better ways we can make a recipe or utilize a home remedy. So I make lists. I research. And then I make more lists with more research.
Funny story. I actually made a list for this blog post about blog posts using pictures from another blog post. It's like Inception, only with blogs. BLOGCEPTION.
After I've finalized an idea in my head, it's not even decided yet.
Total time: 30 minutes to 3 hours per how-to post.
Step 2: Inventory and Shopping
Now that I have a general idea and lists about lists, hopefully one of which contains an ingredient list, I head over to the place I like to call my "Crunchy Corner."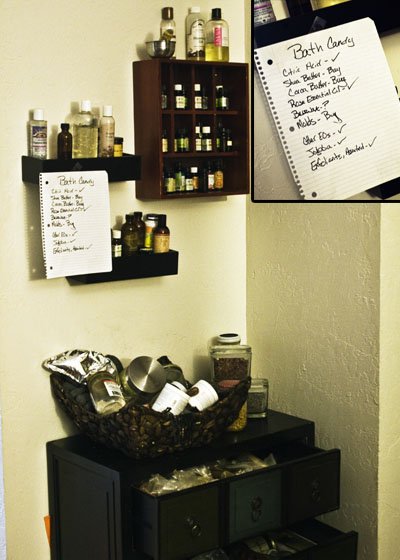 I'll take my list, which I don't usually tape up – I just did that to illustrate my point. Because if I hadn't shown you a list, you probably wouldn't believe that they exist. Lists are elusive and mostly imaginary, like unicorns.
ANYWAY, I take my list and go through my Crunchy Corner, where all good ingredients live, and see if I have everything I need. If not, then I go shopping.
While I'm at the store – or on my favorite natural ingredients websites – I'll often pick up a bar of dark chocolate with sea salt, which I eat on my bed. This has nothing to do with writing posts. but you needed to know that. Since I showed you my bed.
Total time: 30 minutes to 1 hour.
Step 3: Testing the Idea
Unless I've already made what I'm going to blog, or I have a 99% confidence level that the idea will work, I'll test it first.
This is where I work out the kinks and do most of my swearing and spilling. This involves laying everything I think I could possibly use out on the counter and choosing what makes the most sense as the test goes along.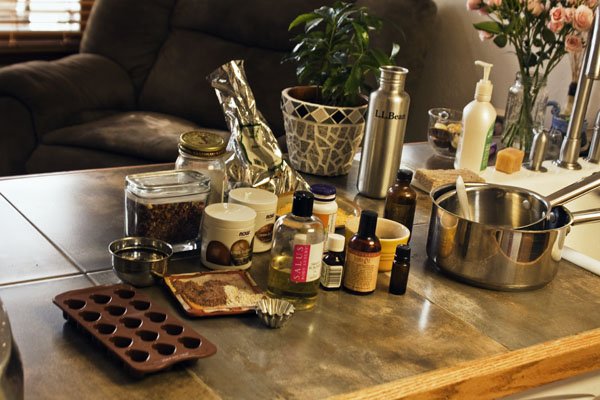 Some days, the test goes swimmingly and I kick myself in the rear for not having taken pictures as I went along. But other days, it's a disaster and I have to scrap the whole idea. Those are sad days. Meh.
But after I've run a test and it's gone really, really well, I then clean up the kitchen for a second time. And it will not be the last. Oh no. It is never the last.
(When they say there are only two sure things in life, death and taxes, I get really angry that they also don't say "and cleaning the kitchen.")
Total time spent: 30 minutes to 2 hours.
Step 4: Making the "Thing" and Taking Pictures as You Go
Once I'm 100% sure I want to share the idea or recipe, it's time to do the official take of the whole process. This is what you see in all the pictures throughout the how-to blog posts.
Instead of a picture of this whole process, let me give you the steps it goes in:
Set everything out on the counter.
Take 20 pictures.
Move everything slightly and take 10 more pictures.
Do the first step.
Take 30 pictures, moving the stuff around constantly to find the right light.
Do the next step while taking 25 pictures, moving stuff around constantly to find the right light.
Say "DADGUM IT" after realizing that the time spent taking pictures is making everything harden or dry or set up before I can move to the next step.
Consider starting over.
Take 25 pictures again, after melting/starting over/or just barreling through.
Take 5 pictures and then realize the camera was on the wrong setting and everything looks blue (and then be grateful for Photoshop).
Repeat steps 2-10.
At this point, I typically have a decent final product.
And now it's time to showcase the final product in a way that will really show off what this particular how-to result is about. I'm already tired by this point, so I'm probably drinking coffee. By "coffee," I mean "A WHOLE LOT OF FREAKING COFFEE."
Oh. And then I clean up the kitchen. Because, after this step, here's what I have to deal with: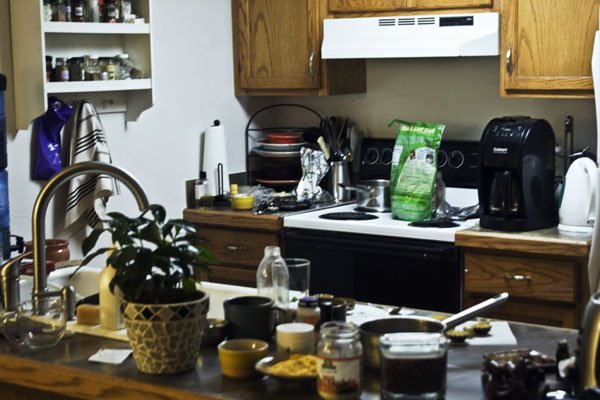 Total time spent: 1 – 3 hours.
Step 5: The Final Results Photo Shoot
This is the step I think y'all will really get into. I'm going to show you a definite behind-the-scenes look at what my setup is like.
In this step, you will learn: A) That I am as far from a professional photographer as a dog is from being a limo driver. B) My favorite tip for photographing objects when you've run out of natural daylight. B) Just how small and cozy my house really is.
So. Now that I have a finished product, I spend a lot of time contemplating different ways I can showcase it. Usually it involves bringing out either giant art paper (which I bought last year at Hobby Lobby and has come in VERY handy), an old piece of canvas, or various fabrics and other household things I have lying around.
I also yank out the cheapo lamp we have in the second bedroom and pop a light diffuser (that's actually supposed to attach to a camera flash). Here's one before and after pic for you: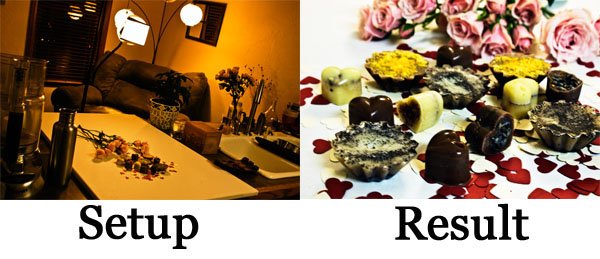 Photography Cheater Pro tip: When you have a small object and have run out of any good natural daylight in which to photograph it, place it on a small background and then put everything on your (turned off) stove. Turn on the stove light and diffuse it with a coffee filter (just tape it up there if you need to). PERFECT overhead lighting!
Here's another "setup" and "result picture for you:

After 30-100 of these types of pictures, depending on how well the coffee is working, I then sit down to edit them all.
Total time spent: 1-2 hours.
Step 6: Editing the Photos
For just one blog post, I can end up with anywhere between 75-200 pictures. And from that, I have to wean it down to only 5-10.
So I sit my butt down and do the eye-doctor comparison dance. "Is A better? Or B?" "Okay. Is "B" better, or "C"?" "Okay. Which is better? "A" or "C?" "OMG JUST PICK ONE."
After I've chosen the best photos from the bunch, I'll edit them. Sometimes that just involves doing a little cleanup and adjusting the levels, so the color isn't too off.
But sometimes I like to get fancy. (Okay, ALL the time I like to get fancy, dahling.) And the results end up like this (note: the first photo is completely unedited and on the yellow side):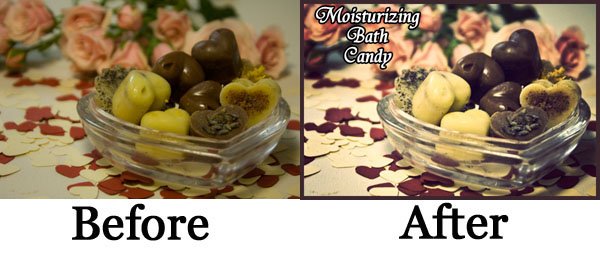 (This is my favorite part.)
Total time spent: 30 minutes to 1 hour.
Step 7: Writing and Editing
When I first started my blog, I thought, "Oh, I can't wait to write every day!" Well … sometimes this is the hardest part now. The writing. By the time I get to the writing part, I'm pretty pooped and my head is an overripe cantaloupe. But I make myself do it, only because I don't want to forget anything. I want to write while I'm still in the moment of it all.
You guys know what I'm like. Verbose. Talky. Full of TMI. So this is a laborious process that takes …
Total time: 2-4 hours.
But when I hit publish, I'm washed with an overwhelming sense of accomplishment, which is soon taken over by dread, because I'm afraid you'll hate it … or I've left in a typo.
Usually neither of those things happin.
TOTAL TIME SPENT ON A HOW-TO BLOG POST: 6 – 16 hours!
Show Your Favorite DIY Bloggers Some Love
It's a fact that I'm not the only blogger who goes about the how-to posts this way. Almost every pictorial tutorial you see has most, if not all or more, of these elements attached to them. No matter who the blogger is.
It's a labor of love, my friends. I'm certainly not writing this to complain or to ask for gratitude (personally). I do it because I love it. And I do it the way I do it because my dad always told me to "never do anything half-assed, Betty." It stuck with me. A little too much, what with my overboard enthusiasm sometimes.
But most DIY bloggers (myself included) barely make enough money to pay for the supplies they amass to bring the world (and their own homes) their unique knowledge and personality.
We thrive on your support. Not monetary. That's a bonus. We thrive on knowing that we're sharing effectively and that someone, somewhere is listening and loving all our effort.
Like I said to begin with, you guys are THE BEST readers any blogger could ever hope for. I have ZERO concern about whether or not we (you and I) are in a helpful, happy relationship.
But next time you see a DIY tutorial on another blog, and you love it, be sure to leave a nice comment for the blogger who's slaved away and spilled half her ingredients to bring you the information. She or he will appreciate it beyond measure.
And if they're selling a book or a product, and you feel like you've gotten something from their blog, DO buy it! Even if it's on a topic you don't really need. That small amount of support could mean the next blog post is even better than before.
And now.
Now you may return to sanity.
BRB. Going to clean my kitchen.