Imagine if you took the amazing cleaning power of grapefruit, combined it with the kazowwy wowwy magic of baking soda and added in some supercalifragilistic borax?
(Yes. This is my interpretation of a cheesy cleaner commercial. Live with it.)
What would you get? WHAT WOULD YOU GET?
This blessed little cleaner came about quite by accident. See, I bought this juicer for Christmas and have been a little overboard on the grapefruit juice. One day, instead of putting the grapefruit pulp on the compost pile, I plopped it in the sink.
The sink, by the way, is a white porcelain, and since I moved into this beautiful place, it's been stained beyond measure. I swear, if you even hover a cup of coffee over it, it turns brown and starts laughing maniacally.
I sat there looking at the grapefruit and thought, "I wonder what would happen if I mixed in borax and baking soda and just mushed the grapefruit all around the sink." So I did. And lo and behold, upon rinsing, the sink was a shiny, pristine white. Like I'd never seen it before.
Then I looked at the grapefruit peel, again at the sink, and stuck my tongue out and told it that it would never get the best of me again.
So, originally I created this scouring scrub for my sink, but it turns out that it's fantastic for cleaning just about anything. Think of it as sort of a nontoxic Comet, if you will.
Make Your Own Grapefruit Scouring Scrub
The first thing you need to do is buy a grapefruit, peel it and tear the peels into smallish pieces.
Then you just lay them out on a large plate and turn them over every so often – if you live in a dry-ish climate. If you live in a warmer, wetter climate, you might want to pop them in your oven for a few days, where things stay a little more dry. (Leave the oven off.)
It took my grapefruit peels about 3-4 days to dry completely. The reason why we're not putting them in the oven on low to dry is because we don't want to damage the essential oils in the peels.
So once you have your dried grapefruit peel, pop it in a coffee grinder or food processor and let it go until it looks like this:
It becomes this very nice, fine powder that's really soft to touch, which surprised me. I expected hard, gritty beads. But no. It's the perfect consistency.
This is when you create your scouring scrub.
And here is everything you need. Three ingredients. Cleaning doesn't get much more simple than that, does it?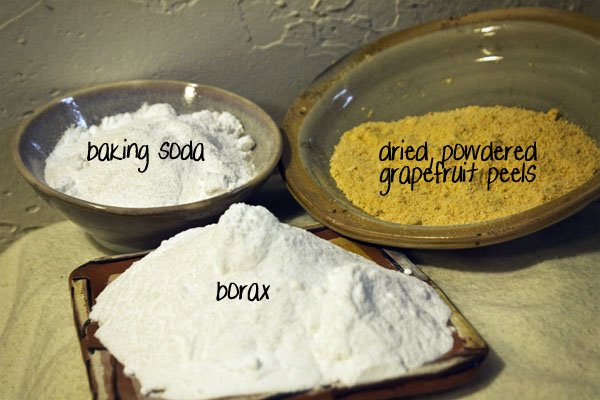 Grapefruit Scouring Scrub Recipe
Combine everything in a shaker (like an old parmesan container) and shake well to combine it all. Use liberally wherever scouring is required. Be sure to rinse the scrub off well with a clean, wet sponge.
Here's what the results look like, after you've combined everything completely.
It's a pretty, pretty color. But, even better, it SMELLS LIKE HEAVENLY GRAPEFRUIT. I was surprised by this development, as well, because before I ground the peels, they didn't smell like much of anything at all.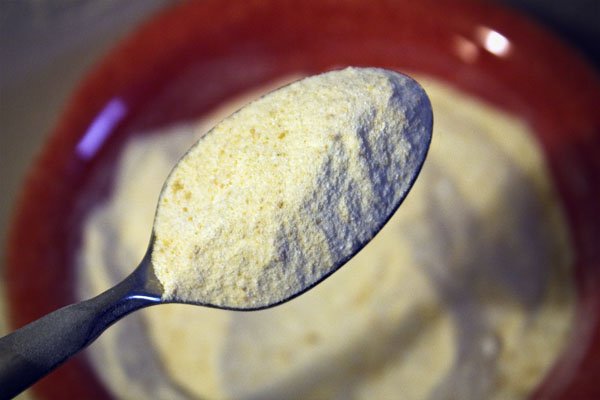 How to Use Your Grapefruit Scouring Scrub
You can use it on counters and bathtubs, stainless steel and sinks. I used mine on just about everything, and it works like a charm.
Here's how I've been doing it: Just sprinkle a little bit of the scrub on the surface you want to clean, and then take a wet sponge and scrub over it. Rinse the sponge well and go over it again. If there's still scrub left on the surface, wipe it off one more time.
It's very important to get all of the scrub off, though, because borax is a beeyotch to get off once it dries completely.
If you're cleaning a hard-to-sprinkle-surface (like a toilet), just sprinkle some of the scrub onto a wet sponge and go to town.
Ideas For Containers to Use
The recipe mentions using an old, washed, reused parmesan cheese container. That's perfect.
However, if you want something a little more fancy (or if you don't eat bottled parmesan cheese), find a tea tin or something similar and decorate it a little bit. Then, just punch holes in the top of the lid with a nail and a hammer.
Like so: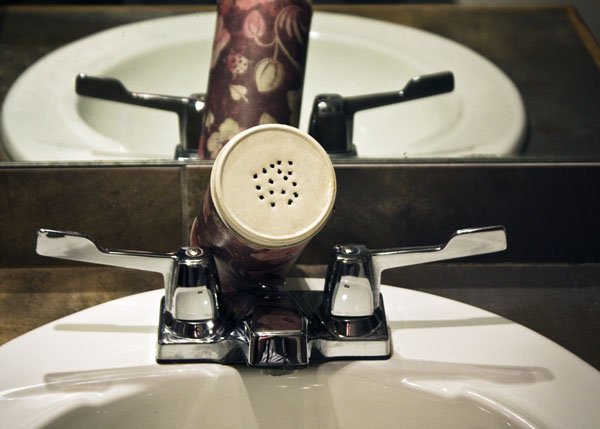 Please note, I am not very good at spacial reasoning. That is the best I could do in terms of a circle of holes. It is a little sad, but it works.
Yours can be sad, too. Imperfections are what make our creations beautiful. Or something.
And that's it!
Citrus Peel Powder – What's Next?
So I have five orange peels and another grapefruit peel drying at the moment.
I've already decided I want to make a facial scrub with the grapefruit peel. It's BEGGING me to do this.
However, I'm curious if you guys can come up with something else to do with powdered orange peels. I know there's no reason to powder them, if there are no other ideas.
So, barring powdering them, can you think of other things to do with dried citrus peels?
FYI, if you're curious at all about Borax and haven't read the post on Crunchy Betty where I get to the bottom of it, here it is.