In the Myers-Briggs world, I'm an INFP. This means I'm crazy, but in a mostly self-contained way. It also means I think for a long, long, long time about really deep things that probably have no applicable meaning in the real world.
Like whether or not a blade of grass knows its dying after the first frost. Or why polar bears, so adorable and vicious and uncaring, were chosen to represent Coca-Cola and if it's just a tongue-in-cheek nod to the evils of modern foods. Or how, when I bite my hangnails, it can be considered self-cannibalism. Cool things like that.
Anyway, I consider a lot of it true mulling. It's partially why I love mulling spices.
And why not? To "mull" means: To think about a fact, proposal, or request deeply or at length. And this is what happens when you use mulling spices … especially in context with wine.
In the pot goes a cornucopia of complex spices, and the wine considers the spices, steeps in their fragrant thoughts, for a long, long time. And afterward, it comes to a decision. To be the most glorious synthesis of spirits and aromas and flavors that it can possibly be.
So mull this idea over: Mix up your own mulling spices this holiday season and bring a bottle of cheap red wine to life, or create your own homemade mulled cider (it's SO easy), or even just create a spicy potpourri. Whichever you choose, your house is going to smell like Christmas, and your guests are going to love your face.
Mulling Spices: For Mulled Wine
We're mostly going to concentrate on mulled wine in this post, because it's the most romantic and it also happens to be what I have the most pictures of.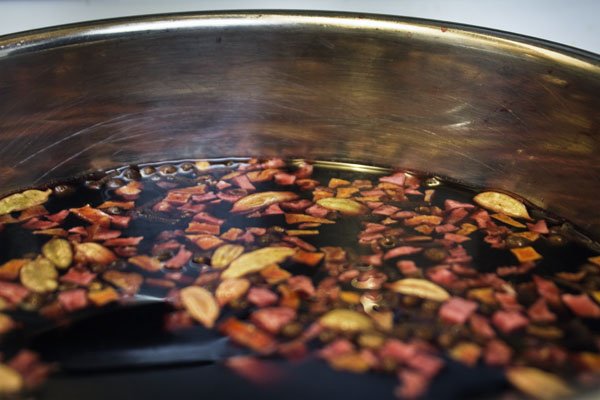 But if you're not a heavy drinker, don't fret. I have fantastic jolly news for you! Mulled wine is HEALTHY!
The reservatrol in the wine mixed with the huge amounts of healthful properties in all the spices gives you a holiday drink you can actually feel amazing about drinking. Antioxidants and vitamins galore.
But wait! There's more! I actually concocted my very own recipe of (untraditional) mulled wine this weekend. I didn't expect it to work, which is why the guy at the liquor store sold me three bottles of wine instead of one. I was so ready to have to throw an entire batch out. But this worked perfectly.
My secret recipe involves: Cacao nibs (or sometimes called cocoa nibs). I was floored that I couldn't find a single recipe on the internets using cacao with red wine. What goes better with red wine than chocolate (and some Kenny G)? FYI, you cannot use dark chocolate or cocoa powder for this, or you'll end up with a very icky, sticky wine.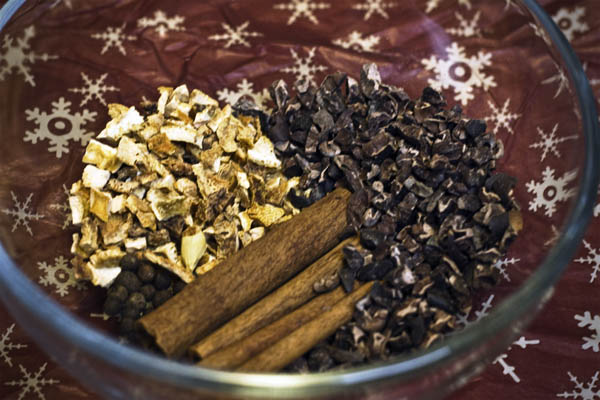 Here are some pointers for perfect mulled wine:
Inexpensive wine is just fine, when you're mulling. In fact, I find lighter "table red" wine the best, because the spices and other flavors really shine through.
Do NOT boil the wine. Ever. Or you'll lose all the alcohol content.
Let the wine mull on very low heat for about an hour. Not only does it need to mull this long to infuse the flavors, but your house will smell like heaven the whole time.
However! Don't let it mull for much more than an hour (and definitely not on higher heat than very low) or your spices might start to turn bitter.
So let's start with the secret recipe first. It is glorious.
Chocolate-Cinnamon Mulled Wine
1 750 ml bottle of red wine
3 Tbsp cacao nibs
3 cinnamon sticks
2 Tbsp dried orange peel (or the chopped up peel from one fresh orange)
1/2 tsp allspice berries
Honey, to taste
In a pot over very low heat, pour the red wine. Add the other ingredients and stir well. Stir every 5-10 minutes. After 45 minutes to an hour, strain the spices/cacao nibs from the wine. In a mug or heat-proof glass, add 1/2 to 1 tsp honey and stir in wine. Serve with a cinnamon stick, for extra fanciness.
The chocolate taste is muted, but it's there. Just a hint of rich, dark mocha to drive your tongue wild.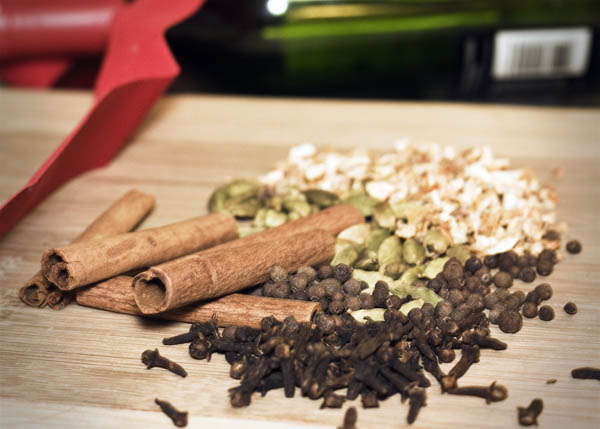 But, if you want to go the more traditional route, here's the second recipe I made. The thing about mulled wine is this: You can kind of just … throw whatever you're in the mood for in there. Unless you're in the mood for chicken wings. Please. No.
Traditional Mulled Wine
1 750 ml bottle of red wine (or white wine or mead, even)
4 cinnamon sticks
1 Tbsp cardamom pods
4 quarter-sized coins of fresh ginger (or dried ginger)
1 tsp allspice berries
1/2 tsp whole cloves
1 Tbsp dried orange peel (or the chopped up peel from a fresh orange)
3 or 4 star anise (optional)
Honey, to taste
In a pot over very low heat, pour the red wine. Add the other ingredients and stir well. Stir every 5-10 minutes. After 45 minutes to an hour, strain the spices from the wine. In a mug or heat-proof glass, add 1/2 to 1 tsp honey and stir in wine. Drink while it's warm!
Gaze at the deep, dark wine and tell me what you see in your future (could it be … party time?):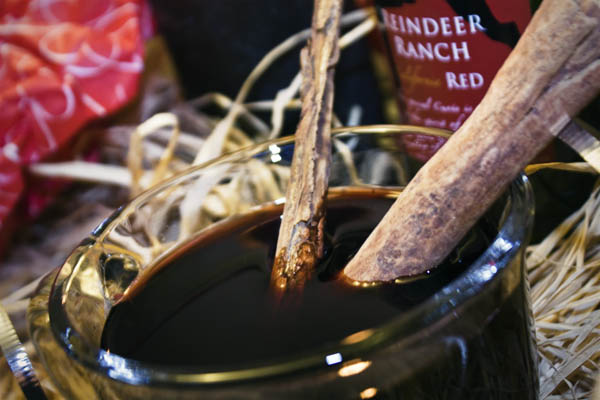 Guess What Else? PUT IT ON YOUR FACE!
Mulled wine would actually make a wonderful quick facial mask. The wine softens, the spices invigorate and clarify, and if you're using the recipe with cacao, your skin will LOVE you for this.
In fact, before you start serving, pour a tiny amount into a small container and save it for after the guests leave. What a great way to wind down, yeah?
All you have to do to take advantage of this is "paint" the wine onto your clean face. Leave it on for 15 minutes and then rinse your face well.
Ho-ho-ho! There you go, you gorgeous thing.
Other Uses for Mulling Spices
A few years ago, I bought a bag full of premade mulling spices, and over the last few months they've actually become my go-to potpourri. Here's what they look like, on my side table, all the time: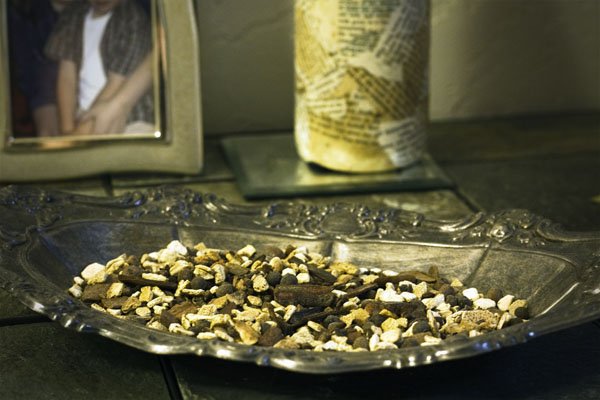 Every two or three weeks, I just add in a few drops of cinnamon and nutmeg essential oils and stir. They're pretty, understated, and smell soooooo homey. (S'up?)
You could also create a blend of mulling spices to give away as a gift. Here's an adorable idea from Martha Stewart to create individual mulling sachets (with, of course, a printable gift label … thank you, Martha).
But, of course, probably the most widely known way to use mulling spices is to make mulled cider.
And do you know how easy that is? HOMEMADE MULLED CIDER? Um … easier than wrapping gifts. WAY easier. Check out some really great instructions for simple apple cider here at Chaos in the Kitchen. And after you make the apple cider, all you have to do is mull it with more spices for another 20-30 minutes.
Here's an all-inclusive list (from which you can choose) of spices to use when you're making mulled wine or cider:
Cinnamon sticks
Whole cloves
Small chunks of broken nutmeg (don't use ground, or you'll end up with gritty drinks)
Citrus rinds (dried or fresh)
Star anise
Ginger (fresh or dried or crystallized)
Allspice berries
Black peppercorns
Star anise
Cardamom pods
Do You Have a Favorite Holiday Drink?
Be it alcoholic or nonalcoholic, do you and/or your family have a favorite special go-to drink that you indulge in over the holidays?
Let us know what it is, so we can try it out too!
(That is, after we mull it over.)
Also? If you want to take an abbreviated sort of Myers-Briggs test to see what personality type you are, here's a quick little indicator (it's not the formal test, but it produced the same results as the formal test did for me). If you do this, share your results! I'm SO curious to see what Crunchy Betty personalities are.