It is the season of giving, and goodness knows that many of us are looking into a well of empty bank accounts already, but we are fortunate. We are. Look around you. Smile. See all the things you have? The love and support?
It's probably no coincidence that I've run across two stories recently that have touched me very personally – on two different levels. I want to share these stories with you, in the hopes that you'll be inspired by them, and perhaps even moved to help these two magnificent people.
The first starts way back when I was 5 years old.
Randi and the Son of Her Heart
This … this is my old, old friend Randi Snyder (Shetley now):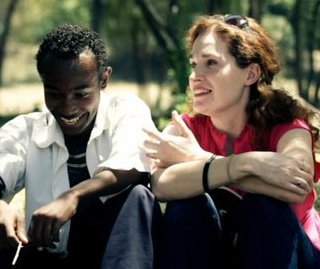 She was a quirky, big-hearted girl when I met her wayyyyyy too many years ago. She was my across-the-street neighbor and sister from another mister. Her mister, by the way, was a preacher at the local Quaker church and he had so much love in him that it just spilled over onto everyone he encountered.
Randi and I would do the dorkiest things imaginable, but my favorite was our detective game. We'd run through the neighborhood finding clues and solving mysteries, much to the dismay of my mother at times.
"Mom! I SWEAR there's a ghost that lives in Randi's windows. It dropped blood on the window sill. Seriously, Mom. BLOOD! EWWWW!" (Of note, it was red paint. In retrospect. I think.)
Randi and I parted ways when I was 7. But she remained my best friend, in my heart, until this day. And not too many weeks ago, we found each other on Facebook again.
Randi, all grown up, is a gorgeous, self-possessed, HUGE-hearted woman who has five children – three of which are adopted.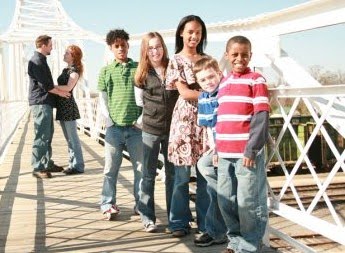 She spends her free time visiting Africa on mission trips. I'm so proud of her. So. Proud.
On one particular trip, she met the boy in the first picture, Abenezer, and through a series of fateful events has connected with him again. It's a heart-warming story full of love, coincidence, and a whole bunch more love.
She and her husband would like to bring this very special boy to their home – to introduce him to the entire family and enfold him in a new kind of joy he can experience here – next summer. However, the legal fees for doing so are very steep, and time is of the essence.
So please take a moment, if you have it, and read her story in full – and help out (there's a donation button at the top of the page) if you feel it in your heart to do so.
Randi, I love you. 🙂
Jacob Stieler and His Parents Battle Cancer … and the Government
This second story was brought to my attention yesterday by my sister. Some of you may know about it already, if you read Kelly the Kitchen Kop on a regular basis.
She has done an amazing job of detailing the story in three posts:
I encourage you to read all three of those posts, but in a nutshell, here is what is happening:
Jacob is a fun-loving 9-year-old boy who was recently diagnosed (quite suddenly and out of the blue) with a rare form of cancer. As he underwent 6 weeks of chemotherapy (the first of a scheduled three rounds), his health-conscious mother, Erin, watched him suffer from the effects of treatment.
Erin, during that time, did her research and found out just how dangerous the chemo and radiation would be for, not just a boy his age, but pretty much any human being alive. She spent weeks agonizing over the decisions as to whether or not she should continue the treatments after the first round was over.
The doctors insisted that she continue.
Even though, after his first round was finished, his PET scan was clear. Three months later, he was still blessed with a clear PET scan. No cancer was detected.
However, Erin made plans to take him to an alternative medicine cancer treatment center for follow-up care and rebuilding of his immune system. The doctors and medical center workers were not pleased with this decision. (As an aside, they were actively pushing for the $60,000 a month treatments that he, via "standard care protocol" would have to endure.)
Because Erin made the decision not to have Jacob suffer two more rounds of chemo and radiation, Child Protective Services were called. And now Jacob's parents – hot off the trauma of healing their son of cancer – are in a hot legal battle with the Department of Health Services of Lansing, Michigan.
It's a horrific tale of just how little we're ALL allowed to make health decisions for our children. Terrifying, really.
The Stielers (who I don't know, but the story touched me deeply) are in massive legal debt at this point, and don't know how many more months they'll have to retain lawyers to fight this case against them.
This is the page to donate to help them out with their unjust legal fees, but again, I encourage you to read the links above from Kelly the Kitchen Kop to find out who you can contact to demand that this atrocious case be dropped against caring, loving parents who only want what's healthiest for their son.
Do You Know a Story of People In Need?
Have you heard any stories lately of people who are trying to champion a cause to better their lives? Do they need a little extra help right now?
Would you share them with us? I've already donated to the two above causes, but I have set aside what I can this holiday season to give to others … so it would be so very welcome to find more stories where we can help people – directly – with the issues they're facing now.
And in the spirit of giving, if any of you are seriously struggling with something huge and burdensome and would like to reach out for help, please let us know.
My dream some day is to have this happen here at Crunchy Betty. If not this year, then soon. 🙂