I've spent 40 of the last 80 hours immersed in this gosh-darned ladies' magazine from the 1800s. Fascinating, eye-opening, and sometimes a little frightening, Godey's Lady's Book belongs in the annals of history, to be sure.
It's not so much that I've received life-changing tips and ideas on beauty, it's more that I've realized how true that frustrating axiom is, "The more things change, the more they stay the same."
But we'll talk about that tomorrow. Today, let's just have some fun.
With ladies.
Delightful, proper ladies.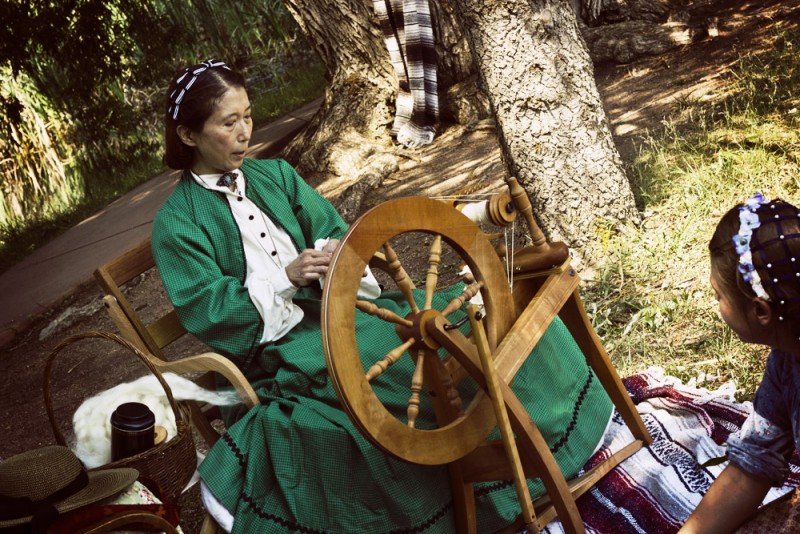 Here's what you have before you today: Snippets from Godey's Lady's Magazine, from volumes 1 through 88. I've sifted through almost all of these 250+-pages-per-volume issues to find some of the more applicable tips and ideas from the women of the 1800s in terms of skincare, household hints, and tasty pioneer-type foods.
As I sorted through the printing-press-turned-digital pages, I pulled things and put them into Microsoft One Note, which I then turned into a few PDFs. They are disorganized and a little confusing, but I think you'll forgive my scattered plopping, given that I wasn't planning on sharing them with anyone else as I was compiling them.
Oh. Did I mention? You can download these PDFs at the end of this post.
Yep.
For now, here are some of the more entertaining, useful, or eyebrow-raising tidbits I found in Godey's Lady's Magazine.
Snippets of Beauty and Household Wisdom from the 1800s
Get Rid of Flies with Green Tea: Much More Useful Than Those Horrible Fly-Papers!

Does it work? I couldn't find any reputable reference that showed green tea actually kills flies, so perhaps they sense the sugar, go in for the landing, and drown. What do you think?
A bit off topic, though, there's a bit of buzz around the idea that if you drink enough green tea, insects won't have anything to do with you. A mosquito repellent from the inside out!
A Very Fine Cologne Water, Indeed
I pulled this tip because so many of the ingredients are available to us today. Even musk, even though it's probably not the same musk they used (which was collected from a gland of the musk deer). More likely, the musk you'll find today is either synthetic (boo) or from musk-like plants in natural formulations.
And remember, a "dram" or "drachm" is approximately 1/8 of a fluid ounce, or approximately 3/4 of a teaspoon.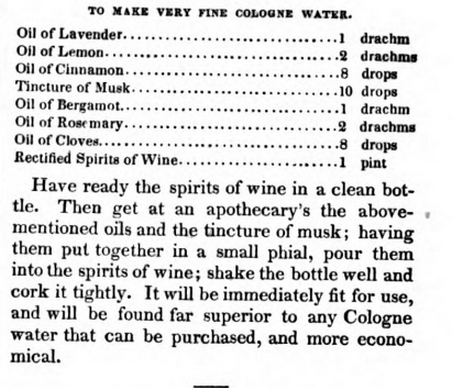 Rectified spirits of wine. Tell me that doesn't sound like a ghost bottle of merlot that's been chastised into cleaning up its act.
Rectified spirits of wine is just wine that's been distilled and clarified until it reaches an uber high proof. Instead of chastised ghost merlot, you can use Everclear or even high-quality, high-proof vodka.
For Chapped Lips – What A Surprise!
Don't have lavender water? Don't fret!
Just make some strong lavender bud tea and use it instead.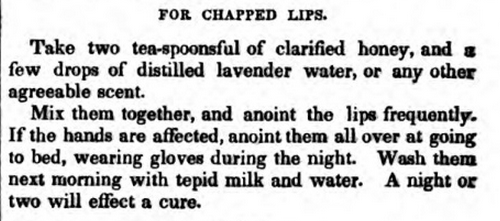 The only thing Godey's didn't mention, which I can only assume the ladies from the 1800s had no temptation to do, is how tantalizing that lavender-honey will taste on your lips. And how licking your lips will dry them out. And how disagreeable THAT would be.
No licking. (Maybe they were just too shy to say that. For shame.)
You May Not Need to Deter Swallows, But I Do
From licks to swallows, eh?
Anyway, you may not have issues with swallows building their nests in your doorways, but this year, I do.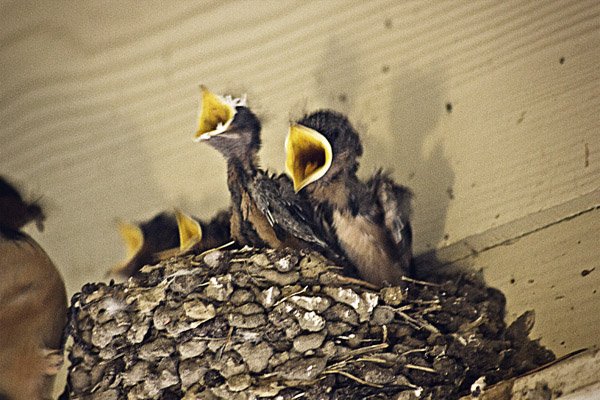 "Awww," you might say. Until you see what the ground looks like under the nest. Poop-covered chaos, all over the cement. I spared you the picture of it. You're welcome.
Anyway, if you DO need to prevent swallows from nesting in your vicinity, here's an answer for you:

Of note, this particular tip came from a book written around the time of Godey's – and from which Godey's seemed to have gotten a good deal of information. You can read the whole book, called Mrs. Hale's Receipts For The Million and written in 1857, in it's entirety on Google Books. Go crazy!
This book is, I kid you not, full of over 4500 tips and tricks from the 1800s.
Slide That Tight Ring Off In Style
I'll be honest, I'm not really sure what the mechanics of this are. And I am so clumsy, I'm pretty sure I'd squeeze my finger off with twine before I could rid my pudgy finger of a tight ring.
But for those of you with stronger constitutions, better spacial reasoning, and nimble unwinding skills, Godey's has this tip: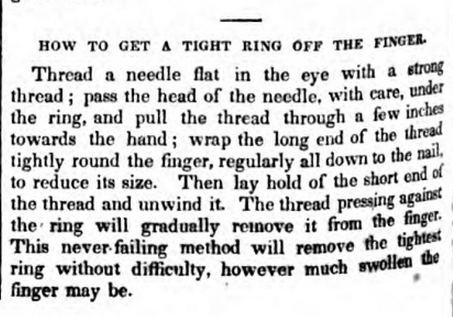 A Puritan Approach to Preserving the Complexion
I thought this was rather inspiring. It's a small article that screams the virtues of doing little to your face to keep your complexion.
No frills, no fusses. Just water. And maybe sometimes some soap. Nestled within the article is this gem:
"Our female readers may rest assured that the only beautifiers of the skin are personal cleanliness, regular exercise, temperance, pure air, and a cheerful temper."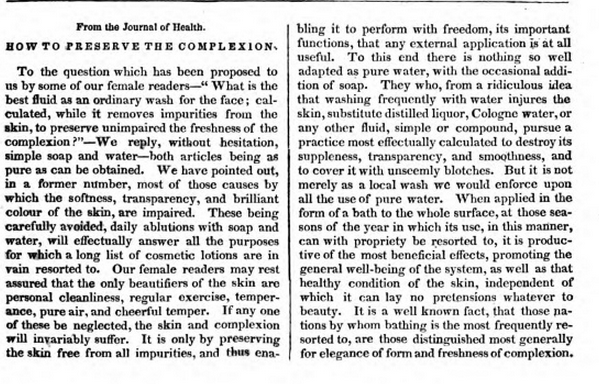 Temperance, by the way, either means moderation and self-restraint … or complete abstinence from alcohol.
Let's assume it's the former. Why? Because this:
Smack Your Lips As They've Never Been Smacked Before – Blackberry Wine
Have any of you ever made your own wine or mead before?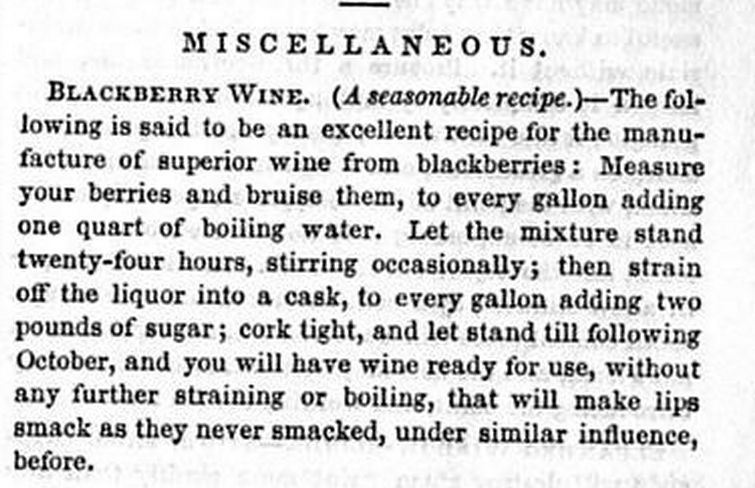 I have to try it. Pronto. That last line, it got me. I'm hooked on the idea of lip smacking.
Last, But Not Least, Let's Work On Your Self Perception
I love this …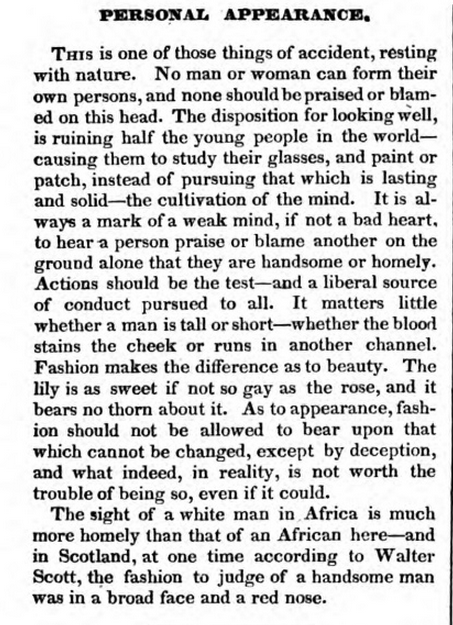 In a nutshell, here is what the writer is saying:
Personal worth is not dependent on physical appearance. Young people are wasting their talents and abilities by obsessing over beauty and fashion. And physical beauty is subjective, based on where you are in the world. So why worry?
Amen.
Read Godey's Lady's Book Online – Or Grab The Snippet PDFs
So, I found copies of Godey's Lady's Book all over the place, but not everything in one place. Of note, most of the magazines are 90-95% literature and poetry of the times, with some patterns, sheet music, and tips and recipes thrown in. But it's all so enlightening.
Read it here:
And, as promised, here are the links to the PDFs I created. They're just small clippings and some typings (from before I realized I could screen capture things) of the tips, recipes, and thoughts I found exceptionally interesting.
All of the ideas in this post are in these PDFs, along with probably 50 more. Bonus.
Fun stuff, ain't it?