Shoot. I do declare the next few days Historic Beauty Days at Crunchy Betty. The ye olde beauty shoppe bug hit me last week, and I haven't been able to stop reading since. Here's why.
For the 4th of July, we did a little something different. My parents and I sweated it out at Rock Ledge Ranch, a historical site about a mile from where I live. There, they reenact the olden days, and, par for the course, they had a special 4th of July shin dig, complete with George Washington, Abraham Lincoln, and more pioneer and 1800s ladies than you can shake your bloomers at.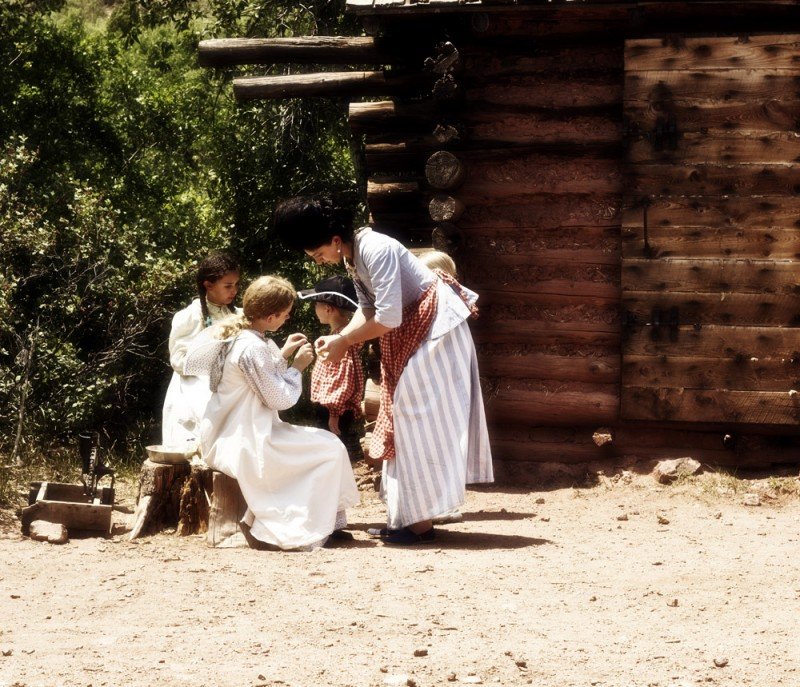 As we moseyed across the history-strewn grounds, I made it a point to ask some of the historical reenactors – mostly the women – if they knew of any beauty tips and tricks that our ancestors used during the Revolutionary War.
Paltry was the reply. Apparently, while perfect recitation of the exact ways to load a musket has been passed down through generations, the methods in which the ladies cared for their skin was not so thoroughly remembered. Boo.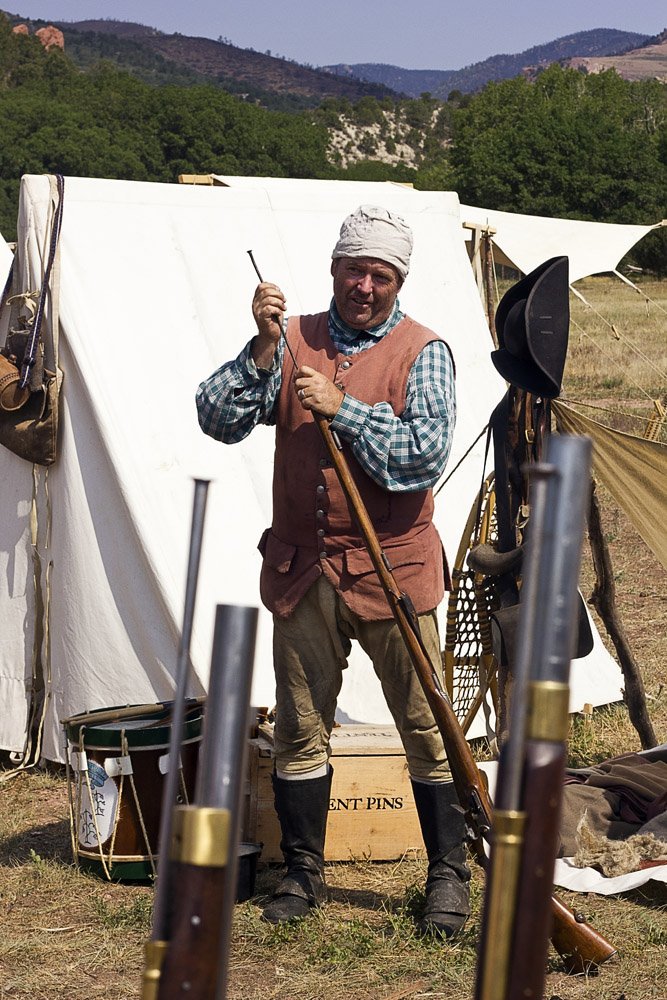 For the record, the answers were, in no particular order:
"They used a lot of pig grease on their faces, until they realized that wasn't very smart."
"Lemon verbena. That was a perfume of choice."
"Hm. They probably used a lot of herbs!"
To be fair, the lovely ladies did promise to do some research and get back to me (and they WERE ever-so lovely), but I'm impatient. I took to the internets to find historical information, and after two days of coming up with very little, I hit the jackpot.
I figured, if I'm this excited to find ye olde ways to approach skincare and household upkeep, you will be too.
So, little by little this week, I'm going to share some of the fun things I've found on this historical (if not a bit obsessive) journey.
Today, I just want to share one little recipe that, for some reason, is so extremely exciting. Because even though the ingredients sound so very out of reach, after much research, I've found out we can do this exact thing.
Hop along with me.
"A Cure For Freckles" or Rose Complexion Masque
After much searching, I could only find two recipes for this, but one is highlighted in the book Women In Early America: Struggle Survival and Freedom In a New World.
From the excerpt: "A clear, pale complexion was highly priced in colonial America. The following was taken from an 18th century book of beauty advice (Beauties Treasury; or the Ladies Vade Mecum):
A Cure For Freckles
Two drams honey of roses
Two drams oil of tartar
Mix with rye meal and spread on a cloth. Place over your face, breasts, or hands overnight. In the morning, rinse away with lemon juice
Drams of honey of roses?
Drams of oil of tartar?
What IS all this craziness?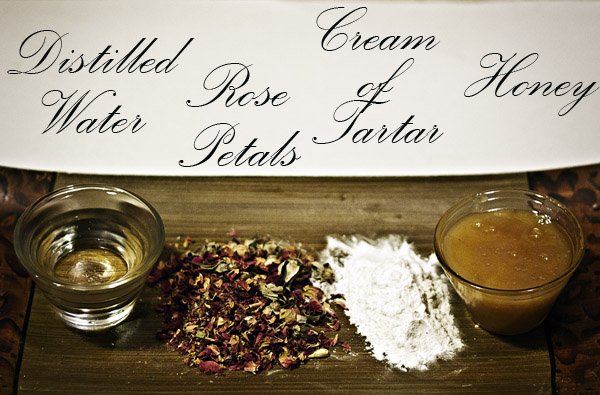 Well, it turns out, it's very easy to make BOTH of these things, much exactly as they made them in the 18th century. Let's take it step by step.
A dram: A dram is basically 1/16 of a fluid ounce. Really, the total amount isn't all that important here, as we know we need to use equal parts of both things. So, technically, you can just ignore the "dram" part. If you have to know, though, 1 fluid dram is just about equal to 1/4 of a tablespoon.
Honey of Roses: This one took some digging, and was a bit confusing. Is honey of roses just honey that's made by bees feasting on roses? Or is it roses steeped in honey? Or what? Well, it turns out, it's basically a steeped, filtered rose tea with honey added to it. I couldn't find an exact recipe for it, so we're going to improvise:
Boil 1/2 c. of water (preferably distilled)
Steep 3 Tbsp rose petals or rosebuds in the boiling water for 5 minutes
Strain the roses from the rose water
Add 1/2 c. honey and stir
Voila: Our new-fangled honey of roses
Oil of Tartar: Again, this wasn't easy to figure out. In fact, no one actually sells oil of tartar. It seems to be because there's no such actual oil. The only recipe I could find was rather tricky and very old-fashioned (mainly because it used tartar directly from old wine barrels in the quantity of several pounds). So here's our updated version, to be more conducive to a fun old-fashioned beauty party.
Fill a small spice bag with 1-2 Tbsp cream of tartar
Place it in 1 c. of boiling (preferably distilled) water
Boil until the water is reduced by about one-third
Remove the sack of cream of tartar
You now have a new version of Oil of Tartar
From the link above that told us how they made oil of tartar, here's a fun quote: "…on the skin, it removed dark marks or freckles, and it will make the skin lustrous and clear and stretch out every wrinkle. It will make you appear younger than you are."
Most interestingly, oil of tartar was also used to remove stains on cloth and clean paintings. Anyone want to give that a try?
Rye Meal: For this, you can just ignore the "meal" and substitute the word "flour." They're basically the exact same thing. Rye meal, back in the day, might have been a bit less powdery than the rye flour we have at our disposal today, but it's so similar there really is no difference. You can find it just about anywhere. Just check your local grocery store. Or, in a pinch, garbanzo bean flour or rice flour would do the same duty.
The Cloth: If I were doing this, I'd cut out nose holes in a piece of cheesecloth and spread the masque over that, and then apply it to my face. You, however, can do this any way that feels comfortable to you. I would not, however, cut out breast holes. (Because I won't be putting this on my decolletage.) But, honestly, I don't see any reason why you can't just spread the paste on your face (or chest or hands) and leave it on like we would a normal mask. You do what feels right to you! Want to be historically accurate? Use the cloth!
The Lemon Juice: I'm pretty sure you don't need me to define this for you. Except I will add this: I probably wouldn't rinse my face with pure lemon juice (ouchie dryness). Instead, I'd put about a tablespoon of lemon juice in 3 cups of water and rinse that way. Either way, please do not forget that lemon juice makes your skin photosensitive, so steer clear of the sun for a few hours after doing this.
Will This Work?
Let me reiterate: I have not tried this personally, so I cannot attest to its performance in removing freckles or "making the skin lustrous and clear and stretch out every wrinkle."
I will say this, though: Cream of tartar (which is what they get when they clean out old wine barrels, and comes from grapes) is on the acidic side, as is the lemon juice you're supposed to rinse your face with. Will it lighten your skin? Most probably.
But it will probably also make your skin rather sensitive (and photosensitive, or easily burned in the sun) if you include the lemon juice rinse. If you have dry skin, skip the lemon juice rinse. The cream of tartar (or oil of tartar), probably won't cause irritation, as straight cream of tartar has a pH of about 5 (remember, pH 7 is neutral).
To update the application of this mask in terms of time, when I actually get around to making it, I'll leave it on for 20 minutes and then rinse my face with distilled water.
What do you think? You want to get down and dirty with the historical beauties?
Do YOU know of any exceptional historical beauty tip, home remedy, or household sites for the ladies? Any old books we should all peruse for fun and enjoyment?
(OH! PS. Way back in September, we talked about a few old beauty recipes, as well, in Generations of Learning. If you want to get a jump on things, check it out.)