It's hard to remember what century I'm in right now. Is the medicine made of turpentine or petrochemicals? Are women striving for equality or are they striving for … equality? Are certain aspects of healthcare about bleeding people physically or is it about bleeding people financially?
Do we feed our children mercury or do we feed them high-fructose corn syrup?
Instead of tidily keeping bottles of oxymel of squill and vitriol, we have bottles of cough syrup and antidepressants.
Heaven help us, why do we think we're so superior to the generations before us?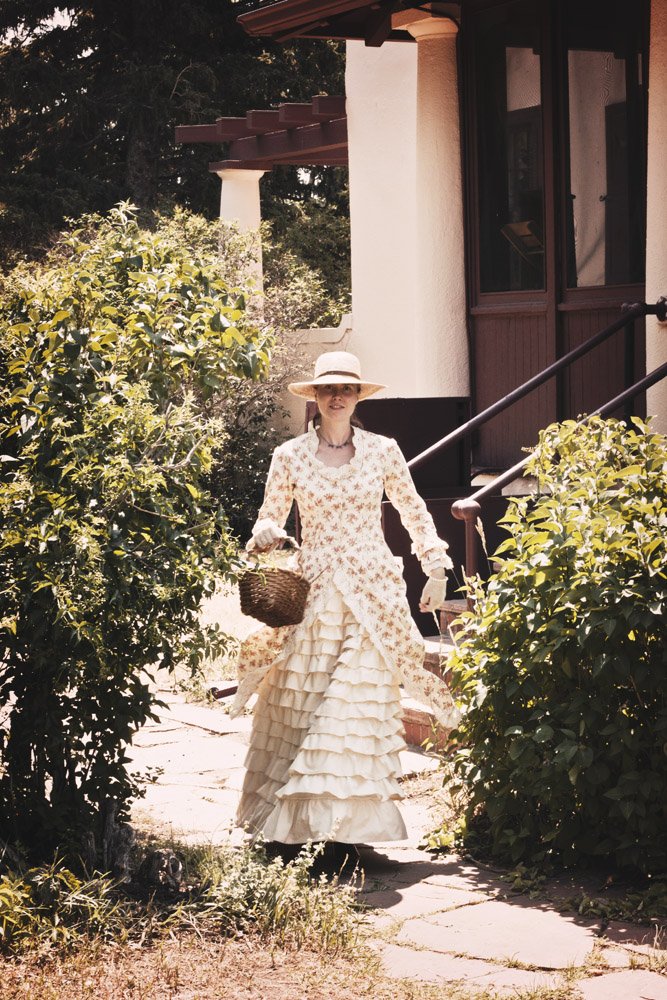 We are better off in many ways, yes. Our knowledge of sanitation and water purification has given us longer lives. Our discoveries of how chemicals work throughout our bodies has brought us closer to understanding our biology, and it should have made us stand in awe of our blindingly gorgeous, intricate tie to all that is nature.
Instead, it's turned us into a set of numbers, a chain of enzymes, separate pieces of matter that are looked at as unrelated to the whole. And the whole is rarely looked at in its relation to the natural world around it.
We became "rational" and "logical." And with that came a disassociation to anything mysterious. If we don't know it and we can't quantify it, then it doesn't exist. That's the common thought today.
But I digress.
The More Things Change, The More They Stay The Same
Flat out, you need to know this: I am not a historian. I am someone who dabbles in history, and who just finished 5 straight days of reading historical periodicals in order to get a sense of what life was like in a woman's world back then.
Back in the 1800s. And the 1700s. And a little before that.
You know what I expected? I expected some kind of grand enlightenment to the more natural ways that things were done. I expected to be lifted up on wings of traditional wisdom into a new understanding of how our world should be.
Instead, I read magazine after magazine, book after book, of complaints, ideas, and contradictory advice. It was, save words like "vial" being spelled "phial" and "recipes" spelled "receipts," almost identical to reading a magazine today.
In fact, in one issue of Godey's Lady's Book, there was a lengthy article on the idea that care of the teeth requires nothing but a good rinsing out and that brushing your teeth with powders would remove enamel. Later, in the same issue, came a recipe receipt for a tooth powder that included at least one of the ingredients they'd aforementioned to be dangerous.
They were just crazy back then, though, right?
Go to your local supermarket. Check out the covers of the women's magazines. Count how many have covers that announce weight loss strategies just above or below a headline proclaiming "decadent dessert recipes."
The more things change, the more they stay the same.
Back then, women tortured themselves by wearing corsets so tight they fainted. Now, women torture themselves by starving themselves, or by going under the knife, or by relentless, obsessive exercise.
Humans – throughout history – have always been both brilliantly ignorant and stupendously genius. The same is true now, whether we want to believe it or not.
We have not come a long way, baby. We've just marched on, with our thoughts, through time. Reviving the same roles. Living the same dramas. Making the same mistakes. The only word I could find, while immersing myself in the personal dramas of the past, was insignificant.
It's all so insignificant, in the vast scheme of it all. And, by mercy, not a single one of us knows what's good for anyone else. Anyone but ourselves.
But there's one thing – yes, there is a light at the end of this tunnel – one thing that HAS carried on, a thread through our existence, and that is our tie to nature and its healing powers.
We May Not Always Get It Right, But We Always Get Some Of It Right
Right about the time that pharmaceuticals – as we know them today – were born, right about the time that medicine became commercialized, we stopped truly believing in the healing power of nature.
The concept of "snake oil," started to bleed into every aspect of natural healing. Because our forefathers and foremothers did some questionable things, an insidious belief was born. A belief that everything they did was wrong. And everything we "more enlightened, scientific people" discovered – even in its nascence – was right. Superior. The only way to look at things.
Right along with the bathwater of snake oil, the baby of natural healing was hurled out the newly plastic-lined window. In its place we substituted haughty superiority and a total dependence on things like plastics, and petrochemicals, and anything someone in the lab could throw together in a new, improved formulation.
But the thing is, if you trace human history, there's one thread that's always there – always – and it's the healing power we all possess, innately, along with our brilliant ability to heal ourselves using nature.
There's no doubt in my mind that, 200 years from now, our great-great-great-great grandchildren will look at things like petrochemicals, most pharmaceuticals, and GMOs the exact same way we look at snake oil, blood letting, and giving medicinal cocaine to children.
We've replaced one form of silliness with another. No doubt about it. It's a pattern, this lack of understanding, this moving ahead without considering the consequences. This excitement for something new and improved, no matter how not-new and not-improved it really is.
We Can Learn, We Can Pass It All On, Without the Mistakes
So, after all of this heavy stuff, I went inside and thought the darkest, most despairing thoughts.
We're always destined to repeat the same mistakes. Nothing really matters, and life really IS just a walking shadow. If we haven't gotten it "right" yet, we never will. You have to choose – science or nature. That's what everyone else thinks. And besides – if humanity made it through the Dark Ages just fine, won't we all make it through the Plastic Ages just fine, too? Why bother with any of it?
And after I spent an hour or two living there, in that bad place, this happened:
I realized that, while humanity as a whole, has lived the same dramas and made the same mistakes, only in increasingly shinier packages, for millennia, we don't have to choose that way.
We – here at Crunchy Betty and all over the world – can choose to incorporate old wisdom with new. We can – and I think we have to – live by combining all that we know in our hearts to be true about life today, with all that we know in our souls to be true from the past.
Today, we are not geniuses who have all the answers to health and beauty. Three hundred years ago, we were not geniuses, either. But we weren't complete dummies.
Now is the time to start marrying the wisdom we've been blessed enough to carry with us all these years with the knowledge we have today, instead of thinking that one is superior to the other.
Because it's not.
And you know how I know this?
Because I can walk into my kitchen, right this very moment, and create a balm that heals my burns – using the same ingredients our foremothers did – but it only takes a quarter of the time, and I don't have to put out a single fire.
Unless I catch my petticoat on the electric burner.
—
I know this was long, but I do want you to brainstorm with me:
What other ways can we incorporate our natural pursuits, our "old-fashioned ways," with the ways of today? Can you think of other ways that we can benefit from recent inventions by combining them with old wisdom?
How can we put a stop to the cycles of the past, where we do really dumb things and call them healthy (or convenient)? Can you think of ways to get in touch with your own innate sense of what is actually healthy?
Or: If you could choose: What one single thing should we, as a species, do completely away with in terms of our health? What one thing, if eradicated like "snake oil," would make our world a better place?