I'm on my way home soon! Wednesday!
Back to making sense.
Back to making crunchy things (as time and new-baby schedules never allowed for the making of many things here). C34M2F2WF7P7
As I prepare to leave Kansas City, though, I want to share one tip I gleaned from my sister that I'm in mad, dirty, ecstatic love with.
It's quick. Easy. And I promise you'll want to start doing it today.
The Genius Thing My Sister Does With Her Butter Wrappers
You know those odds-and-ends tips you see in magazines that make you go, "WOW! Yeah! I'm SO going to do that ALL THE TIME FOREVER NOW!" Like storing all your marbles in old pantyhose? (That's a thing, right?)
And then three months later, you realize you still have loose marbles rolling around all over the house – and you've thrown away your last pair of pantyhose?
This had better not be one of those tips for you.
Because it's an ingenious way to use every last bit of butter AND avoid using those icky, chemical-filled spray-on nonstick oils.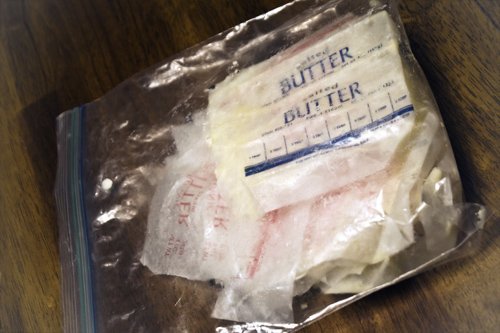 Here's how you do it: When you're finished with a stick of butter, do NOT throw the wrapper away.
Also, do not lick it.
Instead, put it in a Ziplock bag or other handy refrigerator-friendly container. And then pop it back into the fridge.
As you can see in the above picture, you'll end up with quite a few of these. And, if you haven't noticed, nearly every butter wrapper you've ever thrown away still has butter stuck to it in inconvenient places. Butter that is otherwise wasted (or licked).
So what do you do with these refrigerated butter wrappers?
Use them in place of nonstick cooking spray or instead of cutting off a new chunk to butter your baking pans with. Simply rub the wrapper, butter side down, all over the pan/dish you need to grease.
It's a perfect solution, really. I used one this afternoon while making spaghetti pie, and it was so nice to just reach in, grab one, rub it around the pan a few times and then say goodbye to it in the trashcan once it was completely devoid of butter.
Luckily, it also doesn't take up any space to speak of in your refrigerator. My sister keeps hers tucked behind the ketchups and mustards in the door.
Easy, right?
You know you want to do it.
Kitchen Tips, Crunchies?
Here's the deal: When I freaked out and ooohed and ahhhed about how genius it was to do this butter thing, my sister looked at me like I was a 3-month-old who just discovered feet.
She had no idea it would be a new thing for me. Or for anyone else. It was just … normal. For her.
So I got to thinking: Imagine how many things we do in our kitchens that other people might think are totally life-changing ideas, but to us they're just routine?
Tell us something you learned how to do in your kitchen once you were an adult that's streamlined, made easier, or just made cooking and cleaning more enjoyable for you?
Here's one of mine. You probably know it already. But you might not.
Whenever I cut onions or garlic, I grab a piece of stainless steel cutlery (or a pot, if it's sitting there) and rub my fingers all over it under running water. Stainless steel gets rid of the oniony/garlicky smell almost completely … immediately.
You have any surprisingly easy kitchen tips? Even ones you think everyone knows about? (But probably doesn't.)