A couple of weeks ago, early in the morning, my friendly postman rang the doorbell. And I trudged. And trudged.
And trudged.
Down the 10 stairs to my front door.
(TRUDGED.)
He handed me a pretty box and said, "Good day, morning-faced lady." And I mumbled, "Good day to you, fine sir! How are you this gorgeous morning. You're looking swell!" "Uh-huh."
Inside this box was a booty full of surprise (just for me!) from the gorgeous Stephanie. Nothing has made my day quite like it since. Inside was a spot of tea, some sea salt, and a little lavender.
By a little lavender, I mean an effing flotilla full of it.
Earlier this summer, Stephanie had visited a lavender farm, where she had the fun of picking, stripping, and drying her own lavender. These are the kinds of things that happen in California, which I can only think of as the land of magic and whimsy now. So she had a lot. And she sent me a lot. And now … I have a lot of lavender. Hand-picked by a crunchy goddess.
Now, as you know, I have the Pike's Peak Community Swap coming up on Sunday, and I've decided that there would be nothing better than to use lavender for one of my swap items. If you don't know what a community swap is, here's a post detailing it. Basically, it's just a fun get-together where you swap homemade/homegrown things WITHOUT using any money. Total barter. It rocks.
(I'm also doing echinacea-elderberry syrup and Nutty Butt Butter bars … and, yes, the recipes for those two things WILL be forthcoming this week, all of you who've asked me for the butt bar recipe.)
Quandary: I have so many ideas of things to do with this lavender, I need you to help me decide what to make. The best part about this is that you're also going to get some great gift ideas for the upcoming holiday festivities, too.
Wait. No. THAT wasn't the best part. The best part is, I want you guys to pick which one of these I'm doing for the swap, and I'll make extra of the winner to mail to one or two of you. So you tell me what to do, and then one or two of you will also get something good out of the deal. And then we'll all thank Stephanie for her generosity, kindness, and general perfection.
Here are the choices:
Lavender Shortbread Cookies with Bonus Lavender Sugar
In her card to me, Stephanie mentioned using it to make some lavender shortbread cookies, and I've been obsessed with this idea ever since.
The best recipe I could find comes courtesy Joy the Baker. It employs lavender sugar.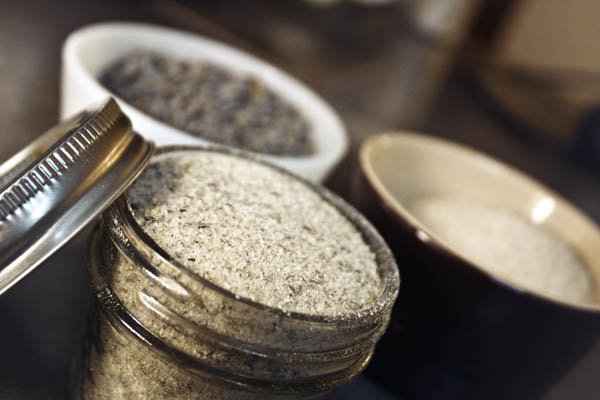 I went ahead and made some lavender sugar, because that's something I've always wanted to do (and it takes 10 seconds). Basically, you just mix together equal parts dried lavender buds (organic preferably) and raw sugar and then grind it all up in a food processor or spice/coffee grinder. I sifted the bigger parts out, just to make it more palatable.
With this lavender sugar, you can sweeten tea, bake, add a little oil and use it as a body scrub … really just about anything. So lavender sugar, alone, would make for a really fun gift.
But we're talking about lavender sugar AND lavender shortbread cookies here. That's the first idea.
Lavender Floral Facial Mask
Not only do I have a, um, tiny bit of lavender, but I also have extra rose petals and chamomile. So I was thinking … why not make a face mask base?
Here's what it looks like (the only instruction will be to add water or milk and spread it on your face, so it's a dry mask to start out with):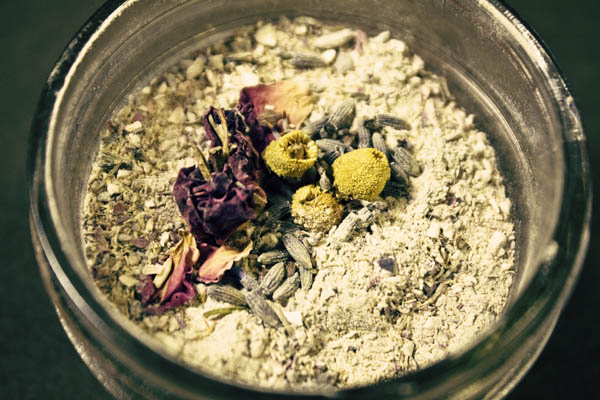 Lavender Floral Facial Mask (softening, healing for all skin types)
2 Tbsp combined (equal parts) ground lavender, rose buds/petals, chamomile – sifted through a fine-mesh sieve
2 Tbsp bentonite clay (or any cosmetic clay)
1 Tbsp full-fat powdered, organic milk
1 Tbsp finely ground oats
Combine all ingredients in a small bowl and mix well. Store in a tightly lidded container. Keeps, dry, for up to a year (or more).
To use: Take 1 Tbsp of the mixture and combine it with 1 Tbsp water, milk, or organic fruit juice. Mix until you have a thick, combined paste. Apply to a clean face and leave on 15-20 minutes. Rinse well, washing off gently with a warm washcloth.
Okay. That was option two. It will come in a small jar and contain about 5-6 applications. It also doubles as a facial scrub to wash your face with (like the no-nonsense daily facial scrub).
Lavender-Rosemary Infused Honey (for Face Washing)
Luckily, I just started another huge batch of lavender-rosemary infused honey last week.
It is, by far, my favorite way to wash my face. Ever. It also makes tea taste like bliss-covered joy.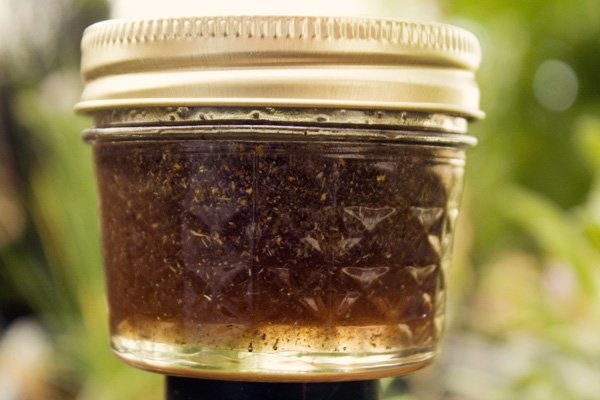 So I'll do small jars of lavender-rosemary infused honey to swap.
If you don't remember how to infuse honey, here are the instructions. But in a nutshell: Just add your favorite dried herbs/flowers, equal parts, to raw honey and let it sit for a week or two (turn it over every day). When your honey is infused, strain it through a fine-mesh sieve or cheesecloth – a cheesecloth if you want it REALLY strained, unlike the picture above.
Eat, put it on your face, roll around in it for funsies.
What do you think of that?
Lavender Sleepytime/Bath Sachets
This one kind of feels like a cop-out to me, mainly because I've given these things as gifts about eighty-quadrillion times in the last two years.
But it's an excellent standby use of lavender. I keep one of these in my pillow now and have noticed a decent change in my restless sleeping habits. Namely, I can sleep for three hours now without waking up. Go, lavender!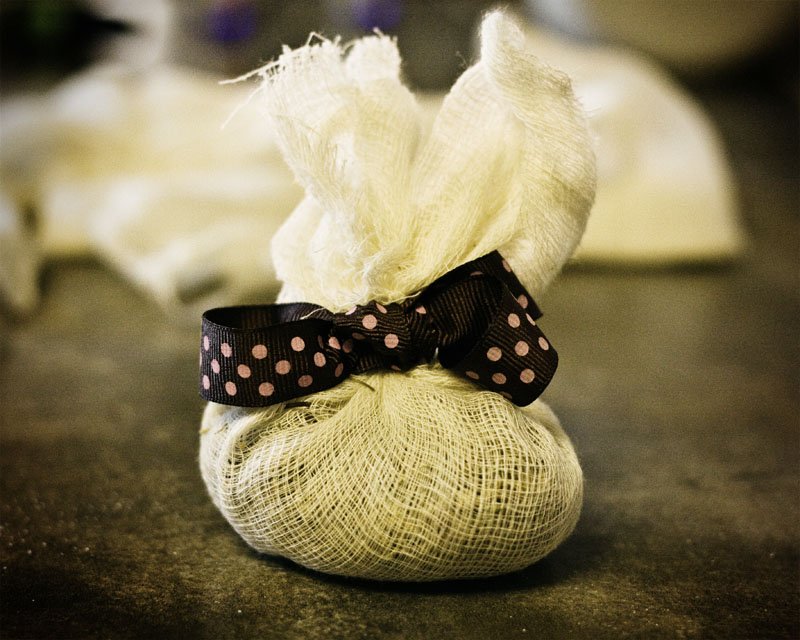 Here's a rather lengthy instruction on how to make these, but condensed:
Mix together dried herbs/flowers (I will use lavender, hops, chamomile, and roses) in a small bowl. Add appropriate essential oils, if desired (I will use a little lavender and rose).
Tie it up in a cheesecloth or sew it up (if you're handy like that) in a small flannel pouch. Place under your pillow and enjoy the lightly soothing scents – or pop it in the bathtub with you before you go to bed. It's like sleepytime human tea.
There was option four.
Natural Lavender Air Freshener
Last idea, folks. What about a natural lavender air freshener?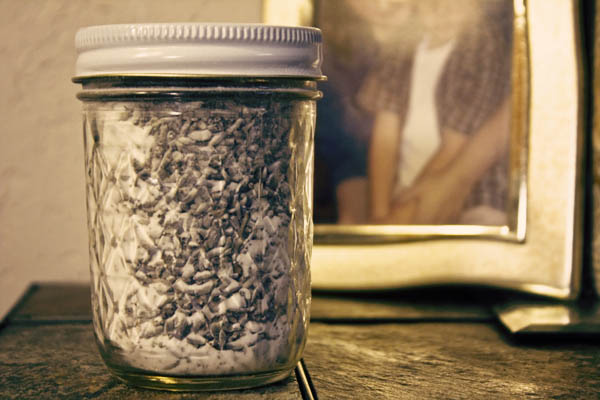 This is the easiest option. So easy. And it works!
How to do it: Mix together equal parts dried lavender buds and baking soda in a small jar. Shake well. Drop in 20-30 drops lavender essential oil, shaking after every two to three drops. Punch small holes in the top of the jar (or you could leave the top off the jar for extra amazing air deodorizing/freshening).
That's it!
I keep one of these in the bathroom to mitigate the cat litter smell, and it works like a charm. Mostly. Depending on what they've had to eat that day. Ahem.
Which One Should I Make For The Swap?
So tell me …
If you were at a swap, which one of these things would entice you to swap with me?
Everyone pick one, and the winning choice will not only be what I take with me to the swap on Sunday, but I'll choose one or two of you to send the winning selection to, as well. If you don't like any of these choices, and have a mind-blowing dried lavender gift idea of your own, hit me with it. If my mind is blown, I will make TWO lavender things to take with me.
And, y'know, if you want to swap back … I'm totally game for it. Now that the postman knows what I look like first thing in the morning.
(Oh, and PS. You don't have to have a Stephanie in your life to receive a boatload of lavender. Mountain Rose Herbs carries it at an extremely affordable price, and you'll also find dried lavender buds at your local herb shop or food store. I have to mention it, because without a doubt someone would have asked where to find a Stephanie to mail them lavender.)