Submitted for your approval, The ingredients of Robitussin Adult:
Multisymptom Cold (Dextromethorphan, Guaifenesin, Phenylephrine, Anhydrous Citric Acid, FD&C Red 40 (CI 16035), Glycerin, Menthol, Natural Flavors, Artificial Flavors, Propylene Glycol, Purified Water, Sodium Benzoate, Sodium Citrate, Sorbitol Solution, Sucralose)
Ouch, right?
This is not that:
Now, don't misunderstand me. I'm not claiming that elderberry-echinacea syrup works as well as Robitussin. In fact, I'm pretty sure I'm prohibited from making a claim that it works for anything at all. (In fact, they totally raided an elderberry syrup manufacturer for saying that it was … gasp … healthy for you.)
But I can tell you my experience – that much I am allowed: This is all natural, delicious, and I use it (or I've used a variation of it) to keep me feeling great all winter long.
So now, in contrast to the first paragraph, would you like to know what's in elderberry-echinacea syrup? Water, elderberries, echinacea, ginger root, cinnamon, honey.
Why are all those things in there, you might ask?
The Healthfulness Behind Elderberry-Echinacea Syrup
Quickly, let's break it down and see what other people say about all the ingredients in elderberry-echinacea syrup.
Elderberry: A study done in 1992-1993 in Israel showed that black elderberry treated/cured flu symptoms faster than Tamiflu. Elderberry contains a litany of healthful properties (including antioxidants, tannins, vitamins A, B, and C, flavonoids … and the list goes on), which could help strengthen the immune system. But it's best known for knocking out the flu right when it starts, so it's important to take it immediately upon having symptoms (if you're not taking daily supplementation). While there's no research to back up the claims that elderberry, taken regularly, can prevent the flu, there's research all over the place stating that it effectively helps quash it when it starts.
Echinacea: Like elderberry, the research just isn't there yet supporting echinacea as an effective preventative supplement for the cold and flu. However, even the National Institute of Health admits that it's shown to be quite effective when taken immediately upon experiencing symptoms of the cold or flu. They even state that it's used effectively to treat: urinary tract infections, vaginal yeast infections, genital herpes, bloodstream infections (septicemia), gum disease, tonsillitis, streptococcus infections, syphilis, typhoid, malaria, and diphtheria.
Honey: Favorite. Home. Remedy. Ever. Nothing beats honey for a cough (in fact, it's been shown to be more effective at soothing coughs than cough medicine itself). It's also, of course, wildly antibacterial. And a fun little fact? Studies show that honey is as effective of a preservative as EDTA (a questionable preservative widely used in food). When I read this today, I wept with joy.
Cinnamon: Not only does cinnamon help control your blood sugar and blood pressure, it's been historically used to treat the cold and flu. It's approved by the German Health Authorities approve cinnamon for treating gastrointestinal distress and stomach spasms. The inspiration for including in this syrup (not only for WILDLY delicious taste) was this blog post about cinnamon/honey syrup as a home remedy for colds.
Ginger Root: SO well known for defeating nauseousness, ginger root may not only treat your symptoms of stomach yuckiness, but it may very well help beat your other symptoms, as well. It's, by far, one of the most popular medicinal herbs – and again, it tastes absolutely amazing in this syrup.
How to Make the Elderberry Echinacea Syrup Recipe
Okay, now that we're done with all the smarty-pants stuff, I have to say one thing about this syrup: WOOOOO-HOOOOO! For the last two years, I've made an elderberry syrup using brandy to preserve it, but this year it was imperative to find an answer that used no alcohol whatsoever. Mainly because I want kids to be able to use this (and grown-ups not to worry about the negligible brandy in the first recipe).
So, taking that and inspiration from myriad elderberry-echinacea cough syrups I found for sale on the internet, I created this doozy. Right now, it may sound a little exotic, but I'm going to give you a price breakdown at the end, so prepare your faces, people.
Let's get started.
What you need: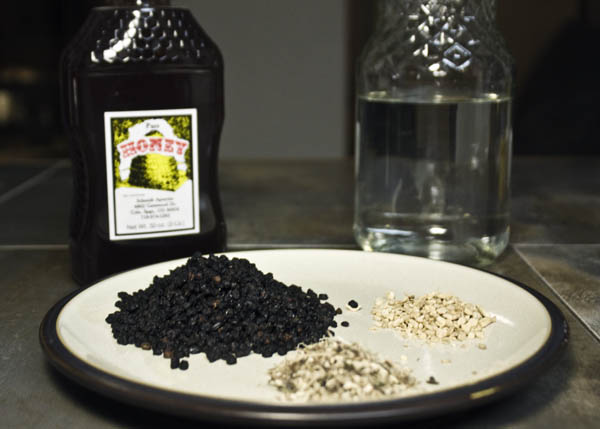 Elderberry-Echinacea Syrup Recipe
1/2 c. dried elderberries (or 1 cup fresh)
2 Tbsp dried echincacea (it's perfectly fine to open an echinacea tea bag and use that)
1 Tbsp dried ginger root (or 2 Tbsp fresh ginger root)
1-2 cinnamon sticks, broken in half
3 c. distilled water
3/4 c. raw honey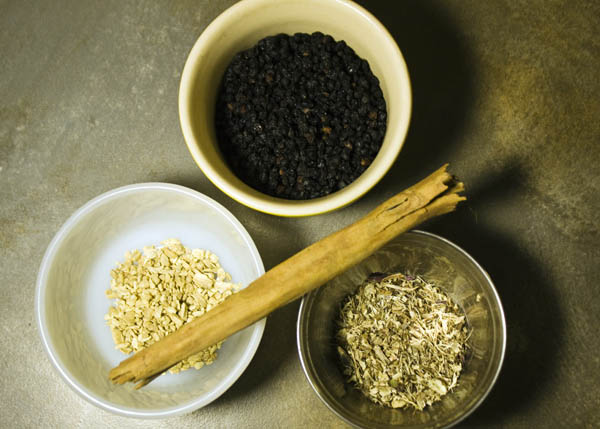 I'm making this for the swap, so I was extra-specially cautious while doing so. Extra-specially cautious = sterilizing every pot, jar, and utensil I used for 10 minutes in boiling water. As I mentioned earlier, honey is a fabulous preservative, but I didn't want to take any chances.
That said, before you really get started, you might want to consider sterilizing, at least, the jar you're going to keep your syrup in. Just boil it in a pot of water for 10 minutes, and you should be good.
After you're done with that, start with a very clean small pot and pour in all your ingredients – except the honey. DO. NOT. ADD. THE. HONEY. YET.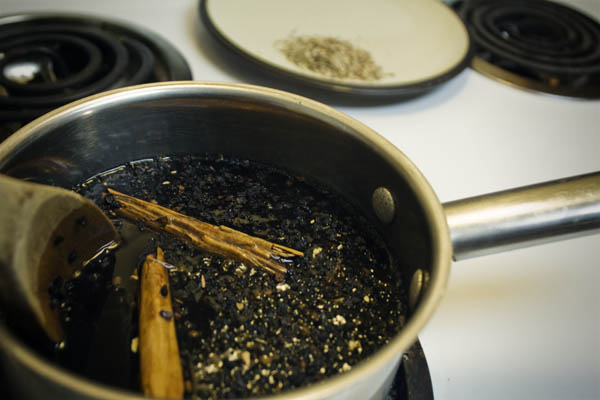 It's important to use distilled water, just so you know. Because your tap water (and even most filtered water) already contains small bits of bacteria, heavy metals, and other untoward things that may "taint" your syrup. And you want your syrup to last at least a month – if not two to three months.
Distilled water. It's what's for home remedies.
Now that you have all of your ingredients (except the honey) in the pot, turn the burner to medium. Wait a while. Eventually you'll start to see a simmer.
Now turn the burner as low as you can, while still maintaining a small simmer, and leave the whole thing alone for 45 minutes (or until the liquid has reduced by half).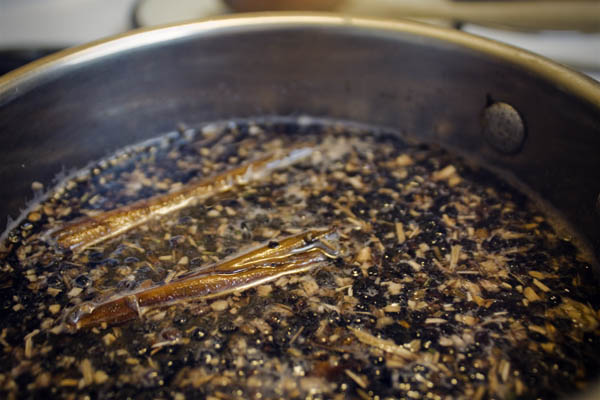 Stir occasionally, and smush the elderberries around with the back of your spoon to release their healthy goodness.
Once your liquid is at about half as much as you started with, you need to strain all of the ingredients from your almost-done syrup. For this, I used my French press. But you could also use a cheese cloth, or a very fine-mesh sieve.
Either way, take care not to burn yourself, but push all the liquid out that your little hands can muster.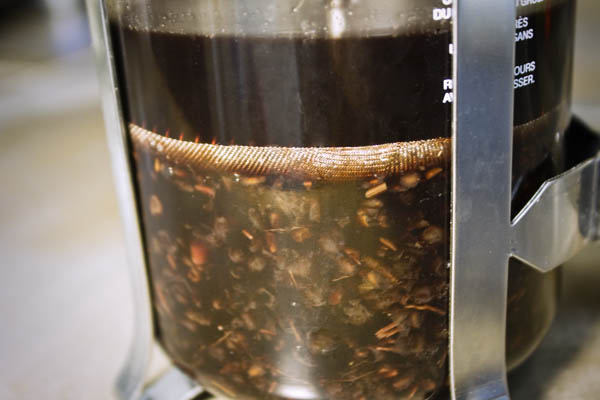 Now you should have pretty clean, non-leafy, dark brownish-red liquid. It will smell good, but it's not quite done yet. If you tried to drink it at this point, you'd probably look like a duck for a few minutes.
Tartness.
Let your liquid cool for about 10-15 minutes. It needs to be cool enough not to harm the honey's delicate healthful properties, but still warm enough to dissolve all the honey within. Again, 10 minutes should be just fine. While you wait, rearrange your spice cabinet.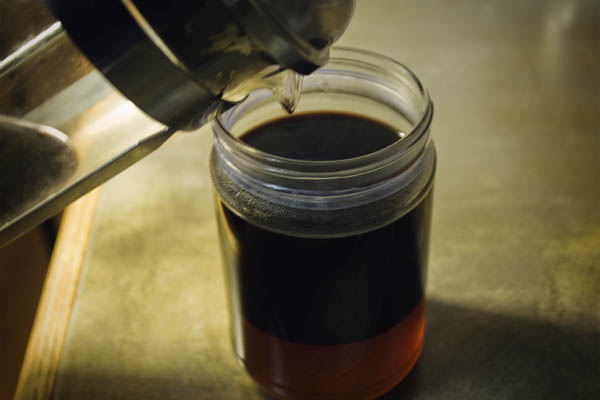 Once you have your warmish-coolish liquid, add it in your desired jar with your honey and stir. Stir it up, baby. Revel in these last moments, because now you're done.
This is what happens next: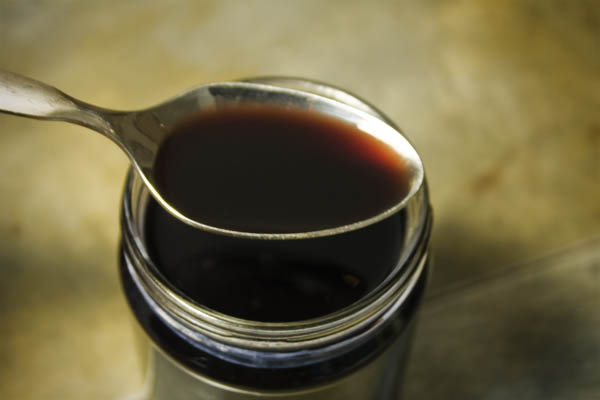 Keep this in your fridge, tightly covered, for up to two months, and take it when you feel like you need it. Remember, I'm no medical professional. But if it were me, I'd take 2-3 teaspoons a day (or maybe even a bit more) at the first sign of a cough, cold, or icky feeling.
Before you take or make this, though, please make sure you're not allergic to one of the ingredients. That may be the only potential downside here. Know your allergies.
Elderberry-Echinacea Syrup: The Wrap Up
If you're not sure where to buy elderberries or echinacea, try your local natural food store. Elderberries may be a little harder to find (echinacea tea is all over the place), but they're very well priced at Mountain Rose Herbs. It never fails to surprise me how much less their supplies cost than my natural foods store – and elderberries are no different.
However, I'm going to use the cost breakdown based on how much MY approximate costs were (using ingredients that were all from local stores):
1/2 c. elderberrries = $2.50
2 Tbsp echinacea = $1.15
1 stick cinnamon (free, from a friend, but let's say it was) = $0.10
1/2 tbsp ginger root = $0.05
3/4 c. honey = $1.50
3 c. distilled water = $0.25
Total = $5.55
Each recipe should yield about 60 tsp, probably more. As a comparison, you can buy Original Sambucol (black elderberry syrup) for around $15.00 and it has 24 tsp in it.
So the savings is … a lot. Somewhere in the order of $25 if you were to buy as much Sambucol as you make at home.
AND you get the added bonus of echinacea, cinnamon, and ginger root. BUT, to let you in on a little secret, those are all completely optional ingredients. If you don't want to spend the money on them, just make this with elderberries, water, and honey. And you'll be doing just fine.
Ahhhh … how am I ever going to use this to swap with? I want all the elderberry-echinacea syrup for myself now!
(Oh, one more time with the reminder: I'm not a health professional, and this blog post does not constitute medical advice. If you have questions, talk to your doctor … who is hopefully a naturopath.)