Back when I was modeling, Preparation H was all the rage. Preparation H under the eyes. Preparation H whenever you'd had a few too many the night before and your whole face was puffy. Preparation H everywhere.
It smelled terrible and made your skin look pretty awful, too. Except that it reduced puffiness.
Then, one afternoon at a go-see a fellow model was lamenting the fact that Preparation H didn't get rid of her teeny-tiny double-chinnish bump, when a man sitting nearby sashayed up and said:
"Girls, I hear your drama. DRAMA! Let me tell you what you can do to completely erase – for real – any appearance of a double chin. Completely. Forever."
And he proceeded to stroke my chin upwards for several minutes. Then he walked away.
It was surreal. But it made a lasting impression on me. Not enough to remember to massage my face every day, but enough that I'd remember to tell it in a little blog 13 years later.
A Facial Massage a Day Keeps the Wrinkles and Double Chin Away
First, here's your reminder jpg. It's vitamin E capsules.
The perfect thing to use in a facial massage.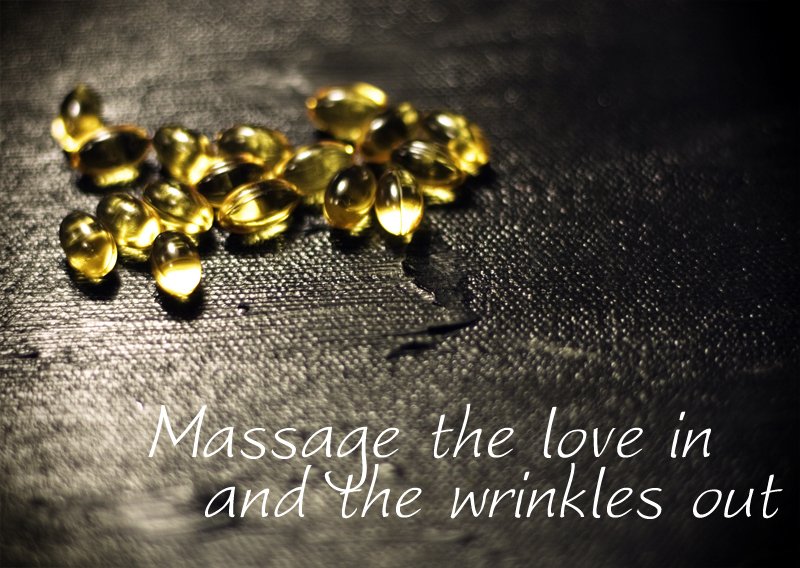 And you can click here to download the full resolution, iff'n you want to print it out.
Why You Might Want to Rub Your Face
It stimulates circulation. This is the most important reason. When you rev your circulation, your skin begins a toxin release – exactly what you want.
It tightens your skin. This is mainly because of stimulated circulation. You're also "training" your face to go a certain way; which is usually opposite the way gravity wants to take it.
It reduces the appearance of wrinkles. Again, circulation will help open up those areas where wrinkles have started to accumulate, and bring blood into vicinity, giving your saggy areas more life.
It very effectively gets rid of puffiness. While I haven't been good about daily (or even weekly) facial massages, I absolutely rely on a soft, quick tapping technique to rev up blood flow and reduce the appearance of morning bloating in a pinch.
Now.
How to do it.
Do It The Chinese Way
My favorite way to do a quick facial massage is by gently activating some acupressure points. Again, I haven't been great about remembering to do this (like, maybe once a month when I'm particularly puffy, really).
BUT, I hear say that a good regimen of daily acupressure massage acts much like a facelift. (In fact, here are about 200,000 websites that promise just that).
You can do each of these exercises, gently, on a clean face every day for 60 seconds in each spot.
These are but a few acupressure facial massage points. If you click on the link above, which takes you to the Google search, you'll find hundreds more recommendations. These just happen to be the points that make me feel the best.
(Please enjoy my professional graphic design skills again, yes?)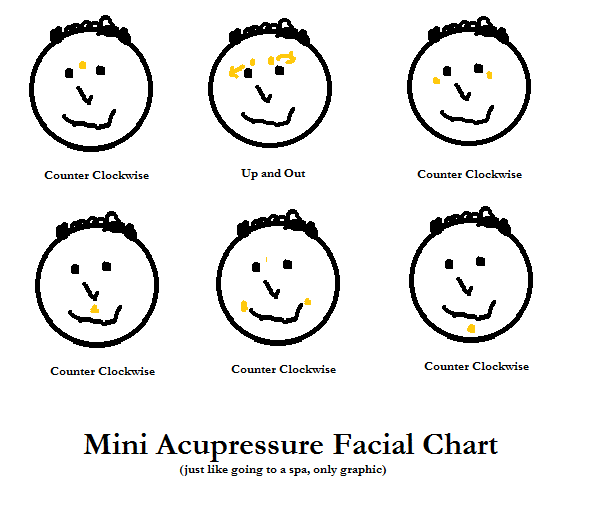 As you can see, you need to (most of the time) work counter-clockwise with your middle finger and using a very light stroke.
I think you'll find, after the very first exercise, that you're mentally stimulated, too. It's a two-fer.
I also like to finish with a light thrumming with all four fingertips under each eye. It just makes me feel energetic and, yet again, helps decrease any puffiness.
Massage the Oily Way
This is something that's easy, EASY to do on a daily basis, because you can incorporate it with moisturizing. It's even better if you moisturize with an oil (like jojoba or apricot kernel oil).
Place the oil in the palm of your hands and rub it lightly until you've built up some friction warmth.
Place the flats of your palms smack dab in the middle of your cheeks (just under your cheekbone) and begin by slowly moving your hands upwards until the bottom of your palms reach your temples. Do this for one to two minutes.
Now rub one palm over your forehead, swiping in a horizontal motion, changing hand directions. (Alternatively, you could very gently swipe your palm upwards over your forehead. Just don't swipe down! It will only encourage wrinkles.) Do this for one minute.
Finish by placing your thumbs under your chin (with the thumb tips facing your neck), and gently massage back and up. Here, you want to encourage your skin to pull back and upwards around your jawbone. This will help reduce a double chin (with time and repetition).
This is an extremely abbreviated (but effective) version of a full facial massage. If you want to watch a full-on routine (that combines both this type of method AND acupressure), I recommend:
Watching this YouTube video made by OxfordJasmine.
My only two comments on it are: Everyone in the world should be given THAT skin at birth, and don't use Dermalogica. (I took a look at the ingredients of this product, and most are fantastic, and then they had to ruin it completely with PEG-40 Sorbitan Peroleate. Why? WHY?)
When You Should Massage Your Face
The best time to do this is: Whenever you remember.
It's best to do it with a clean face, as you'll be rubbing in whatever's on there. The girl in the video above used it while cleansing. Personally, I think it would be better with a light bit of oil on an already clean face.
Like I said: The perfect thing to do while moisturizing.
And, it can take as little or as much time as you want it to.
Making it, of course, something you can slip in for beautiful skin, with hardly a change in your daily routine.
—
So today, I have a nearly completely off-topic question for you guys.
I've never had a professional massage. EVER. I've also never received acupuncture or a hot stone treatment or … well … anything personally indulgent and relaxing like that.
My question is:
Do you have any recommendations? What's your favorite spa-type or Eastern-medicine relaxation type treatment?
I'm thinking, after 36 years, it might be time to look into doing something like that.
(My mind says it's for the blog. My heart says its for the girl. My back doesn't care who it's for. It's just tired of feeling like eighty knots under skin.)