Here we are, at the end of the week of learning how to slip things in to our daily routines in order to have clearer, softer, more beautiful skin.
If you're just tuning in (or want to bookmark this post as a reminder of all of them) they are:
Water. Drink 2-3 glasses of room-temperature, pure water upon waking up, before putting anything else in your mouth.
Put Food On Your Face. Rub a little fruit or veggie on your face whenever you get a chance, rinsing it off after 10-20 minutes.
Massage. Give yourself a light facial massage several times a week (or every day, even).
Make sure you're getting plenty of omega-3 fatty acids in your diet – maybe even in the form of cod liver oil.
Throughout the week, we've also had bushels of great ideas tossed into the comments, so I want to share:
On the Facial Massage slip-in, Twylia gave this armpit-pumping advice:
"I love this…I was recently advised of how to do a lymphatic drainage on my face (which is kind of like massage) to help reduce the signs of puffiness. One thing I would add though, is that if you are doing this kind of massage with any frequency, it is always better to 'pump your armpits' so that the lymph can drain properly. The 'pumping' consists of crossing your arms, simply massaging lightly in the armpit area."
And on the Fruit On Your Face tip, Stephanie made an awesome point. This is the BEST time to start rubbing fruit on your face, because it's fresh and in season. She also reminded me about the cornmilk and lavender toner (which is still a fave) from way back in the wee beginnings of Crunchy Betty:
"I was going to say that I tend to do the "non-fruit" recipes more often, but I think that's just because during the winter I use your recipes with coffee, almond butter, honey, baking soda, cocoa etc. (pantry items) more often. Now that summer has hit us and we have more fresh fruit on hand, I'm remembering some of my favs from last summer: the cantaloupe, mango, oh and the corn milk and lavender toner (I love that one!)… but that's not a fruit, oops!"
From the Drink Water First Thing In the Morning post, Kimelah had this to say about the type of water to drink:
"For the past few years it's been Reverse Osmosis water, but now I think I'm going to go with distilled water. I read once, so many eons ago, that distilled water helps to rid the body of toxins, as the water itself is empty of minerals it will leach the minerals from your body, but it starts with the BAD minerals. Of course, I've been told that once those bad things are out of your body you should stop drinking distilled water and switch to re-mineralized water."
My thought on drinking distilled water is that it might be more harmful long-term, really, simply because (even though your body is getting rid of the BAD minerals first) it still needs replenishment of the good trace minerals, too. Eventually. The quality of our fruits and veggies (and their mineral content) has been depleted SO much over the last decades of commercial farming, we need them wherever we can get them.
And NOW. Now, let's talk about today's way to slip something in for beautiful skin.
Your Skin LOVES Omega-3 Fatty Acids (Especially Cod Liver Oil)
I really, really debated whether or not I should use this tip here. Mainly because saying "take a supplement" seems like a bit of a cop-out. I also don't want to sound like I'm giving real medical advice (and now that drug companies make their own fancy synthetic "fish" oil, I don't know where the line is … ahem.)
It had to go in here, though. Had to. I'll tell you why, right after I show you today's Slip It In For Beautiful Skin printable photographic reminder (this also happens to be my gorgeous nephew):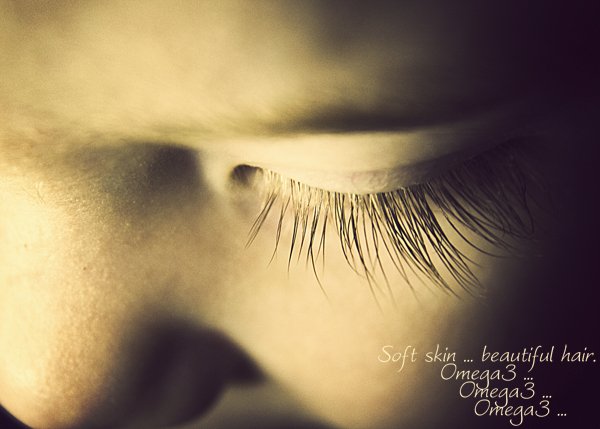 Here's the link where you can download/print off high res.
So.
People come to me and ask me questions that are most often like this: "I have really dry skin/acne/dull skin/hair that won't grow … what do you think I should do about it?"
My first response, bar none, is: "Whenever I have any skin problems/hair issues, I take cod liver oil. Without fail, and without many other interventions, the problem goes away in a couple of weeks."
It's my personal opinion that fish oil (or EPA/DHA/fatty acids) should be a part of every single person's diet. I think it's so very important for the development of healthy brains in children, for helping balance hormones in teenagers, and for assisting adults in not being so gosh darned depressed all the time.
Along with, like, a million kajillion other important things it does for our health. Including giving us healthy skin and beautiful hair.
After doing all kinds of research, and going on the advice of the Weston A. Price foundation, I've come to accept that the best way for me to get all the vitamins and fatty acids I need is to take cod liver oil.
My new personal favorite (and one I can afford, most of the time) is Carlson's soft gel Cod Liver Oil 1,000 mg capsules.
There's a bit of controversy over cod liver oil, mainly because a vast majority of producers really screw up the vitamins A to D ratio, which leads to potential vitamin A toxicity.
This is why the Weston A. Price Foundation put out their list of recommended cod liver oils. Here's the list of all of them, available in nearly every region of the world, along with a lot of vital cod liver oil information.
Even if you don't want to, or can't afford to, take a cod liver oil supplement, make sure you're getting PLENTY of omega-3 fatty acids, along with all the other good stuff that comes with a high-quality fish oil.
You don't have to take it as a supplement, if you can stand to/afford to eat fresh fish on a regularly often basis.
Just slip it in whenever you can … and I swear, if you're anything like me, you'll be amazed at the change in your appearance (and mood).
What Supplements Do You Take?
Omega-3 fatty acids aren't the only things you can take for healthier, more radiant skin and hair. In fact, I'm thinking of several right now that I want to "slip in" from now on.
But I'm curious what, if any, supplements you take – for health or for beauty (or for both, because they sure do seem to go hand-in-hand)? Or do you think your diet provides you with all the vitamins and minerals you need?
Let's hear it! What bottle should we put in our cart the next time we're at the natural foods store?