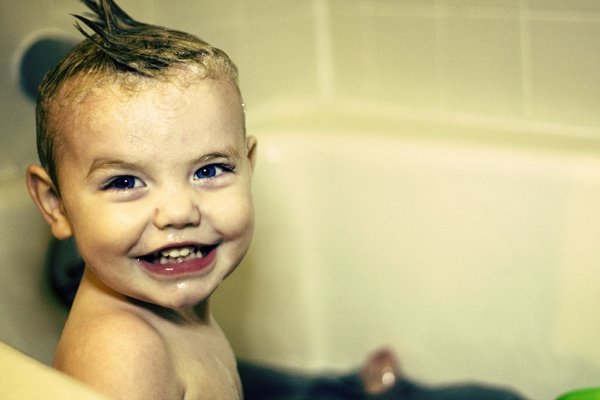 A few days ago, Skip and I were having our obligatory weekly heated disagreement about something like bills or wrinkled shirts or attempted arson, when he turned to me and looked, with his squinted-up, angry eyes and said:
You really need to stop taking EVERYTHING so seriously, Betty.
If ever there were fighting words, those are them. (Those and "Don't touch that cheese popcorn. It's mine.")
Freaking angry as all get out, I turned to him … squinted my eyes back harder than he could ever think of squinting, clenched my fists, and prepared to stomp once and then slam the door on my way out.
Then I sneezed. And then I laughed. And then he laughed. And then he said, "You're gross."
And then I knew he was right. About the serious thing. (And maybe the gross thing, but only after three martinis and a plate of nachos.)
Since then, I've tried to remember that nothing is that big of a deal.
Sometimes you have to do not-fun stuff, but you always get to decide whether or not you're going to look at it as fun. And, I've got to be honest, sometimes trying to figure out this stupid, beautiful world and how to live in it the most expansive way possible is tough.
What I mean is: Sometimes it's stressful to try to be crunchy, or to try to defend your crunchiness, or to feel guilty for feeling like you're not crunchy enough.
So I'm placing an immediate moratorium on feeling guilty about anything. None of you are allowed to feel guilty about the choices you make – starting this very moment.
Sometimes you're going to make dazzlingly genius choices. Sometimes you're going to make choices that aren't so much bad as they are the less-than-desirable choices that work in the moment. And sometimes you're going to make dumb choices. And those dumb choices, more often than not, lead to ridiculously huge positive realizations. And you know what that means? DO YOU KNOW WHAT THAT MEANS?
Those dumb choices were a good thing to do.
The only thing that matters, in my humble opinion, is that you're conscious of making smart and dumb and neutral choices with one thing in mind: Your authentic, pure love of your life and the way you live it.
Everything else is potatoes.
Party On the Internet With Me, Homeslices
In honor of all this superbly crunchtastic, non-guilty, live-your-life-in-the-freest-most-enormously-joyful-way possible day, I want to have a party. With you.
On Pinterest. And Twitter. And maybe, if we can find a way to group voice chat, there, too. Anyone know of any group voice-chat sites?
Here's what I'm doing:
Today, from the hours of noon to 3:00 and again from 6:00 p.m. to 8:00 p.m. (that's Mountain Time) and potentially later than that (or whenever), I am going to be parked in front of my computer doing one thing I've been dying to dedicate time to:
Screwing around, having fun on Pinterest.
(If you don't know what Pinterest is, it's a website where you can amass all the awesome things you find on the internet and want to remember, and share them with other people, all in this super snazzy, picturesque layout. Just visit the link, and you'll see what I mean.)
We can talk about the fun things we find. (I'm going to be concentrating on DIY stuff, homemade beauty, and Etsy/Artfire shops I love, but we can talk about anything.) We can talk about the weather. Nietzsche. Galoshes. Whatever. I just want to have fun.
If you can chit chat for a minute, that's great. If you can hang out all day, that's even better. Either way, I'm going to build some killer Pinterest boards and you are more than welcome to join me in the hunt for internet gold.
If you want. Or, you could clean the bathroom. Your choice.
Here I am again on Pinterest. And here I am on Twitter. And we'll work any other glitches out in the comments here.
Oh, and please. Just have fun. JUST HAVE FUN, PEOPLE.
Any questions?