You're a 5-year-old kid.
Yes, you. Right now. You're 5 years old and you're playing quietly with your chalk, and Johnny snot-nose next to you has blocks out, which he's throwing all over the ground. It doesn't even look like a fort, but he's making stupid cowboy noises going "pow! pow! pow" and wiping his cootie face all over his sleeve. It's annoying you, and keeping you from concentrating on the intricate fur strokes in your purple dog.
The teacher has her back to you, so you lean over and say, "Hey, Johnny. Those guys over there are playing aliens. Go play with them." And he zooms off into the spaceship-filled horizon, leaving behind a trail of blocks strewn across the ground.
The teacher walks over and catches you in a compromising pose, half in front of your easel and half bent down over a block.
"What a mess!" she declares, in her Miss Manners voice. "Clean this up, you."
And you ever-so-politely say, "But, Miss Teacher, I didn't make this mess."
"I don't care who made it, lady. You clean it up."
There are no words more unfair to a child than that. "I don't care who did this. YOU fix it."
Unfortunately, the lesson tends to be lost on children, because they don't understand the concept of personal responsibility yet – and this approach is, to be blunt, dumb-dumb stupidhead.
But there is something uniquely magic in the concept of cleaning up a mess you've found once you're grown up and can grasp the rewards in taking responsibility for the situations you find yourself in – whether or not you were the one who caused them.
Give A Hoot! Give An Epic Hoot.
I've been taking walks around my new place, as it backs up to the most glorious little open space full of mesas and valleys and other naturey goodness. But lining the road, caught up in and around the barbed wire fence, is trash. Lots and lots and lots of trash.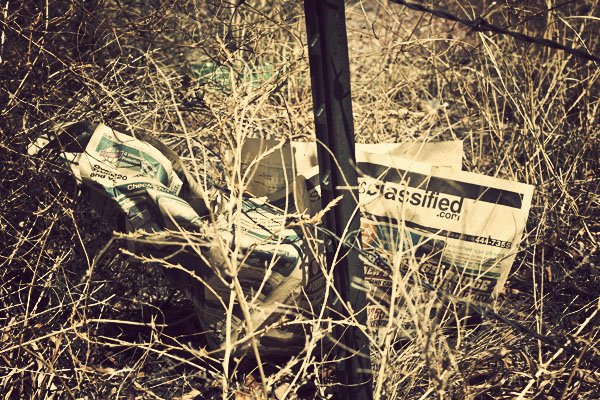 Lest you think this is some kind of treatise on the benefits of not littering, this is not that. At all. I know you people, and you already don't litter. You don't. Period.
I will say, though, that it floors me that people still litter SO much in this day and age. I mean, really, did NO ONE watch Woodsy Owl on Saturday mornings in the 1980's?
Anyone?
What I want to talk about today – and it goes along with the thinking outside the box theme we're talking about this month – is how to use random trash as an exercise in real, often difficult-to-digest personal responsibility.
There are few things more annoying than thinking you have the responsibility to clean up a mess someone else made. It's far easier to complain and huff (and sometimes high-horse it around town) than to just fix something that's bothering you.
In a chat today with my friend Ashley, she talked a little about the Buddhist faith and the concept that, as soon as an issue comes into your awareness and you have the capacity to fix it without infringing on another's freedom, it is your responsibility to do so. Simply by being aware of it, it is now yours.
"Do not give your attention to what others do or fail to do; give your attention to what you do or fail to do." – The Dhammapada (a Buddhist text)
Picking up litter you come across? This is the quickest, easiest way to put this concept into practice.
Cleaning Up Your Trash Is How I Got My Start
Okay, maybe not your trash, but trash in general.
Fifteen or so years ago, when I first dipped my toe in the waters of spiritual growth, I had to start figuring out ways to be more personally responsible.
Because I was hell on wheels in the blame department, sisters. Believe you me. I was one hot mess of a perpetual victim. Nothing was my fault, and I wasn't shy about twisting motives and words to make it sound like there was no earthly way I could be responsible for the situation I was in.
Heaven help everyone who had to deal with me.
So I started small – by picking up trash I saw on the side of the road. Eventually, this taught me that, no matter what circumstance I may find myself in and no matter who I thought put me there, it is always my responsibility to find a way to learn from it, and to clean it up.
It's scary to take responsibility for things – for your life and the wacky situations you find yourself in. It's easier to think that there's an all-knowing creature out there named government/parents/lawyers/younameit who have the responsibility of solving your problems, or the onus of fixing your world.
These people do not exist.
Okay, so they do exist in the factual sense, but they won't fix your world for you. Only YOU can do that. And you can ONLY do that by not worrying about what everyone else is or isn't doing with themselves. The more energy and thought you give to the problems you perceive everyone else is causing, the less time you have to realize your own potential as a human being.
And I'm telling you right now, misters and missies, that the quickest way to get a glimpse of this realization is to pick up someone else's trash if it's bothering you.
The Secret Is In the Attitude Sauce
Now, you can read this post and then go about your day, picking up trash and STILL huffing and puffing about the consciousless acts of immoral teenagers. If you do it with that attitude, though, you're not going to get much out of it.
In fact, you'll probably leave the world a worse place by approaching it in this way. Negativity breeds, and its babies are giant, trash-throwing angry monsters.
Instead, look at this exercise as an opportunity.
(All personal responsibility is an opportunity – and VERY fulfilling, at that.)
It's an opportunity to practice your ability to change your world, regardless of what anyone else has or hasn't done. It's a simple, small way to leave behind something better. It's a way to stop placing blame, and start being more effective as a person.
I want to finish with one more thought, and it's my favorite thing in the world and I've probably mentioned it a hundred billion times, but you can apply it to EVERY situation in which you want to "think outside the box" and come to a new perspective on your life.
I'm about to show you how, in this one small way.
Years ago, I heard this radio program where the announcer was talking to researchers studying what makes some people lucky and what makes other people unlucky. The ONLY differentiating factor between the two types of people were that lucky people BELIEVED THEY WERE LUCKY. At nearly all times, in nearly all situations.
How can you apply THAT to trash?
Whenever you stumble upon a wadded up newspaper or an empty bottle of Gatorade along the street, think to yourself, "I'm really lucky to have this opportunity to clean up the world just a little tiny bit. How fortunate."
It may seem silly, but you'll be that much closer to understanding your very own power through personal responsibility.
Now go.
Go rock the responsibility in your world.
I don't care who made the mess – YOU clean it up! But only if you can do it with a smile. 🙂