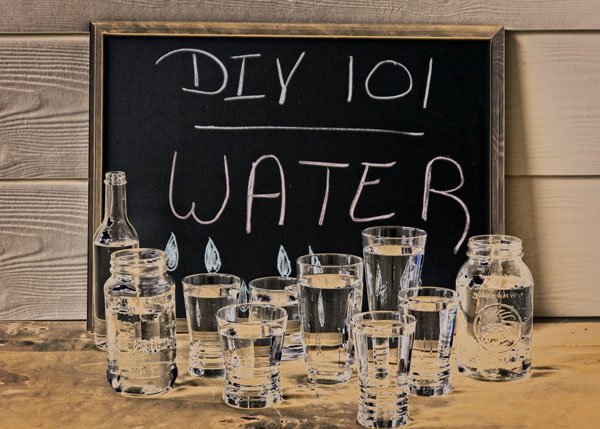 Water. Agua. Eau.
It is the great giver of life, the washer of dirt, the slow and steady drip of time. Without water, life on this planet would not exist.
Unfortunately, with water, life in your homemade creations may exist where you don't want it to. Whether you're DIYing your own beauty concoctions or edibles, there's one important thing you need to be aware of when you use the effervescent aqueous essence.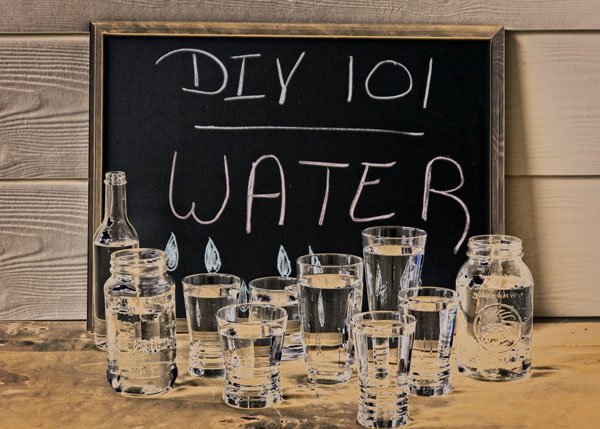 Early in my crunchy DIY escapades, I learned a valuable lesson: Anything that contains water can potentially spoil, mold, or grow bacteria. I learned this by putting fresh mint into oil and keeping that oil on a counter top.
Within a week, the oil had turned rancid, the mint was muddy brown, and the whole thing stank to high heaven.
This is DIY 101 about water for several reasons: There has been a rash of comments on older posts with recipes that you're supposed to keep in the fridge saying things like, "Heya! Can I just keep this in the bathroom? I'll probably use it in two or three weeks." (No, by the way, you cannot. Unless you like your beauty moldy.)
Also, I keep noticing recipes on Pinterest that combine water with things like oil (to make a cooking spray) or hand soap (to make a foaming soap substitute), and typically there's no mention of what needs to be done to keep these things from going bad.
So.
Let's talk about water, right now, so you don't have a culture in your kitchen or bathroom that you weren't counting on. Except, of course, that dirty pot in your sink you just can't get around to washing. (Ew.)
Putting Water In Your Homemade Creations
Before we begin, I want to apologize. This is a difficult reality to face, this water awareness situation, because SO many homemade creations would be much easier if we could just add water and forget it.
"Homemade is supposed to be easier! Water is the easiest thing on the planet! Shut up, lady, and quit harshing my buzz."
Trust me, though. The sooner you accept that you have to be more careful with your water-based creations, the easier everything will become in the future.
Remember when I was all, "Oooh oooh, fancy schmancy words about water and how it's the bringer of life"? Well, the quickest way to come to terms with this water situation is to remember that water is the bringer of life, including bacterial and fungal life. Anything you add water to could potentially sprout an entire world that you don't particularly care for.
Everything needs water to grow. Including, but not limited to, yucky stuff.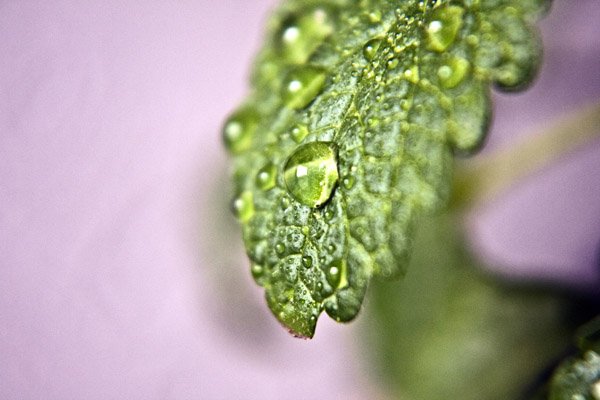 We Don't Live In Sterilized Labs
Here's the good news: We live gorgeously messy lives.
And the bad news: Because we live our normal, every day life in the same place we indulge in our creative, genius sides, we don't have the luxury of a sterilized lab, controlled levels of preservatives, and the purest of ingredients. Nothing we make is going to last forever.
On one hand, this is good. Diversity is the magic of nature, and by creating our concoctions using plants and oils and fruits and roots, we have the opportunity to harness all of that diversity in myriad ways. And when you think about it, the things like synthetic preservatives that inhibit life completely may not be exactly what's right for our living bodies.
However, we do need to remember that a modicum of care should be taken when adding water – or using any water-containing ingredients – so that we keep out the bad stuff as much as humanly possible.
I say all of that to make one simple, salient point: Because we are the creator of these things, and no two recipes will ever be exactly alike, it's difficult to add the "perfect amount" of preservative or predict the "perfect length" of shelf life to any recipe made with water.
So, instead, we have to use common sense. Here's how.
DIY 101: Tips For Using Water and Water-Containing Ingredients Safely
Always, always use distilled or filtered and boiled water. What comes out of your tap contains bacteria. It does. To some degree. Some of the bacteria is good, but some could harbor a stinky, growing mess if you use it in a recipe that you let sit for a long while. Using distilled or filtered (and we're talking high-quality Berkey-type filter, not, say, Brita) and then boiled water really cuts down on the chance that you're introducing a contaminant to your recipe.
BOIL EVERYTHING. Anything you're working with – be it a bottle, a spoon, a lid or a measuring cup – needs to be as sterilized as you can possibly get it. In a large pot, boil all the things you'll be working with for at least 10 minutes to kill any invisible monsters, so you don't contaminate while you're creating.
Use containers that don't require "double dipping." For instance, if you're making a water-based lotion (which will likely also include some sort of preservative), store it in a squeeze bottle or a pump bottle. Anything that doesn't require dipping your hands in over and over and over. And always keep the lid closed when not in use.
Make VERY small batches at a time. If you've decided, say, that you want to try making a homemade cooking oil spray (which, by the way, by the looks of all the recipes I've stumbled on recently, is just a mixture of oil and water), MAKE A SMALL BATCH. Especially when  it comes to mixing oil with water; these two things LOVE to grow bacteria together. So if you stick to a small batch that lasts you, maybe, a week, you'll be in better shape. Just don't expect to make water-based concoctions that last for months – or even weeks – at a time.

Remember that store-bought products include preservatives that are formulated for their original water content. Now, I cannot say for scientific certainty that the preservatives in the original product aren't enough to protect bacterial growth if you add water. In fact, I'm pretty (again unscientifically) certain they do to some extent. Just keep in mind that they may not for very long. If you're adding small amounts of water to things like soap or shampoo or even castile, consider adding a natural preservative (hold on, we're getting there) and changing out the product every month or so.
Whenever the recipe has room for it, add a natural preservative to extend shelf life. Yes, nature does come with its own built-in preservatives, although they're not going to be as long-lasting as store-bought products will be. Remember: THIS IS GOOD. Here are some natural preservatives (reminder: these are not broad-spectrum preservatives, but they do offer a good deal of protection when used properly):

Vinegar
Alcohol (rubbing or spirits like vodka or brandy)
Rosemary essential oil
Grapefruit seed extract (not to be confused with grapefruit essential oil, which is slightly preservative in nature, but not as effective)
Vitamin E
Citric or ascorbic acid
Salt or even sugar
Remember, these things will not extend shelf life indefinitely when you're making a water-based recipe (or using, say, fresh herbs), but they will help keep your concoction stable longer than if you didn't use them. Some of these things are more potent than others, and none of them have "exact measurements," because all your recipes are going to be different (and it would take a CRAPLOAD of scientific studies to determine exactly what amount would work perfectly in what recipe).
And nothing is going to keep a fresh apple completely fresh once you cut it open, except removing the water – and then it's not fresh, it's dried. So if you're making a beauty recipe with a piece of fresh fruits or veggies, absolutely follow the next rule.
Store your water-based concoctions in the fridge or freezer as much as humanly possible. I trust you'll use your common sense especially with this one. If you're using a vinegar hair rinse in the shower every few days (that includes water), it's probably okay to keep it there for a week or more. But if you've made a product that uses fresh fruits or veggies, or a good deal of water and little preservative, STORE THAT DARNED STUFF IN THE FRIDGE if you plan on keeping it for more than a day. When in doubt, chill it. The cold temperatures keep the bad stuff from growing as quickly. But, as we all know, even the fridge doesn't stop things like mold. So toss anything that seems even slightly questionable.
Also, quick rule of thumb: Anything that uses fruits or veggies should be used/consumed within 2-5 days, and always kept refrigerated. And if it looks weird, don't use it.
A Pool of Information, Not a River of Fear
I say all this not to instill fear in any of you, but just to remind you to be vigilant with your homemade concoctions.
And we are NOT making "store-bought" items that are loaded with preservatives and synthetics so they'll last for years without spoiling. And that's okay. THAT is not our goal. If it was, we wouldn't care about what we put on our skin or in our mouths.
We just need to remember that what we make has a much shorter shelf life, especially when it includes water or water-containing materials. (You wouldn't expect your chicken salad to keep for three months, would you?)
Just use your knowledge, use your common sense, and be aware of what you're doing. After that, it's all fun and games. And no one needs to get hurt.
—
I may have left out a few ideas on ways to keep water-based and water-containing ingredient concoctions safer for longer, so I welcome any ideas or comments that could broaden all of our horizons.
Talking about using water in homemade creations seems to bring out a lot of fear in people (especially people who actually make synthetic-preservative-containing cosmetics), so let's try to keep things calm and collected … and helpful.
The more we help each other, and the more we discuss this, the better our homemade creations will be. Now, and forevermore.