It took long enough. Didn't it?
I've been on a very odd journey through my heart, trying to figure some things out. It's been confusing and a little weird, but mostly confusing. I'll try to tell the story succinctly. My deepest hope is that, in sharing it, you'll be able to see somewhere to relate in your life.
It all started when, the day after my last post, my camera bit the big one. Just broke. Bam. No worky. The camera-fixer store said, "Silly girl. Fixing this is going to cost way more than what it's worth, or even getting a new one." And I thought, "This will be an excellent time to take a few days off and figure out how I'm going to afford a new camera." Crunchy Betty can't exist without a camera, you know. It would defy the laws of internet.

In those 5 days of gettingitallfiguredout, a few things that have been weighing on my mind with regards to blogging started to rear their grotesque heads. There've been a few issues that I just haven't been dealing with, because it's easier not to.
But you know what they say, right? When something bugs you, if you just shove it down and ignore it instead of dealing with it, it's going to slither through a crack somewhere, sometime and make you look it straight in the eye. I don't know if they say that, actually. But I just did. Because it's true.
One of the biggest issues (though not the only one) was this backpack full of "not good enough" that I've been carrying around since puberty. It's just gotten heavier lately.
When you start blogging, and if you're really gung-ho and want to figure out how to "make it," you'll read books and blogs dedicated to blogging. I did that for months in the beginning. And they're full of advice and tips that mostly go something like this, "Here's how I did it. If you don't do it this way, all your readers will leave you and you'll end up as just a sad stream of lonely words that no one will ever see."
So I did the things that the blog authorities suggested – sometimes. Mostly, I did what I wanted. But they were always there, in the back of my head, whispering, "You're not doing enough. You're not giving your readers what they want. What's wrong with you? FAIL!"
So there are these little voices back there, eating away at my enthusiasm and confidence for two years. Then, I started to notice all of the crap on the internet.
The blogs about how to live, how to be, how to eat, how to smell, how to dance half naked with Latino men. The blogs dedicated to just … throwing something against the wall to see what sticks. Suddenly, it was like standing in front of a huge buffet while you're one day into the most violent stomach flu you've ever known.
And I started thinking, "The last thing in the world I ever want to do is just throw things against the wall to see what sticks." I don't want to be a force of DO MORE (unnecessary things) for anyone, least of all myself. There is such a thing as pollution on the internet, and it's not just porn and Twilight fan pages.
So, I took a few more days off to figure out what this all meant to me and for Crunchy Betty. A few more, in which I dedicated at least three hours of my day to doing something beautiful, something that held no responsibility or criticism or expectations. And, with my new camera, I ended up doing things like this: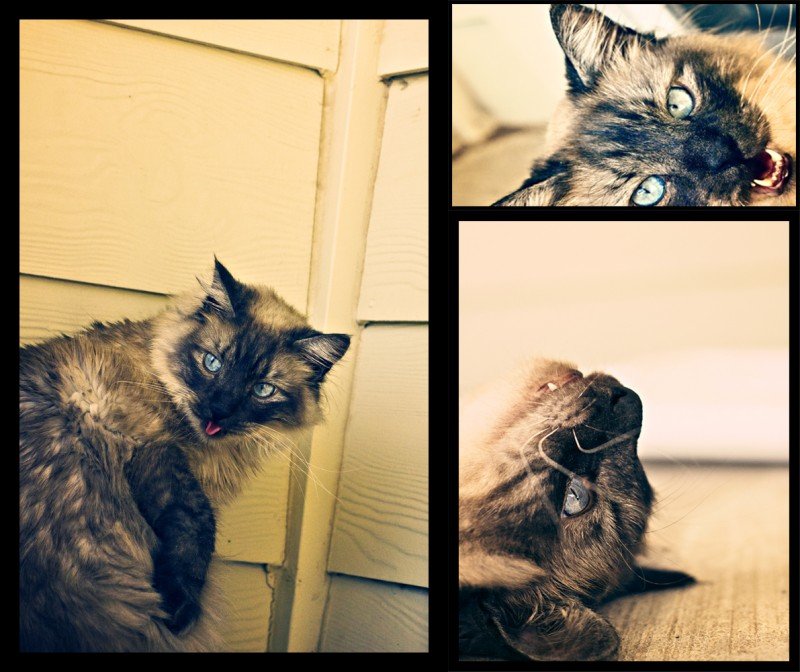 and this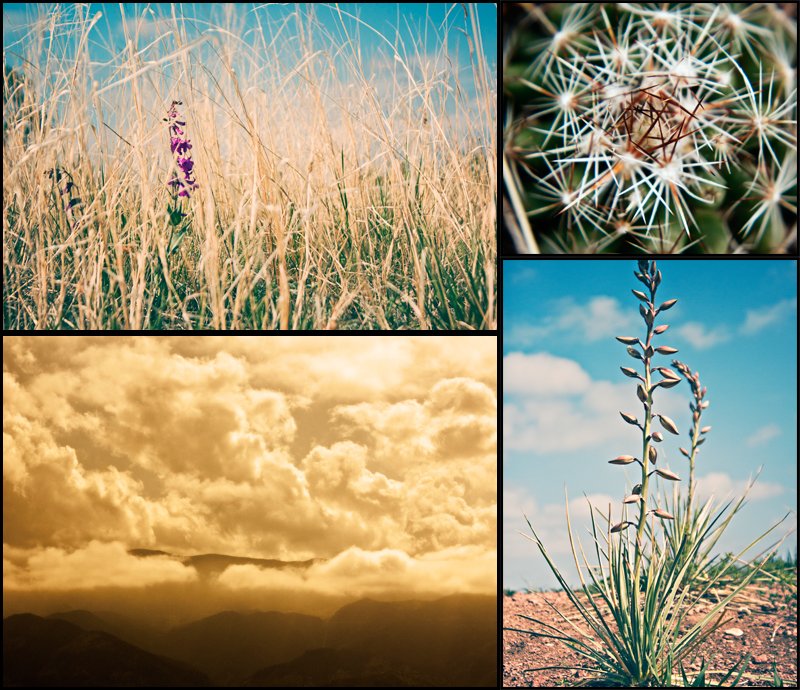 and my favorite thing … this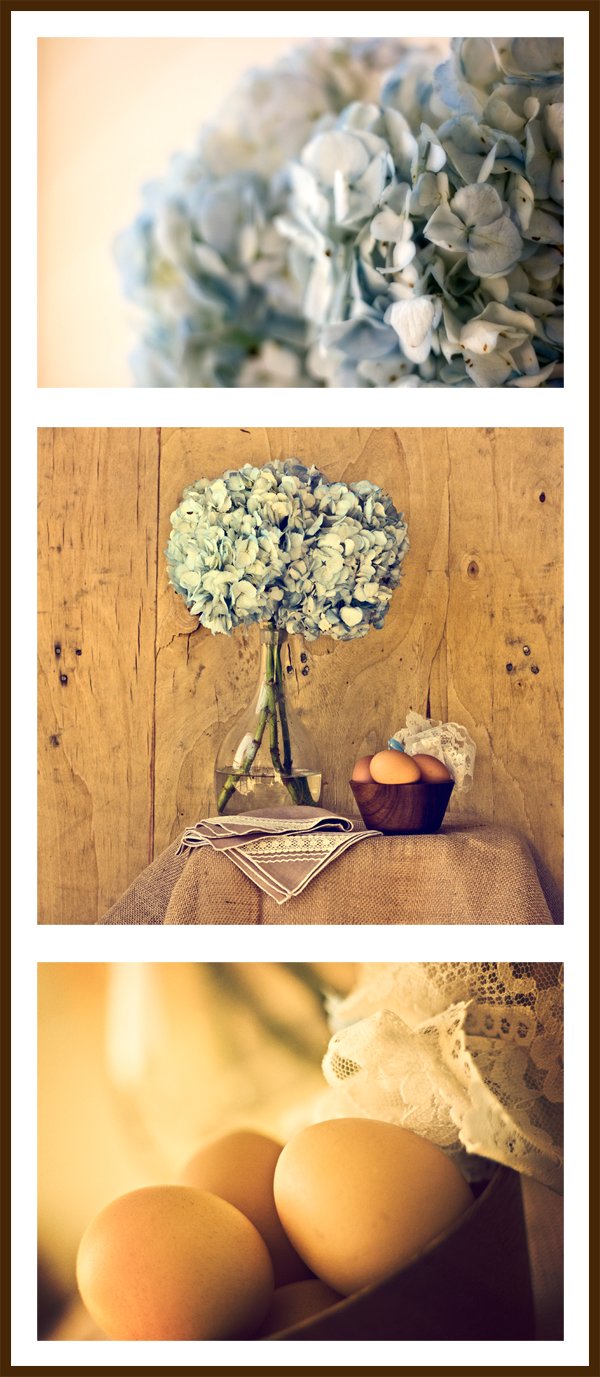 Then I reread the Prophet, which inspired me to tear it apart, pull out the artwork and scan it, superimpose my favorite passages from it on top of the artwork, and then do this: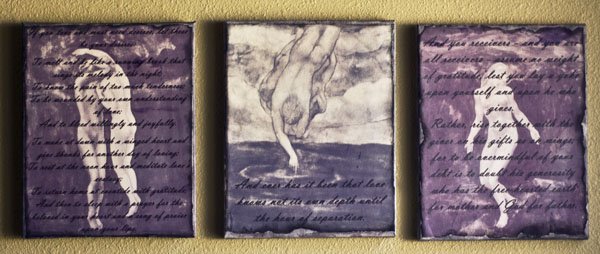 If you're interested, and if I can figure out whether or not it breaks any copyright rules right now, I'll share that whole process with you some other time. It was a lot of fun. And beautiful.
Stick with me here. I'm getting to the good part. The resolution, if you will.
Even through doing all of these beautiful things, the making sense wasn't quite happening yet, and I didn't want to come back here until it did. You guys deserve better than half of what I can give.
The Sense-Making Saturday Night
This weekend, my friend pulled me with her to a little concert. I'm not going to name names, because I'm about to say an incredibly hurtful thing, and I don't want it to get back to him. He'll figure his own stuff out without my input.
This guy – the main act – was really talented, very attractive, and what seemed to be a super nice person. He's obtained a small amount of success, so there's a little spark in him.
But the entire concert – every single song save the last one – felt so hollow and empty and pandering. It was as if all his songs were written strictly because he knew that people would love them. There was no heart, and very little authenticity.
The show was scripted to elicit certain responses from the audience, and honestly I was almost offended by it. It was if he felt himself superior enough to know what other people wanted and he'd just give it to them, without feeling it himself. And on the back side of that, when you turn it upside down, he was so terrified of rejection that he refused to give himself in whatever way he felt was true.
After considering this for a really long time, I realized that was my issue. That brought everything together and tied it up in a little bow.
I'm physically uncomfortable with being like that man, but the voices in my head were pulling me into it. Betty, if you don't do this, you're not making other people happy. Or Betty, if you share this, everyone will reject you.
Really insidious stuff there.
Two dollars says you can relate.
My resolution was this: I forgive those voices in my head, and just because they say those things doesn't make them true. The only way I will ever be happy and fulfilled is if I share authentically, risking the heartbreak of rejection, and refuse to pander and just throw things against the wall, hoping they'll at least make a smudgy mark as they slither their way down.
It's DISRESPECTFUL to pander to my readers, to my family and friends, and to myself.
Not that I've done that, by the way. My goal has always been to share authentically, no matter how hard it is. But the voices … ah … the voices. They were chewing me up and scaring me to death.
So, I want to leave you with a few things.
First, please know that I love you (I mean this) and I'm sorry I just disappeared without a word. Like I said, you deserve more than half of what I can give.
Secondly, my desire is to nurture this nugget in my heart that's full of authentic sharing and completely childlike in its fearlessness, letting the you-always-do-everything-wrong thoughts disappear into the ether, where they belong. This doesn't mean Crunchy Betty is going to change, per se, but it does mean that in order to be true to myself, I have to kick the fear of rejection to the curb.
Lastly, and this is the important part …
The greatest gift you can give to another person, and yourself, is the permission and the enthusiasm to be who they (or you) are. Even if mistakes are made. Even if choices are a little iffy.
Offer yourself the permission to make mistakes and risk heartbreak in the name of authenticity, in the grace of vulnerability, and in the celebration of being and becoming who you are.
Life? It's just one HUGE experiment.
Now.
Shall we start experimenting again?