Well, kids. I'm sick. It started as a tickle, and now I'm in full-blown, can't-hear-a-thing, kleenex-hanging-out-of-every-pocket mode. My head feels as if it will tip me all the way over if I stand up, so I'm staying out of the kitchen today. But here's something I did last week that you may like to try – and do better ('cause you couldn't do much worse).
I've always wanted to try my hand at homemade mayonnaise, so last week after deciding on sandwiches for dinner, I found zero mayo in the fridge and thought it would be a perfect opportunity.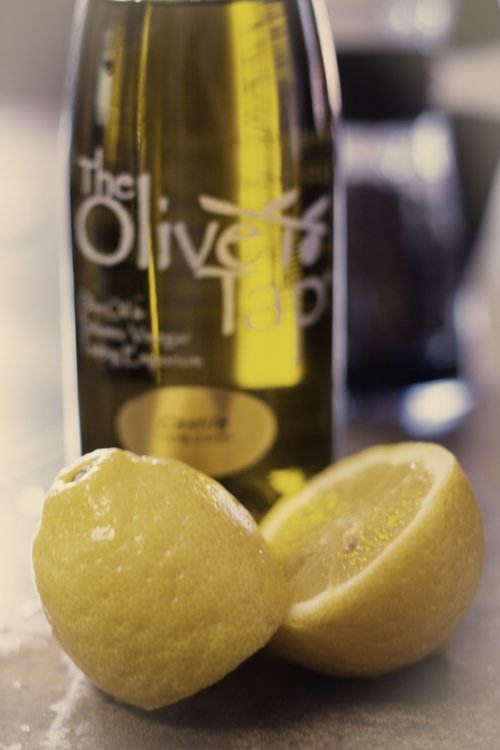 I used a recipe from one of my favorite cookbooks, The Art of Simple Food, by Alice Waters. It's never steered me wrong in the past, so all I can come up with is that I'm just really, really, really bad at making homemade mayonnaise.
However, while throwing bowls around the kitchen and cussing making the mayonnaise, I realized I had all kinds of egg whites and nothing to do with them, so I managed to utilize two of the foodstuffs I had out for the mayo (egg whites and lemon juice) and turn it, at least, into a very effective brightening, tightening facial mask.
If you're brave enough to make your own mayo, I'll give you the recipe I botched tried at the bottom, and you can have a moment of pure gooey bliss – hopefully both on your face and in your mouth. (Dirtier minds would run with that one …)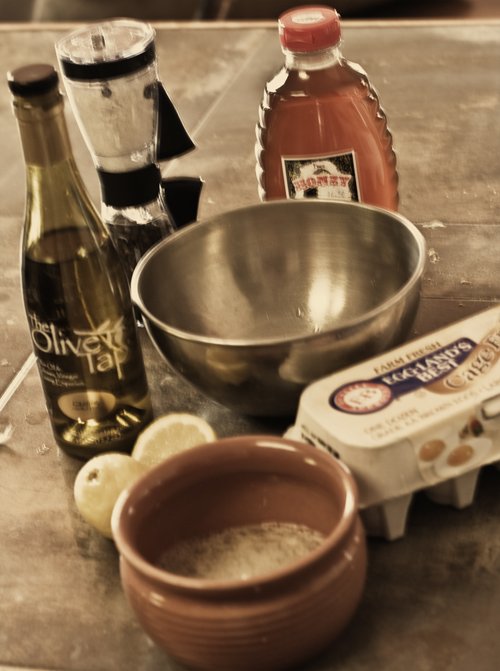 Egg White, Honey, and Lemon Juice Facial Mask
1 egg white
2 tsp lemon juice
1/2 tbsp honey (or 1/2 tbsp honey powder)
Mix everything together until smooth and apply to a clean, freshly washed face. Allow the mask to dry, and then rinse well. Very well. As with any tightening mask, it's best to lay down while letting it dry, as gravity and drying will pull the face downward. If you're standing up, that means you'll end up looking just a tad bit droopy.
A little about the ingredients in this mask:
Egg whites. These make an excellent mask base, as they're full of protein (which is great for nourishing the skin) and they do provide a great deal of firming power AND help reduce the appearance of your pores. I don't use egg whites often, though, because they can be a little stinky, and I like masks that smell like flowers or fruit. But that's just me. Egg whites have been babe-ing up women for millenia, so there must be something to it.
Lemon juice. Super powerful astringent here, which keeps oil and pimples at bay. Lemon juice also lightens the skin, reducing discoloration and giving your face a fresh glow.
Honey. Honey should be in everything all the time, it's so awesome. In masks, it provides antibacterial power, luxurious moisturizing, and (surprisingly) a bit of drying. Honey's great for all skin types and for just about any facial care reason you can think of.
Okay, for the mayo, you need: 1 egg yolk, a splash of water, a pinch of salt, and 1 cup of olive oil. Basically, you start whisking the yolk and the water until it's nice and yellow. Continuing with the (wrist-splitting) whisking, you dribble in the olive oil slowly (you better not stop whisking) and whisk until it starts to turn frothy and a little white in color (I never managed to get it to that part). When that happens, you can go a little faster with the olive oil (WHISK WHISK WHISK) until it's all combined and hopefully what you'd sort-of consider mayonnaise. You can whisk in the lemon juice at the end, if you want the "brightening" that it gives.
Mine never got to the sort-of mayonnaise part. It remained oily sludge. Don't tell BP.
Any of you notable cookish type people know what I did wrong with my mayo? Any suggestions? Tips? Want to come over and make me some? I'll supply the turkey and bread.