With luck, one day you have an opportunity to glimpse a time shift. You stand on the precipice between to very distinct eras and watch as they meld seamlessly together in the middle of your own city.
The old traditions – the sustainable living practices – nestle, hidden in valleys between normal neighborhoods and city stores. Milking happens every day, and a freshly laid egg is only a 30-second walk away. What was old is suddenly new. And in the rift of time, you're left wondering how you have lived your life clueless of the hearty world that existed then, exists now, and will be someone's way of life forever.
These time shifts happen at urban homesteads, and today, I visited one. Where I learned how to make chevre (or queso fresco) all because of this woman: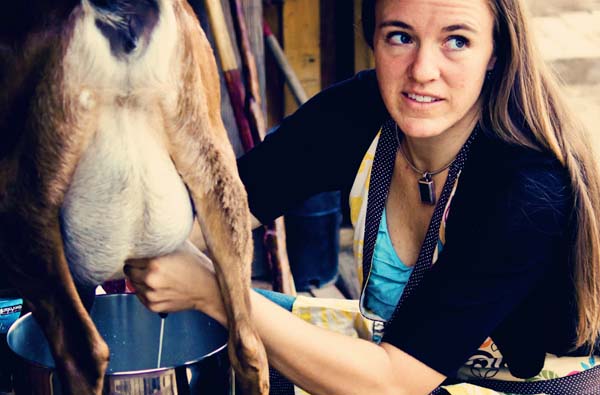 Lindsey (The Goat Cheese Lady) and her husband live a 10-minute drive away from me, where she spends her days taking care of her animals (goats, chickens and rabbits) and garden, and her weekends teaching locals how to make their own delicious cheese.
Much to my insistence surprise, Lindsey invited me and my mother (who served as the fab photographer of the day) over on a non-class day for a tour and mini-lesson, and she and her husband Herbert treated me to an udderly enlightening time.
Ah. I love these people.
I milked goats: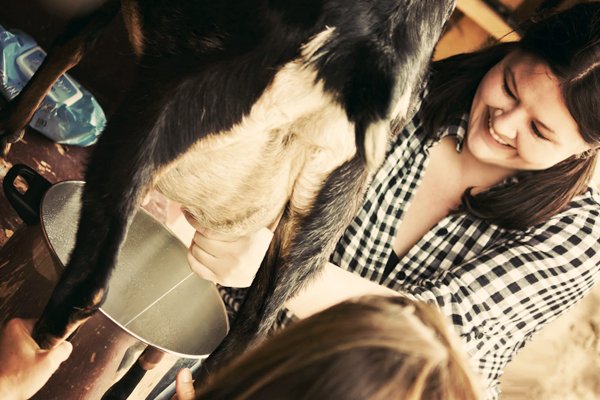 Then we gathered eggs, made kissy-faces at the bunnies, strolled around the garden picking gorgeous little nubbins of tomatoes, and then headed back into the house to learn how to make chevre, queso fresco, or queso blanco, depending on what you want to call it. (Chevre if it's made with goat milk, which is either cultured or uncultured like the one we made today, queso fresco or blanco can be made with goat or cow milk. Really, they're all nearly identical.)
Either way, it's very similar to the goat cheese you'd buy in the store, only SO much better. Crumbly, moist, mild and perfect for seasoning just how you want it.
And I'm going to show you how WE made it; then you can do it yourself.
No really. You REALLY can. You don't have to milk a goat or anything (unless you really want to).
How to Make Your Own "Fresh Cheese"
You know how most of the things I post (especially food things) are so easy even a slack-jawed newbie could do it? (By slack-jawed newbie, I mean me.)
This, my dears, is no exception. Please be advised, you need two ingredients to do this: Milk and vinegar.
The end.
Of course, you may want to season it with things like garlic or sun-dried tomatoes or even tender, cinnamon-covered cranberries.
But to make cheese happen, milk and vinegar is all you need. But the milk must NOT be ultra-pasteurized, nor can it be low or non-fat. You want whole, rich milk – and, of course, organic is the option to choose. BUT, even more than that, if you have raw milk (or raw goat milk) to use, that's the best option ever.
And yes, you can use cow milk instead of goat. (Lindsey told me so … and I can't wait to try it here at home.)
Here's how you do it:
Step 1: Heat One Gallon of Milk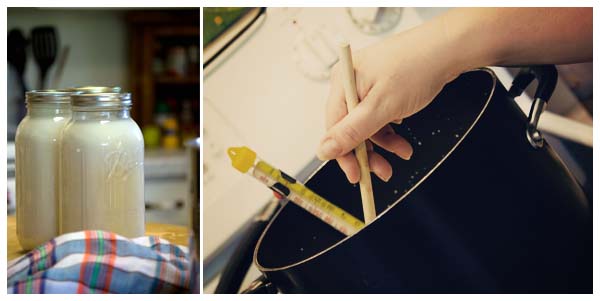 Pour two quarts one gallon (edit: oops!) of milk into a pot and heat on high until the temperature reaches 180 degrees. (Or, as instructed here, you could heat it on high just until boiling.)
Stir the whole time the milk is heating, and try not to let it scald. If, for some reason, it does scald, that's okay. Just don't scrape all that icky stuff up into the milk. Let it languish there on the bottom.
Step 2: Remove the milk from the heat and add in 1/2 c. vinegar (distilled white or apple cider)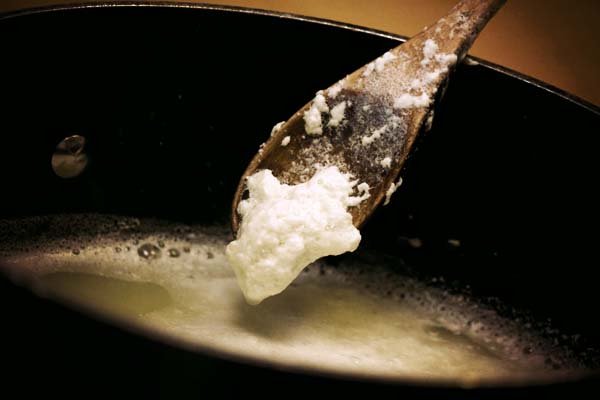 After removing your pot from the heat, pour in 1/2 c. vinegar (distilled white or apple cider) and stir. Nearly immediately, you'll end up with separated curds and whey. This is where the fun begins. You can let this mixture sit for anywhere from 10 seconds to hours (depending on whether you're ready to finish making your cheese or not.)
(And, if you want to get cultured with your chevre, you could pick up some chevre starter culture to turn your cheese into creamy goodness, rather than the rich, thick crumbles we're making here. Making cultured chevre takes a day or two, while this cheese here is edible immediately.)
Step 3: Strain the Whey from the Curds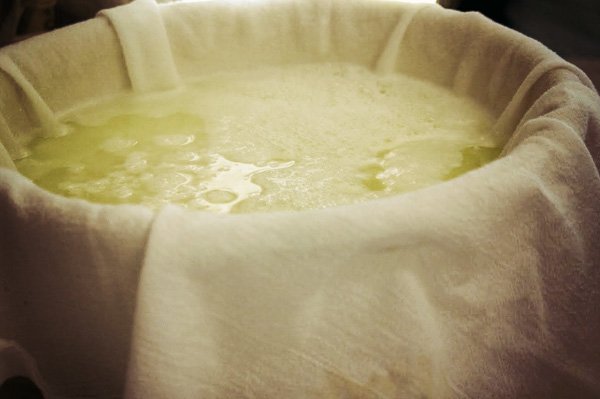 Drape a large cloth (double- or triple-ply cheesecloth, muslin, or even a strong (very clean) tea towel) in a large bowl and pour your entire mixture over the top.
Knot the towel on opposite corners, and then carefully remove the "bag of curds" and hang from your cabinet doors (or another fixture), letting the remaining whey drip from the curds into your whey bowl.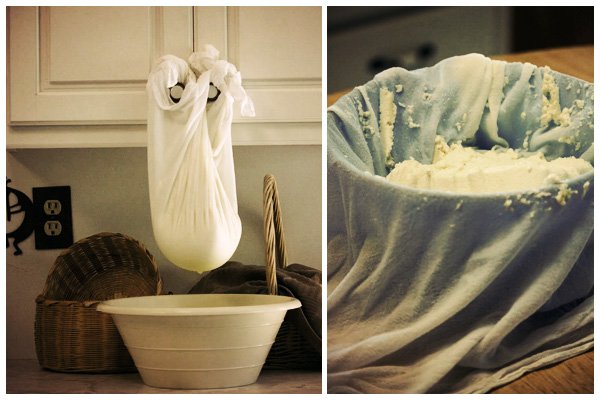 After the whey has stopped dripping from your curds, remove the towel, unknot it, and set the cheese into another large bowl. Scrape off any remaining cheese from the cloth.
Step 4: Enjoy Your Cheese. NOW.
At this point, you can add in 1/2 to 1-1/2 Tbsp salt (depending on how salty you like it), herbs, garlic, fruits, nuts, whatever tickles your fancy.
Just stir it in and mush it all around.
And then you have …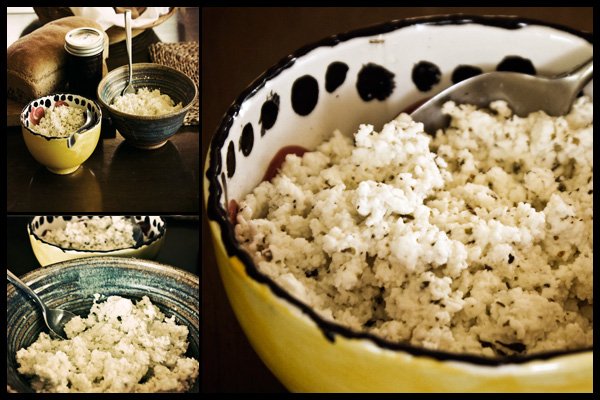 That's it!
That's all there is to it.
(I have to admit, I feel really, really slow for not knowing how easy this was all along. Never again will I buy a container of goat cheese.)
THANK YOU, Lindsey the Goat Cheese Lady, for a fantastic morning – and for teaching me how to be just a little more self-sufficient. (Also for the eggs, cheese, bread, laughter, and … being new friend. Sigh.)
Did I Mention, They Named a Chicken Crunchy Betty?
Yep.
Meet Crunchy Betty: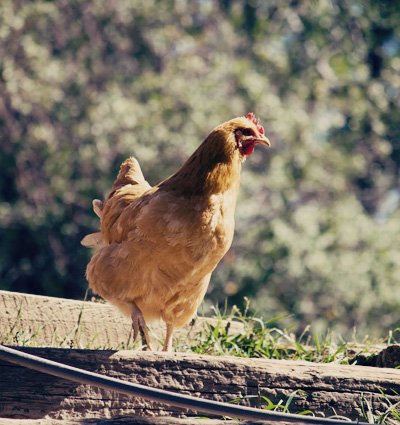 Lindsey's husband insisted I pick a chicken to name Crunchy Betty. I agreed to it, as long as they promised not to eat it.
Herbert said, "If we do, we'll invite you over for dinner."
What happens when a Crunchy Betty eats a Crunchy Betty?
The end of the world due to a super-massive black hole?
All that's left is a puff of feathers, floating in the nowhere …
PPS: Are you going to try this or what? (The cheese, not the black hole thing.)